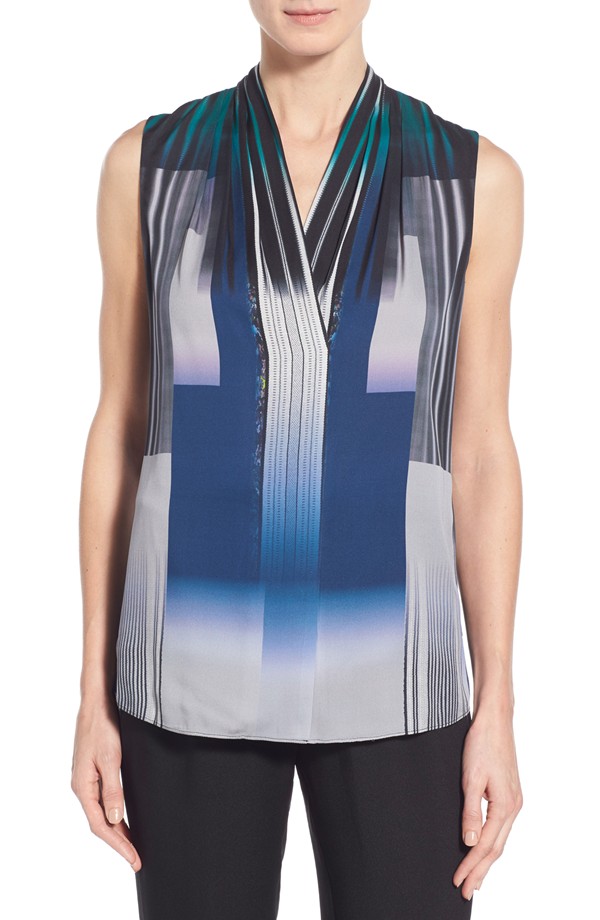 There are always a handful of tops and blouses each season that numerous clients love. Between the flattering fit, the feel, and its style, it has a universal appeal that transcends age, body type and life style. Sometimes they don't look like much online, but then you put them on and say, oh yes. This will be mine. Oh, yes.
Kobi Halperin 'Mila' Print Stretch Silk Bouse
This Kobi Halperin top, pictured above, is wildly flattering, even for busty women. You can tuck it into skirts and slacks, or leave it out with slim pants or jeans.
Note: One reason it is so flattering and comfortable is the stretch in the silk. It's amazing. We love stretch silk.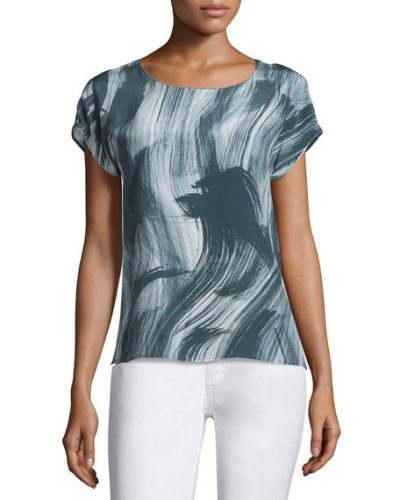 Lafayette Florina Short Sleeve Blouse
This printed Lafayette blouse looks almost boring online, but fits like a dream. It hides any tummy issues, but still follows your female silhouette. The print is also more vibrant in person and works on most, if not all, skin tones and hair colors.
Note: This top runs large, so order a size, or even two sizes smaller than you would normally order.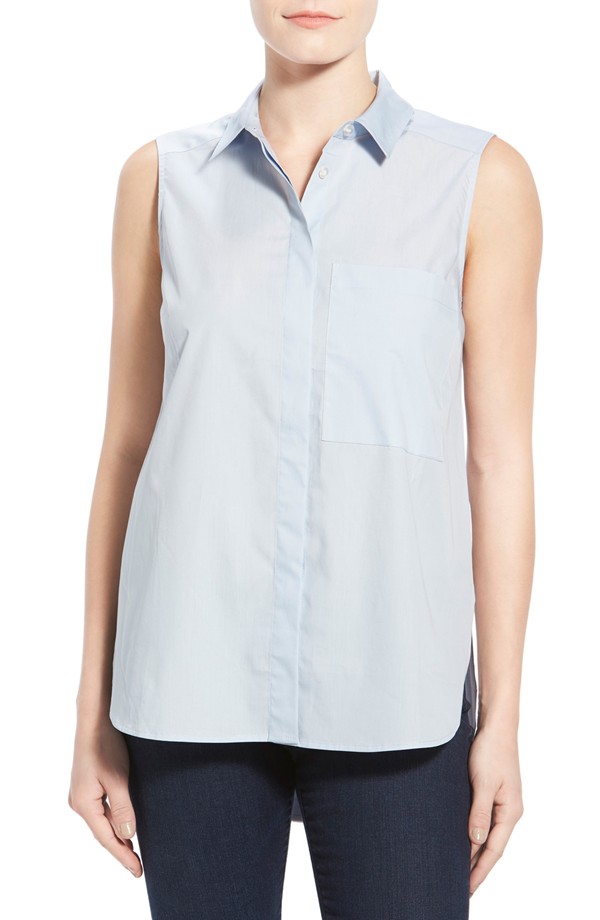 Halogen Sleeveless Colorblock Button Back Poplin Top
Sleeveless collared shirts are delightful. This one is particularly fabulous because of its length, flattering structure, and charming buttons with contrast pattern on the back of it. I also love its perfect poplin fabric. It's crisp but soft.
Note: It's so rare to find a structured longer top to pair with leggings, skinny jeans and slim ankle pants. Enjoy this rare occurrence.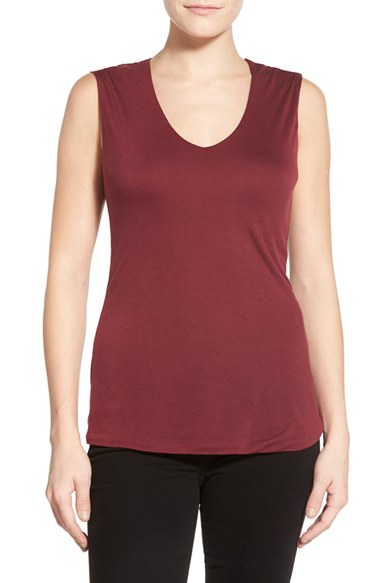 Halogen Sleeveless V-Neck Shell Top
This crazy-soft modal Halogen top fits and feels amazing. This simple top is the perfect companion for patterned shorts, jeans and pants. You can also tuck it into printed skirts.
Note: Don't pair this top with silks or silky fabrics. It is a more casual fabric, so you must pair with other "casual" fabrics like cotton blends and ponte.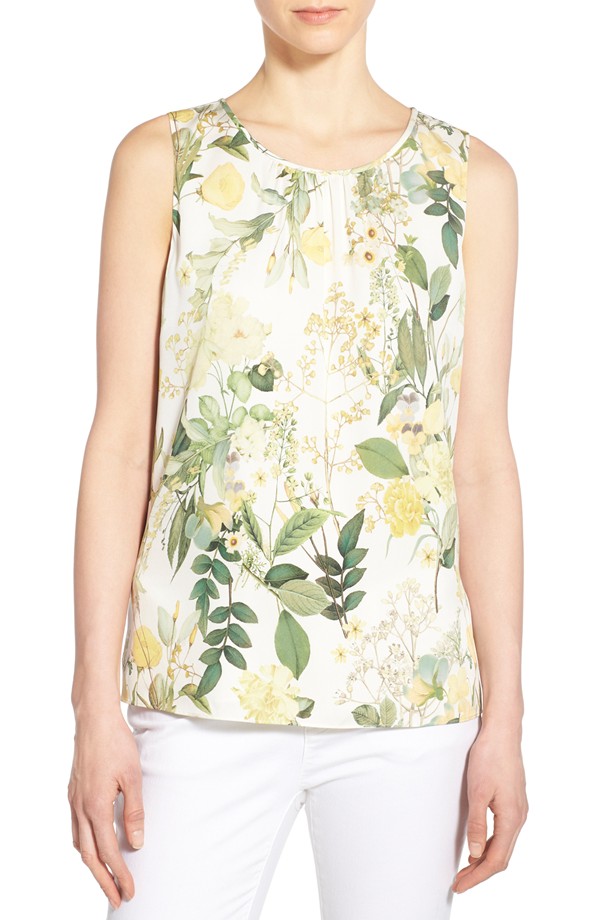 Classiques Entier Botanical Print Stretch Silk Top
Classiques always makes amazing sleeveless silk stretch blouses (hello stretch silk!), but this botanical print top is deeply delightful. I think it may be an all time favorite from Classiques. For a more casual look, I pair it with jeans and Eileen Fisher's Silk & Organic Cotton Knit Notch Collar jacket in the Oregano color.
Note: Classiques runs true to size and is also available in plus sizes (14w-24w). Order a size down on the Eileen Fisher Jacket.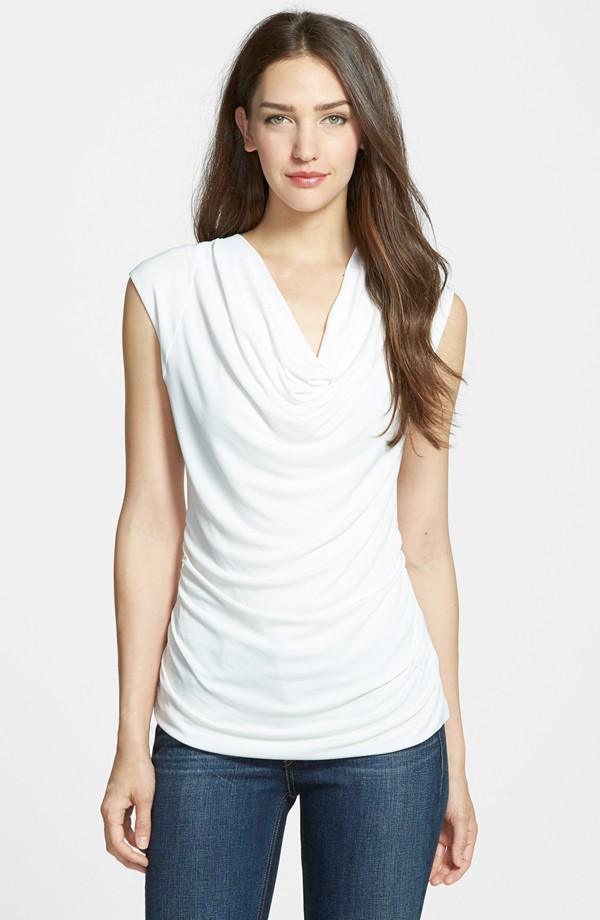 Classiques Entier Cowl Neck Silk Blend Blouses
This top is that simple go-to shell that flatters almost everyone – thank you ruching and subtle cowl necks. This pairs well with printed jackets, or printed bottoms, but can definitely stand on its own for a simple look with great jewelry.
Note: Although Classiques' blouses generally run true to size, you can get away with ordering a size down if needed with this stretchy top.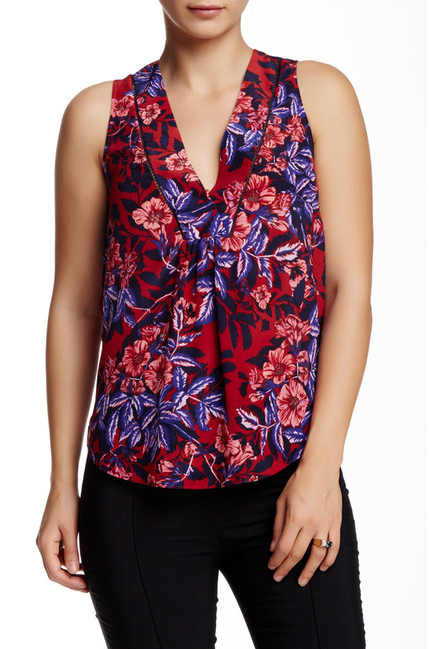 Rebecca Taylor Flame Floral Print Silk Blouse
Per the trend, this beautifully printed top is incredibly flattering and comfortable. It's also nice to get some red in your wardrobe. There's not enough red in our wardrobes.
Note: Rebecca Taylor blouses runs true to size to somewhat small. Order your usual size as well as one size up and compare.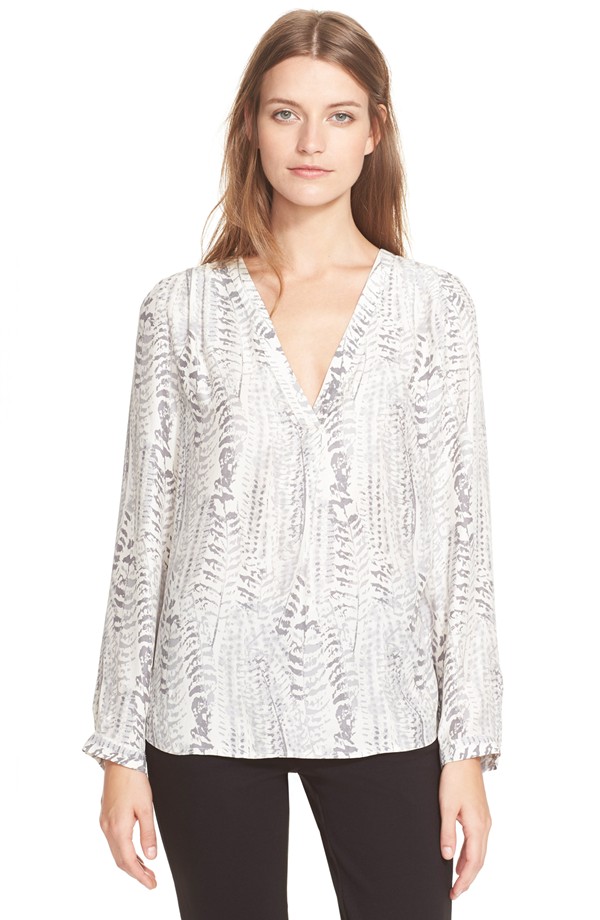 Each season I have a favorite Joie print. This season it is the 'Yinca'. My clients are loving the subtle porcelain shade as well as the caviar black.
Note: Joie blouses run true to size nowadays. Joie used to run a bit large, but I find it is more accurate these days.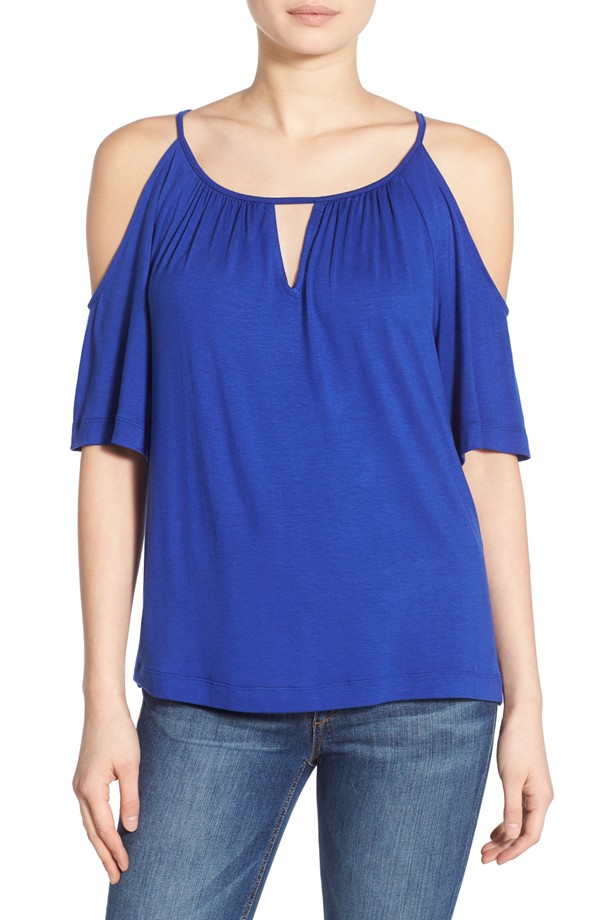 Ella Moss Cold Shoulder Blouse
This Ella Moss top is for the casual, yet fun ladies. It is very comfortable, hides any belly issues as well as armpits or upper arm issues. You get to feel like you are being revealing, but you are actually covering up quite a bit. When wearing it, you will need a strapless bar or a skinny strapped bra. To make sure the bra doesn't show, tape the bra's straps to the top's straps with Topstick.
Note: Runs a bit bigger, so order your usual size or smaller.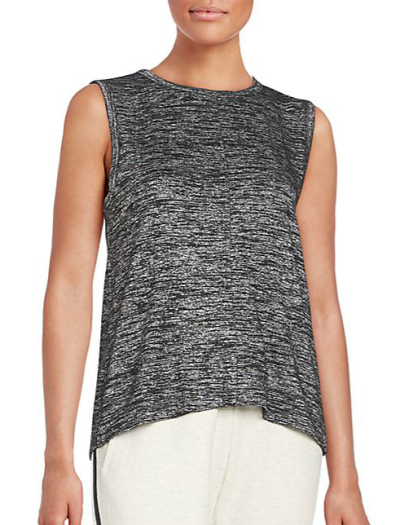 Rag & Bone Nicole Space Dyed Jersey Tank
This last top has been a favorite of my leaner and slightly edgier clients. It is freakishly soft, and opens up in the back to reveal some skin. I recommend tucking just the front in for a fun look. By the way, I'm sorry this image pairs this stylish top with pants that appear to be old pajama bottoms. Why do stores do that? (Insert exasperated emoji here.)
Note: The blouse is stretchy, comfy and flowing, so you can't go too wrong with sizing. As a size 4-6 woman, I went with a medium because they ran out of small sizes, and it's fine.