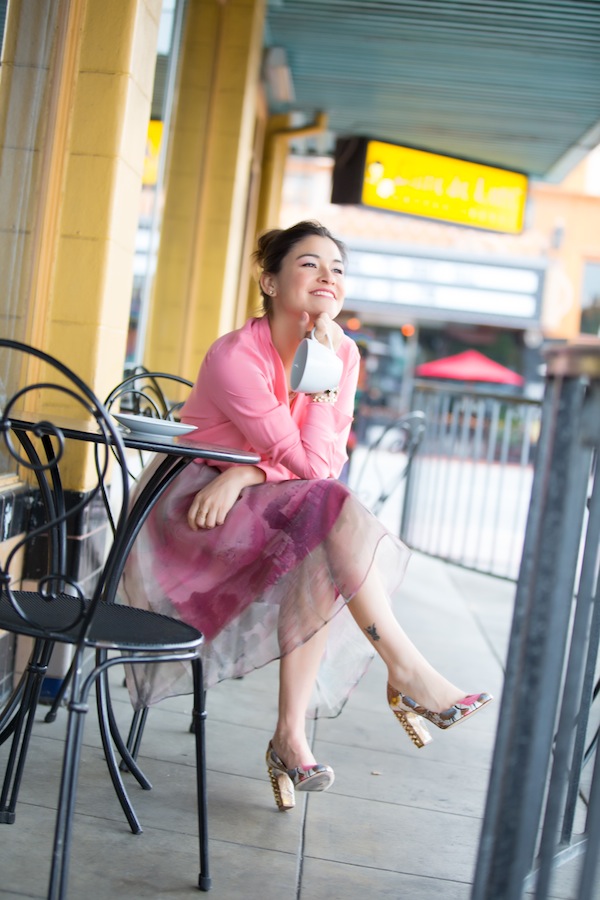 top: Zara, skirt: Anthropologie, shoes: J.Crew, bracelet: J.Crew, studs: Bloomingdale's, rings: Ariella
Mixing Patterns can be very tricky. It's a hard thing to teach. First things first. Something between the two patterns needs to be similar. Color is the easiest. If they are both pink, as shown between my skirt and the wild heels, they will mix better. It is also a great idea if the have similar fabric in common. Now, my skirt pictured is not similar in fabric as my shoe, BUT my blouse is similar in fabric and texture as my shoe. It creates that balance. Balance is truly all you need to think about while dressing. Another key thing to think about is diversity. You don't want to mix two patterns that are similar. Two pink floral patterns is generally not going to be a good idea. Instead, mix floral with stripes. Or in my case, a barely discernible farming scene on a skirt with artistically floral shoes.
The last thing I would like to point out is the choice I made to put both patterns at the bottom of my outfit. Generally, I don't recommend this as it can become "bottom heavy" and disconnect from the blouse. You never want to look like the bottom half and the top half are part of two different outfits. My outfit pictured works because I have played with the gradation of pinks throughout the whole outfit, and, as I mentioned before, tied in the cotton of the shirt with the cotton based fabric of the shoe. Also, the band at the waist buffers between the blouse and the skirt and pulls in the cream color of the shoe. Balance!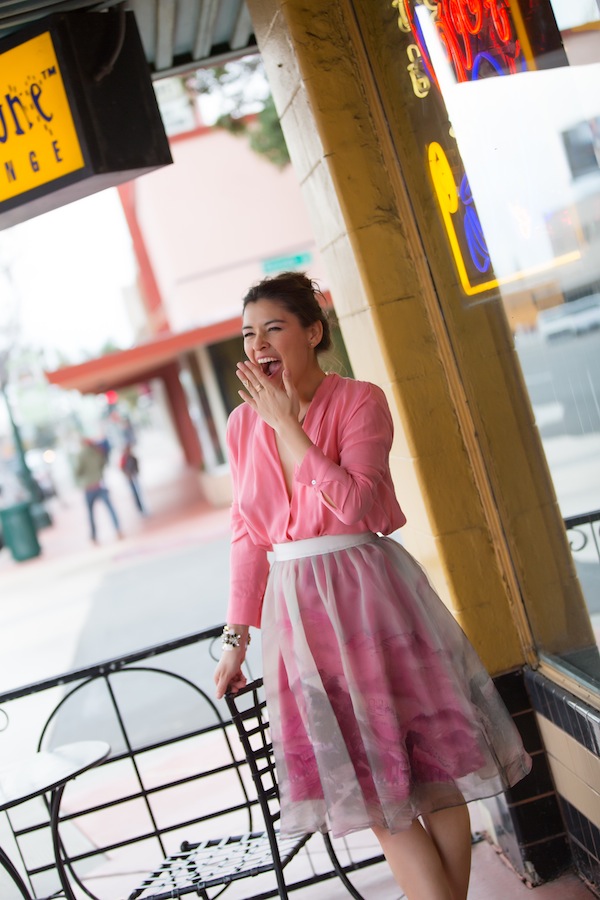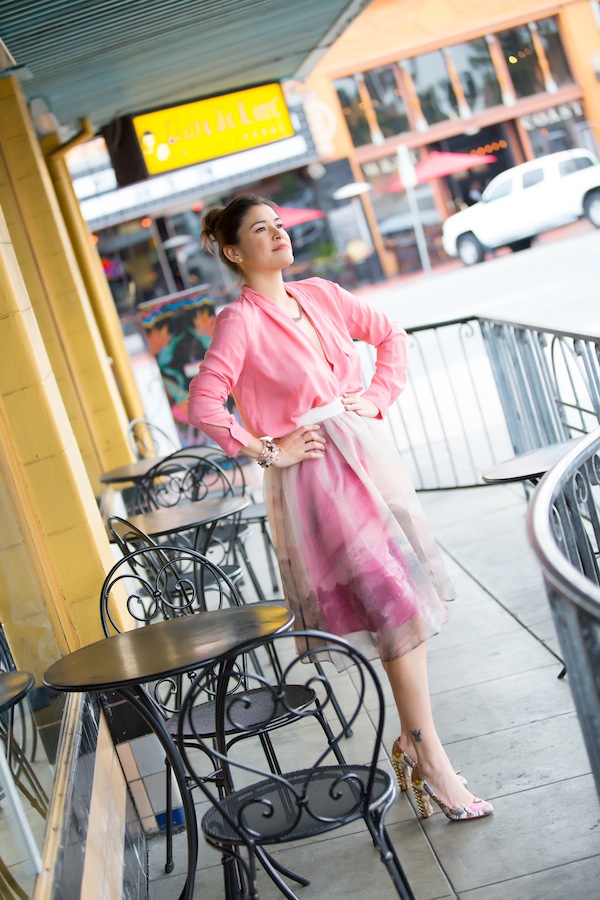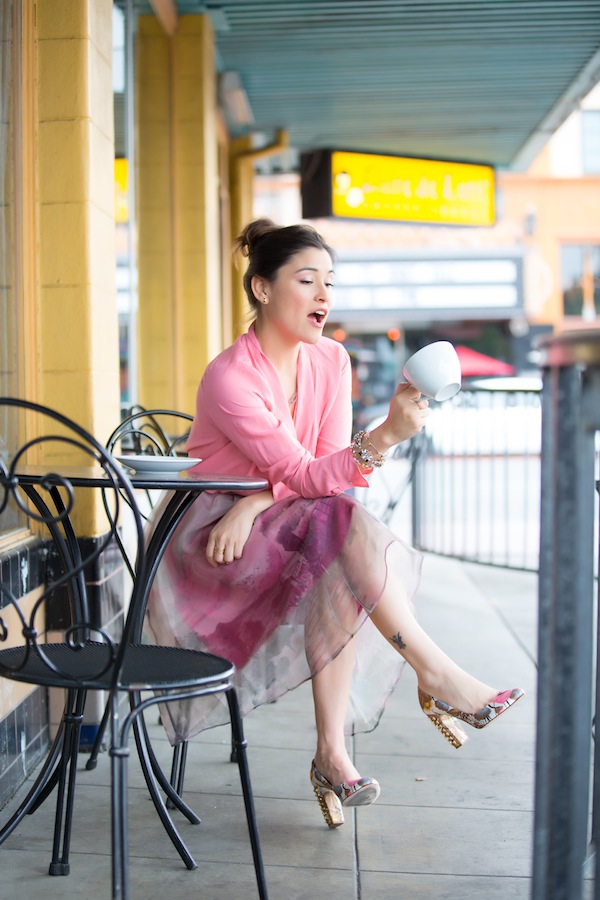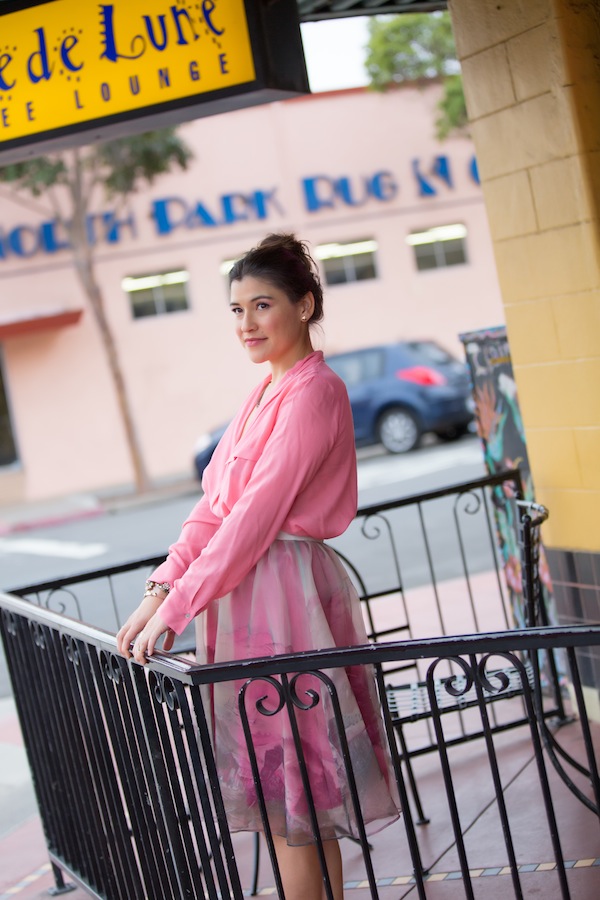 Photo Credit: Robin Dayley/Dayley Photography
Make-up: Antonella Annibale
Location: Claire de Lune Coffee Lounge