Last week, the commercial I styled for La Fresh featuring Fairly Legal's Virginia Williams started airing. I loved dressing these fabulous young women and the beautiful Virgina Williams, but I am so bummed the commercial didn't show off more of the fabulous outfits! My favorite look I put on Virginia Williams would have to be the BCBG red bondage dress that is only shown for one second from the shoulders up. It always breaks my heart when a fabulous look ends up on the cutting room floor.
As for the products, I love them. One of the biggest perks of styling commercials is the generosity of the companies. I took home handfuls of the La Fresh waterproof make-up remover. At home, I use Artisana 100% Organic Raw Coconut Oil to remove my eye make-up, but when I travel, which is often, I can't be taking a big 'ol glass jar of oil with me. The awkward jar issue is quite the bummer because I am making a serious move to choose simple and healthy products over complex chemical products as much as possible. Thankfully La Fresh is paraben free and contains no alcohol, making it my go to for make-up removing on the go. I also use their acetone free nail polish remover pads, which is a serious godsend. Every other "good for you" nail polish remover my mom has tried to get me to use does not work. La Fresh's remover absolutely works, comes in an efficient rectangular shape, and has a thick texture that can remove nail polish off both hands with a single  pad. All the nail polish remover pads I have used in the past are flimsy thin circle shapes that make you use a bunch in one sitting. La Fresh's nail polish remover also smells shockingly good. I am so in love with it, I actually volunteered to give a testimonial for the nail polish remover. That too ended up on the cutting room floor. Bummer.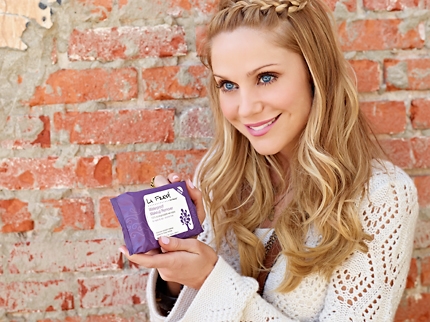 My product reviews are my honest and personal opinion. I never accept payment for product reviews although I am given the sample to keep. In fact, La Fresh is unaware I have mentioned them.