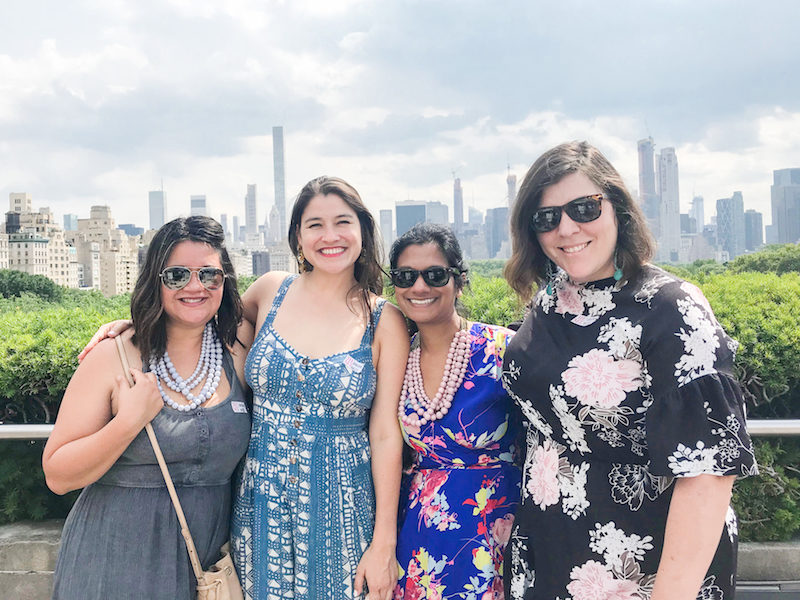 I've had the same best friends for 27 years. As the number of years may indicate, they are my childhood friends. We were all raised in San Jose, CA and then we all left home at 18. Despite never living in the same city again, they remain my best friends. I see them individually throughout the year, but we only get together as a group about once a year. This time, we decide on a girls New York weekend trip. Read on for my recommendations on what to do for a weekend in New York City, and what to pack for New York, aka, what to wear in New York in the summer.
What To Wear In New York In Summer
New York in the summer is hot and humid with a slight chance of rain. You want to wear comfortable, breathable fabrics. Preferably, you want to pack items that don't require a bra. If you worry about thigh chaffing, wear a jumpsuit, shorts that don't bunch, or lightweight pants/leggings. Most importantly, pack comfortable walking shoes. Although cabs and Ubers are moments away, walking in New York City is one of my favorite modes of transportation. Plus, walking is needed for most of my recommended activities for a weekend in New York.
What To Pack For New York
I love to look at specific packing lists when reading travel posts, so here is exactly what I packed. All of it fits into a standard carry-on suitcase.
Airplane Outfit/Lounge Look: A.L.C. Palm Tree Tee, Uniqlo wide leg pants, gold sandals, and an Anthropologie bomber jacket (type in "vstyleblog" for your Invite Code at Poshmark and receive $5 off)
In The Carry-On:
Tracy Reese Jumpsuit (for more comfy jumpsuits, see my post on Where To Buy The Best Jumpsuits for Women)
Black Shawl (similar here)
J.Crew Pink Slides (similar here)
Good American Jeans (The best jeans! I packed them to go with the A.L.C. Palm Tree tee in case I got cold, but never needed them. It was nice and warm, day and night)
Hue Athletic Socks (my favorite socks!)
Short Pajama Set (similar here)
Smallish Black Bag
Gigi New York Clear Hobo Handbag
I usually sleep in my PJ Salvage racerback nightie, but for a girls weekend I always wear a shorts look to bed since we often share a bed or hang out in our pajamas, and a nightie just doesn't seem right LOL.
What To Do On A New York Weekend Trip
I have been going to New York every year for 14 years. (I used Jet Blue for a decade, which I've had no issues with, but so excited I can now use Southwest to gain miles for my regular trips to the Bay Area). I have collected some favorite spots for sure, but what I love most about New York is that there is constantly something new to do and something new to see. Below, are the delightful spots we went to and the activities we did on our New York weekend trip in order of appearance. I left out the first night and the last day of my trip since we basically stayed in and relaxed.
Day 1: I run everywhere I travel, and New York is no exception. On this trip, I just ran around where we stayed, but I recommend running in Central Park, or anywhere along the water. I really enjoy the Hudson River Park and the West Side Highway.
Day 1: The Metropolitan Museum of Art — The Met is hands down one of my favorite locations/activities in New York City, although I have to say that the Heavenly Bodies exhibit is supremely overrated. My favorite part wasn't even in the main exhibit. We had to exit the area and crossover to a corner that held the most lovely gowns by Rodarte. Tip: Don't forget to go to the rooftop for more art and a fabulous view. Also, go on a Friday (instead of a Saturday or Sunday) to minimize the crowds.
Day 1: Boticarios — Great happy hour margaritas, and the crab cakes and mini quesadillas were good. The corn on the cob was amazing! Definitely skip the chewy skirt steak and tasteless croquettes. Service was amazing except the server tried to serve me J. Roget as a real champagne at champagne prices. In case you didn't know, J.Roget is a $5 bottle of crap I used to drink right after college. I have a feeling he didn't know this. All in all, I probably wouldn't go here again.
Day 1: Sel Rrose – Delicious drinks in a chill, yet hip ambiance. I highly recommend this bar for catching up with the gals.
Day 2: Kinky Boots Broadway Show — Although the music is not particularly amazing, the story is fantastic! A great show if you want to stay around $100 a ticket. Tip: All the center seats are good no matter how far back you go. But during intermission, head to the first floor and snag a closer vacant seat. People often leave at intermission, or the seats don't sell for a show like this that has been running for a while.
Day 2: Walk The Highline — Roaming about chatting with your girlfriends is my favorite thing to do. The key is to find the best places to roam. After the Broadway play, we knew we wanted to head to the Frying Pan, so we strategically chose to walk the Highline to get there. When we arrived, we realized we were hungry, so we stopped at a delightful restaurant below. It was so easy, and so wonderful.
Day 2: Pepe Giallo for lunch — Yummy Italian food, delightful service, and a great ambiance.
Day 2: Frying Pan at Pier 66 Maritime — A bar on a boat! Great view of helicopters landing, the Statue of Liberty, and a pretty good sunset.
Day 2: Sid Gold's Request Room — One of the best karaoke times I have ever had, and I don't even like karaoke. We adored the pianist, Leslie Goshko, and everyone can be your friend. In case you were wondering, yes, we sang Part of Your World from The Little Mermaid.
General Tip: Comedy Cellar on MacDougal Street — We actually didn't end up going to see stand up comedy this time, but this is usually a must-do every single time I go to New York. Every single time.