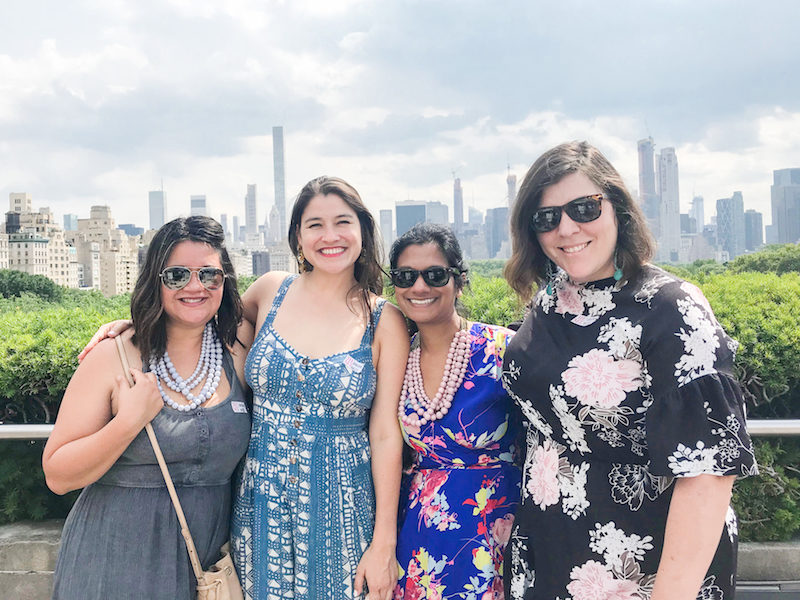 I've had the same best friends for 27 years. As the number of years may indicate, they are my childhood friends. We were all raised in San Jose, CA and then we all left home at 18. Despite never living in the same city again, they remain my best friends. I see them individually throughout the year, but we only get together as a group about once a year. This time, we decide on a girls New York weekend trip. Read on for my recommendations on what to do for a weekend in New York City, and what to pack for New York, aka, what to wear in New York in the summer.
What To Wear In New York In Summer
New York in the summer is hot and humid with a slight chance of rain. You want to wear comfortable, breathable fabrics. Preferably, you want to pack items that don't require a bra. If you worry about thigh chaffing, wear a jumpsuit, shorts that don't bunch, or lightweight pants/leggings. Most importantly, pack comfortable walking shoes. Although cabs and Ubers are moments away, walking in New York City is one of my favorite modes of transportation. Plus, walking is needed for most of my recommended activities for a weekend in New York.
What To Pack For New York
I love to look at specific packing lists when reading travel posts, so here is exactly what I packed. All of it fits into a standard carry-on suitcase.
Airplane Outfit/Lounge Look: A.L.C. Palm Tree Tee, Uniqlo wide leg pants, gold sandals, and an Anthropologie bomber jacket (type in "vstyleblog" for your Invite Code at Poshmark and receive $5 off)
In The Carry-On:
Tracy Reese Jumpsuit (for more comfy jumpsuits, see my post on Where To Buy The Best Jumpsuits for Women)
Black Shawl (similar here)
J.Crew Pink Slides (similar here)
Good American Jeans (The best jeans! I packed them to go with the A.L.C. Palm Tree tee in case I got cold, but never needed them. It was nice and warm, day and night)
Hue Athletic Socks (my favorite socks!)
Short Pajama Set (similar here)
Smallish Black Bag
I usually sleep in my PJ Salvage racerback nightie, but for a girls weekend I always wear a shorts look to bed since we often share a bed or hang out in our pajamas, and a nightie just doesn't seem right LOL.
What To Do On A New York Weekend Trip
I have been going to New York every year for 14 years. (I used Jet Blue for a decade, which I've had no issues with, but so excited I can now use Southwest to gain miles for my regular trips to the Bay Area). I have collected some favorite spots for sure, but what I love most about New York is that there is constantly something new to do and something new to see. Below, are the delightful spots we went to and the activities we did on our New York weekend trip in order of appearance. I left out the first night and the last day of my trip since we basically stayed in and relaxed.