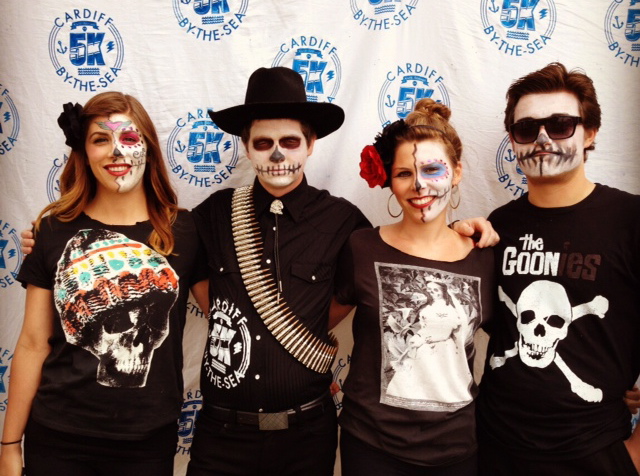 In 2009 I didn't go home for Thanksgiving. For the first time in my life I didn't spend the holiday with my mom. Instead, I stayed in San Diego. My friend Troy often skips the family visit to stay in San Diego, so he broke it down for me. Apparently if you don't have family on a holiday, you run a 5K. "Alright then," I said. Although a daily runner for fifteen years, I had never ran in a public affair before that day. I was astonished to see the hundreds upon hundreds athletic people lined up at 7am in top of the line athletic gear. It seemed the event was sponsored by Nike, Reebok, New Balance and other major athletic brands. Around the athletes were flags, cones, timetables and people handing you water. It was a joyful day, but people meant business. Troy and I followed suit and put a lot of effort into making good time. We did well.
Last week my friend Allison invited me to run the Cardiff 5k benefiting the Boys & Girls Club. It would be my first 5k since Thanksgiving 2009 and my second official running experience in my entire life. Allison said people dress goofy for this particular 5k. My running clothes are already pretty silly, I figured I would be fine in my tiny bright green shorts and yellow long sleeve running top. As usual, the base of my running attire is two sports bras and white running shoes. The shoes say Reebok.
My friend gave me a date, time and a house address: June 2nd, 3pm, Encinitas. That Saturday, I ate a solid lunch at 12:30, so my stomach would be empty, but not growling by 3pm. I was ready.
When I arrived, a man in a space suit accepted my $25 donation. He was wearing Vans on his feet. The people I passed next were dressed in 80's attire. The next folks were a couple handcuffed together in matching jail outfits. I passed an elf, a rainbow, sandals, overalls, nudity, and lots 'o color. It seemed this event was sponsored by Halloween. I was barefaced with a conservative ponytail standing next to a gargantuan man with pig tails and lipstick. Kegs of beer were everywhere and a live Irish band played loudly. Eventually I was told we weren't running until 5pm and most people don't run at all. I left immediately, ate a hamburger, and came back to trade in my athletic aspirations for a Pacifico, wishing I could trade out my garb as well. I felt so dull compared  to everyone, especially the gentleman in the rainbow face mask and onesie. (He managed to drink beer through the fabric; though it created a moist circle from his nose to jaw.)
Two hours and four beers later, the host counted down. "1…2…3…GO!" Two hundred crazy people started running in their costumes. Every single one of them began to jog. "Alright then," I said. I lifted my feet with the rest of gang, thinking I would follow the taking-it-easy peeps through the rumored short cut to the finish line. They were to welcome in the dedicated runners.
The time to veer away from the full course came too soon. I didn't have it in me to quit. I left beind the hammered people and joined the tipsy people. Inappropriately clothed and wildly unprepared, I ran the entire 3.125 miles next to a man dressed as Skeletor. I only had a cramp for the last part. No body handed me water.
The moral of the story: it is always better to be overdressed than underdressed.