Updated May 2018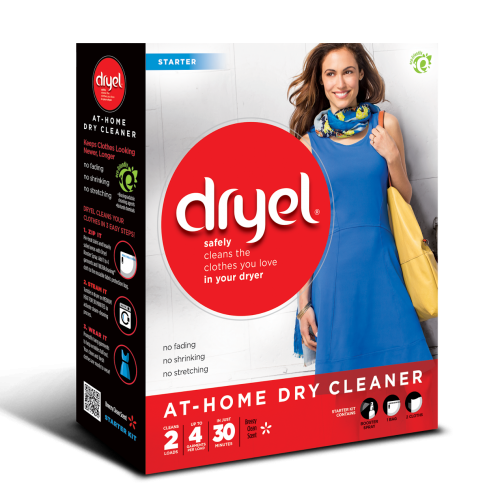 What is Dryel?
Dryel is an at-home dry cleaning kit that safely cleans "dry clean only" garments using your dryer, their reusable fabric protection bag, a Dryel booster spray, and their cleaning cloth. The package I received from Dryel's publicist had a Dryel Starter Kit and a Dryel Refill Box.
How Does Dryel Work?
When the starter kit arrived, I went through the instructions and was surprised by how easy it was to use. Here is how it works:
Pick out 1-5 "dry clean only" garments that you want to wash. You can even mix whites with reds.
Use the Dryel booster spray on any stains or dirtier areas like the armpits.
Throw the garments into Dryel's reusable fabric protection bag.
Add the moist Dryel cleaning cloth to the bag; zip it up; and throw the bag into the dryer on medium heat for 15-30 minutes.
Does Dryel Work?
Yes. I am absolutely in love with it. The first load I did had a "hand wash only in cold water" rayon romper, a mostly rayon "hand wash cold" Bobeau maxi skirt, a "dry clean only" polyester dress, and a silk tank. Thankfully, I missed the warning on the box that says, "Do not use on silk, rayon, velvet, suede, and fur." I am not sure why it said that because Dryel refreshed my rayon garments and silk blouses beautifully. My second load had two silk blouses, another rayon maxi skirt, a white silk "hand wash only" pillowcase, and an Anthropologie "dry clean only" cotton dress. I got the same fast and fresh results. Here are the highlights:
No shrinkage. No fading.
Garments keep their shape. (This is so incredibly amazing for hand wash knits and t-shirts, which always seem to lose their shape and look sad after the first wash.)
Save money on the dry cleaning bill.
Saves time: It only takes 15-30 minutes to "wash" something, and you don't have to deal with picking up and dropping off the items at the dry cleaner.
It has a fantastic scent that is subtle in its pleasantness, and not overwhelming like a garment someone Febreezed (ew).
Clothes look new longer.
Apparently, this product is eco-friendly. They use biodegradable cleaning agents and no harsh chemicals.
Cons of Dryel
I am confused that they don't want you to use it on silk and rayon. Those materials make up 90% of the items I always have to hand wash or dry clean. It worked great on my rayon and silk garments, but I'm concerned as to why they would put that on the box. Will Dryel eventually destroy my silk? I guess I will find out because I have no intention of stopping.
The other con is that it doesn't seem to take out food stains easily. I sprayed the booster on a couple of stains on my maxi skirt and it only mildly helped. I know the box said I need to blot the stain and rub it a little, but I was in a rush (as always), and wanted to see what would happen if I just sprayed it and threw it in the bag. The answer is not much will happen with the stain if you don't actually work on it, but your garment will definitely be refreshed and body odor free.
My product reviews are my honest and personal opinion. I never accept payment for product reviews although I am given the sample to keep. If I am sent something that is unimpressive or boring I don't write about it.