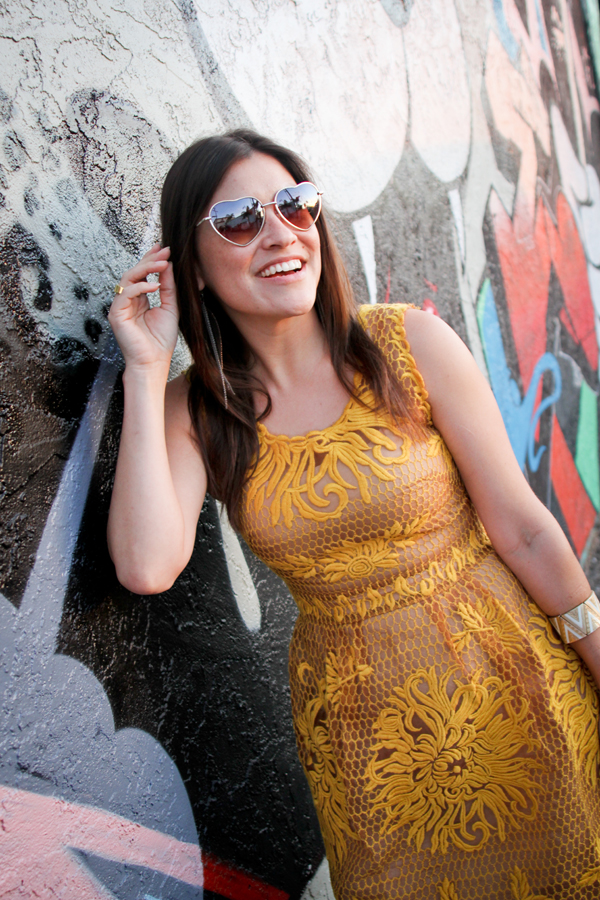 dress: Anthropologie, shoes: Jeffrey Campbell, earrings: ??, sunglasses: Urban Outfitters, bracelet: Macy's, ring: Erica Anenberg, purse: Aldo
Consistently decorated with dazzling care, Anthropolgie stores draw you in with it's creative country chic. Mesmerized by the frills and expertly meshed ambiance, you touch the racks looking to fulfil the promise the front window made, but like a hot date with an aggressive tongue, many women go in with excitement and walk away disappointed. So many of my clients say the same thing, "I really like Anthropologie, but I can never find anything there. How do you shop at Anthropologie?"
For a couple years there, I agreed. The store was dropped from my shopping roster for it's over priced selection of ill fitting and unfabulous pieces, though it was not forgotten. Every few months I would check in. "Are we back? Not yet? Ok, see ya next month."
About three months ago, I brought Anthropologie back into my client's wardrobes. I am loving the special somethings I have showed my clients this fall and winter. From the perfect blue shirt dress, and unique dresses to printed button fronts and cardigans, I rely on Anthropologie for eccentric basics I can't find anywhere else. This is the promise Anthropolgie's decor makes.
Still, it is a jumbled mess of beauty that can be difficult to maneuver. In order to accomplish a purchase, first step is to head straight to the sale racks. It's a great place to start as Anthropolgie generally keeps their sale racks organized nicely and placed further away from the high concentrations of distracting  decor. Once you've browsed the sales racks, move on to the rest of the store, but skip over the pajama area and kitchen area, unless you are looking for an an adorable apron. Anthropologie is my first stop for a stylish apron. With these sections eliminated, the store is suddenly smaller and more manageable. Dresses, sweaters, and blouses are their best offerings. Occasionally a skirt or jacket will be worthy, but best to focus on one category when you are overwhelmed and you won't regret passing over their t-shirt and bottoms (pants) sections.
After showering a few clients with Anthro, I decided my closet also needed a reintroduction. I hopped online and snagged their honeycomb lace dress. To keep this frock from looking like a frumpy mustard doily, pair it with fashion forward heels in an upbeat earth tone like bronze, red or green. Avoid dark tones like chocolate brown. As you can see on the model on Anthropologie's website, the dark brown looks bleh. As for style tone, keep it in the Bohemian route versus elegant or dressy. Yellow lace can appear overdressed if paired with nice heels and a cardigan, better to dress it down with an edgier jacket and funky earrings.
Photos By Robin Dayley