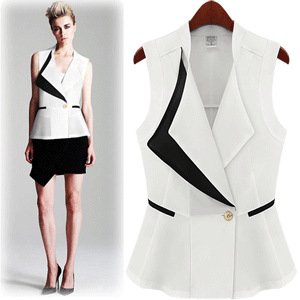 I bet you own a vest, maybe even two or three. Five dollars says you have never really been comfortable wearing it or you have never even worn it outside your house because you don't quite know how to wear it. The vest is a very difficult piece to pull off because there are usually two things going wrong with it. One, you are looking like a waiter or two; you end up looking a
little dated. Although the vest is not really a must-have right now, stylish layering is always fabulous so let's get comfortable with the vest.
First try a vest suit. For the office try a pencil skirt with a matching vest instead of the usual skirt suit with a blazer. Put over a bold colored or patterned button-front shirt. This is great for mixing it up or simply cooling off a little bit – a jacket can get pretty warm.
Next, the usual slim fitting, three-button vest can work for the office, but isn't really working for casual wear anymore. This is wear ladies end up looking a little dated. It's been done to death and now resembles the look of a teenage girl and once you see it on a sixteen year old girl, its time to move on. Instead
look for a more fashion forward look without the buttons like this Rachel Pally T Back Vest
. Look how it just hangs almost like a scarf and the T-back is wonderfully unexpected. You can pair this with a short dress, t-shirt and jeans or even a tunic with leggings.
Another way to sport the vest is to go long. This long knit by Mink Pink is a fantastic piece to throw on for both stylish reasons as well as body conscious incentives. I love to throw on a long vest when I am sporting leggings with a top that is just a little too short for skintight pants. It can also be belted for a more chic look. Pair it with pants, jeans, shorts and anything that needs a little something over it.
Lastly, go crazy! Grab that crazy faux fur vest by Young Fabulous & Broke
. The quickest way to spice up a boring combination of a simple top and bottom is to add a fabulous fur vest. The best part is you can throw it on over a wild outfit too. This vest is definitely for showing off and fashion over
indulgence.