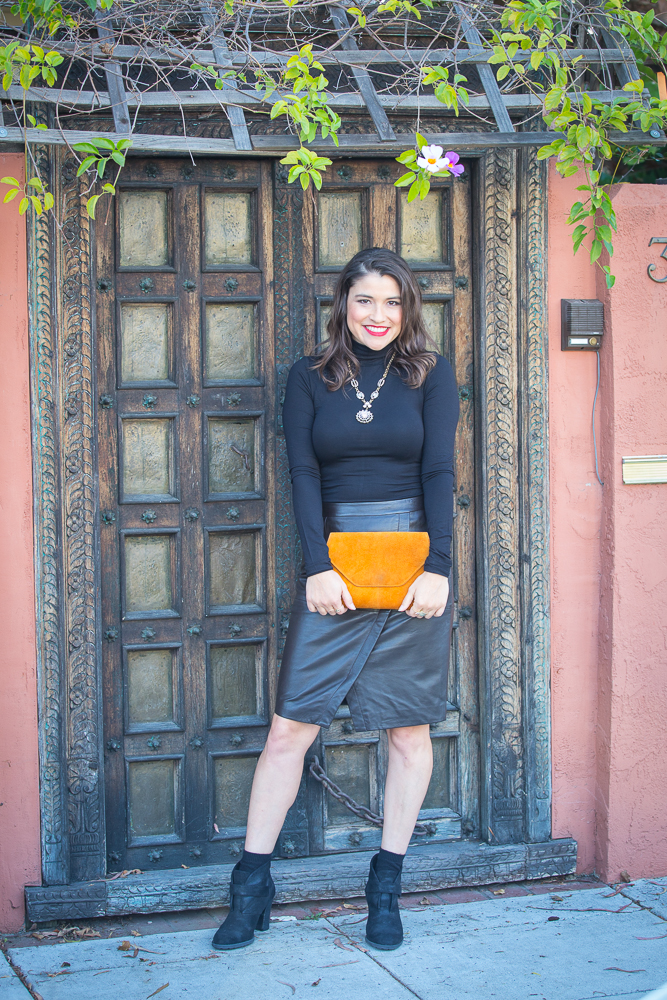 Booties are a confusing shoe. They are gorgeous, on trend and edgy, but then they don't seem to go with a lot and often shorten your legs. That's because often booties end abruptly at your ankle and need something between this awkward short boot and your leg. Sometimes all it needs is a scrunched skinny pant or a pair of tights, but another solution is to wear socks. A sock is the buffer between the bootie and your leg. It transitions the bluntness of the shoe to the stem of your leg. It also creates dimension and warms your tootsies. So, how to wear socks with booties …
Which Socks For Bare Legs?
When pairing socks and booties with bare legs, I love J.Crew's socks. Their shorter trouser socks are a no brainer height with diverse patterns and textures. (You can tell I love them by the intense smile on my face. That's my sock smile.) The height of this sock is not too short or too long, so you can throw them on and they peak out of your bootie perfectly, like it does with my black booties above. If you want to use a standard calf trouser sock, which hit higher up on your leg, simply fold them down so that an inch or two peaks out of the boot. Another option is to push your sock down until you are happy with how much is showing. I also like the look of Falke London socks. They just need to be pushed down a smidgen to look great with booties.
Which Socks For Leggings & Skinny Jeans?
When wearing socks with booties over skinny jeans or leggings, you need a heftier sock like Hue Poodle Slouch Socks or Pantherella's Clara Slouchy Cashmere boot socks. In order to wear a sock over a skinny pant, you need your skinny pant to be very skinny and taut at the ankle. You don't want to scrunch a sock over a pant that is bunching. If scrunching feels too 80's, try a relaxed fold as I have down with my pinky cashmere socks and grey leggings below.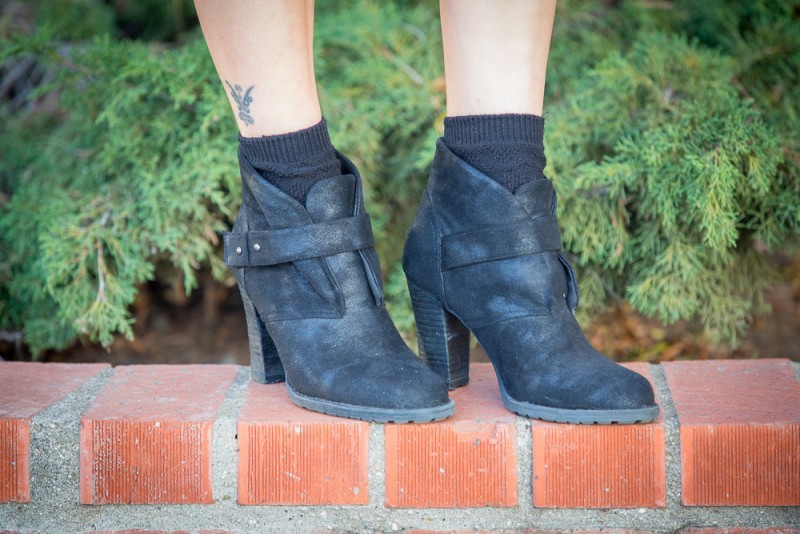 Photo Credit: Dayley Photography
Make-up: Antonella Annibale