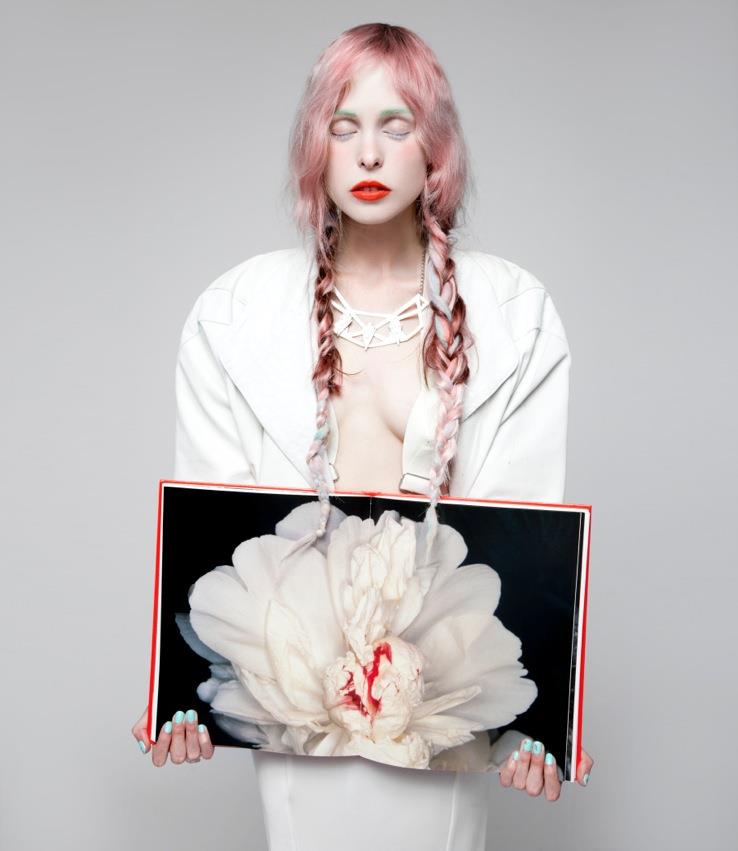 Without interest in television, mass news or You Tube; I find myself getting modern news from my social circles, a small collection of requested e-mail notifications, and press releases. You may be surprised the range of pop culture knowledge the word of mouth and my Inbox brings me. One of my recent press release treats involves the fabulously bizarre music video, Stevie Jobs by  nuvo-jazzy pop singer Petite Meller. The tune may not be your cup-o-tea, and the gargantuan mouse covered in maple syrup may not be the most pleasant sight, but I adored Petite's use of Yve Saint Laurent's Rouge Pur Couture in orange imagine.
This bright coral shade stands boldly against her fair skin, blonde hair and neutral hued outfits. I find Petite proves this almost neon shade works best with neutrals like white/cream and black. It will also work with navy and grey. You don't want to pair this shocking shade with other bright colors like red, purple, pink or green. If you are feeling more daring, a happy yellow or brilliant blue pairing can be a fun exception.
As for who can wear coral lipstick, fair or very dark skinned is best. If you have red or strong yellow undertones, best to skip the coral shade. You want contrast between the color of your face and the bold lip. Otherwise, your look goes 80's and/or your face seems to bleed into a wound in the mouth region.