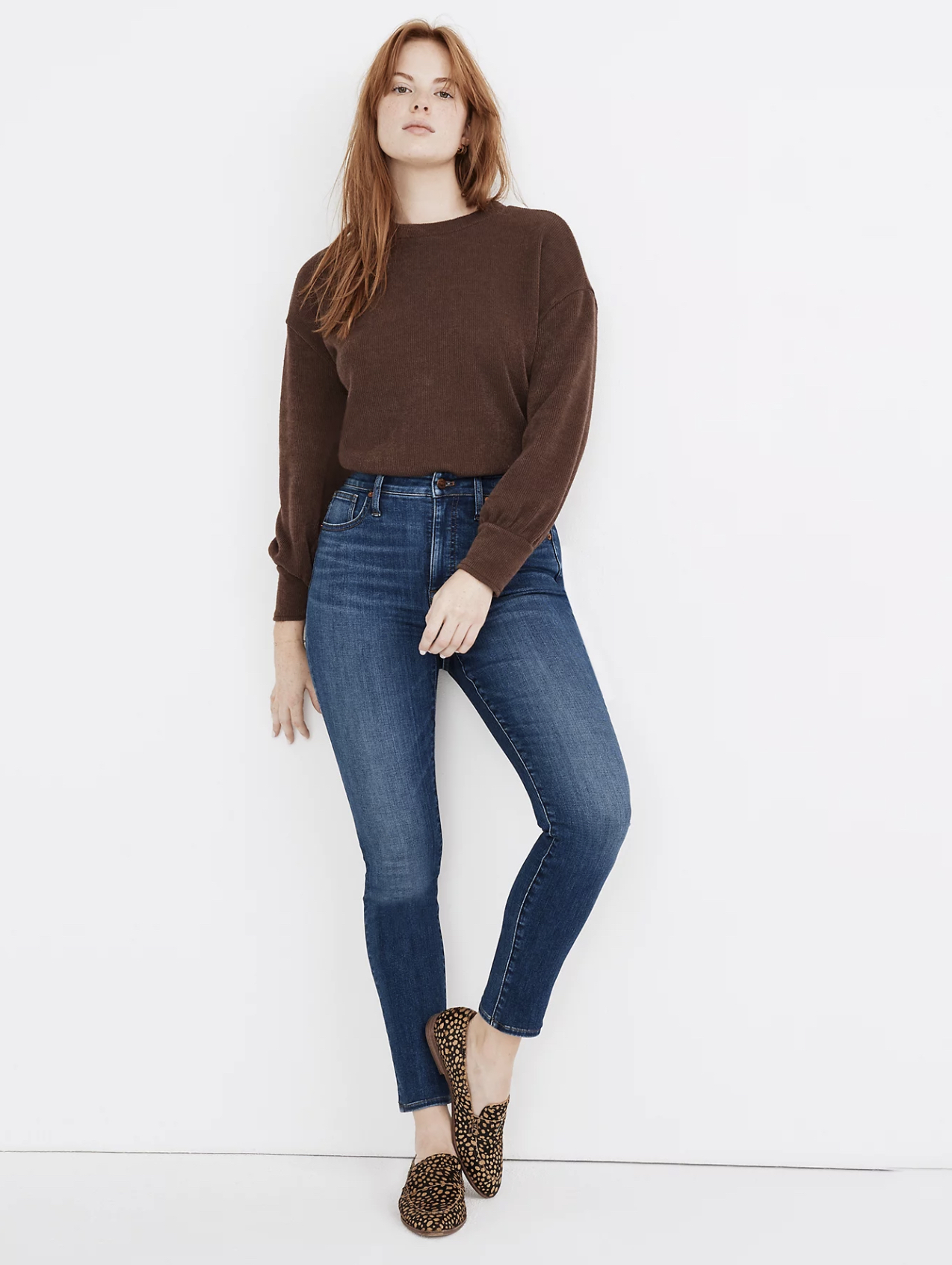 No one saw me in jeans for about 30 years. Why? They were uncomfortable. I obviously understood the versatility of jeans, but I couldn't comprehend why everyone was so dedicated to such a claustrophobic and stiff garment. I understand the idea of "people not knowing better," so I assumed it was all about being accustomed to the discomfort, and feeling an emotional comfort in a garment so socially acceptable. Not to mention that jeans pair well with basically all tops, and they're warm. I really started wearing jeans when I was traveling between San Diego and London a lot. London was cold and jeans were warm. They're also a great pant for travel because, as we know, they go with everything. Thus, began my search for the most comfortable jeans.
The Origin of The Most Comfortable Jeans
Ten years ago the most comfortable jeans were denim you bought stiff that later became "worn in," aka softer, after numerous wears and washings. Then there was denim that was comfortable simply because it was baggy. There were also jeans that actually advertised their discomfort. They were practically a contraption, but they "slimmed you!" Thankfully, around the time I personally needed jeans in my life, technology and experimentation in denim had already been moving at a steady clip towards high waists and fabric blends that are, how do you say it? Oh yes, YUMMY.
What Makes The Most Comfortable Jeans So Comfortable?
The most comfortable jeans are comfortable because they have a high waist. Low-waisted jeans create muffin tops on literally everyone and are more prone to sagging and showing your thong or butt crack. The second reason the most comfortable jeans are so yummy is because of technology. You can pick up a pair of jeans with the same fabric content, but one is soft and the other, not-so-much. I don't know how they've done it, so I will give credit to advancements in fashion. The third reason is my favorite. Denim makers have introduced modal, Tencel, and elastane to their fabric compositions. Although jeans are known for being made of 90%+ cotton, jeans on this list consist of as little as 41% cotton. It's a whole new world of denim now, and I am officially a convert. I've never worn more denim in my life. The vast majority of my clients have always worn denim, but they are loving the new fits and feel as much as I am. I've been able to convince women who never wore skinny jeans to adopt the look simply because they are so darn comfortable now.
Good American Good Waist Side Slit Crop Jeans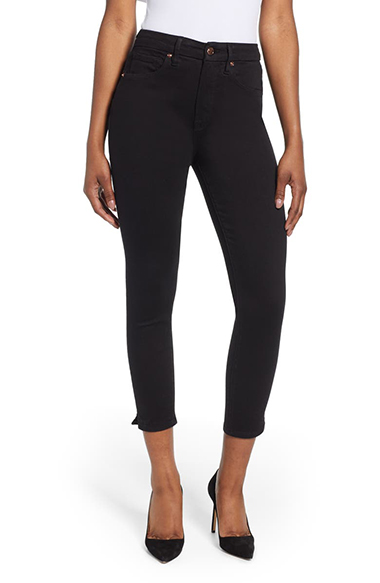 Good American jeans are my jam. These are my favorite jeans in the whole world. I never, ever wore jeans on a plane until I met these jeans. Now, my go-to plane pants are a pair of pale Good American jeans, featured many times on this blog. Unfortunately, I am unable to find that exact jean available for sale today. I have tried on many pairs of Good American jeans the last few months trying to find an equally comfortable one in a versatile blue wash, but I couldn't. They're all amazing, don't get me wrong, but not quite the same. I did, however, find the exact same fit and feel of my beloved, most comfortable jeans ever in the black shade of the Good Waist Side Slit Crop jeans. They are insanely soft, stretchy, and comfortable. They are amazing. I cannot recommend their comfort enough. These jeans are available at Nordstrom, Bloomingdale's, and Shopbop.
Sizing Tip: Runs true to size. As a 5'4″ woman, the crop length hits at my high ankle and is great for pairing with booties.
Good American Good Legs High Rise Skinny Jeans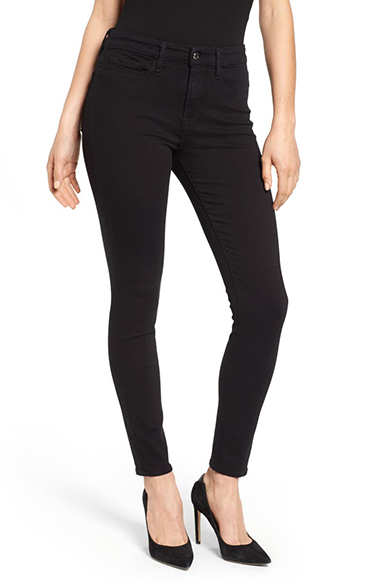 For a slightly leaner fit, but the same flattering silhouette and stretchy amazingness of the pants mentioned above, here is the "Good Legs" version of the same black color. They don't have the slit on the side (yay), and they have a silver button instead of gold. The "Good Legs" fit is not as comfortable to me as the "Good Waist," so that is the pair I own.
Madewell 10″ High-Rise Roadtripper Supersoft Jeans in Playford Wash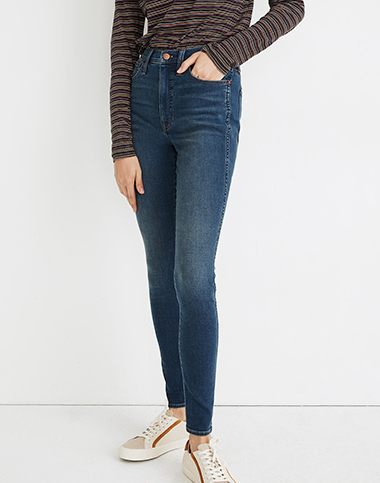 The Madewell 10″ High-Rise Roadtripper Supersoft Jeans have a super flattering fit, great stretch, and come in a perfect medium blue color for the most versatile use in your wardrobe. These high-waisted, stretch jeans run a bit big, so order a size down. For instance, I usually wear a size 28, but in this jean I wear a size 27. They're made of 73% cotton/16% poly/10% viscose/1% elastane denim. These jeans are available at Madewell, Nordstrom, and Zappos.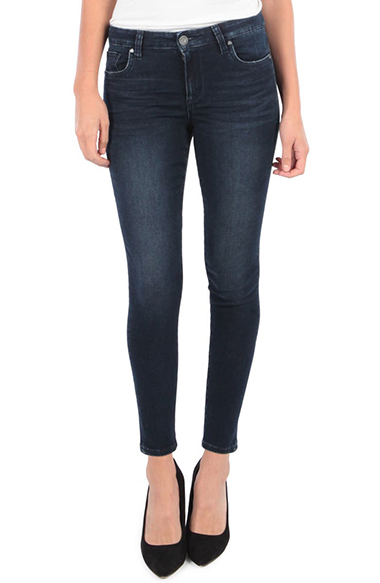 These Kut from the Kloth Donna Ankle Skinny Jeans are a fantastic, budget-friendly option. The fabric isn't as luscious as the other options on this list of most comfortable jeans, and the waist isn't as high as I like, but the fit is slimming and the stretchy comfort is high ranking.
Liverpool Farrah Pull-On Skinny Ankle Jeans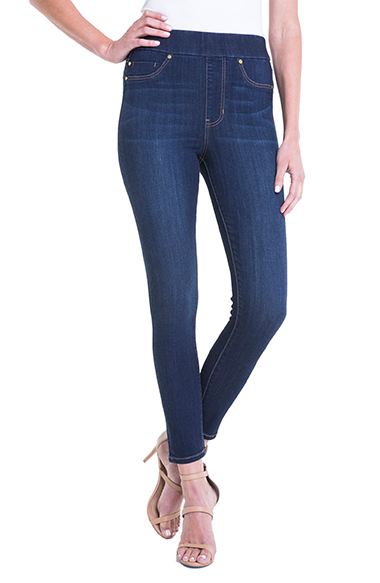 Made of 59% cotton, 20% rayon, 13% modal, 6% polyester, and 2% Lycra® spandex, these Liverpool Farrah Pull-On Skinny Ankle Jeans are my go-to for pull-on jeans. They are made for untucked shirts and tunics. My clients who hate tucking in their shirts adore these jeans. They are available at Zappos, Liverpool, and Amazon.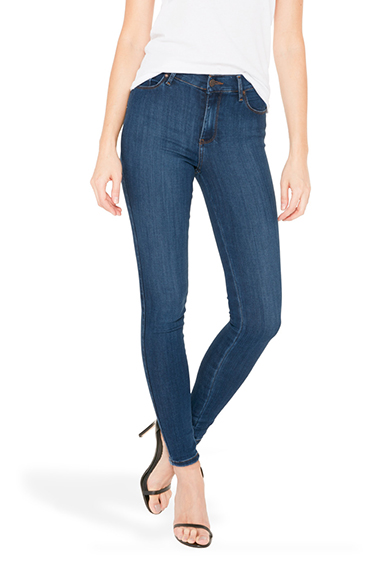 These Mott & Bow High Rise Skinny -Jane jeans are made up of 44% Cotton, 42% Tencel, 13% Polyester, and 1% Elastane, which means, of course, they are comfortable. They come in various shades, but I have featured the medium blue shade because it is the most versatile hue. This fit is best for those who carry their weight in their belly and or hips with leaner legs.
Madewell Curvy High-rise Skinny Jeans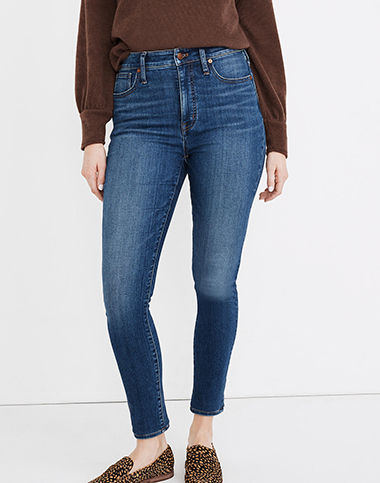 These curvy jeans are made from 97% organic cotton and 3% eco-smart recycled elastane denim from the Candiani mill. These jeans are for those with an hourglass shape, so they have a narrower waist with a contoured band, a longer rise (for a rounder booty), and a little extra room at the hips and thighs. They are super comfortable because, they are soft, and you guessed it, stretchy.
Frame Le High Crop Skinny Jeans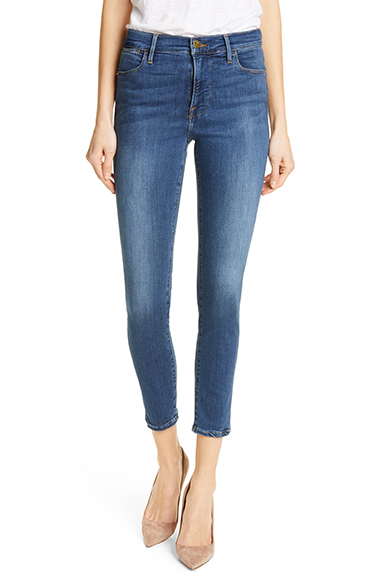 These Frame Le High Crop Skinny Jeans are made up of 47% modal, 44% cotton, 6% polyester, and 3% elastane. Enjoy the classic skinny jeans look in comfort. These jeans are available at Nordstrom, Shopbop, and Bloomingdale's.
Madewell Button Front 10-Inch High Rise Skinny Jeans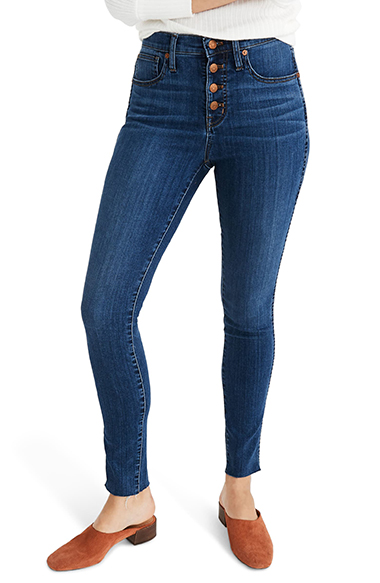 I live for these Madewell Button Front 10-Inch High Rise Skinny Jeans. It is seriously difficult to try to choose which pair of jeans on this list are the most comfortable, but these are my personal favorites. They consist of 44% cotton, 42% Tencel lyocell, 13% polyester, and 1% elastane. I've never been so excited to wear a jean before. The copper button front and subtle raw hem really add spice to the "same 'ol" denim look. These were available at Nordstrom and Madewell. They are now sold out, but I am crossing my fingers they will come back someday.
NYDJ Ami Stretch Skinny Jeans In Bernal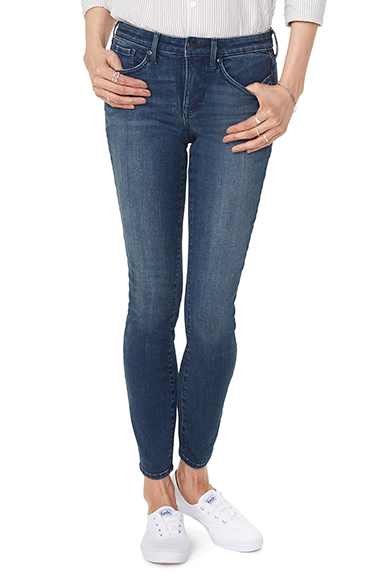 NYDJ evolves slowly, but surely. They are akin to the turtle in the race. These NYDJ Ami Stretch Skinny Jeans consist of 59% cotton, 20% viscose, 13% modal, 6% polyester, and 2% elastane. They are available at Nordstrom and NYDJ.
NYDJ Ami Stretch Skinny Jeans In Lucien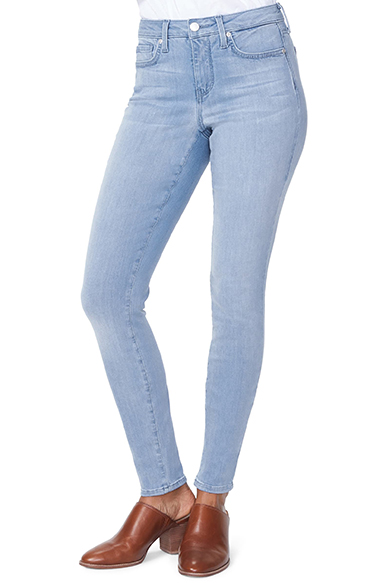 These NYDJ Ami Stretch Skinny Jeans are a lovely lighter version of the jeans listed above. I love this color for a more casual, fresh look. They are made up of 59% cotton, 20% viscose, 13% modal, 6% polyester, and 2% elastane, and are available at Nordstrom, NYDJ, and Bloomingdale's.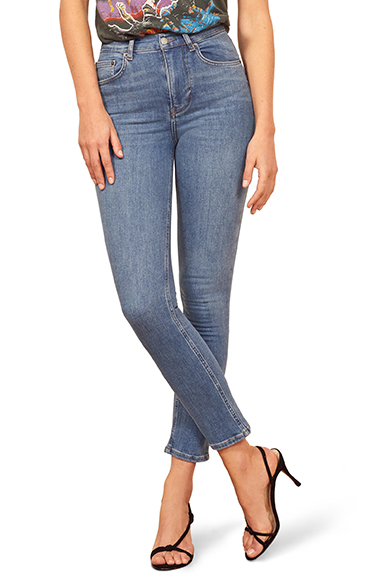 Reformation High & Skinny Jeans are a bit famous among the sustainable crowd. These are the only jeans made up of 57% Organically Grown Cotton, along with 37% TENCEL™ Modal, 4% Elasterell-p and 2% Elastane. There have been conflicting accounts of these jeans, simply because the original black shade of this style was made up of a different fabric content that was apparently softer than this current version. This version is still comfortable and soft, and the fabric content I have listed is true for all the colors shown when you click on the link. They are available at Nordstrom and Reformation.
My blog posts are my honest and personal opinion. Sometimes my content includes products sent from brands or PR firms. In this case, I was sent a sample from Mott & Bow. If I am sent something that is unimpressive or boring I don't write about it.