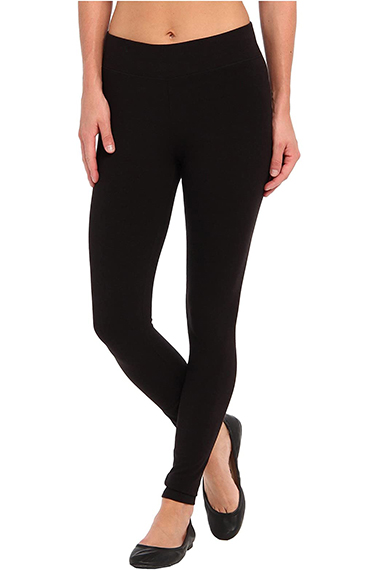 The Best Leggings
The best and most flattering leggings are high-waisted leggings with a wide band at your high waist. The most flattering leggings also tend to be made of a thicker fabric that holds in the thighs and skims over cellulite. This combination creates a scrumptious slimming effect that makes you feel like a sexy superhero.
The worst leggings sit low on your torso with a skinny waistband that cuts into your lower belly's flesh to produce the infamous muffin top. These crap leggings also tend to be see-through on your bum, show off the fat deposits on the thighs, pill easily, and often shrink in the wash like a witch. You will find these terrible leggings at stores like H&M and Target. You know I love Target, and H&M has many great perks — I'm just saying don't buy your leggings there.
(For chic sweaters that are long enough to pair with your leggings check out this post.)
Hue Ultra Leggings w/ Wide Waistband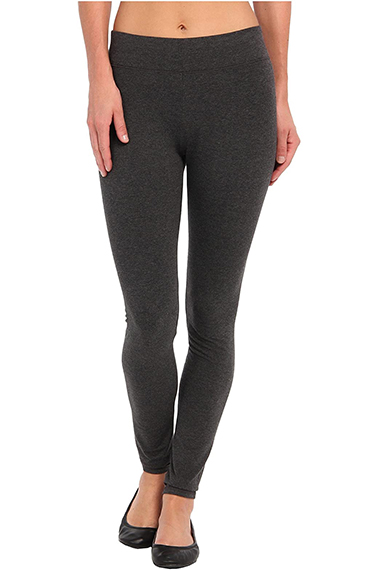 The Hue Ultra Wide-Waist Band Leggings are insanely flattering. When I wear them, my stomach looks FLAT, and I do not have a flat stomach — nowhere near it. I'm not being self-deprecating. I simply don't have the genetics for a flat stomach, but you don't need "flat stomach" genes when you have this 2.5-inch wide waistband of slimming glory. The material of Hue's high-waisted leggings is also relatively light, so they're extremely comfortable — pajama-like even — but not see-through like other lightweight leggings. Also, despite their "lightness," there is a nice tension so your thighs are held in nicely. These are my absolute favorite leggings on this list. These leggings are available at Zappos, Nordstrom, Bloomingdale's, and Amazon.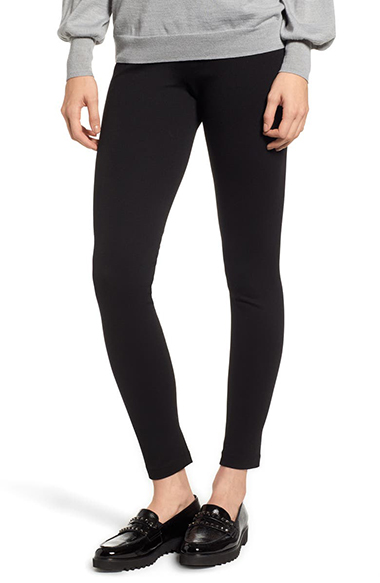 The Two by Vince Camuto leggings are not as high-waisted as the Hue leggings and don't have as wide of a waistband — it measures 1.75 inches. The fabric is a little thicker though so you may feel less exposed and a little warmer. I love these leggings just as much as the Hue leggings and wear them often, but I have one client who says she prefers the super-wide waistband of the Hue legging over this pair. She was a little heavier than she likes to be when she told me this, so my conclusion is if you have a significant belly, Hue high waisted leggings are the way to go. If you're not carrying a lot of extra weight, either of these leggings will flatter your torso, as they do for me. Also, some people actually prefer the smaller band for their own personal torso comfort. These leggings are available at Nordstrom, Macy's, and Zappos.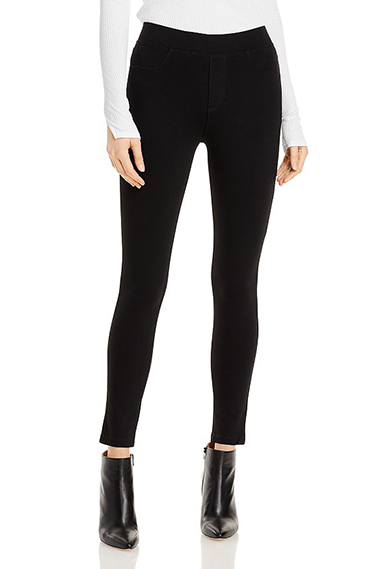 I obviously love the Sanctuary Runway Leggings for their wide waistband, but they also win points for having back pockets as well. My clients love the extra coverage and utility of the back pockets. I find these leggings are best for my petite clients — basically my 5'4″ and under gals. The taller you get, the less waist coverage you get from the waistband, and the leg hem is the shortest on this list. The waistband width is the same as the Two by Vince Camuto leggings at 1.75 inches. These leggings are available at Bloomingdale's, Macy's, and Zappos.
Lyssé High Waist Denim Leggings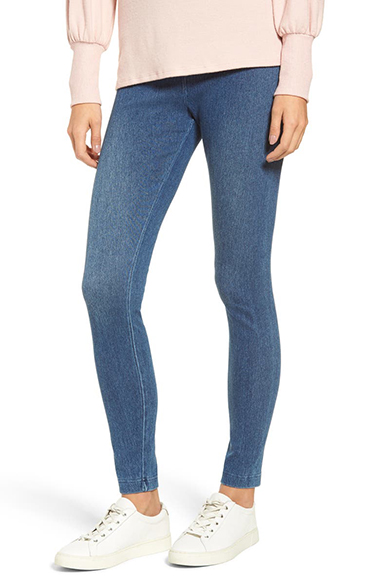 Lyssé is another go-to legging brand, but most of their leggings are all about holding the body in and less about being uber comfortable. You know my dedication to comfort, so I have chosen the most comfortable pair of Lysee's leggings: the Lyssé High Waist Denim Legging. The Lyssé legging is designed more like an athletic legging to ensure a smooth line for your hips and belly. This legging is available at Nordstrom, Amazon, and Zappos.