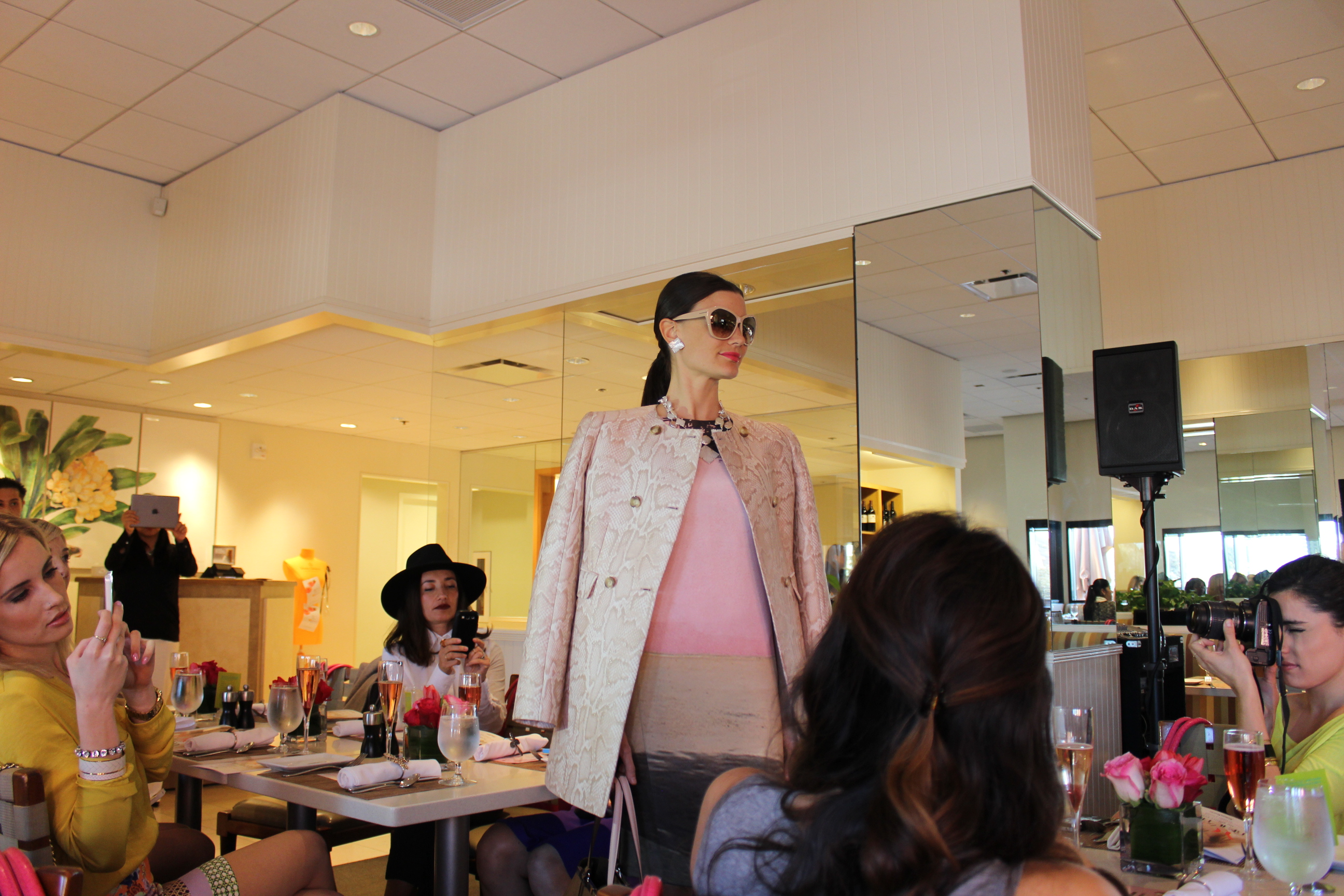 Last week, I was invited to a healthy breakfast at Neiman Marcus to preview the trends that Fashion Director Ken Downing highlighted for the coming season. Presented by Style Advisor Alex Yanez, the  breakfast paraded vivacious styles, colors, and layering of fabulous before  my hungry eyes.
Their list of trends contained Artistic Prints, Pinks, Summer Booties, Cropped Tops & Bottoms, White with Black, Layered Bracelets, Collared Shirts, Denim on Denim, and Backpacks.
Of these trends I would most definitely skip denim on denim as it is never timeless. The other two I am not wild about is the crop tops, and black with white. Crop tops can be super fun and chic, but necessitates professional assistance. As for black with white, the combo can often be cheesy or carry too much contrast for most skin tones, although Alex's example of the Roberto Cavalli black and white printed kaftan is a perfect example of how to avoid that stark contrast. Love that kaftan.
My full applause goes to artistic prints, and summer booties. Artistic prints are always wonderful, especially the ones Alex selected by Stella McCartney and Dries Van Noten. As for the booties, I noticed people are avoiding the phrase gladiator sandal. Whatever you call them, they're good. They hold you in and have edge. That combination can gives you a vogue look and a true strut.
I also appreciated the nod to backpacks, as I am a huge fan of the accessory. More refined than rugged, these backpacks give you the style of your favorite handbag, but distributes the weight you carry evenly. Alex mentioned the backpack is a nod to the 90's, but I just say it's common sense. Your chiropractor will thank you.
As for their emphasis on pink, I agree. From blush shades to bolder, pinks can always have a place in your wardrobe and make-up kit. With make-up in mind, Neiman Marcus' beauty event has begun and will go through March 2nd. There are numerous spending incentives, but in particular, if you purchase $125 worth of beauty products, you get a pink tote filled with luxurious samples. I had the compliment of receiving this bag with goodies at the breakfast, and I must say I almost used the bag on my trip to London as it is the perfect size and pocket supply for a carry on purse; however I had just purchased a new carry on purse, so I left the bold bag at home. What I did take with me to London was the samples of the Amore Pacific color control cushion compact broad spectrum SPF 50. I am in love with it, so much so, I plan to do a future blog post on it.