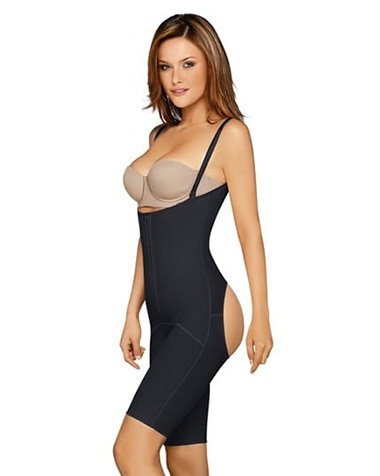 I have wanted to do a product review on compression shape wear, but I just haven't been impressed with what I've been sent. One of them barely worked and was so incredibly obvious underneath every style of dress — I couldn't imagine how the company stayed in business.
Finally, and mercifully, I received a shapewear product that worked this week. Leonisa, a Latin American company sent me a size medium of their Slimming Shaper with Booty Lift.
First impression: the package is nothing to write home about, reminding me of feminine product packaging from the 90s, but I was intrigued by the product photo. "My ass is going to hang out?" I asked myself, looking at the two holes for each of your butt cheeks.
I whip out this Colombian bodysuit that feels like expensive, lightweight burlap and decide to get into it before I think too much about it. It is a fight, I tell you, and I am fearful my body will tear it apart when I hear something akin to stitches popping. Thankfully I get into it, straps over my shoulders. But now I must battle the zipper on the center front. They have little hooks underneath the zipper to ensure a steady zip, but I still have some trouble.
Once fully inside the compression fabric, I am relieved and proud to have won the fight over my rolls of fat. It is also relatively comfortable. Time for the measuring tape and the dress test. I have lost one inch at my natural waist and two inches in my lower belly, and I look AMAZING in this body-hugging, flimsy jersey dress I never wear because the dress shows every bulge and bump my body has to offer. The shaper is discreet, smooth, and works. My torso, thighs, and back look tight and thin and even just standing in the shaper alone makes me feel a bit sexy. I adore how it smoothes and holds in everything except the best part of your behind with those holes I mentioned earlier.
I also find the bathroom opening — there is a diamond-shaped hole in the crotch area, both practical and hysterical. Going pee will be easy, but I don't think a two-sy will be happening without incident.
The fabric is moisture wicking, antibacterial microfiber that is made of 75% polyamide, 19% elastane, and 6% cotton. As for Leonisa's claims that continuous wear alone will reduce waist size, release toxins, and tighten the abdomen, I am not sure. I have only worn it twice for about 20 minutes and that can't prove anything. If you have any input on an experience with compression wear reducing your waist size, please comment below.
My product reviews are my honest and personal opinion. I never accept payment for product reviews although I am given the sample to keep. If I am sent something that is unimpressive or boring I don't write about it.