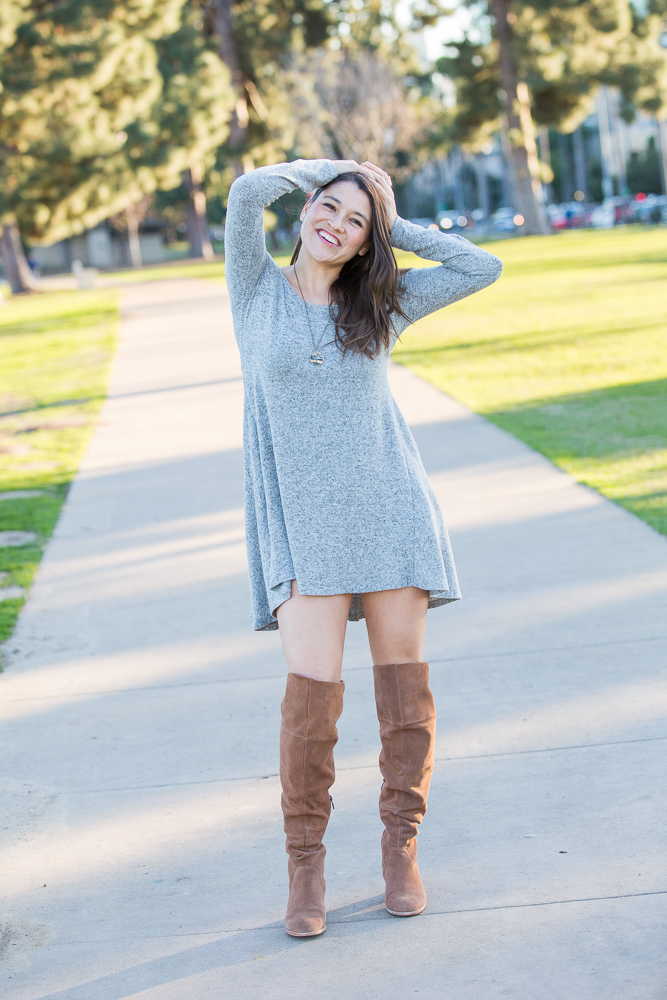 Researching Over The Knee Boots
"I need myself some new over-the-knee boots," I said aloud to someone I can't remember. "New?" she said incredulously because what normal person already owns over-the-knee boots? We laughed because stylists are not the norm. The next day, I started this season's over-the-knee boot research for both myself and for you. I went through order after order to find what I needed. At first my goal was sexy, then casual, then both, then I realized I was openminded, but I needed perfection. Perfection was hard to find. The heel was too high, they looked like shinguards, they were not versatile enough, they scratched the skin on my thigh, they were too cheap, too uncomfortable, too cheesy, too trashy, too much fringe, or too something. Stuart Weitzman, Free People, Vince Camuto, Ivanka Trump, Sam Edleman, Jimmy Choo, Frye, Valentino, and finally… French Connection.
French Connection Over The Knee Boots
The minute I put on the tan French Connection's 'Clementine' Over The Knee Boots, I was home. These are the best boots of my life, a bold, but true statement. They are chic, sexy, the leather moves beautifully with the leg, the suede is stunning, and of course, they are freakishly comfortable. Every detail is exactly what I want. They stay up at the thigh. They are easy to put on. I love the wood heel that is both high enough for a night out, but low enough for everyday. And this shade of tan is true perfection. The hue goes with everything.
As for fit, my calf measures at 13.5-inches, but the boot has room up to a 15-inch calf circumference. Directly above my knee, my thigh measures about 14 inches, but the boot has room up to 17.5 inches. With these measurements in mind, these are dream boots for narrow calves as well as more average sized calves. The flexibility in size is due to the scrunching of the leather. It can hide the roominess for the narrow, and fill out for the larger calves. It also has an elastic behind the knee to make even more room for thighs.
Note: You will pair these over-the-knee-boots with shorter skirts, breezy dresses, and wear them over leggings and skinny jeans.
Where To Buy Over The Knee Boots
I originally bought my over-the-knee boots at Nordstrom, but they sold out quick. Three weeks in the best boots of my life, I knew I needed not only an extra pair of the tan, but the black version as well. Thankfully, the French Connection Over-The-Knee boots are also available at Macy's, Amazon, and Zappos. Choose your favorite retailer and enjoy.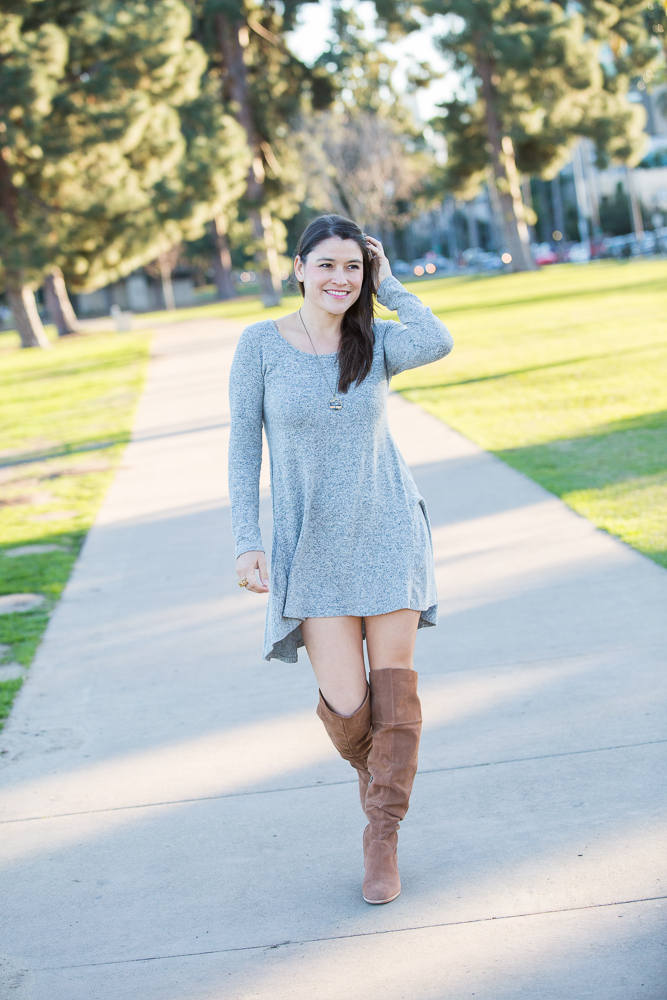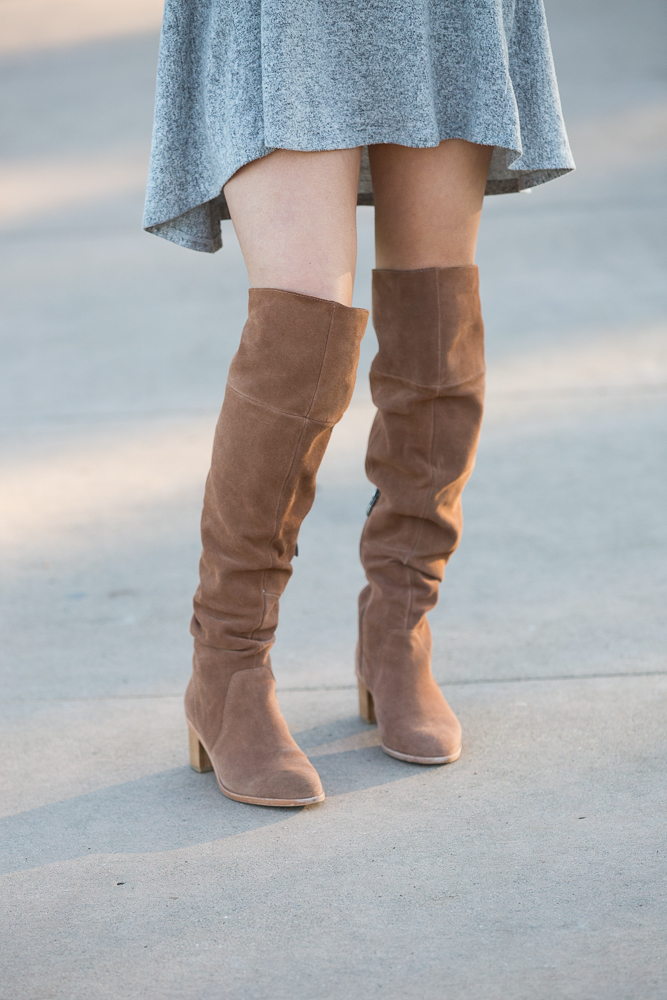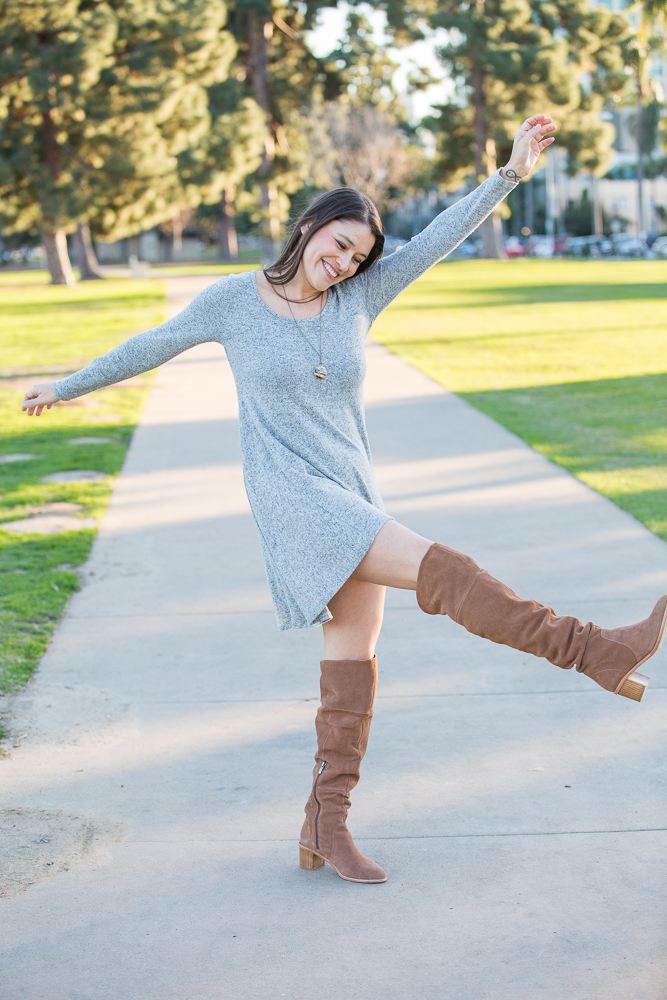 Photos by Dayley Photography