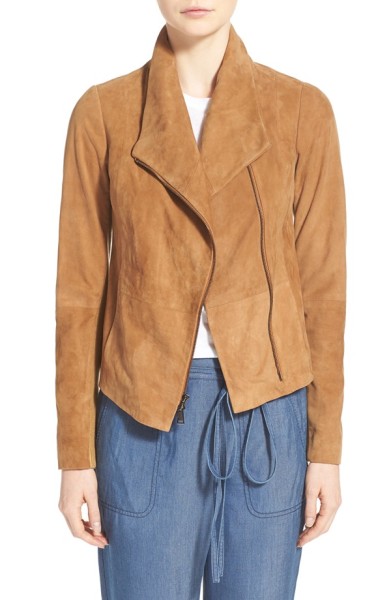 Rambling About Leather Jackets
San Diego was made for leather jackets. We get very little rain, and you always need a light-weight jacket for the chilly nights or windy days. This season, I have worked with three leather jackets that only come around once in a while. They are unique, comfortable, relatively versatile and utterly stylish. My clients and I are absolutely loving these.
Vince Suede Scuba Jacket
Vince is my leather jacket go-to. Their leather jackets are buttery soft, comfortable, and absurdly flattering. This season they put out a tan suede leather jacket that is absolutely perfection. I don't believe I have ever seen Vince produce a suede jacket before and that tan color they call khaki is everything I want from a light earth tone jacket. For pairing tips, this jacket works best with jeans and casual pants.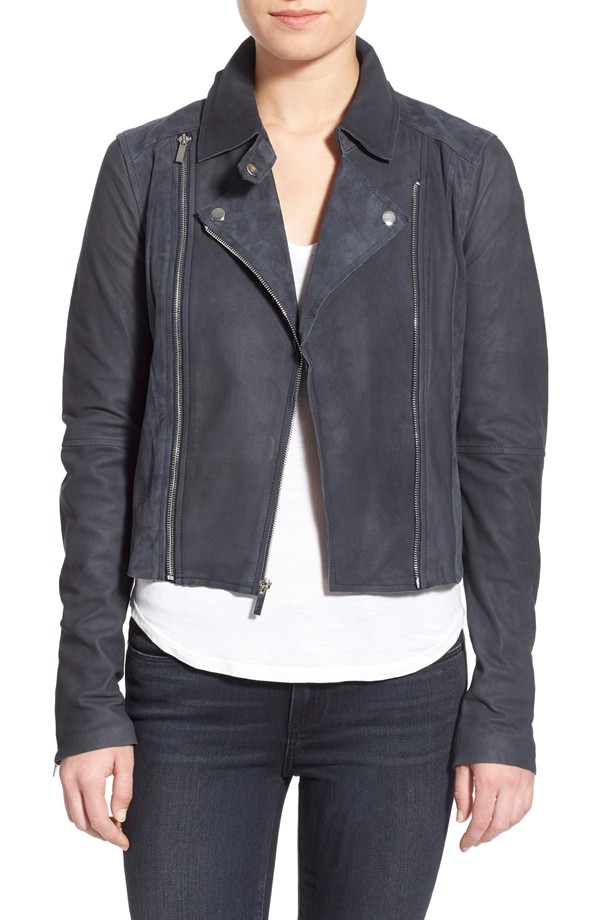 Paige Dark Ink Moto Suede & Leather Jacket
Paige Denim's Dark ink suede and leather moto jacket will make you cool. It just will. Between the inky navy blue color and pajama-soft t-shirt lining to the subtleness of the motorcycle culture, it is truly unique. Most of the time, leather moto jackets look too trendy, cheesy, trashy or cheap. This jacket balks at all those things and dares to add sophistication to the moto style. This shorter style will be best paired with fitted or flared dresses and high waisted a-line or flared skirts. I recently loved it with this Topshop midi dress. You can pair it with pants, but I don't love it as much as the dress and skirt pairings.
Hinge Zip Pocket Leather Jacket
I don't usually like Hinge for their leather, but this Zip Pocket Leather Jacket is unusually fabulous.  It has a lovely 70's vibe without feeling costumey and the color is rich and versatile. It looks fantastic with knit body con dresses and goes best with blondes or black hair. My apologies it is paired so terribly with that paisley top in the picture. Sometimes I question the styling talent at Nordstrom.com. Case and point, look at those weird pajama pants with the Vince suede leather jacket. That's a ridiculous pairing. That is an outfit I would wear to take out my garbage on a cold day and hope no one who knows what I do for a living sees me.
Note: Nordstrom has free shipping and guarantees arrival of almost all items on Christmas Eve if you wold like to gift any of these jackets this season.