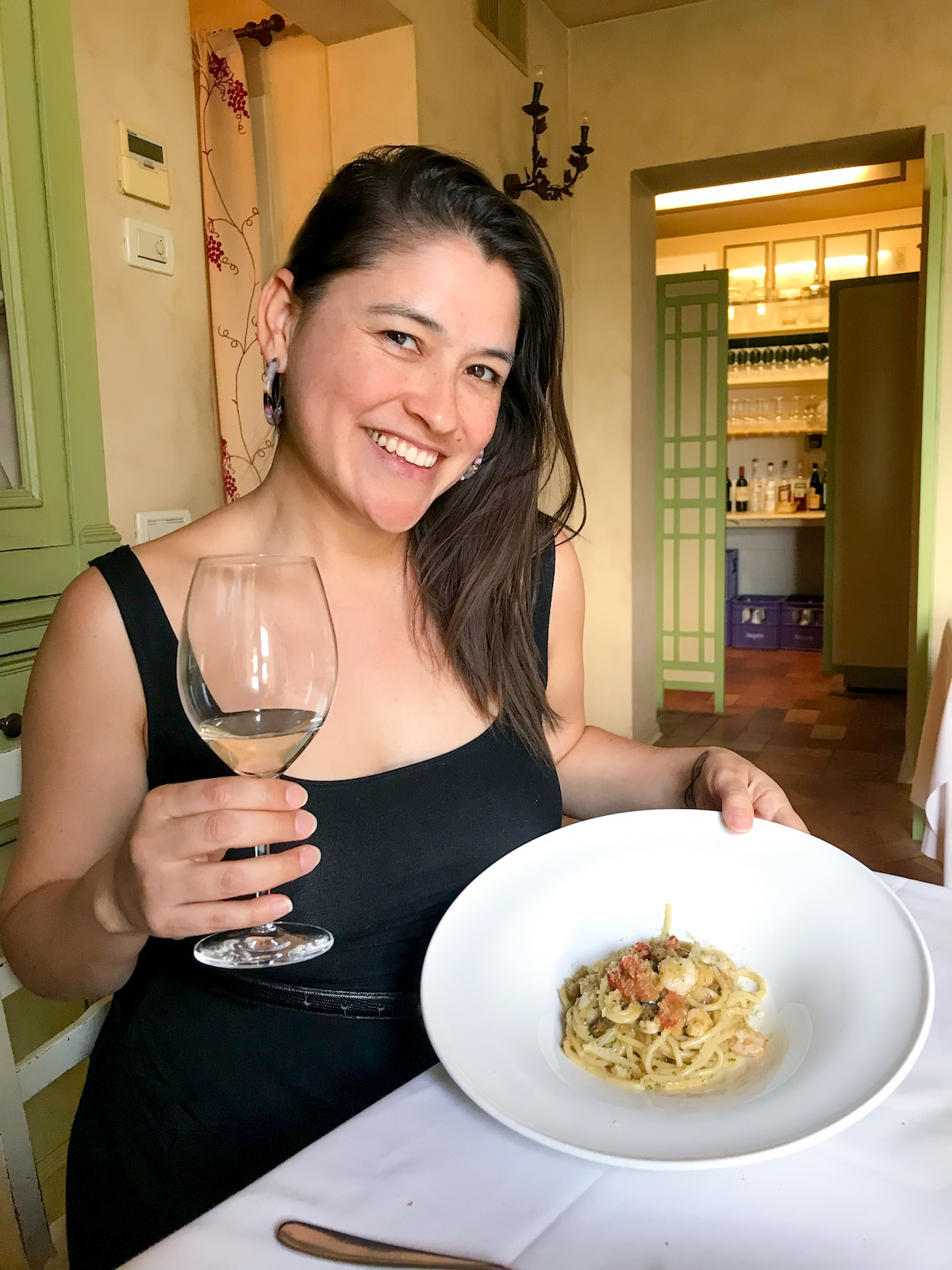 Prosecco is to me, what a shaken martini is to James Bond. Truth be told, my desire to visit Prosecco wineries is what inspired the entire V-Style Europe tour this year. For those who aren't familiar with Prosecco, it's an Italian sparkling wine. It's light and refreshing, and quite possibly, the best drink ever.
Where Is Prosecco?
The history of Prosecco is rather complex, so I will just tell you the basics. Prosecco used to be the name of the grape that made Prosecco until folks outside northern Italy started to grow it all willy-nilly. To protect the sanctity of Prosecco, Italian authorities renamed the grape Glera and made Prosecco exclusively a geographical indication. You will find the majority of this area in the Treviso province of Veneto, about 30-minutes north of Venice.
How To Visit Prosecco
Many people do day trips to Prosecco from Venice. I recommend using Omio to help plan your journey. It's like Google Flights, but much better and specifically for Europe. You can also find just about everything you need to know about visiting Prosecco on VisitProseccoItaly.com, a website created by Jo Fitzsimons, a fellow travel blogger who made tourism in Prosecco far more accessible.
For our trip, my boyfriend and I started out in Rome and went to Florence before heading to Prosecco. Florence's major train station (Firenze SMN Station) is in the heart of the city, making it walking distance from our Airbnb. From there, we took a 2-hour train ride via Italo to Venice (Venezia Mestre Station). I booked this train ticket a few weeks in advance. You can buy a ticket up to 3 minutes before the Italo train's departure, but it's more expensive. From Venezia Mestre Station, we went to a kiosk and bought tickets for the 40-minute train ride to Conegliano (Conegliano Station) via Trenitalia. When we arrived, I found a taxi driver outside and it was a 20-minute drive to our resort (30 Euro). You can also arrange for a fancier driver through the Esse Group.
Money-Saving Tip: Subscribe to Italo and Trenitalia's newsletters before buying your tickets. They send out coupons and discounts every week.
Where To Stay In Prosecco
Relais d'Arfanta is fantastic. It appears to be an estate turned into a decadent B&B. It's cozy and quiet with excellent service and incredible attention to detail.
Cons: There are no dining options after breakfast, so you are mostly on your own for food. They also didn't heat the pool at any point during our stay — perhaps because we were there in early May? Lastly, there is no staff on the premises in the evening. The Tuesday we arrived, we went downstairs around 6pm to ask a few questions and found a business card that said, "Call only in emergencies." As it got closer to the weekend, there seemed to be someone later into the evening, but I'm still not sure what was going on there. (In case you were wondering, we used the front desk phone to call the number and had our questions answered promptly.)
Pros: The views are shockingly gorgeous, the decor is impeccable, and the bathrooms are stellar. Every itty bit inch of the place is lovely, and I can't rave enough about their included breakfast. The croissants were perfection, and the fruit, meat, bread, and cheese spread was glorious. Plus, it comes with Prosecco, of course! We also loved the manager, Renate. Every day she showed up in Chanel-esque suits eager to please. She made all our dinner and lunch reservations, arranged for a driver to drop us off at the train station, exchanged our American dollars for Euros, and even picked me up in her own car when I got lost on the way to lunch. The cherry on top is Relais d'Arfanta's 20-minute proximity from the Conegliano train station for easy arrival and departure.
Despite the cons, I can't wait to stay there again. I am thinking I need to visit Prosecco every year.
What To Do When You Visit Prosecco
Drink Prosecco! Obviously, the main aim of visiting Prosecco is a Prosecco tasting tour. I scheduled our 6-hour tour through VisitProsecco.com with fantastic results. I cannot recommend our tour guide and experience enough. If you book your tour through Visit Prosecco, make sure to request Cristiano Cazzolato. We absolutely adored him. He was extremely knowledgeable, authentic, fun, and generous. He created such a relaxing tone for the tour and curated the perfect day for us.
We visited three wineries, all family-owned and all producers of DOCG Prosecco, aka Prosecco grown on the area's steep hills and harvested by hand. (Prosecco DOC, on the other hand, is grown in the flat part of this region and harvested by machines.) Each tasting was passionately led by an owner of the winery or a relative of the owner. In between the second and third winery, Cris took us to lunch at Locanda Marinelli, an exquisite restaurant run by an elderly couple. Not only did this couple prepare all the food themselves, but they also served us. It was a scrumptious and beautiful experience. They even make their own Prosecco, which was, of course, fantastic.
Other than the Prosecco tour, I didn't do much besides run and work. We didn't have a car, and a vehicle is necessary to explore Prosecco as there is no public transportation in most of the area. You will notice most of the people who stay at the more remote hotels in Prosecco are Europeans with cars. If you really want a car, we heard you can rent one from an Avis in Conegliano.
Something to note: Staying at Relais d'Arfanta without a car means you have to go to the restaurant Da Tullio every single night as it is the only food source in the evening within walking distance. We ended up loving it since it made us feel like locals and was delicious. But it was also an adventure. Although just a 10-minute walk from Relais d'Arfanta, you have to cut through a vineyard and walk on a twisting road to get there. This means you need your cellphone's flashlight app to get home and shoes you don't mind getting dirty. You also have to be ready to fling yourself over a road barrier and down a hill on a section of the road that can't fit both pedestrians and a speeding vehicle. Thankfully, very few cars drive on the road. We were more scared of things that go bump in the night, so we sang on the walks home to fend off the imaginary beasts.
When To Visit Prosecco
The best time to visit Prosecco is from mid-April to mid-September, and a weekday is best for a tour as many wineries close on the weekend. You also want to avoid certain holidays. Most wineries are closed on April 21st, 22nd and 25th for Easter, May Day (May 1st), which is Labor Day for most countries around the world, Republic Day (June 2nd), Ferragosto/Assumption of Mary (August 15th), and Christmas Day (December 25th).
What To Pack For Prosecco In Spring
We went to Prosecco April 30th – May 3rd. During this time, it can rain and the temperature bounces between the low 50s and high 60s.
Shoes: If you have a car, you can sport heels at restaurants in the evenings, but that's not neccessary, and you definitely want to skip any kind of heel during the day. There are dirt roads and rustic pathways everywhere. Generally, Prosecco is really casual, and most people who dress up are still sporting reasonable footwear. I bounced between my FitFlop sandals and my Chelsea rain boots.
Clothing: On a warmer day, a short to mid-length summer dress is great. On a cooler day, jeans with a cute top is perfect. Skip the overly glamorous garb. This place is extremely relaxed.
Layers: The temperature really drops at night and even during the day if clouds stalk you. You need to always be ready with layers. You also want to pack a jacket that fares well in light rain.
Umbrella: If you don't want to pack an umbrella, your hotel or Airbnb should have one as well as your tour guide. You can message your host, concierge, and/or guide to confirm this. If you want to pack your own, I recommend Fidus, which can fit into most purses. If you want something stronger and bigger, I recommend Repel. Keep in mind that most rain in the spring is really light or brief. I didn't need my umbrella once while I was in Prosecco, and only used it briefly while in other parts of Italy.