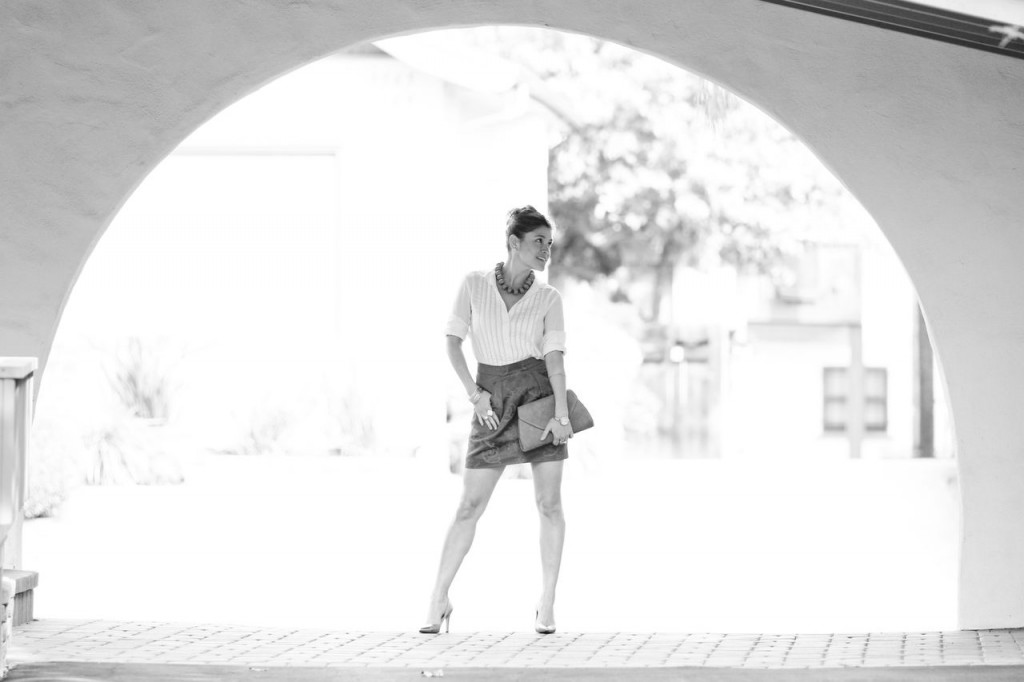 studs: Bloomingdale's, necklace: The Fabulous Rag Boutique, top: J.Crew, skirt: J.Crew, bangles: Forever21.com, white & gold ring: Kohls, gold bands: Noon Boutique, watch: Kenneth Cole, pave rings: Jewel Mint, heels: J.Crew
For the most recent Robin Dayley collaboration, I became overwhelmed as I looked at the finished photos. During the shoot I was so busy sitting on a filthy couch, I did not realize the extent of advice one could take from our over styled white button up shirt with printed skirt outfit in the alley. I immediately saw seven blogs in the images. I decided to merge them into one post and break it down into a flurry of fashion advice. Here are a few ideas you can take away from this outfit.
1) Bold Colored Clutch
This golden tan suede clutch is of vintage descent, but you can create the same look at home with any bold colored clutch. By making a statement in your clutch you are free to wear simpler outfits and more neutral colors without feeling boring.
I adore a statement necklace with a white button front top. When creating any statement necklace look, place an unusual yet, complimentary stud in your ears. The gold pyramid studs play up the light gold detailing of the ethnic inspired necklace.
3) Multiple Rings
My favorite fashion trend of the 90's was the hand styling. I adored the piling of rings done by Phoebe on Friends and Drew Barrymore in everything. These days I prefer gold bands to butterflies and strong jewels to flowers, but the sentiment remains the same, let's wear it all!
4) How To Wear A White Button Front
Choose a cotton based white long sleeve button front top and then always roll the sleeves. You can tuck it into skirts as shown, pair it with jeans and heels, or sport it with shorts.
5) Funky Pencil Skirt
The pencil skirt does not just come in office appropriate black. Try a printed pencil skirt instead. You can spice up your work attire and then sport it at a party or dinner out.
6) Gold Heels
I'm a broken record I know, but gold heels are fabulous. Basically, gold heels can go with most outfits as long as you are wearing gold jewelry.
7) J Crew
Although bought in different seasons, the top, the skirt and the heels were all purchased from J Crew. Some people still see J Crew as a conservative retailer, but I beg to differ. Yes, I am always taking clients to J Crew for their basic shorts, stretchy pants and belts, but I am also there for the stand out coat, skirt, print, and necklace. It's always a good idea to check in with J Crew, even after you've acquired their chic basics.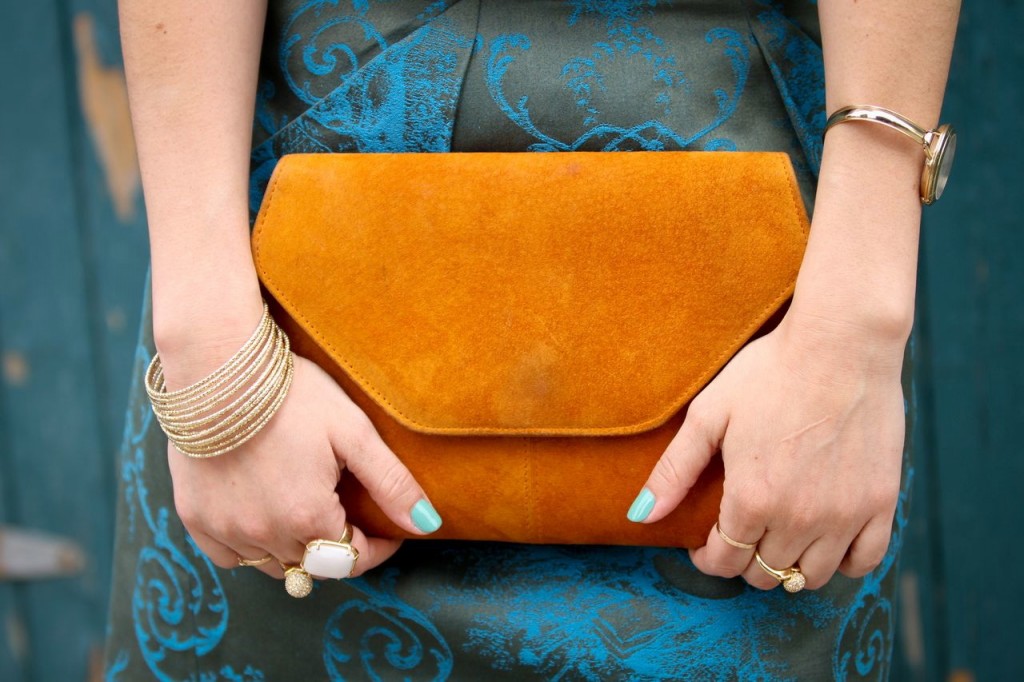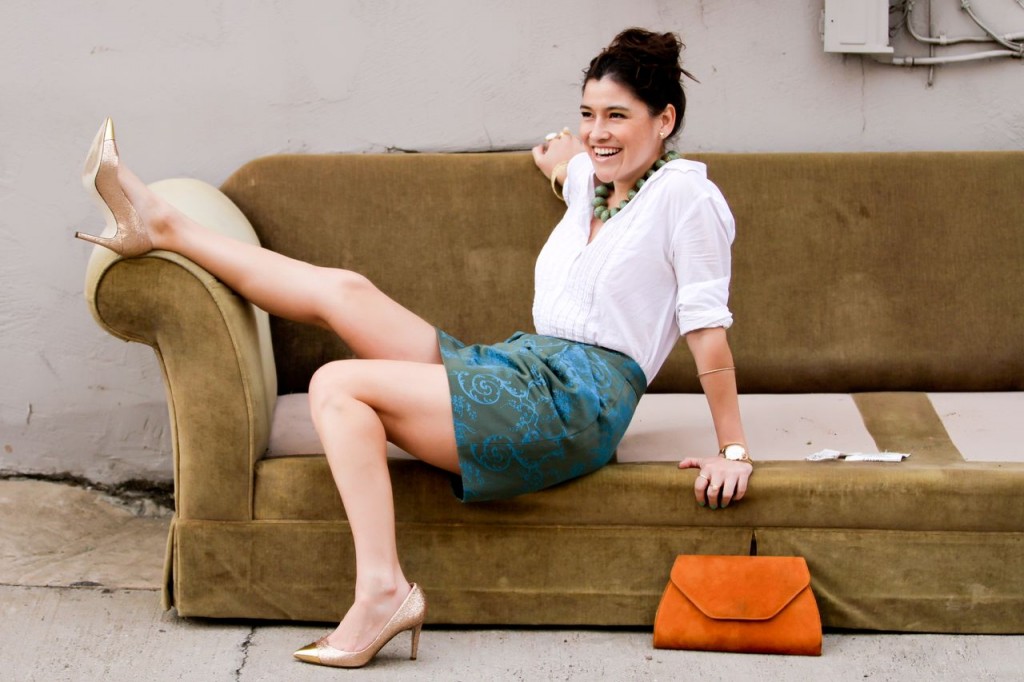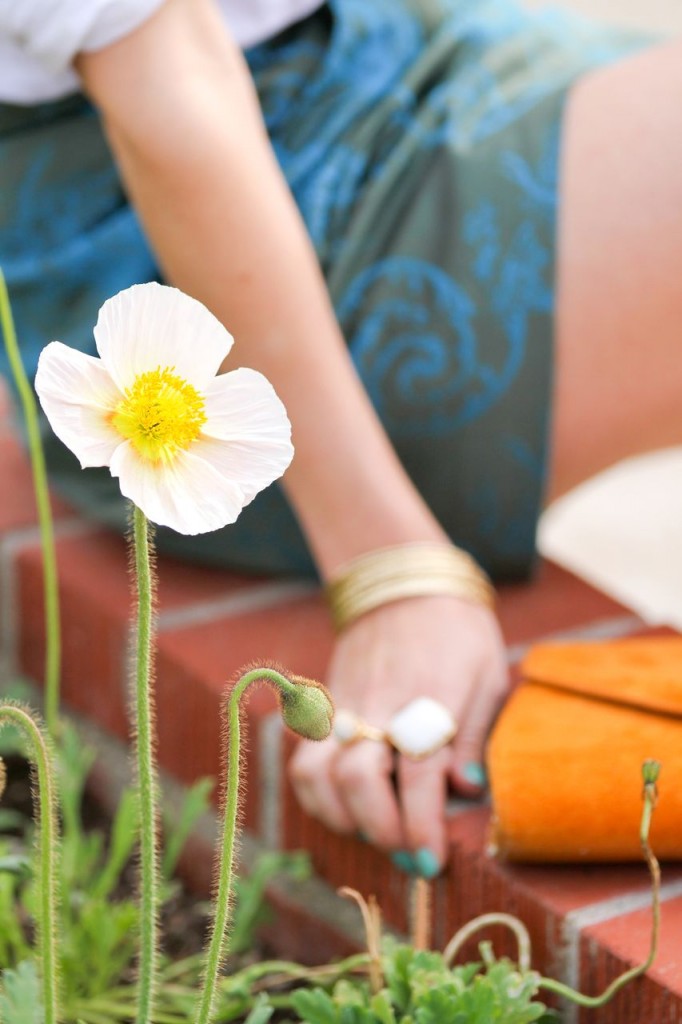 Photo credit: Robin Dayley of Dayley Photography