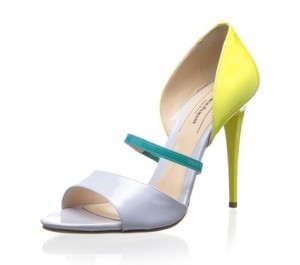 In high school, my friend Lauren introduced me to Bluefly.com. Actually, it wasn't so much an introduction as it was a commentary. She said, 
"Why would someone who could afford a $2,000 dress, care if it's now $1,000." In our minds, a $1,000 dress was just as ridiculous as a $2,000 dress.  I offered, "Perhaps it's for those people who dream of wearing a designer dress, and save up and save up to afford that one Gucci dress." We then discussed how it could be for the wealthy person who has fallen on hard times, but still wants to wear the things they are used to wearing. I am not sure why that conversation made such an impression on me, but I remember it vividly.
It turns out, our theorizing has it's points, but mostly, whether it is for $2,000 items or $20, people just like a deal, no matter your income. I have literally only had two clients who showed zero emotion when they found out a garment we are going to buy is on sale. But for the rest of us, we love a good sale.
These days, I have been investigated the flash sale sites. I gotta tell you, I am not that impressed with the way most of them are run. They charge you shipping, and they charge you returns. If you buy something big and you don't like it, you are pretty much screwed on return shipping costs. They also have very few images to show you of the item that you going to buy. It's a wasteful purchase waiting to happen. Especially when you only have a few days to buy it, and there is such little inventory. You get all excited, and feel rushed to buy, and then you are stuck with it if it's final sale (which many items are) or you waste money in shipping costs both ways. No matter the website, irresponsible shoppers should stay away from Flash Sales.
With that said, my favorite flash sites are as follows…
I love the clear layout, and clever collections they put together. I also adore their style blog. It has legitimate decór advice and clear communication. Their site also consistently runs promotions, like right now, for the next 17 days you receive free shipping. Lastly, their products are gorgeous, and high quality. You will not find cheapies here. If you have a grown-up home, this is a great spot to get fabulous modern and vintage pieces at a discounted price. They also have cool fashion accessories.
My Habit
I am pretty passionate about this site. Sister to Amazon.com, they have  the customer service you expect, and prices you love. Again, they have a clean and clear layout with a lot of images, FREE shipping, and very reasonably priced return fees. There really isn't much else to explain. You take a look yourself and tell me what you think. Right now, I am loving the Giorgio Fabiani F141203 Dorsay Sandal pictured above. Originally $478, now $239.
Groupon is the trail blazer of all group buying sites. It started with deals on local shops and services, and has grown to products as well. Although based on a different philosophy than websites like One Kings Lane, MyHabit.com and Gilt.com, it is still a website based on limited time sales. Groupon is the best because it was the first. I believe it was even the first to get sued, which means it was one of the first to work out all those kinks about refunds and expiration dates. It strives to keep up with consumer's needs, it strives to please you, and it attracts the biggest brands. Often you find deals like $25 for $50 worth of goods at American Apparel.
This January, Groupon truly moved into the Flash Sale realm when it acquired ideeli.com, but I am not interested. I'll keep my inbox clutter free by only subscribing to my local Groupon, My Habit, and One King's Lane. What is in your inbox?