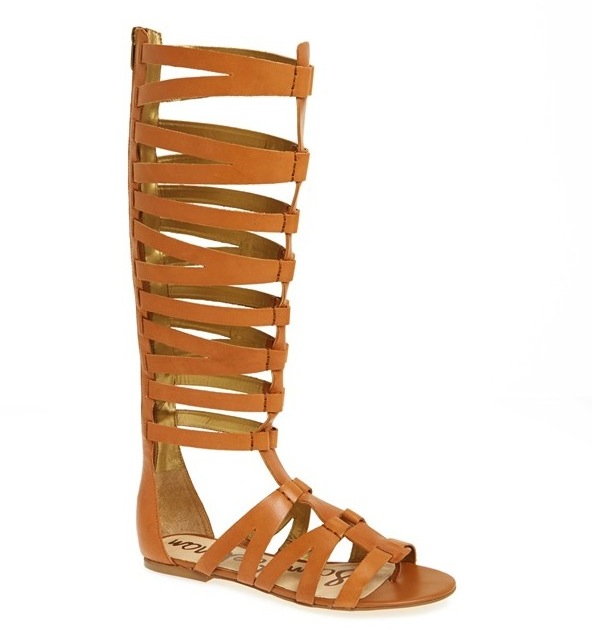 Well, hello Russel Crowe. I have been expecting you. Yes, the knee high gladiator sandal is at optimal availability. Whereas in 2008 our only options were Chanel's pricey straps or cheapy versions from Bebe and Bona Drag, we are now offered quality we can afford and better cheapies. My favorite at the moment is Sam Edelman's Bryant, but I also love the slim bands of Stuart Weitzman. As for the cheapies, Madden Girl looks promising, especially the glorious gold one.
You will notice that there are heeled versions and wedge versions. Don't get a knee high gladiator wedge. I know I usually take you through why I say no to something, but this time just trust me. Let's just say, it's too trendy. As for the heel… I haven't liked many. They look at bit cheesy. The only pairs feeling sexy and interesting is the Tildon and Vince Camuto's heeled version.
Things to keep in mind with knee high gladiator sandals, avoid chunky buckles, it will add weight to your leg. For the slimmest look, select a knee-high gladiator sandal without buckles, or very few buckles. It's not like you need buckles to get into them. Most have a zipper at the back or on the side. Another note, when wearing these in front of the sun, apply SPF to your legs before hand. Otherwise, you will get criss crossy tan lines all over your calves. I know guys say tan lines are sexy, but I don't think these are the ones they are referring to. It looks like your legs were in jail, caught in a spider web, or have a disease. I recommend putting sun screen on your legs a good thirty minutes before donning your sandals to allow it to dry. This way you can minimize the damage the sunscreen will cause to the inside of the leather. Lastly, you will wear this knee high sandal with shorts and skirts, not pants or maxi dresses.