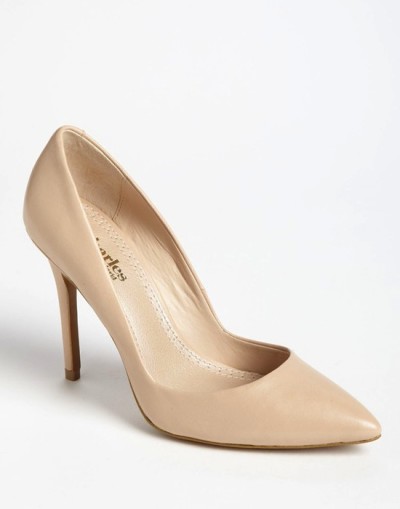 Nude Heel Ramblings
Nude, beige or blush heels is the perfect shoe to show up at the end of an outfit of almost any color, including grey, navy, purple, pastels, earth tones and most, if not all, jewel tones. In the past, I have almost always recommended a patent leather version because the non-patent options were often designed to be orthopedic or just felt geriatric. They also tend to be the color of dead people. These pumps often have a square-ish toe box and the sides of the leather seem to reach for the top of the foot, itching to cover the foot entirely.
With my rambling over, I am happy to introduce the best nude heels right now that are not the color of dead people. They are not square-ish or shaped for the geriatric foot. They are a fresh blush color that looks sexy on the foot and, unlike the patent leather version, you can wear these with jeans. As you know, I think patent leather shoes with jeans is off-putting.
Best Nude Heels That Are Not Patent Leather
The Charles David 'Pact' Pump is higher than I usually recommend at four inches, but I had a client that raved about the comfort, and I do have clients that prefer the higher heel. That leather is butter soft, the color is a perfect blush nude, and the almond point toe will be a timeless pump year round for many seasons to come. I love this with slacks, pencil skirts and dresses, but could also work with jeans.
The Vince Camuto 'Court' ankle strap sandal is a 3.5 inch heel, which is also a bit higher than I regularly recommend, but the comfort is good for a high heel. I love this for dressy jean looks, dresses, skirts and dressier short looks come summer, but no need to wait to wear in the summer. If weather permits (hello San Diego sun!) feel free to wear year round.
Which Skin Tone Can Wear Blush Heels?
Both these blush nude heels will work with most skin tones except those that are very peachy skinned. I like the nude heel to be about five shades darker or lighter than your foot's skin color. I don't like a nude heel to literally look like an extension of your leg. Despite the magazine articles that rave about the lengthening of a true nude heel, it can look like a weird hoof or bizarre prosthetic if it actually matches your skin tone.