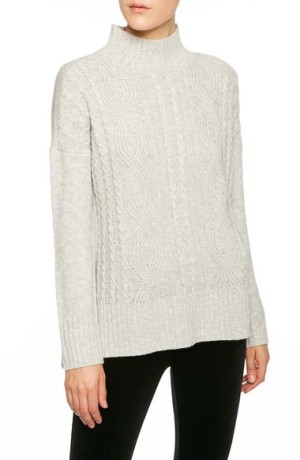 For the current list of sweaters that don't itch, check out Stylish Non-Itchy Sweaters 2018 Edition.
I love yummy winter sweaters. I dare say, a fabulous pull over sweater is a Must-Have for your winter wardrobe, and I hate the phrase, "Must-Have." Thankfully, there is an extensive collection of truly stylish winter sweaters out right now. I am positive you would be overwhelmed by it, so I have curated a fantastic recommendation list to assist you in finding the perfect winter sweaters. I have chosen the sweaters listed below for their ability to flatter the body, their style quotient and, of course, their itch factor. I have incredibly sensitive skin so I think you will be pleased with the accuracy of my 'itch' judgment.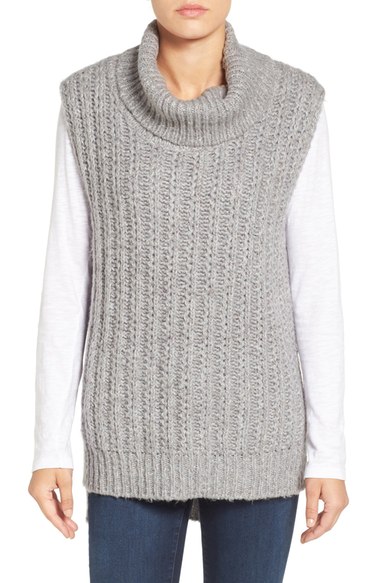 I absolutely adore sleeveless turtleneck sweaters for San Diego. They are incredibly versatile and chic. On not-so-cold days, you wear it by itself. On 'kinda' cold days, throw a lightweight jacket over it to create stylish layers without overheating. On actual cold days, put a snug-fitting long sleeve tee underneath (as shown in the image above), then throw a coat over for extra warmth and style. This Two by Vince Camuto sleeveless turtleneck sweater is one of the best this season. It runs large, so order a size down.
Itch Factor: Not itchy at all! It is 63% acrylic, 20% cotton, 17% polyester
Pairing: This longer sleeveless turtleneck is fantastic with leggings and skinny jeans.
Halogen Graphic Pullover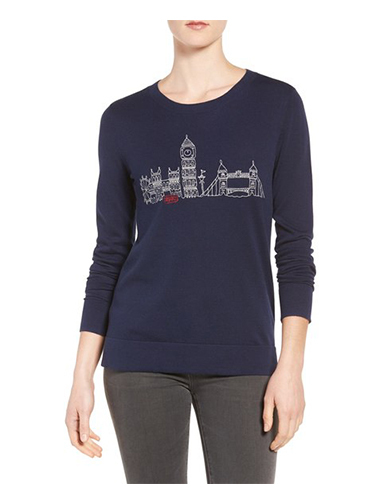 This cotton blend Halogen sweater is so charming. It fits a lean, slightly curvy or athletic body beautifully. Basically, as long as you have a smooth or flat belly it is extremely flattering. They also have this style in a colorful stripe that I love, but the rest of the options are a bit too cheesy.
Itch Factor: 55% cotton, 25% modal, 20% polyester
Pairing: This slim fitting sweater works well with slacks, pants, straight leg light-wash jeans, and skirts.
Caslon Rib Detail Relaxed Turtleneck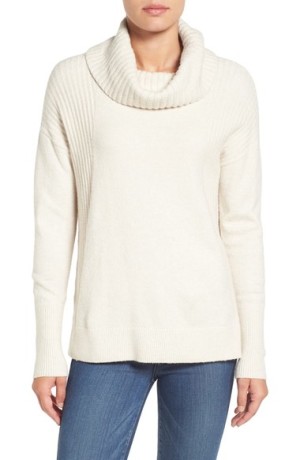 This cream Caslon sweater is a dream sweater. It is truly that timeless throw on sweater this is both sexy and comfortable. I was beside myself when I found it.
Itch Factor: Zilch. The sweater is 55% cotton, 22% polyester, 21% acrylic, 2% spandex.
Pairing: Pair this with jeans and tuck it into skirts.
Theory 'Mirzi' Robbed Knit Merino Wool Sweater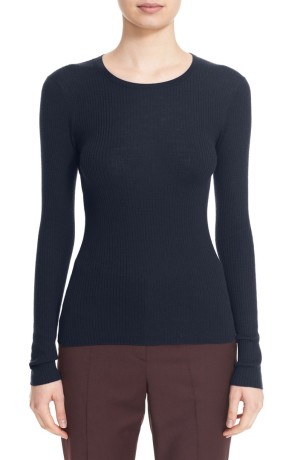 This Theory pullover sweater comes in seven different fall colors. I adore this sweater for layering, or highlighting a fabulous tweed skirt.
Itch Factor: A tad too itchy for me, but the two clients I put it on said it was perfect. The sweater is 100% merino wool sweater.
Pairing: You can throw this on under a Mongolian fur vest, or tuck it into a high waisted skirt, preferably leather, tweed, or suede. If you have a flat belly, you can pair it with almost any type of pant, including slacks.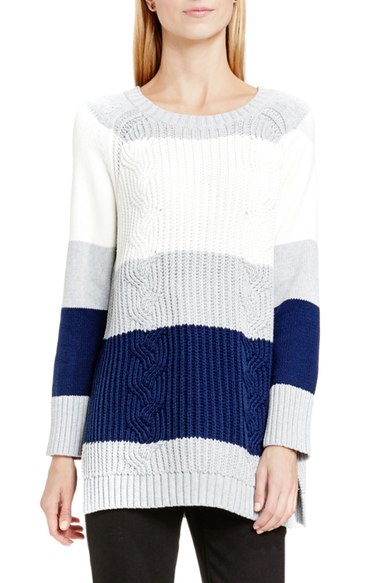 This Two by Vince Camuto tunic sweater is deliciously cozy, colorful, and perfect for a comfortable yet put-together look. I recommend ordering a size down.
Itch Factor: None. Love that cotton. The sweater is 82% cotton and 18% acrylic.
Pairing: This is a leggings only top, hence the word tunic. I will be pairing it with my navy and grey leggings.
Sanctuary The Wonder Mock Neck Sweater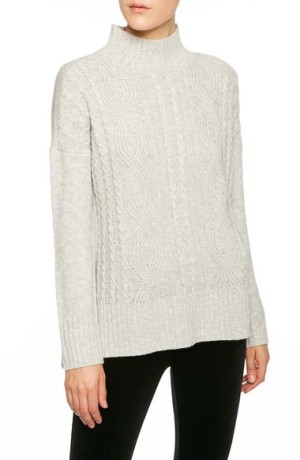 Out of all the winter sweaters listed, this Sanctuary mock neck pullover is my absolute favorite. It is insanely comfortable, cool and easy to wear for casual outings. The color is actually more grey than it appears in the photo, so I highly recommend ordering it to see for yourself.
Itch Factor: Not an iota of itch! Who knew we'd love 100% acrylic so much?
Pairing: This looks best with skinny jeans and leggings. I have paired it untucked with a leather skirt, but it's more a cool eccentric look than it is flattering. You generally don't tuck this sweater in.
Boss Fadri Textured Wool Sweater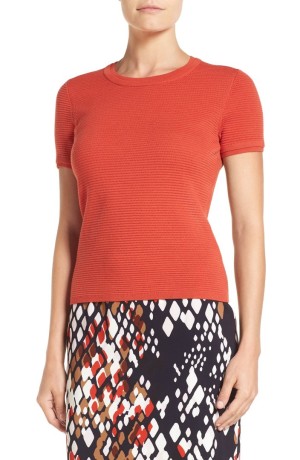 Every client that tried his Boss sweater top on has bought it. It works with busty women, flat chested women and slims them all. Don't let the 70's vibe throw you, this is awesome for modern day.
Itch Factor: Next to no itching. The sweater is 100% virgin wool.
Pairing: This works best with tweed and ponte slacks and skirts. It also works with jeans. There is no need to tuck this top in really.
RD Style Beaded Cowl Neck Sweater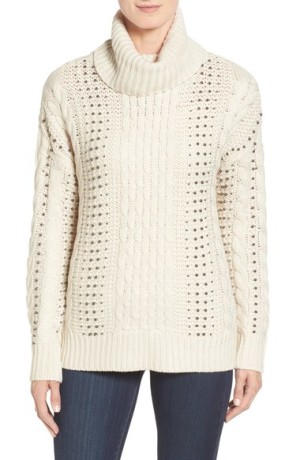 This RD Style embellished sweater gives a cozy sweater an edge. The only issue is the metal balls can get cold, so this works best for a San Diego winter versus a Boston winter. Body type note, the embellishments get a bit wonky on a size D bust or larger.
Itch Factor: No itching at all. It is 90% acrylic, 10% cotton
Pairing: I love this with jeans and, if you're under 5'4″ you can pair it with leggings. I also like it with leather skirts. You will never tuck this sweater in.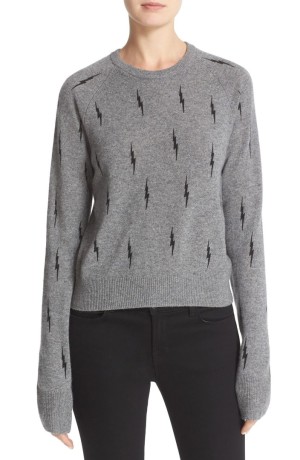 I love the whimsy of this lightning bolt sweater from Equipment's collaboration with Kate Moss.
Itch Factor: Next to no itching. This sweater is 100% cashmere.
Pairing: This will pair great with almost any casual pant as well as leather, suede and ponte skirts. You can tuck it in or leave it out.
Vince Ladder Stitch Cashmere Blend Pullover Sweater
This Vince Cashmere Sweater is incredibly comfortable and what I call 'ugly hot'. The color is darker in person, so it may not flatter everyone, but I had to add it the list. It is fantastically cozy and although it looks like crap on the model, it creates that effortless baggy, yet flattering look on non-models. You just have to make a point of sizing down 1-2 sizes.
Itch Factor: With 79% cashmere, 21% polyamide, you get all the softness and none of the itch.
Pairing: Works best with skinny jeans and very slim pants. If you're short enough, you may be able to wear it with leggings. I would never really tuck this sweater in.
Tory Burch 'Megan' Colorblock Cashmere Sweater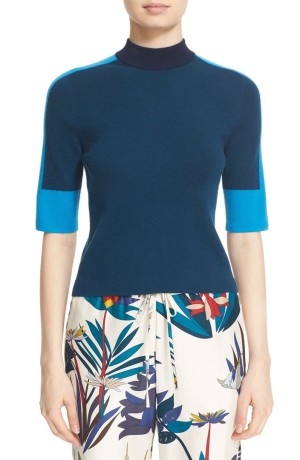 This Tory Burch sweater top is one of the most unique wearable sweaters available right now. I adore its sporty chic vibe.
Itch Factor: Next to no itching. The sweater is 100% cashmere.
Pairing: This will pair beautifully with wider leg pants, and skirts. It can be tucked or untucked.
Theory 'Boseley C Auroral' Turtleneck Poncho Sweater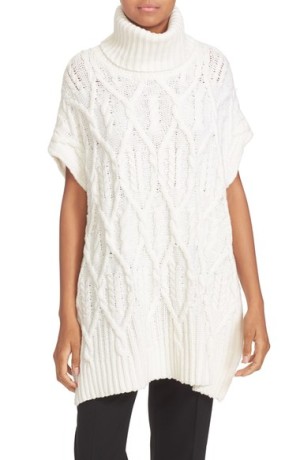 This Theory poncho may not have made this winter sweaters list if it hadn't been so darn comfortable. My goodness, it is some kind of cozy.
Itch Factor: None. It was must be that cotton. 72% wool, 21% cotton, 7% polyamide.
Pairing: This is a leggings only top and many of you will want a form fitting tank or long sleeve tee to go underneath because the side cuts up quite high.
Joie 'Viviam' Fringe Cable Turtleneck Sweater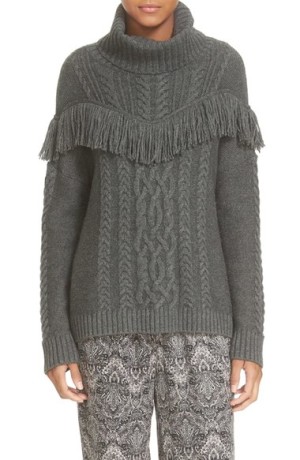 I tried showing this to a less edgy client and she sure did have a good laugh, so this Joie fringe sweater is for you fashion forward gals. I have been looking for a wearable fringe sweater and this one fits the bill. It is surprisingly flattering for what it is, but it is best for women with less than a size D bust. I recommend ordering down a size.
Itch Factor: None. The sweater is 39% wool, 27% nylon, 26% viscose, 8% cashmere.
Pairing: This is best with jeans, but I like it untucked with leather skirts too. Not flattering, just fun.
Rag & Bone Britton Stripe Winter Sweaters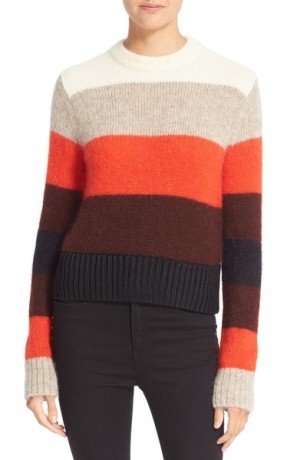 This Rag & Bone Britton Stripe Sweater is soft, flattering and a refreshingly unique combination of chic and sporty. I put it on a busty client yesterday and I was so pleased to see, despite the high crew neck, still flattered her body beautifully.
Itch Factor: Far too itchy for me, but one of my clients thought it was fine. The percentages don't add up in the product's description, but basically you can see the itch fabric has to do with the wool blend… 35% mohair, 35% alpaca, 30% nylon with 76% merino wool, 19% nylon, 5% elastane contrast.
Pairing: This will be great with any type of jean. If you're tall enough, it can be paired with skirts. You will never tuck this sweater in.