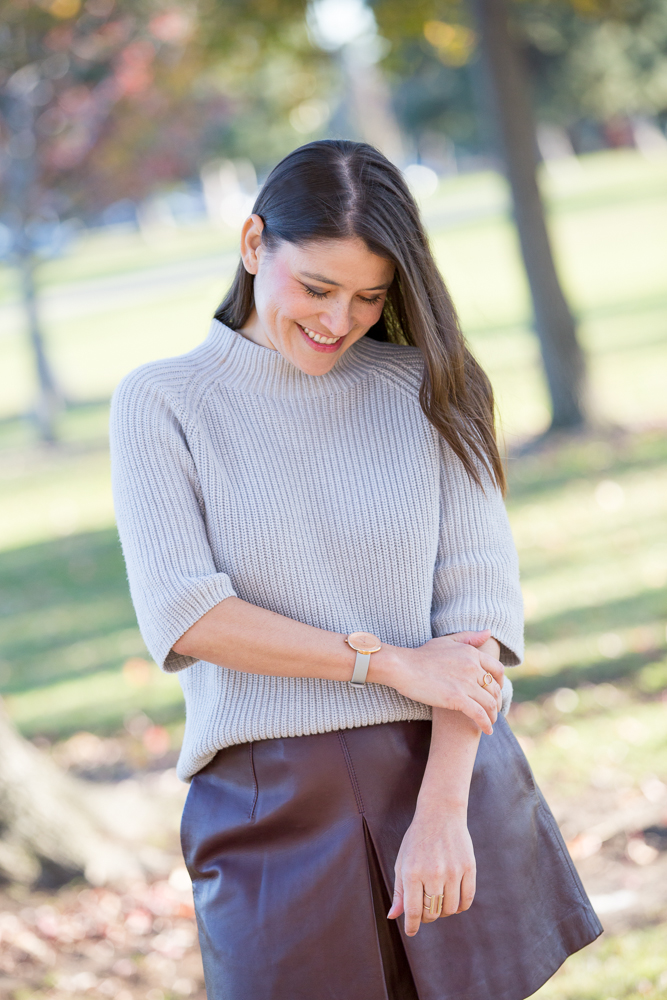 Why Tuck A Sweater Into A Skirt?
One of my favorite winter looks is a sweater tucked into a skirt, especially a leather skirt. It is one of the most stylish looks you can wear in the fall and winter. In fact, when this post first went live in 2016, few people were rocking this look. Now, all you have to do is open Instagram to see any fashion lover you follow tucking her sweaters into a skirt come fall. And it is officially fall! So let's make sure you have the right goods to accomplish this staple cold weather look and, of course, learn the basics on how to tuck a sweater into a skirt.
What Kind Of Thick Sweater To Tuck Into A Skirt
Before learning how to style a sweater tucked into a skirt, you need to get the right sweater.  This means you're going to skip your longer sweaters. Yes, there are some solid hacks for this, which I go into below, but you know I'm all about efficiency and the best piece for the best outfit, and less about the hacks. Basically, your thick sweater needs to be short aka cropped, and it is better if it doesn't have the traditional wide band at the bottom hem. You want minimal to no band at the bottom of the sweater. Below are some great shorter sweaters without a band at the hem.
What Kind Of Skirt To Tuck A Thicker Sweater Into
Real leather or thicker faux leather skirts are the best for tucking thicker sweaters into, but any skirt that is equal in weight or heavier than your sweater should work. (read why I've been enjoying faux leather lately, here.) Wool, suede, and tweed skirts also suffice. The key is to have a skirt that doesn't show the bulky fabric that you have tucked into it, and is strong enough to hold the tucked fabric in.
How To Tuck A Sweater Into A Skirt
Tucking all of a thick sweater into a skirt is far too bulky and looks chunky. Most likely all of it won't fit into your skirt. If it does, your skirt is too big for you. Instead, you are going to do a half-tuck. To accomplish the half-tuck, take about four inches or a small portion of the front of the sweater and tuck it into the front of your skirt. Don't tuck it in tight. You don't want it to be flat on your stomach; you want it to blouse just a bit. Then, fold under the rest of the sweater hem in the front that is left untucked. As for the back of the sweater, let it fall as it may. The front is all you need to worry about.
How To Fake The Tucked-In Sweater Look
If you are dead set on using a longer sweater to create the tucked-in look with a skirt, here are two tried-and-true hacks.
1. Tuck It Into Your Bra
Take the hem of your longer sweater and fold it under, pushing the hem underneath your bra all the way around. Watch blogger Elana Kinda explain how it's done in the video below. Fast Forward to minute 4:45…
2. Use A Skinny Belt
When you're wearing a longer sweater, grab a skinny belt meant for the high waist. It doesn't matter what color it is — the belt won't be visible. Put the skinny belt over the sweater on your true waist and then pull up on the upper portion of the sweater, above the belt, until the blousing effect creates a fold of the sweater to cover the belt.
What Shoes To Wear With A Tucked-In Sweater and Leather Skirt
To complete the tucked-in sweater and leather skirt outfit, you need a shoe that matches the season. You don't want to wear a sandal or delicate heels with this strong look. For a true cold-weather look, pair this with short booties or tall boots. If it's not that cold where you are, and you're not in the mood for a boot, you could also wear a loafer or chunky pump. And don't forget: it doesn't need to be super cold for you to wear booties. As I tell my clients all the time, booties are year-round footwear. Whenever the temperature goes below 70°F, it's bootie time.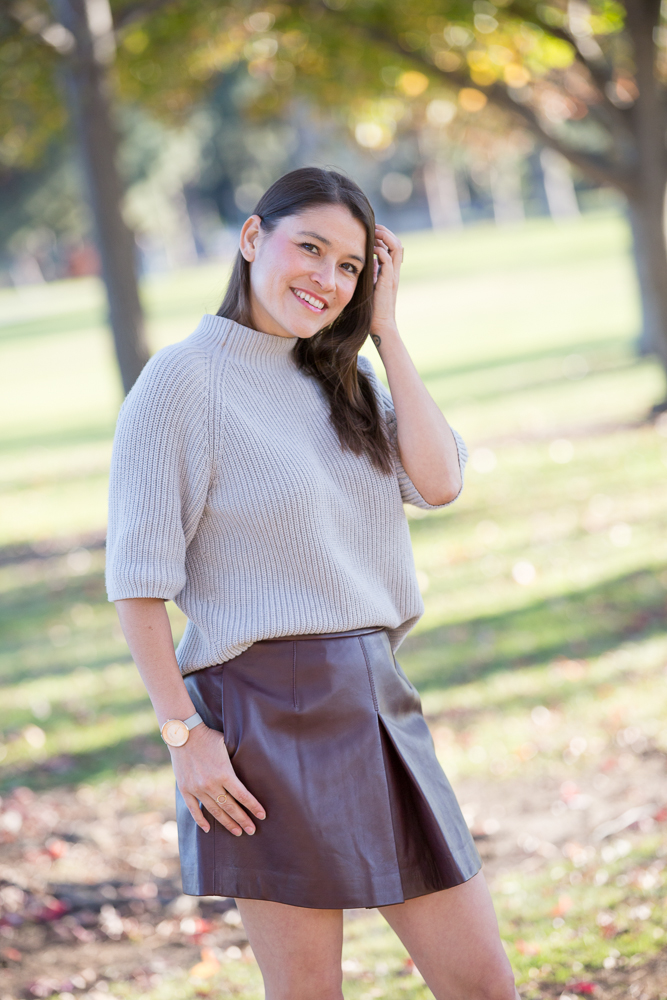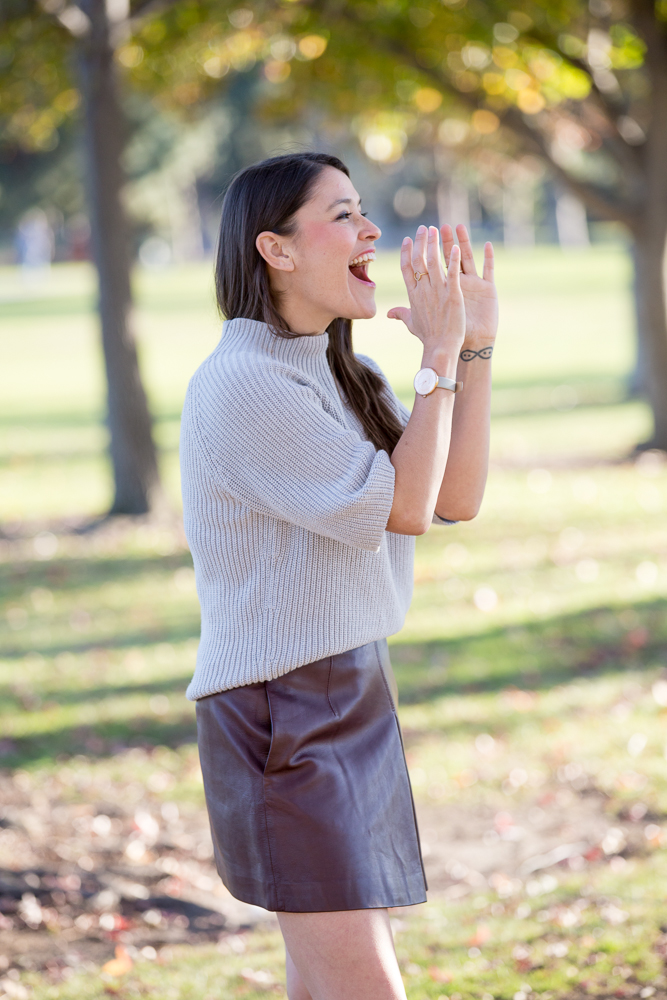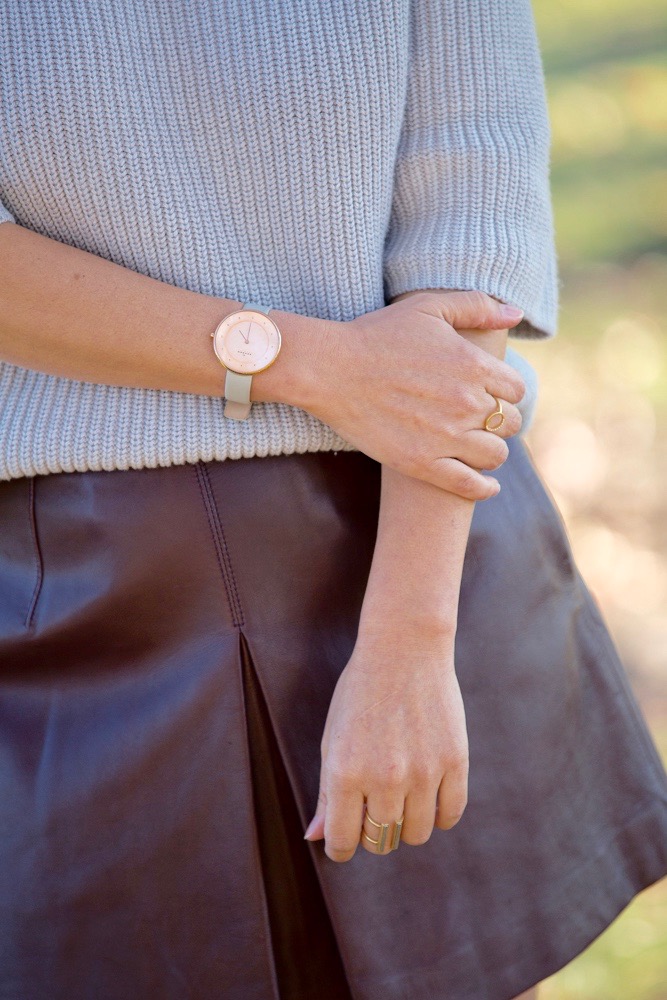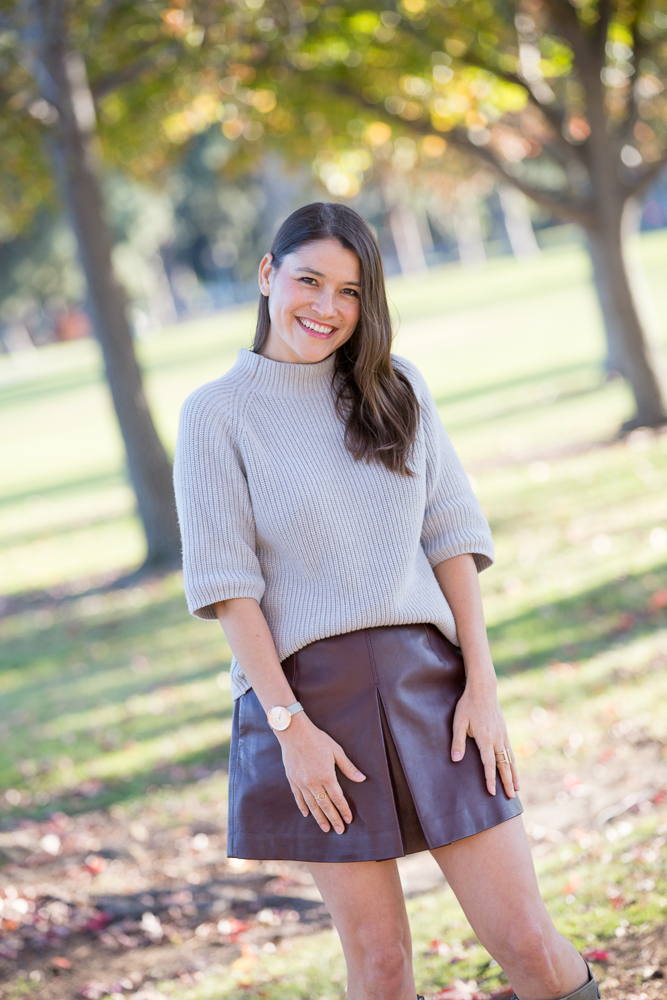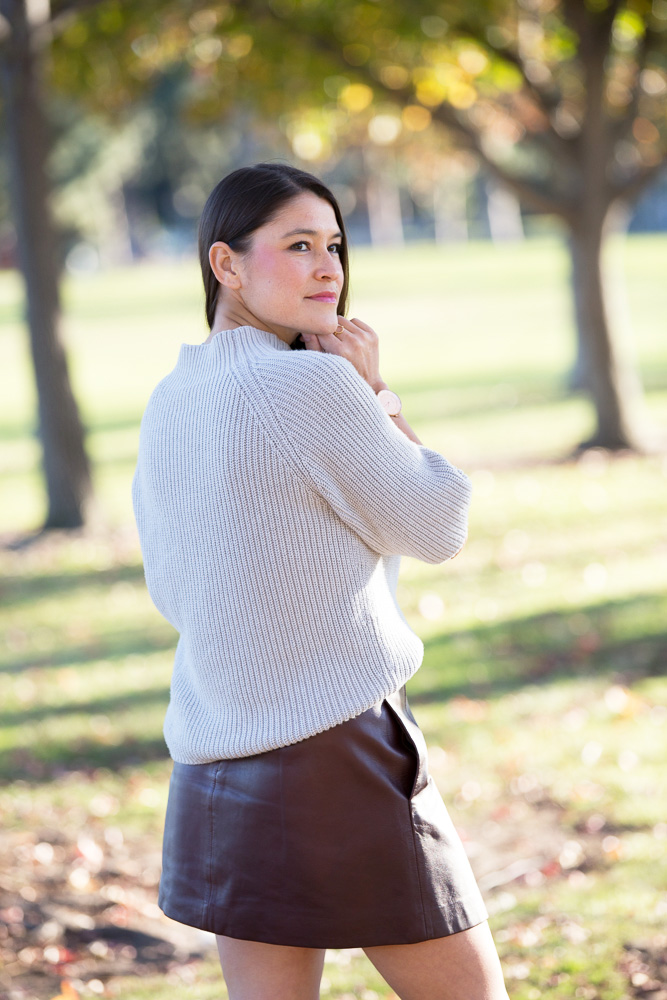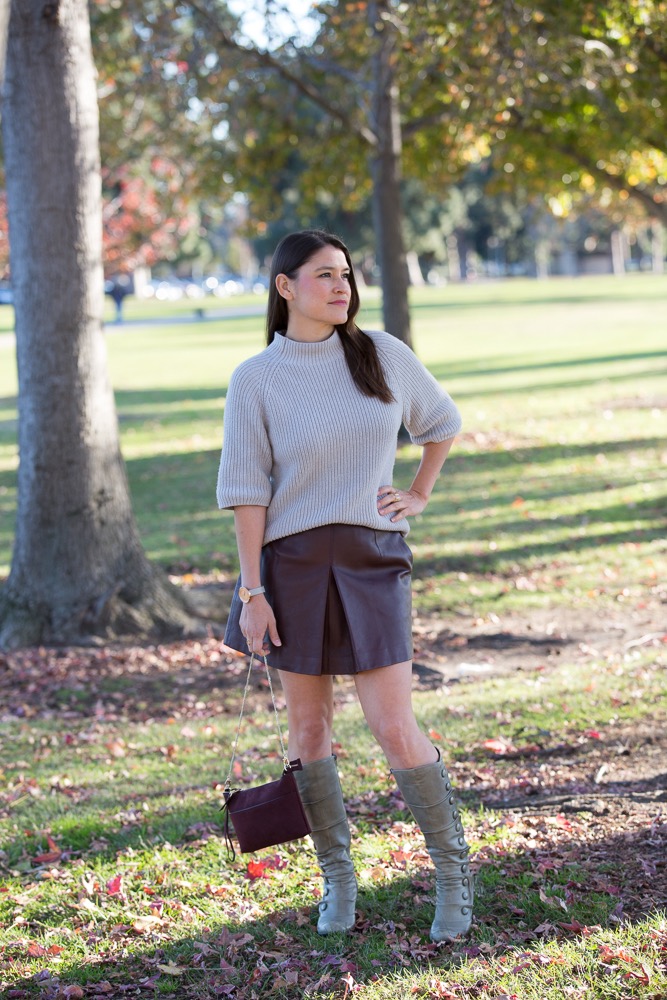 Photos by Dayley Photography