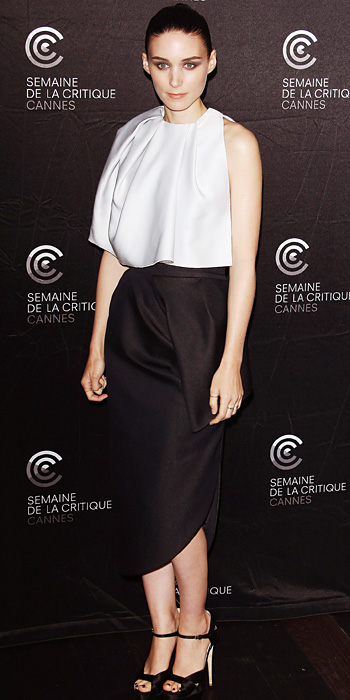 Photo Credit: Graham Whitby Boot/Photoshot
Apparently Cannes is not that great. Having just returned from the Riviera, where Antibe is stunning and Nice is quite nice, I would say the only reason to visit Cannes is for the Film Festival. The Cannes Film Festival brings out some of the most creative films, shinning stars and fabulous outfits. This year I was drawn to Rooney Mara wearing a Christian Dior black and white dress. You could say it is a color blocked look as the top is a block of white stacked on the block of black skirt, but the term color blocking brings to mind trendy trends, versus timeless chic, and this dress will forever be beautiful.
Generally I am not a fan of black and white dresses. It's trend driven, harsh on the skin, and costumey. Black and white always reminds me of Beatle Juice's suit; which my older brother wore for Halloween in the 90's and then I wore, just cause, to school in 7th grade. Yes, I  wore a black and white striped blazer to school and I felt innovative. Having felt innovative as a young girl in the 90's knowing little of what's been done and what has not, I can say with confidence, today black and white is very done, unless it is executed in a flourish of elegance, Rooney style. Keep this in mind as black and white rages like a forest fire in the stores. Don't be drawn in by the cheesy prints and pieces like Zoe Saldana's Cannes frock. While Rooney shows the Riviera how black and white is done right, Zoe arrives as a victim of trends in Emanuel Ungaro by Fausto Puglisi. Although well made with a stroke of theatrics, it still speaks of right now, or worse 1995, instead of forever.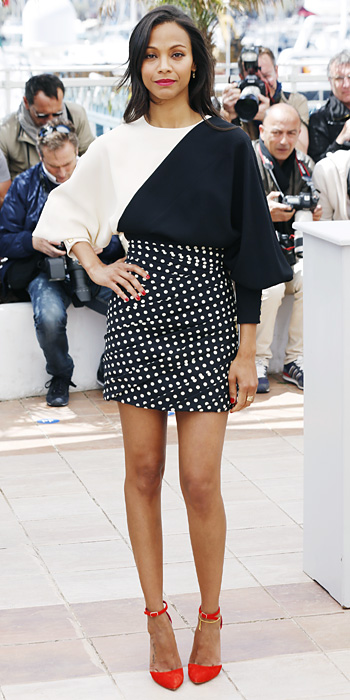 Photo Credit: Pacific Coast News
Will you be weaing black and white? Please share in a comment below.