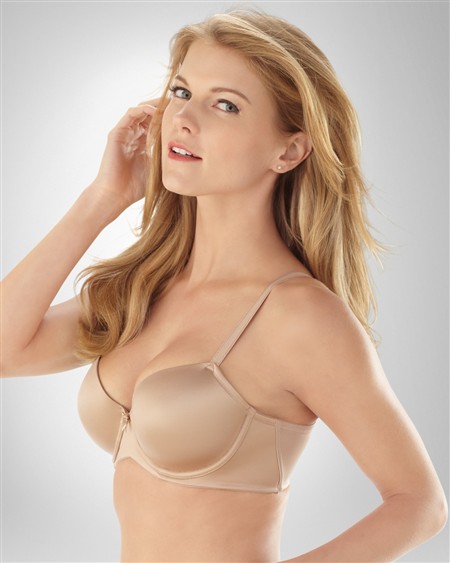 A bra should not gap in the cup or cut into your fat. It should cup the breasts fully and the ideal bra doesn't squeeze back fat or your armpit flesh. These two requests are often overlooked by my clients and ignored by sales associates. Too often, women settle for less in the bra department. A catastrophe I try to prevent with my clients and myself with diligent evaluations of any bra that crosses my path.
The Sensuous Sides Full Coverage bra from Soma Intimates ($48) is the most recent bra to come under my scrutiny. From the available sizes (32C-DD, 34-38B-DD, 40C-D), I requested 36B. At first glance, I am immediately impressed by the structure and elegance. This is a no-nonsense bra that retains the sensuality we want in our undergarments.
Once I adjusted the straps, I slipped it on and seriously said, "Wow." I love this bra. My breasts have never been higher in its contoured cups, my armpit fat was hidden and my back looked great. Oh, how I was looking forward to doing this review.  Like many of my clients, my armpits and back have become my number one body concern. I don't even know what else to write about it. Have I mentioned that I love it? Adding to my love is its overall comfort and the seamlessness of the cup. This bra is perfect for thin Tees and tops. You will not be able to see the impression of your nipples or even the bra when wearing this bra. This is a staple bra. I recommend getting it in nude.
My reviews are my honest and personal opinion. I never accept payment for reviews, although I am given the sample for free. If the sample is unimpressive or boring I don't write about it.