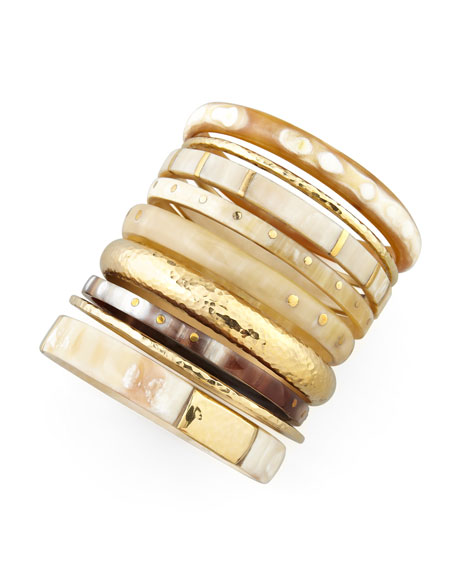 I have many clients that struggle with bracelets. My clients with small wrists deal with bracelets falling off their hands or looking oversized, while those with larger wrists struggle to find bracelets that are big enough for them. The problem of finding bracelets that fit well is not so much a lack of inventory of smaller or larger bracelets. It's that stores don't address size differences and many brands don't assign sizes to their bracelets. So, here is how I get around that…
How To Figure Out Your Bracelet Size
To ensure the best fit, a bracelet should be no more than 1-inch bigger in circumference than the size of your wrist. For instance, my wrist measures at 6 inches. My bracelets should be about 6.5 – 7-inches in circumference. To measure your wrist's circumference, grab a tape measure and wrap it around your wrist.
How To Find Bracelets In Your Size
As you know, stores don't organize bracelets according to size, and circumference sizes are not listed on a bracelet's tag, so shopping in-store ends up being a random series of trial and error. This is why I adore shopping bracelets online. More often than not a bracelet has its circumference listed under the product details area. To my annoyance, sometimes they have the diameter listed instead of the circumference. In this case just times the diameter by pi (π) and that will give you the circumference: C=πd.
If working with pi (π) is not your thing, google has a circumference calculator. Just plug in the diameter and it will calculate the circumference for you.
Tips On Finding Bracelets for Small Wrists
Here are a few tips on finding bracelets for small wrists…
Bracelets with hinge closures often have smaller circumferences.
Shop youth stores like H&M and youth sections of department stores.
These brands of bracelets tend to run small…

David Yurman
Recoco NYC
Lagos
Tips on Finding Bracelets for Larger Wrists
Here are a few tips on finding bracelets for larger wrists…
Adjustable bracelets extend to your size.
Shop bracelets in Plus Size stores.
These brands of bracelets tend to run large…

Alex and Ani
Lane Bryant
Ashley Pittman
Chan Luu