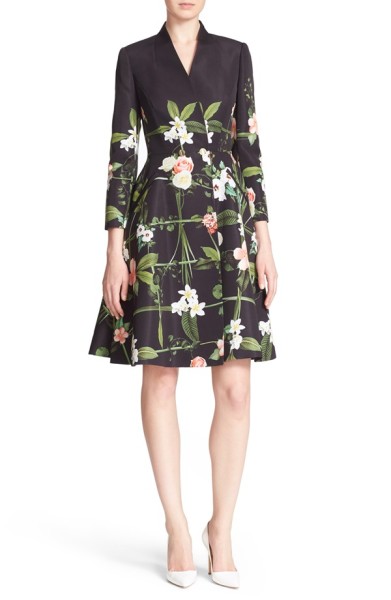 What Is A Dark Floral Print?
A dark floral print, black floral print or, what I often say, 'Moody florals' are all code for floral print garments that heavily involve black or a deep navy color in the pattern. The actual flowers could be dark, but more often then not, it is the background that is dark. You see, all those girly florals that come out every spring have a white or light background that lends to a cheesy, girly floral that feels sexless and done. This is why the dark floral print is so fabulous. This moodiness in spring is unexpected and sexy. Like I often say, black in winter? Boring. Black in spring? Fresh.
What To Wear With Dark Floral Prints
My recommendations for complimenting a dark floral print is the opposite of happy florals. Because the garment is so moody, you can get away with bright patent leather yellow sandals, or that delightful red topper. Hell, add a hat. This is all about bringing out the happy in this grumpy floral pattern, although it is not necessary. You can wear a simple black sandal if you like. You can be subtle, or outrageous. These prints can handle it.
Where To Buy Dark Floral Prints
The best part about this print is its availability. I am beyond delighted that so many designers (but not too many) are providing you with the pick of the litter. From Dolce & Gabbana and Alice + Olivia to Ted Baker and Topshop, we have so many dark florals to choose from. My top favorite is the Alice + Olivia's 'Ellen' embroidered dress, pictured directly below. The flowers are made with silk chiffon fabric that is stunning in its detail.