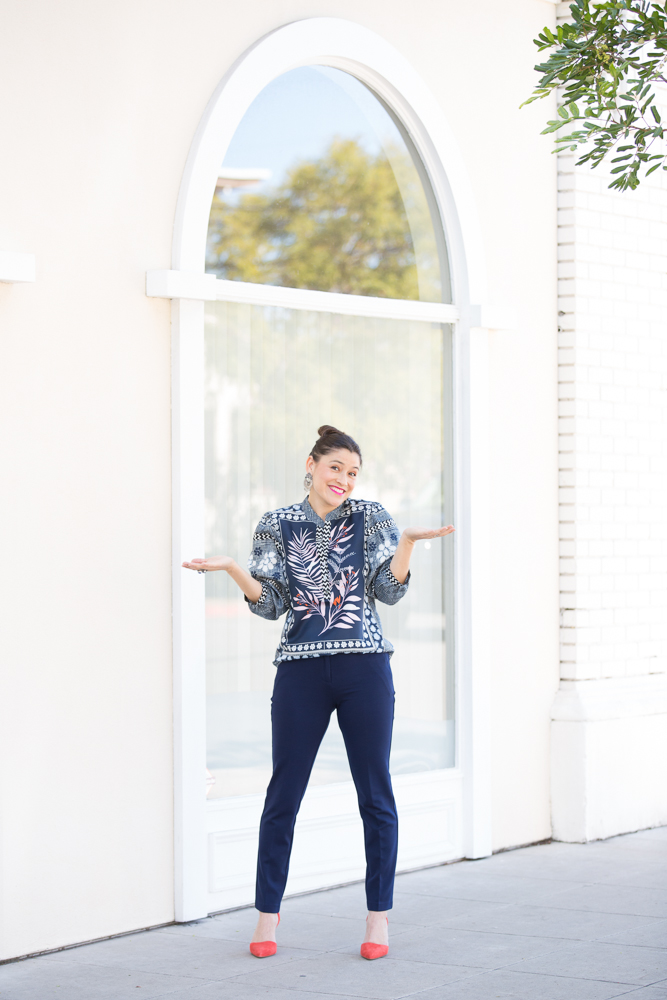 top: DVF, pants: Kobi Halperin, jewelry: vintage sterling silver, shoes: J.Crew
When you think Diane Von Furstenberg (DVF), you think wrap dress. You think silk. You think small prints or solid colored garments. You don't think large, bold and elaborately printed blouses, and yet here we are discussing one such blouse. The DVF 'Chrystie' print top is a fantastic jump for DVF (her spring collection in general, actually). It is literally one of the most fabulous tops I have seen so far this year. After I put it on one of my favorite clients, I took it home myself. One can't pass up such a unique, and comfortable piece.
How To Wear The DVF 'Chrystie' Print Top
The first thing my client said to me when she put on the DVF 'Chrystie' print top was, "I love it." The second thing she said to me was, "How do I wear it?" Here is how:
Shorts: you can tuck it in or leave it out.
Mini Skirts: if you tuck it into the skirt.
Slim Pants & Jeans: the slimness will compliment the volume of the blouse's sleeves. I recommend tucking it in a little bit in the front.
Colors: You will pair this top with navy blue, off white, pinky blush or coral bottoms.
How Not To Wear The DVF 'Chrystie' Print Top
Don't tuck this DVF 'Chrystie' print top into high waisted bottoms. It will cut off the large print. You also don't want to pair it with most a-line skirts, most flared pants, boyfriend jeans or other sloppy bottoms. Lastly, don't mix prints with this top. It is a one garment show, the rest of the clothing you wear with it are quiet supporters of its extraordinary presence.
When To Wear The DVF 'Chrystie' Print Top
Is it too much fabulous for work? Well, it depends where you work. If you work in a creative industry or you're the mega boss, then yes you can wear it to work. Otherwise, I am loving it for play, especially dinning. It is the epitome of restaurant dressing, but you can wear it anywhere that isn't too formal: brunch, dinner, drinks, the theatre etc. I also like the idea of pairing it with shorts and rocking it on a lovely Saturday afternoon around town. Really, I'll use any excuse to wear this thing.
Photos: Dayley Photography