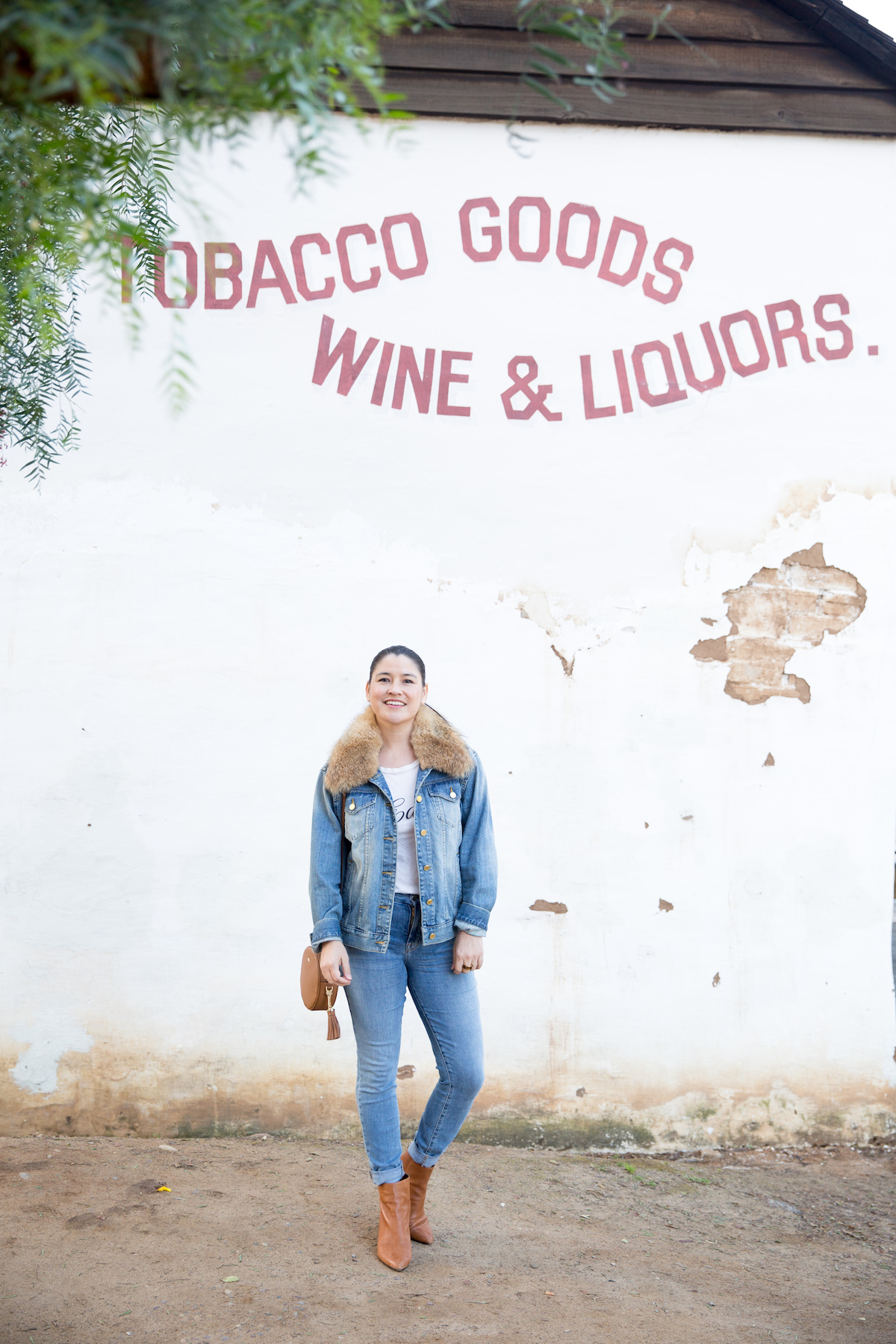 I am sure you have seen denim on denim go terribly wrong. But with some attention to detail, an enthusiastic denim look is oh-so-right. In this post, I share my basic tips on how to wear denim on denim, the no-nos to avoid, and the essential non-denim elements. (For more denim inspiration, see my post on Denim Dresses + Denim Trends.)
How To Wear Denim On Denim
Listed below are the three stylish denim on denim combinations that always work. As you can see, I am wearing an example of #2. In the Shop This Post below, I have included two examples of my clients wearing the #1 version of denim on denim. Of course, my clients gave me permission to use these photos taken during one of their outfit creation sessions.
Medium Blue Chambray Shirt + Dark Blue Jeans + Brown or Blush Footwear = Yes! (Tip: Tie the chambray shirt at the waist or wear a belt that compliments your shoe. This divides the denim beautifully.)
Denim Jacket + Simple Top + Jeans + Booties = Yes! (Tip: The denim jacket and jeans need to match perfectly.)
Denim Jacket + Simple Top + Denim Skirt + Casual Shoe = Yes! (Tip: The denim jacket and skirt need to match perfectly.)
Denim On Denim No-Nos And Tips
Wearing so much denim can feel challenging and costumey, but it's actually very easy, comfortable, and quite cool. And it's not nearly as outrageous as some people think. Here is how to avoid a cheesy look…
An all denim outfit looks best in medium blue or black denim.
Skip optic white denim on denim, and dark blue denim on denim.
Don't mix a really distressed denim piece with a clean cut denim piece.
Don't wear stilettos, ballet flats with a skirt, or Keds with your denim on denim look.
Preferred footwear with denim on denim looks are booties, bohemian sandals, chunky heels, slides, mules, cool sneakers, and pointy-toe flats.
Preferred tops for these denim looks are plain t-shirts, graphic tees, tanks, turtlenecks, and other simple tops.
How To Find Matching Denim
As pictured, I am wearing a matching jacket and jeans, but they did not come together. The jeans are Good American, and the jacket is Michael Kors. Although it is possible to buy a matching denim set, it often makes more sense to just color match the denim piece you already own. I do this by taking the jacket or jeans with me to my favorite denim store, like Nordstrom or Madewell.
I found my denim jacket by wearing my favorite jeans to Buffalo Exchange and trying on every denim jacket they had. If that seems like a lot of work, or the selection in your denim store is limited, order a bunch of denim jackets and/or jeans that appear to be similar washes and then try them all on at home. Make sure the metal accents, buttons, and thread match as well. You don't want a denim jacket with yellow stitching and jeans with blue stitching.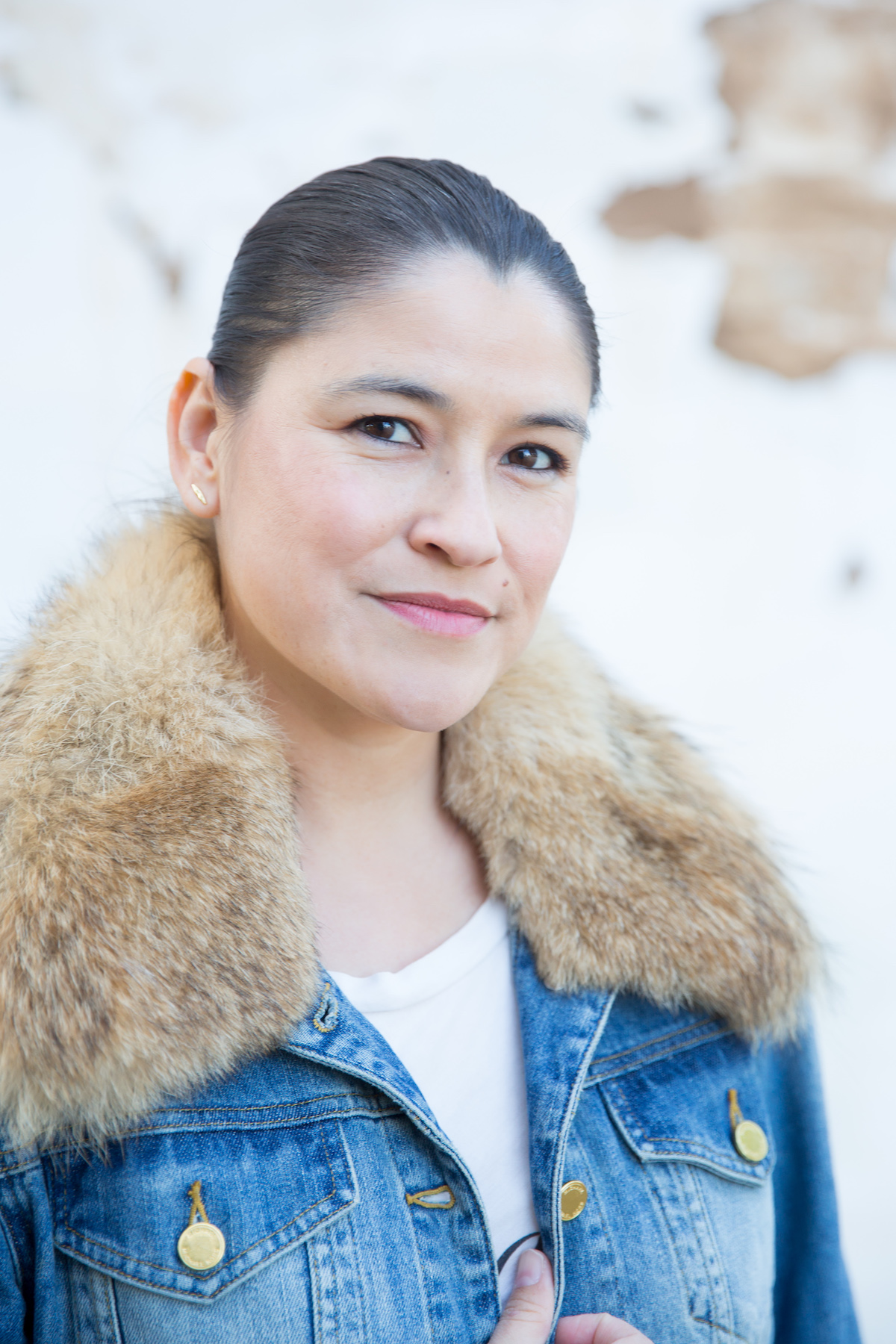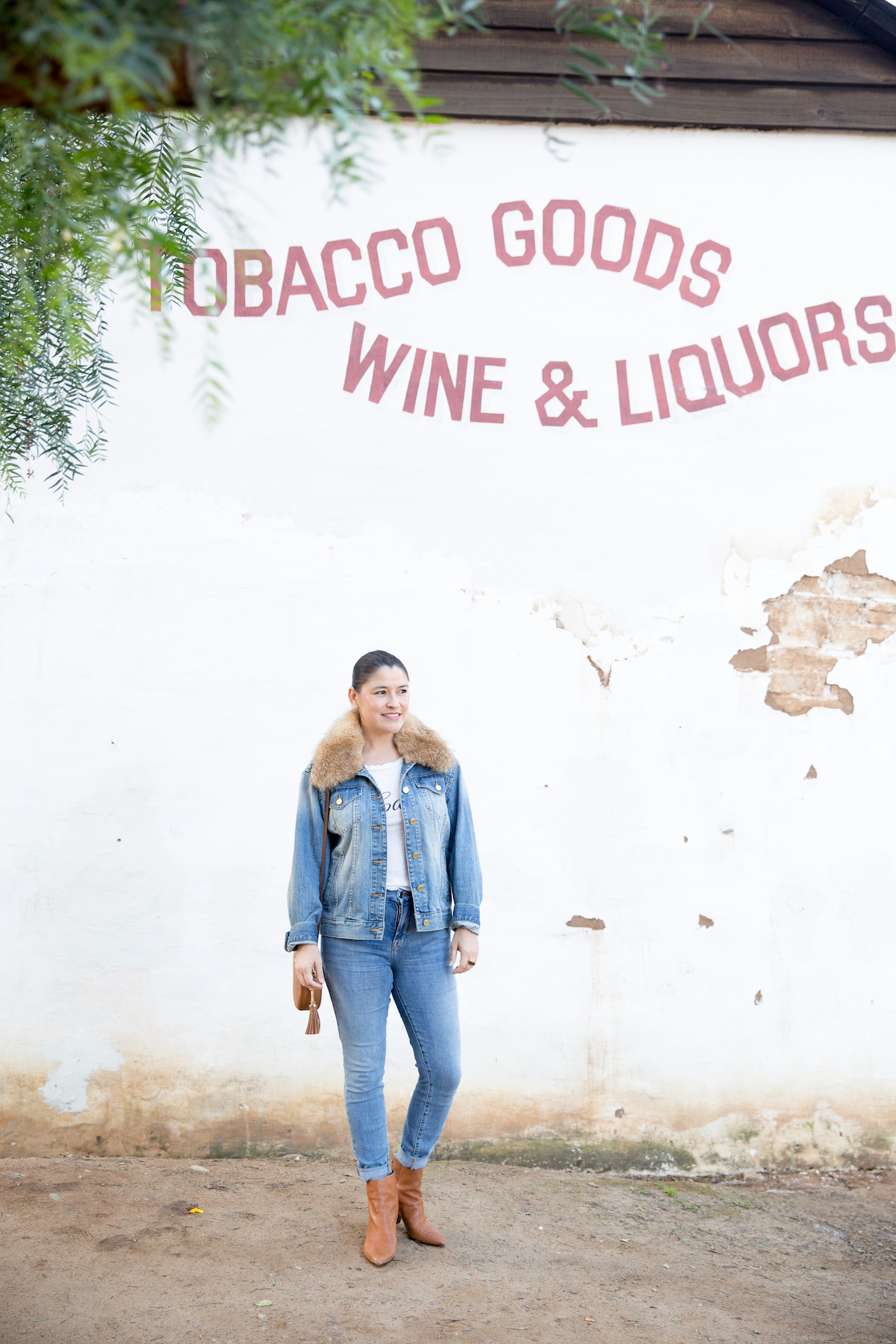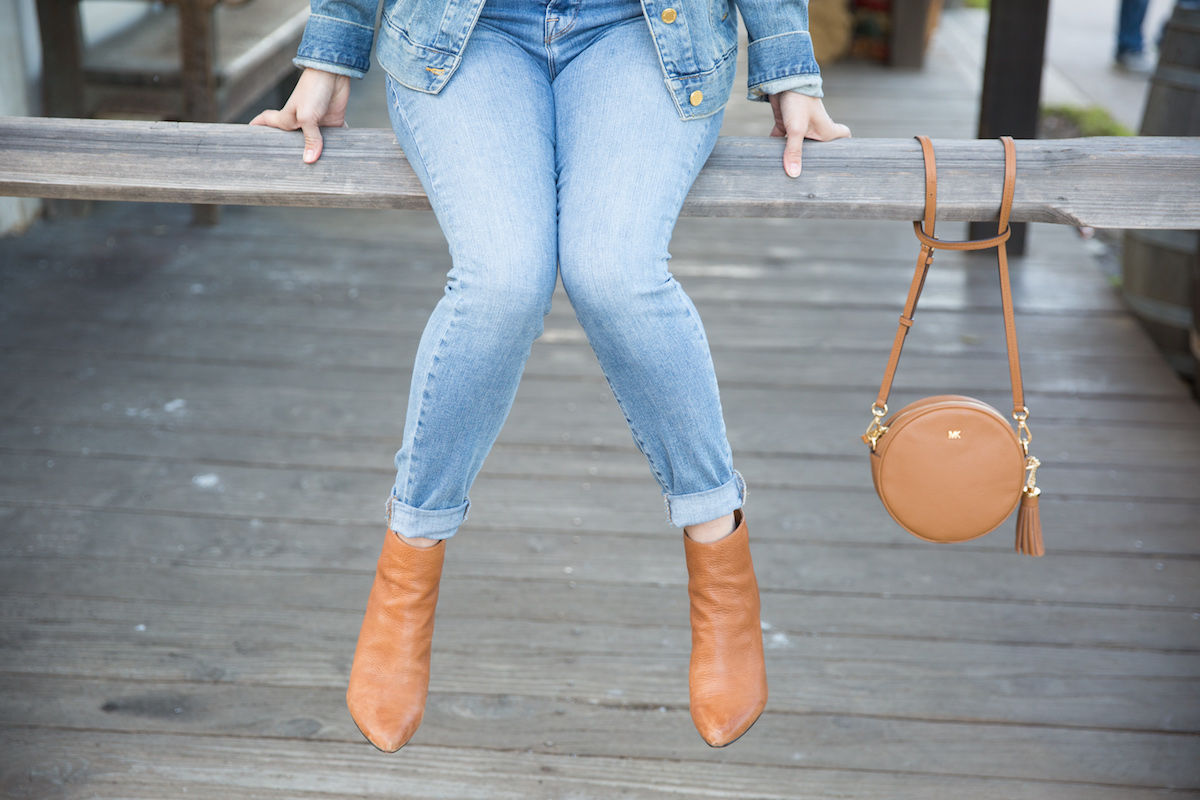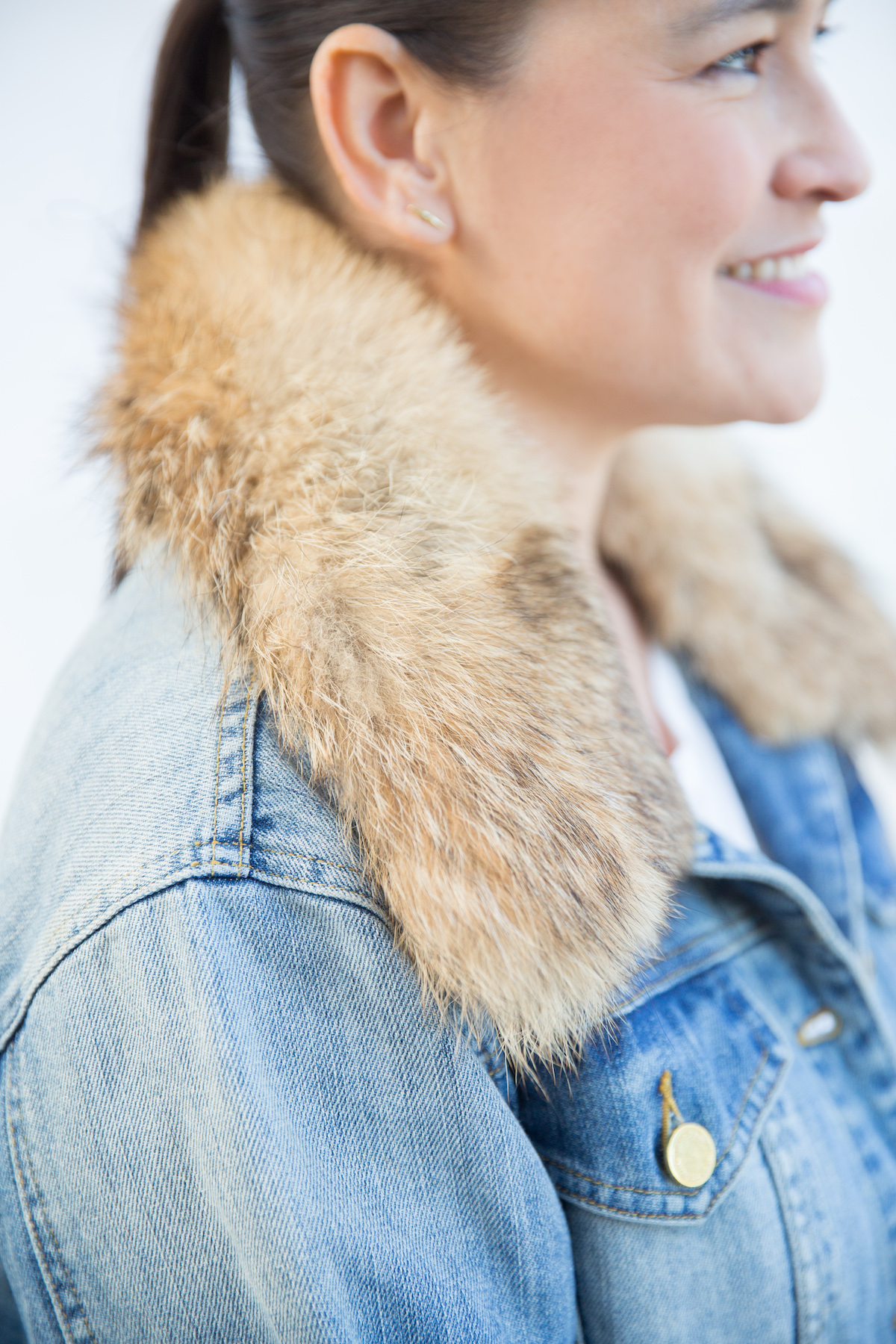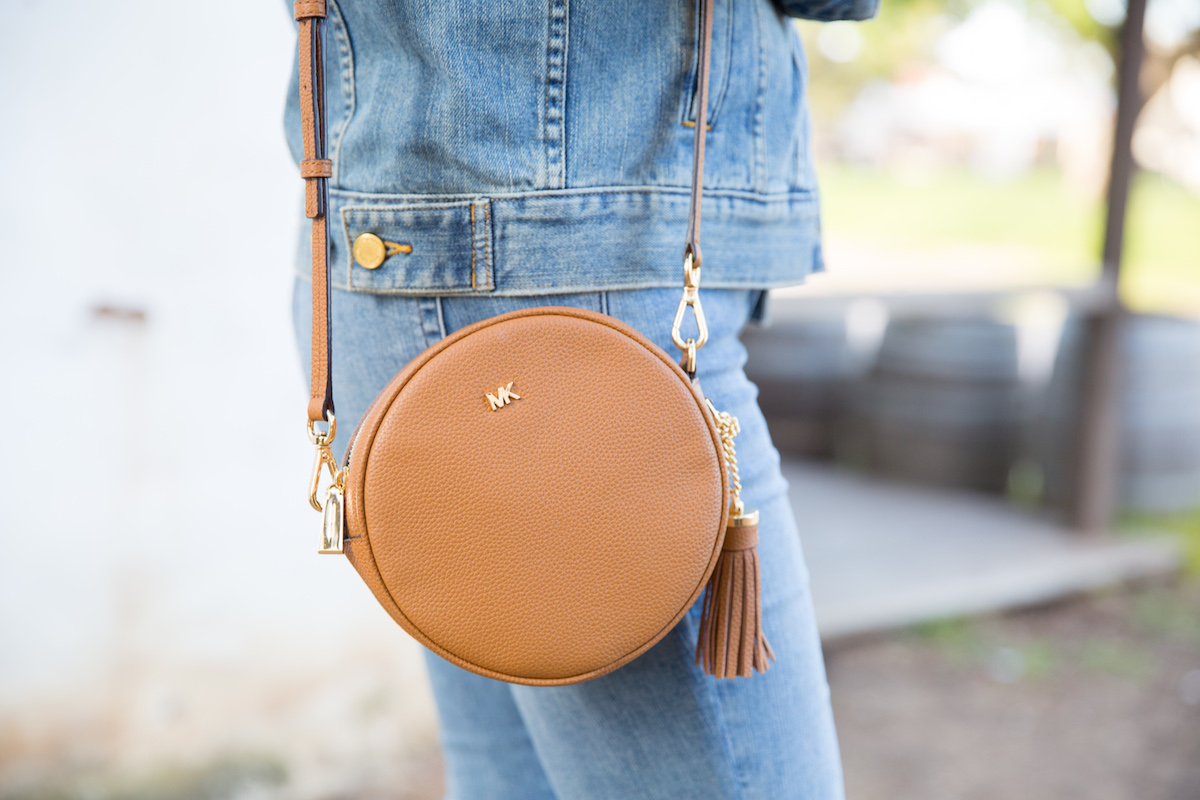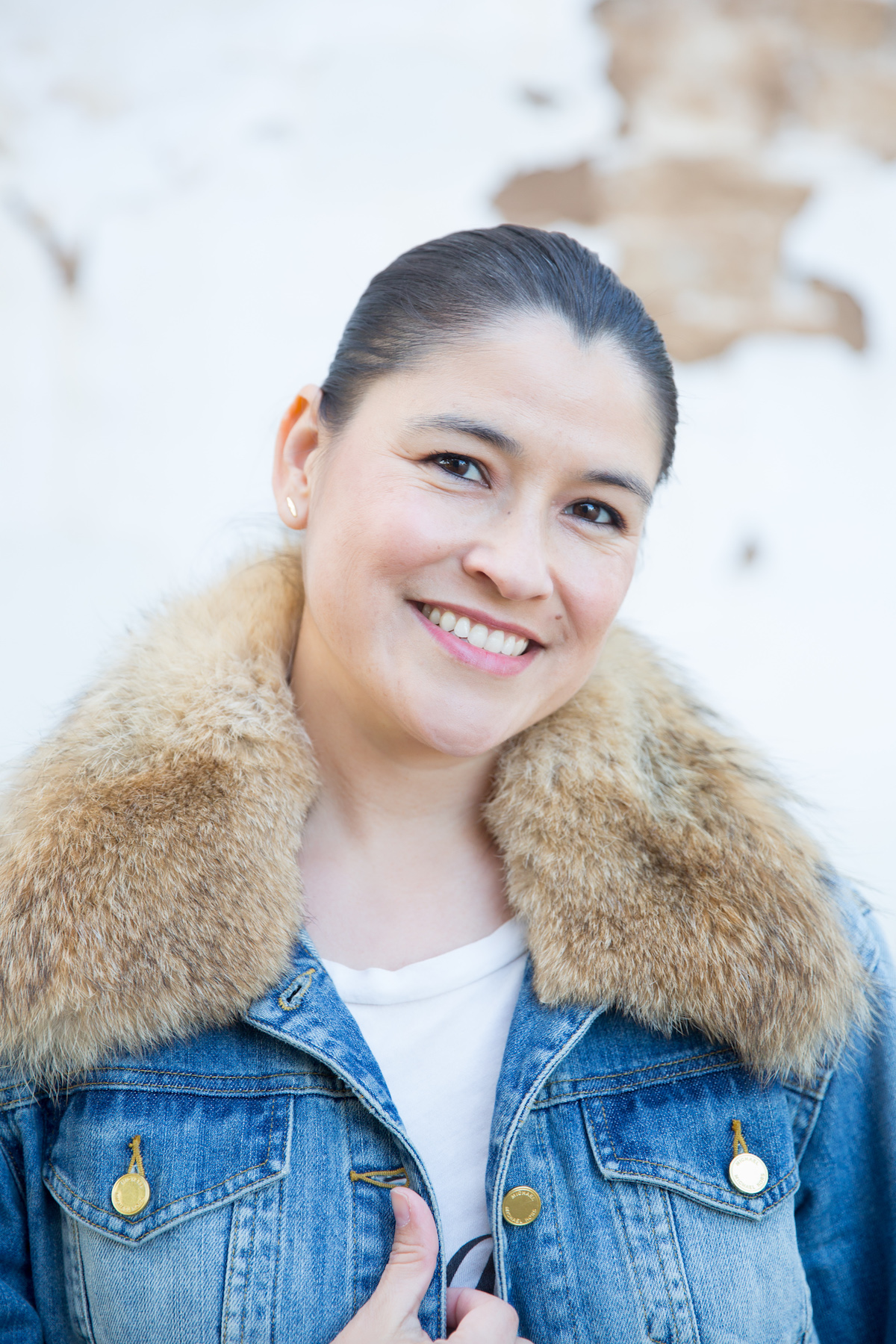 Photos by Dayley Photography