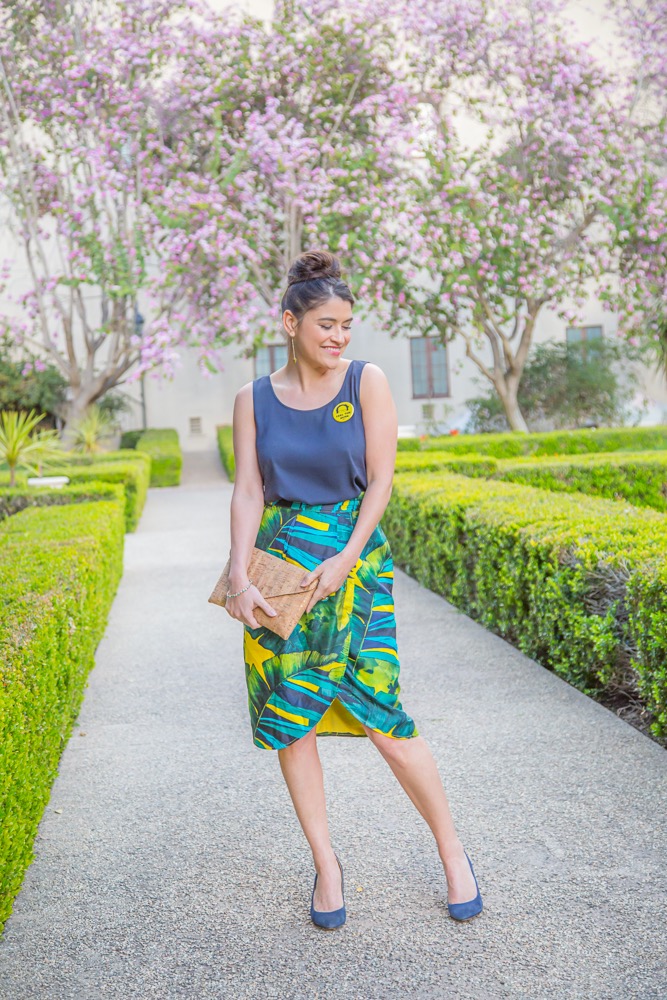 shell: Ann Taylor, skirt: J.Crew, clutch: J.Crew, pumps: INC, earrings: Melinda Maria bracelet: Melinda Maria, ring: Melinda Maria similar here.
With our country in political turmoil and a heated primary race for the next President of the United States of America, people are becoming more politically active than usual. There has been record breaking new voter registration, numerous rallies and protests, and the mass donning of politically affiliated attire and accessories. That last bit about political fashion is where I come in.
Obviously, most people supporting important causes won't care how they've styled their issue-driven attire and for good reason. Government policy and putting the right people into power is far more important than one's fashion, but I like to embrace excellent style throughout all life's experiences.
How To Wear The Political Pin
One of the easiest ways to support and promote your cause, issue, or candidate of choice via fashion is wearing the traditional pin. This is definitely my favorite bit of political fashion because it works with all kinds of outfits from casual to somewhat dressy. Here are some basic tips for choosing and wearing your political pin:
Choose a whimsical or simple pin. Skip ones that have the real life face of your candidate or something that has too much going on.
Think of your political pin as a brooch and coordinate accordingly. That means no large necklaces or clashing jewelry tones.
Political pins look best on solid colored tops and garments.
Make sure the color of your pin compliments the colors of your outfit, but don't get too matchy-macthy either. Notice how the yellow of my pin pictured is brought out by the yellow accents in my tropical wrap skirt. Also, notice how the navy blue of my shell makes the yellow pin pop.
Don't attach a pin to suede or leather. Beyond that, you can wear a pin on most any fabric. You can even wear it on silk and polyester. It will leave two teensy holes at first, but it will steam out.
How To Wear The Political Cap
I'm personally not a fan of the political cap. I use them strictly for hiking and running. If you are dead-set on wearing the hat socially or at a rally and want my advice, keep it very casual. T-shirt and shorts with your political cap on a sunny day is great.
How To Wear The Political T-Shirt
When I told my photographer the concept of this post, she was not as excited as I was about political fashion. Then I showed her my political Tee of choice and she sprung into a smile. "Oh! I thought it was going to be a big ugly t-shirt. This is cute!" Indeed, the political t-shirt has a bad wrap. The political tees of day's past are ill-fitting and unimaginative. Now you can get well designed political tees that actually fit a woman's body, as displayed.
Despite the 'cuteness' of current political Tees, I am not a huge fan of dressing them up like other graphic tees. I like to style them casually.
Wear it when working out. Four days a week I pair my political tee with my work-out leggings and my running shoes, and run in Balboa Park.
Pair it with jeans. As pictured, this is a great go-to look for the political Tee, and may I suggest you tuck it in.
Pair it with shorts.
Unless you live in skirts, skip the skirt look with a political tee.
Skip the heels, and pair it with casual shoes like casual boots (as pictured), flats, low key sandals, or casual wedges.
Photos: Dayley Photography, Make-Up & Hair: Antonella Annibale
t-shirt: Bern It Up, jeans: BLANKNYC, boots: Mia, earrings: Bloomingdale's, bracelet: Argento Vivo, ring: Alexis Bittar