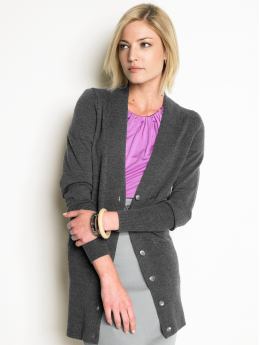 Depending on where you live, thinking about sweaters may seem outrageous or completely appropriate. While San Diego is in the middle of a heat wave folks in Michigan are getting chilly. Either way fall and winter will be cropping up soon and you don't want to be caught without a sweater.
The boyfriend sweater came out last year to great applause and it's going for an encore, but with a sleeker look and longer approach. I love this Banana Republic extra long wool cardigan
that you could throw over jeans or slacks or even wear as a dress! Scandalous, I know, but I love turning everything into dresses.
Try buttoning up a few of the buttons and put a belt over it. A super stylish look for work or weekend during the breezy months. After all keeping warm is just another excuse to be fashionable.