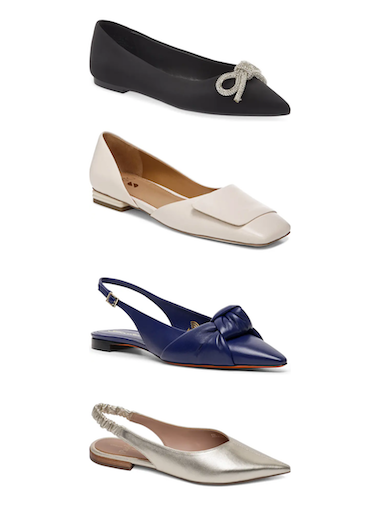 If you need to wear a cocktail dress with flats, I am here for you. From foot ailments and sprained ankles to rocky terrain and a general intolerance for discomfort, many of my clients are requesting dressy flats (aka evening flats) for their party looks this season. Let's get to it…
Can You Wear Flats With A Cocktail Dress?
We all love that lean long line a high heel gives us, but you can in fact wear a cocktail dress with flats and still achieve a slim silhouette. The key to pulling off a cocktail dress with evening flats is the dress length. The dress either needs to be a maxi dress or a mini dress. A mini dress will make your legs look loooong. A maxi dress will give you that long line too as well as partially hide dressy flats and take them out of the spotlight. When wearing dressy flats with a maxi dress, you want to wear the simplest of the dressy flats below. You don't want an embellishment catching on the hem of your dress.
Requirements For Chic Dressy Flats
Wearing flats with a cocktail dress or fancy pants can go terribly wrong if you choose the wrong flats. They really have to be an excellent pair. When picking your flats for evening wear, choose ones that have:
A pointed toe, peep toe, or elongated square toe
A rich color or shiny texture
A smooth or seemingly smooth texture
To see these requirements in action, scroll down and behold your choices.
Evening Flats With Dress Pants
You don't always have to wear dresses to parties and formal events. I am constantly putting my clients in dressy ankle pants or ankle-length jumpsuits for events. I say ankle length because longer pants are not flattering with flat shoes. And you generally want to have a slim pant leg rather than a wide pant leg. If you do prefer a wider pant leg, go for a cropped look with your dressy flats, and keep in mind a pointy toe flat is always more flattering than a rounder toe. If comfort requires you to wear a rounder toe, a slim ankle length pant will look best versus a wider pant leg or a dress.
Steve Madden Elina Crystal Bow Ballet Flat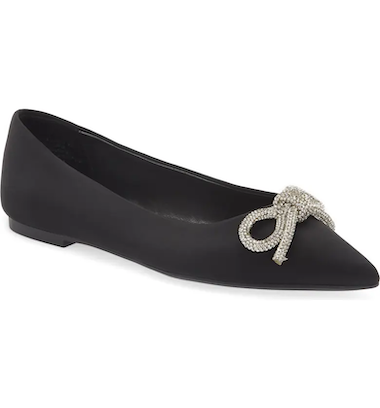 These flats are available at Nordstrom and Macy's.
Sam Edelman Wanda Pointed Toe Flat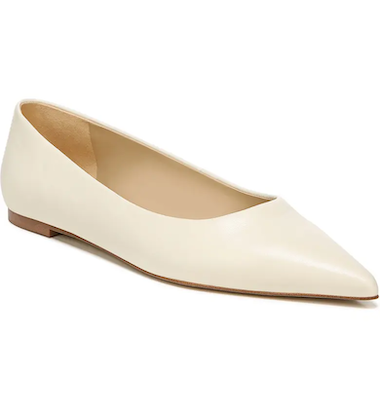 These flats are available at Nordstrom, Sam Edelman, Zappos, and Amazon.
Rothy's The Point in Solid Black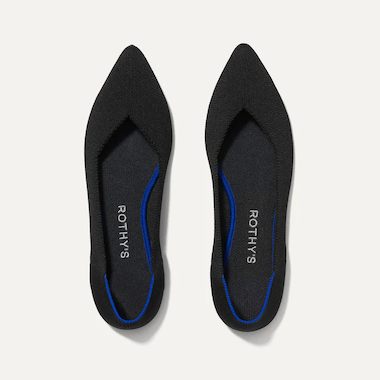 I am a big fan of Rothy's flats and this shoe in black is my go-to dressy flat (the other colors are usually too casual looking for a cocktail dress code). On top of having such a chic pointed toe, they're made of recycled plastic bottles and are machine washable. I recently paired it with a lady's tuxedo for a client and it was the perfect dressy, yet comfortable flat. Read my full Rothy's review, here.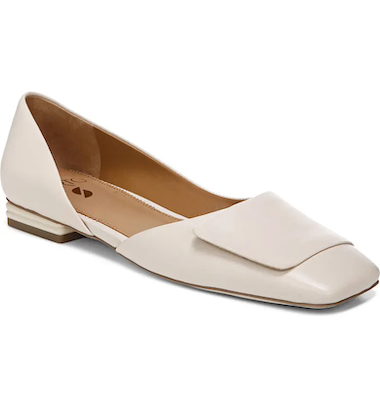 These flats are available at Nordstrom, Zappos, Franco Sarto, Dillard's, and Amazon.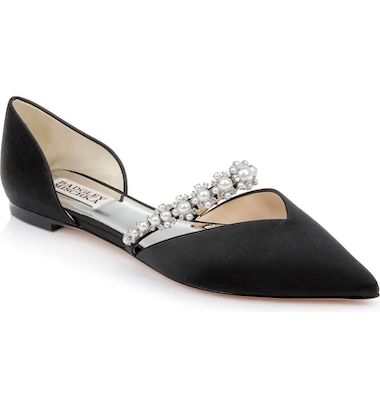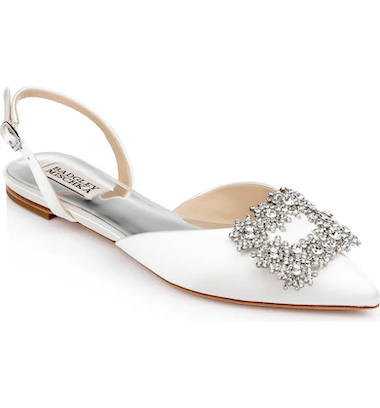 These flats are available at Nordstrom, Zappos, and Bloomingdale's.
Linea Paola Diana Slingback Pointed Toe Flat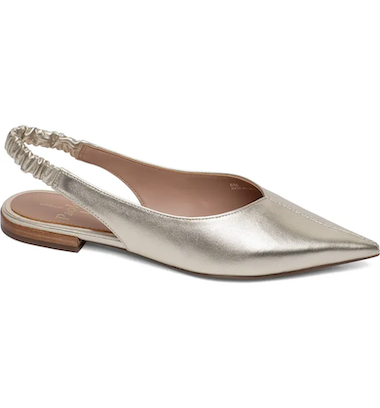 Naturalizer Kirsten Asymmetric Pointed Toe Flat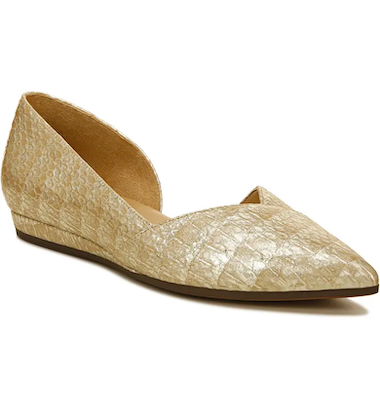 This flat is available at Nordstrom, DSW, Macy's, Naturalizer, and Zappos.
Aeyde May Pointed Toe Flat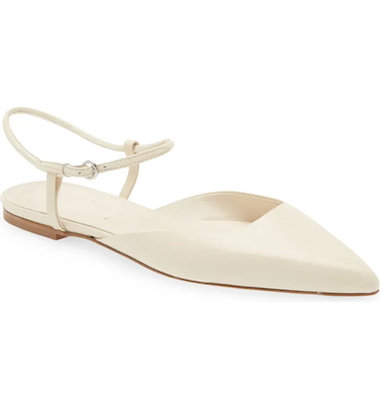 Santoni Slingback Pointed Toe Flat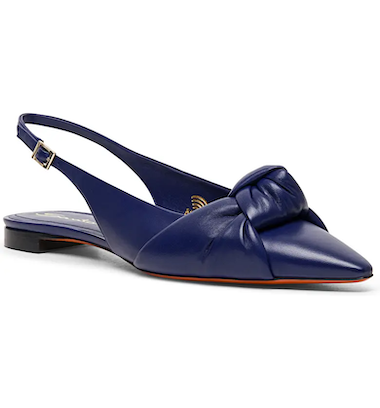 Rothy's The Point in Black Shimmer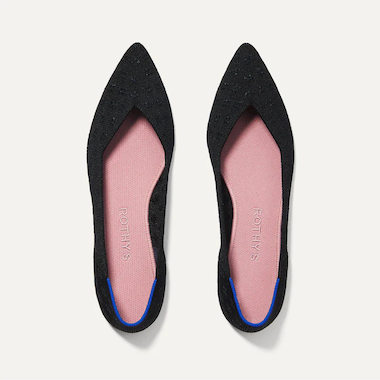 Here's another pair of Rothy's with a subtle shimmer that will go beautifully with a cocktail dress or dressy pants. Read my full Rothy's review, plus tips on how to wash them, here.
Dressy Flats For Cocktail Dresses From Years Past
I originally wrote this post years ago and update it regularly due to its popularity. I've left these photos below for nostalgic purposes. Whenever I update older posts, I love to hold on to a collection of images as a bit of a time capsule so we can watch how our style evolves.
Beverly Feldman
$111
Costume National $477
Vera Wang $96
Diane Von Furstenberg $260
Franco Sarto $69
Giuseppe Zanotti
$495
Marc Jacobs  $318.50
Vaneli
$124
Gabriella Rocha $52.47
Kate Spade $225
Romantic Soles $69