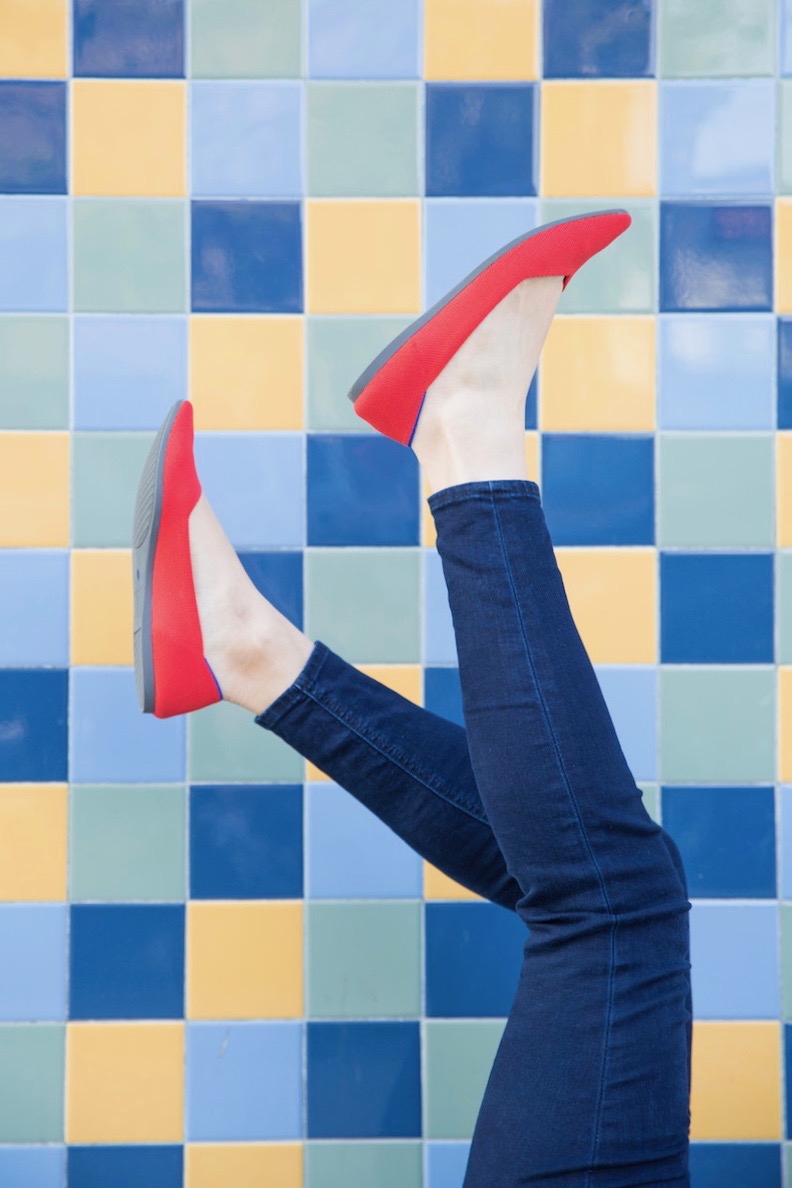 I put a little teaser on Instagram about my Rothy's review, and I have to tell you I am delighted that so many people are awaiting my commentary. Well, wait no longer. Read on, my dear friends.
Rothy's Review: Pros
I am enamored with Rothy's "The Point." Their sneaker and ballet flat I will pass on looks-wise, but their pointed toe flat is perfection. The shape is delicious and the color selection is on-point (pun intended). It's also the most comfortable pointed toe flat I have ever worn in my entire life – and you know how hard it is to find a comfortable pointed toe flat.
Aside from their beauty and comfort, they are also a fish in water. Rain is no issue and they are (famously) washable. But, I'm not done. Rothy's upper structure and foam insoles are made entirely out of recycled, single-use plastic. Rothy's says they have already used over 30 million plastic bottles destined for landfills and repurposed them into these flats. My heart is singing. To add to their eco-friendly glory, the shoe box – a compact and sturdy taupe-ish rectangle – is made from recycled materials as well. It also happens to be the shipping box, which further eliminates waste.
One last thing. Many of you know how crazy I am about spray protecting my shoes to prevent stains – it seriously works, but with Rothy's being washable, I skipped spraying them. From my vast experience, this usually means a shoe will become dirty very quickly, but not with Rothy's. As you can tell from the video, aside from the insoles, the shoe looks pristine on the outside despite being worn every other day for three weeks. I am truly impressed by their ability to repel dirt and stains.
Update: A reader just asked me how Rothy's retains smell. How could I forget such an important aspect one may ask? Well, they don't become smelly for most, which is why I forgot to mention it, but I admit I am not a smelly footed person. Have any of you noticed a smell? I would also like to mention that these flats are great for bike rides. I was reading another person's Rothy's Review that said the same thing. It is the rubber sole and the secure fit that makes them perfect for a casual bike about town.
Rothy's Review: Cons
The first issue I see with Rothy's "The Point" is that after about 5,000 steps my little pinky toe started getting red. Also, the shoe has no support. The solution is to go up a half or full size and slip in your orthotic to get the support you need. As for me, I don't use an orthotic and I have other shoes I can walk 20,000 steps in, so I will not be packing this shoe for Europe, if you know what I mean. Despite that, "The Point" is my go-to work flat. It's a chic and comfortable slip-on flat that easily goes from casual to dressy, making it an ideal flat.
How To Wear Rothy's The Point
You'll notice that the Rothy's pointed toe flat has a rough-looking texture. This is both good and bad. It's good because it's a more casual texture that pairs well with shorts, all kinds of jeans, casual pants, and casual dresses. It can be bad because it may not be a dressy enough shoe for certain dresses and dressier pants. Generally, rougher textures need to pair with a similar texture like cotton or denim. This is only an issue if you expect Rothy's pointed toe flat to be the perfect dressy flat. The exception would be the "The Point" in black. Its darkness allows it to mascarade as a dressy shoe beautifully. I just paired it with a lady's tuxedo for a client.
Rothy's Size Guide
I am always a size 8, so I ordered an 8 in Rothy's "The Point." It fits snugly, but it feels good and secure. Still, I have heard that many people have sized up, so I am tempted to order an 8.5 to see if that is just as secure, but less snug. Perhaps that's the reason that after 5,000 steps my pinky toe gets red. Stand by on this one. I will update you when I get my next pair. For now, I recommend ordering your usual size as well as a half size up to compare. Rothy's has free shipping and free returns, so don't worry about ordering multiple sizes.
Update Jan 2020: I ordered "The Point" in yellow and navy in 8.5. I prefer this to the size 8.  I still wear both sizes, but my flame size 8 feels tight. The 8.5 is a teeny bit roomy, but lovely. I will continue to buy the size 8.5 in The Point.
Update Feb 2023: Rothy's used to run a ½ size small, but now they are only running a touch too small, so your true size might be correct now.
How To Wash Rothy's Shoes
The washing instructions say: "Machine Wash, Cold Water, Air Dry, No Bleach, Do Not Dry Clean." Unfortunately, in my experience, the washing machine did not clean my Rothy's. In my fun video above, you can join me as I wash my Rothy's for the first time. Spoiler Alert: what did clean the Rothy's shoes was hand washing them with a toothbrush in the sink with cold water and diluted Dr. Bronner's 18-in-1 Castile Soap. I love this stuff —  I use it for washing my hands, washing my house, and apparently I now use it for washing my shoes. Watch the video to see how to do it.
Reminder: Do not put Rothy's in the dryer! A client just told me she accidentally put her Rothy's in the dryer and they melted into a wad of a thing that needed to be thrown out.
Rothy's Review: Does Rothy's Look The Same After A Wash?
I know a lot of you were waiting for my Rothy's review because you were worried about what would happen to the shoes after you wash them. I am happy to put your worries to rest. In the video, you can see that washing the Rothy's does not faze the shoe's structure whatsoever. They look brand new after a wash.
I will say though, when I wore them the next day the back of my left heel was rubbed a bit red. I wore them all day again today and I didn't have that issue, so I am not sure if it was the machine wash experience or if my feet were swollen from the extreme heat of the day. Either way, I will not be putting this pair or my next pair of Rothy's (I am getting the navy color next) in the washing machine again. As you saw in the video, hand washing is far more effective than a trip through the machine. It also uses less water.
To get $20 off your first pair of Rothy's, Click Here.
(Coupon doesn't work if you have already purchased from Rothy's before – sorry!)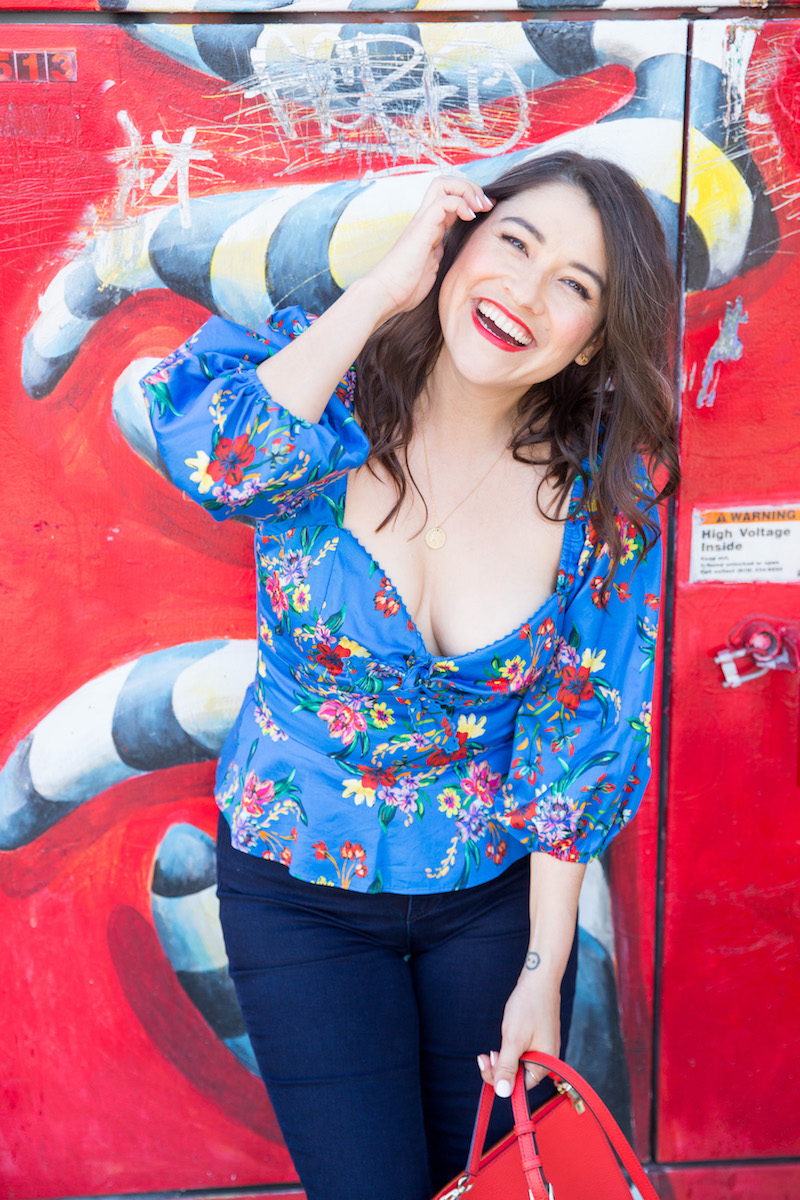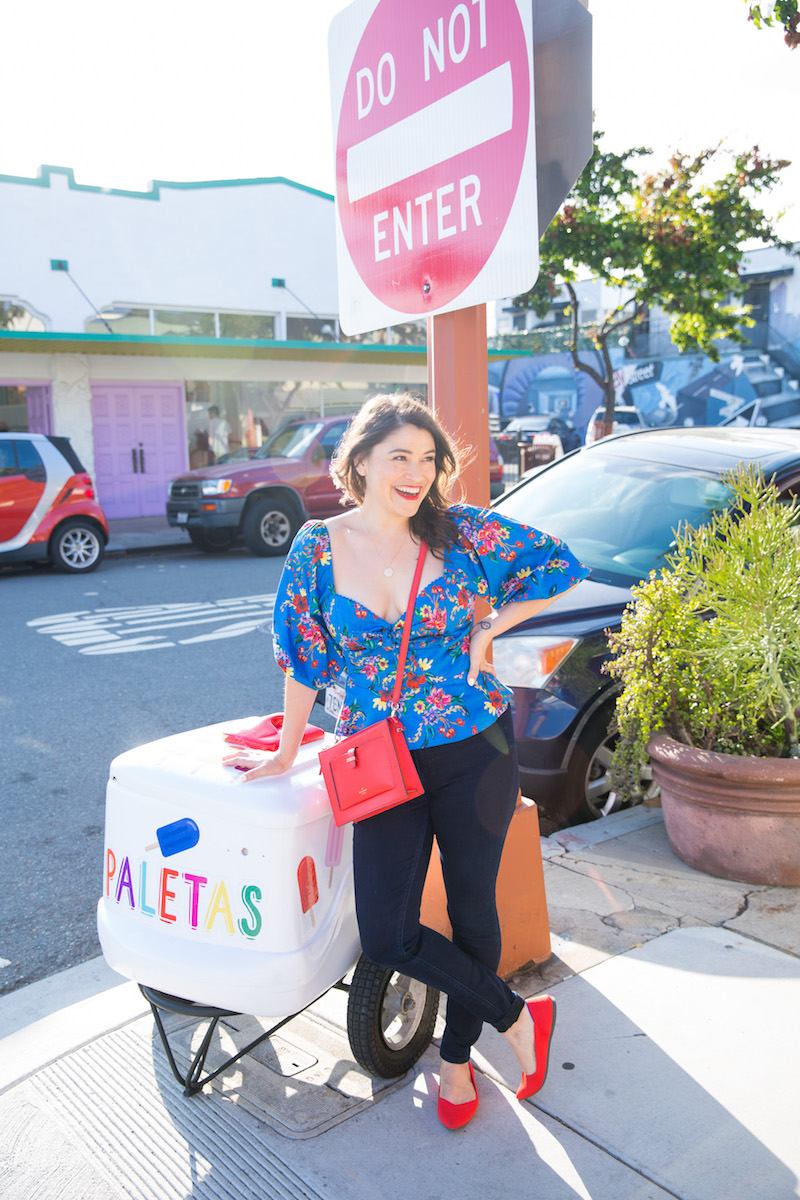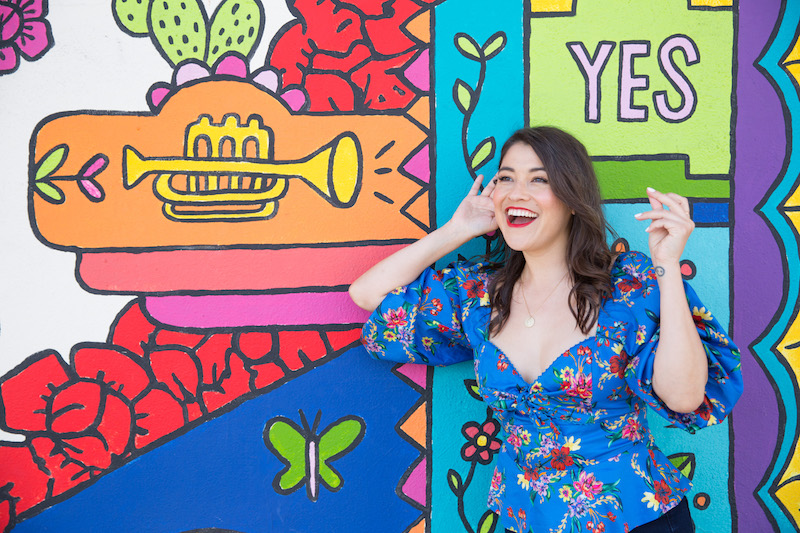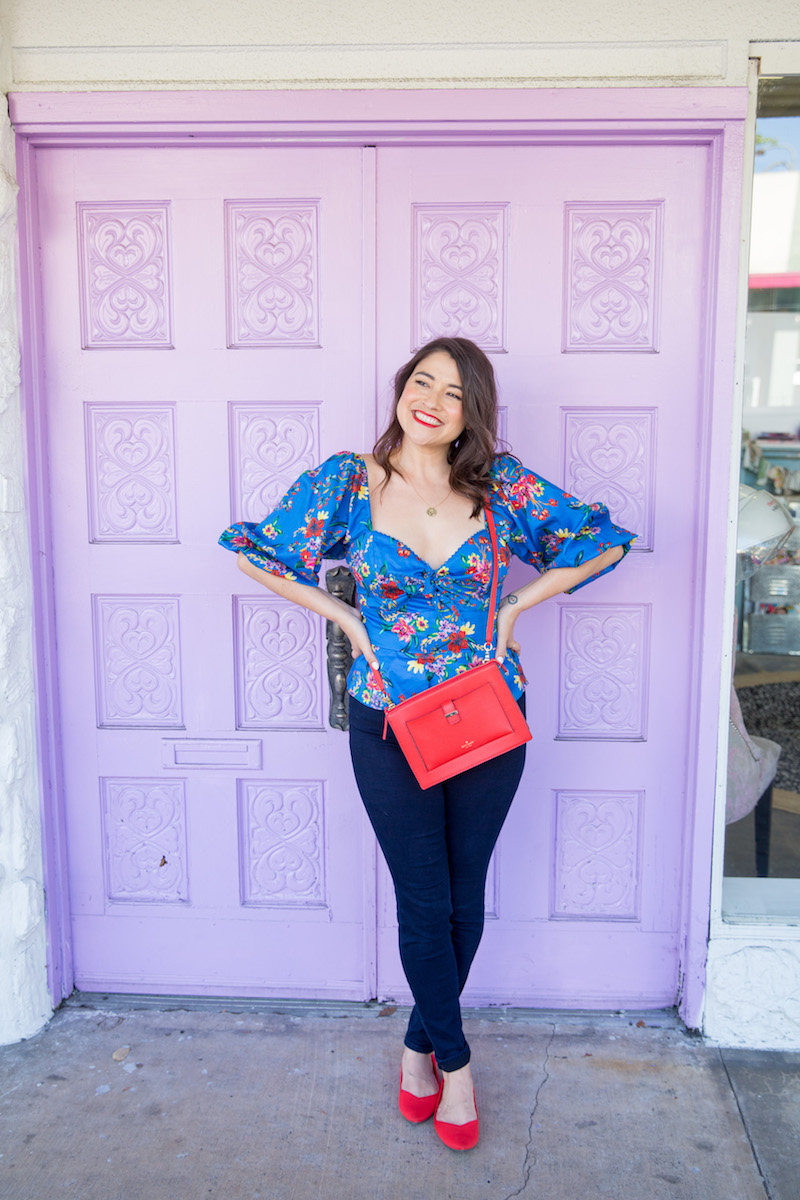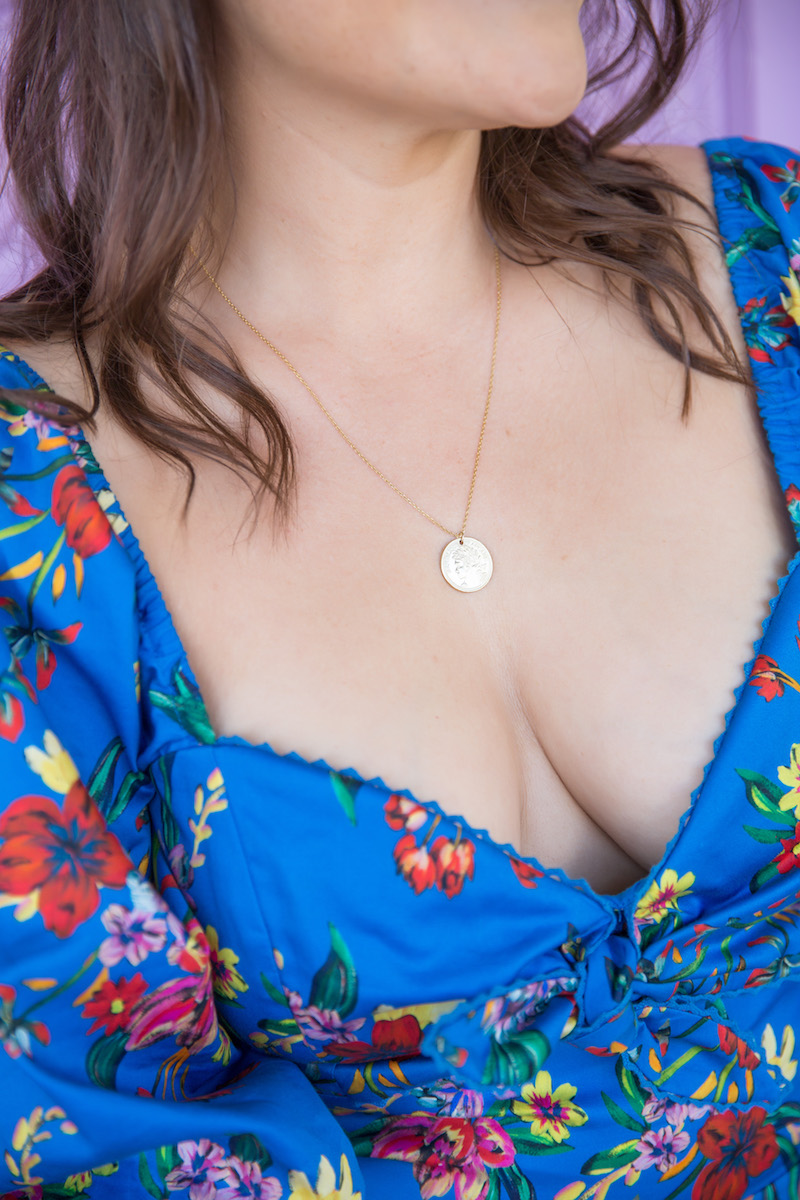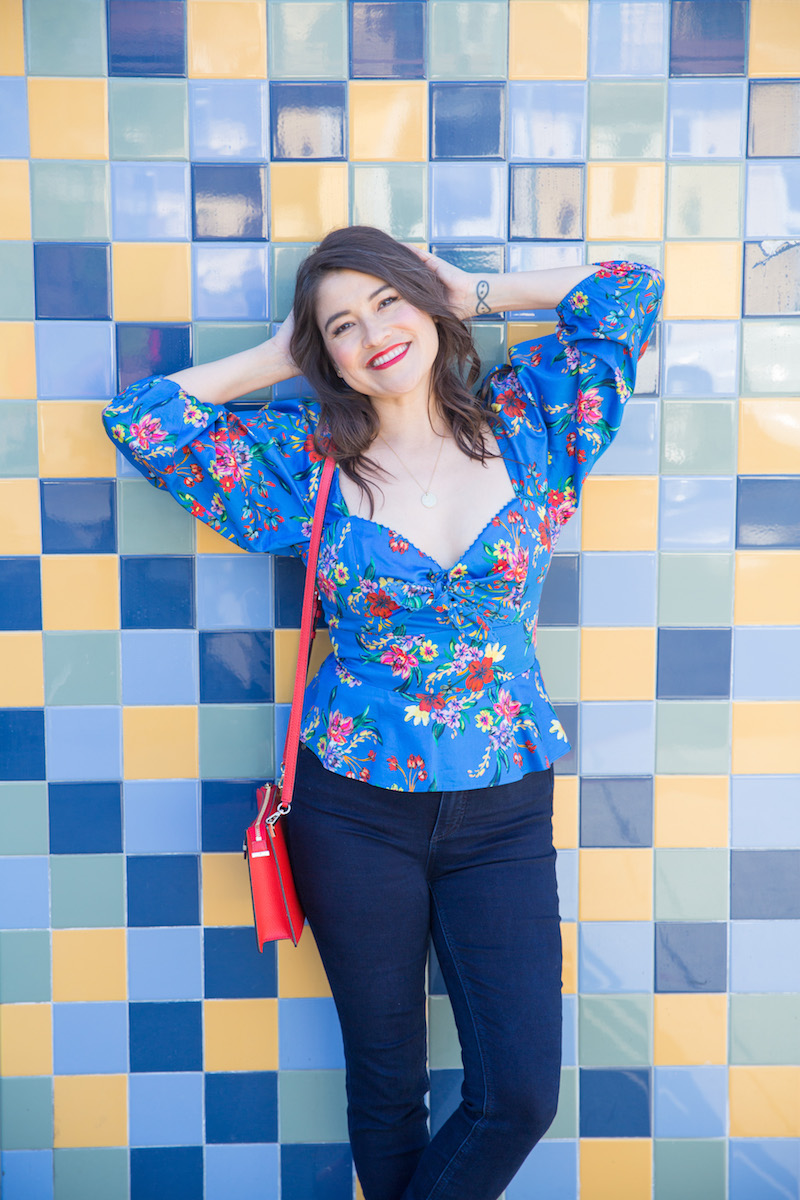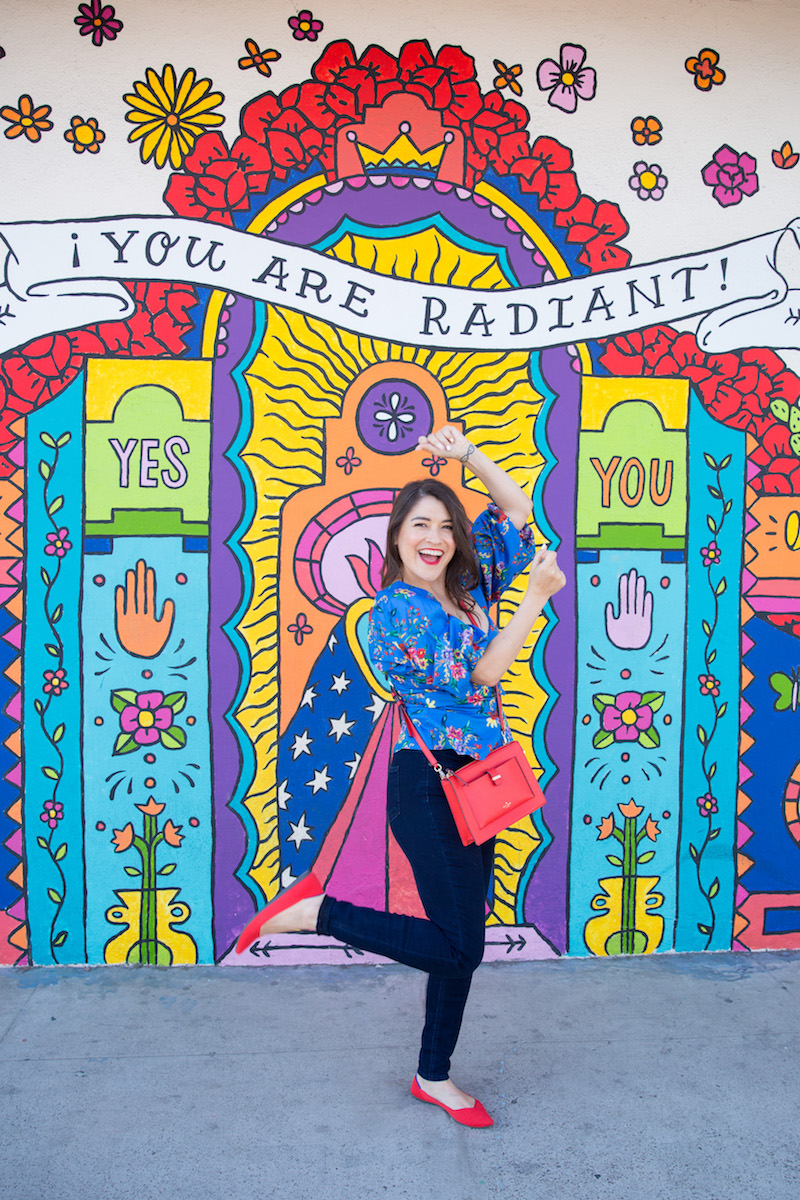 Photos by Dayley Photography, Makeup by Antonella Annibale