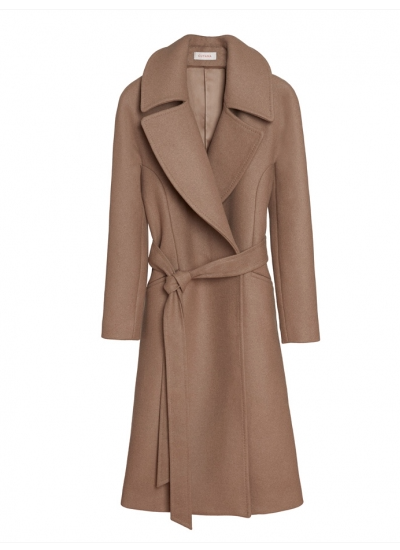 The camel coat, which can range in color from tan to taupe, is one of the hardest garments to find. The selection is scarce, and often bipolar. It seems like you have to choose between an $3000 camel coat or a $100 camel coat that looks even cheaper than its price tag. It really leaves you wondering where to buy a camel coat at the right price point. It is also hard to know what camel coat will flatter your skin tone. To assist you with the latter… the key is to choose a shade of camel that is not too close to your skin tone. You want there to be some contrast between your face and your camel coat. Think about four shades darker or lighter than your skin. Below you will find my favorite camel coats right now. It's a bit too hard to tell online if the color will work with your skin tone, so I recommend purchasing it and trying it on at home. If it blends into your skin too much, you can always return it.
Note: Ash/dark blondes may struggle to find the right camel colored coat due to the similarity in color. Make sure there is enough contrast between the coat and your face as well as the coat and your hair.
(Pictured Above) I discovered the Cuyana line a year ago and I adore their dedication to the less, but better philosophy. Their camel coat is made completely in Italy from eco-friendly wool. Beyond its origins, it meets all my chic requirements from the color and the seams to the belt and the collar. In fact, I love the movement the two-piece raglan sleeve provides. Anyone who has wider shoulders will enjoy the room. The only issue with this coat is its length. Its not for women under 5'5″ and they don't carry petites. Also, it is a teensy bit itchy. A normal person wouldn't notice, but me and my sensitive clients would.
Sizing Note: It runs large. Order one size down. For example, a size 6 woman should order the small.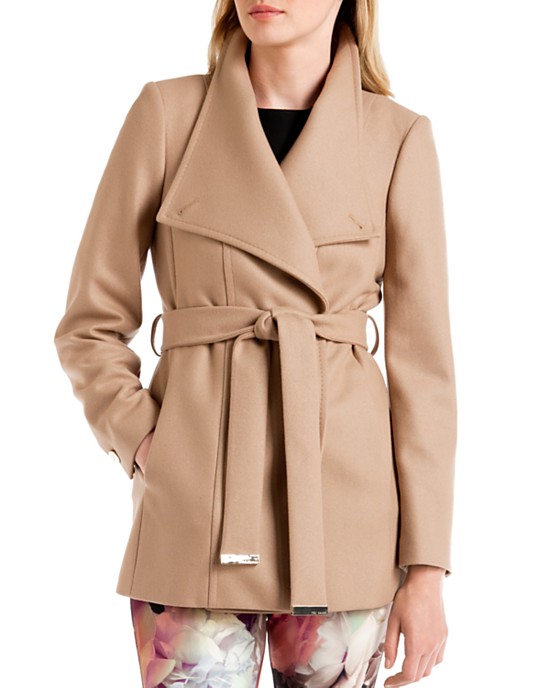 I am a die hard fan of Ted Baker coats. They are incredibly comfortable (no itching), versatile and utilitarian, yet glamorous. I have yet to meet a client that did not love their Ted Baker coat. This season they put out their signature wrap coat in camel and, bless our stars, they put it out in a long camel coat as well as a short version. The short version is perfect for San Diego, and us average or shorter gals. I had to hem the sleeves on my coat, but the length of the body is perfection. The shorter version works beautifully in San Diego as well as London.
Sizing Note: Ted Baker sizing is odd. I am between a size 4 and a 6, and in Ted Baker, I wear a 2. Here is a cheat sheet: 0=US 2, 1=US 4, 2=US 6, 3=US 8, 4=US 10, 5=US 12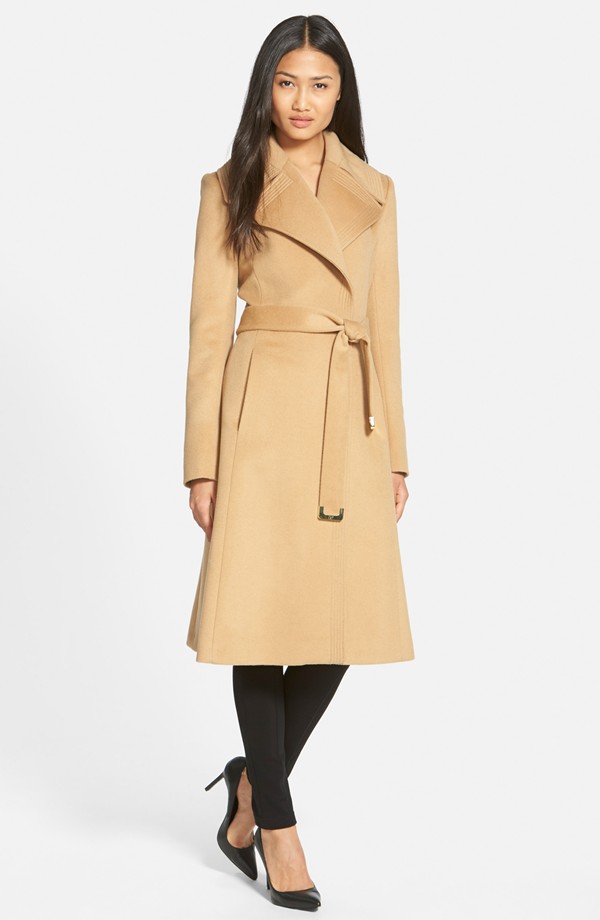 Diane Von Furstenberg (DVF) made a beautiful camel coat that feels wonderful (doesn't itch at all) and will look amazing on you tall gals. To be more specific, it will look best on women that are 5′ 6″ or 5'7″ and up. The coat is supposed to be knee length, but it is just too long for us average or shorter gals. The hem reaches past my knees, and the sleeves noticeably reach past my wrists, and the collar simply overwhelms my 'wee body. With the said, it will read as cozy glamour on those that look down on me. This coat is available in limited sizing at Nordstrom, but Zappos has all the sizes.
Sizing Note: DVF tends to run small, but this coat is running true to size. So don't order one size up like you would usually do with DVF.