A camel coat is the epitome of chic, but the various shades of camel are one of the hardest colors to wear. I'll tell you why in just a moment, but I want to dive into some history first. The camel color gets its name because it resembles the hair of a camel — duh.  It was first recorded as the name of a color in English in 1916, and the first camel coats were created by the British brand Jaeger around that time (we also have the British to thank for the invention of the trench coat!). The original camel coats got their name though because the fabric was made from actual camel hair. While today you can find a few coats made from camel hair, most are made from materials like cashmere or wool, while still paying homage to the classic coat in color and style.
Sadly though, wild camel populations have not fared well. Most of the Bactrian camels (those with two humps) alive today are domesticated. Just a little over 1,000 remain in the wild in China and Mongolia, according to the San Diego Zoo. The camels you're probably most used to seeing are Arabian camels (those with one hump), which have been domesticated for over 3,000 years. But you're here to talk about fashion, not camels, so let's get to it.
Who Can Wear The Camel Color? Picking The Right Shade For Your Skin Tone
Camel is one of the hardest colors to wear because it is too close to most people's skin tones. The camel color ranges from a light tan and yellowy beige to a warm taupe. A yellowy camel is terrible for olive skin tones and tan washes out people with tan skin or tan adjacent skin, while a warm taupe will wash out anyone with tan skin or lighter. One click in the wrong direction of the color wheel and you've chosen the wrong camel coat for your skin tone.
To choose the right shade, you want to make sure there's enough contrast between the coat and your face. This means you want to choose a camel color that's as far away from your skin tone as possible, whether it's much lighter than your skin or much darker. In general, a lighter camel shade looks amazing on dark skin, while a darker camel shade looks fantastic on someone with fair skin. Most shades of camel are particularly flattering on African skin.
The same principle applies for your hair color: You want to make sure there's enough contrast between your camel coat and your hair. It can be a bit of a struggle for ash/dark blondes to find the right camel-colored coat due to the similarity in color to their hair.
It can be hard to tell online if the color will work with your skin tone, so I recommend purchasing it and trying it on at home. If the camel coat blends into your skin or hair too much, you can always return it.
TL;DR: You want to choose a camel color that is as far away from your skin tone and hair color as possible, whether it's much lighter than your skin tone and hair or much darker.
How To Wear A Camel Coat The Same Color As Your Skin Tone
If you have fallen in love with a gorgeous camel winter coat that is too close to your skin color, you can still pull this off. You just have to create a color break between the coat collar and your face and neck. Here are my favorite ways to create that color break:
Pair your camel coat with a turtleneck or mock neck top in a more flattering color.
Add a scarf that complements your skin tone.
If your hair is dark brown or black, wear your hair down and wear a crew neck in a flattering color.
How To Style A Camel Coat
A camel coat is super versatile. It looks absolutely delicious with jeans or a sweater dress. It's fabulous over a leather skirt or pants, and stunning for both a work look or a dinner out. Hell, you can even wear a camel coat over an athleisure look. The only thing a camel coat doesn't really work for is formal wear.
When styling a camel coat, it is essential you are pairing it with the "right" colors. You generally want to stick to black and earth tones, but here is the full list of my favorite colors to wear with a camel coat:
Black
Deep Greens
Burgundy, Plum, Maroon, Deep Red
Medium Blues
Light to Charcoal Grey (depending on the camel shade)
Cream, Ivory
Blush Pink
Browns
When it comes to footwear, it's hard to go wrong. Boots are the best. Flats and loafers are also fabulous, and the right pair of sneakers can ironically work as well. A winter pump is also a welcome choice.
How Not To Wear A Camel Coat
As I mentioned above, a camel coat doesn't really work with formal looks. I also don't adore patent leather or sequins with it — camel just doesn't thrive next to all that glitz and glamour. Colorwise, you want to skip pastels, bright brights, and yellows.
Donna Karan Belted Cashmere-Blend Coat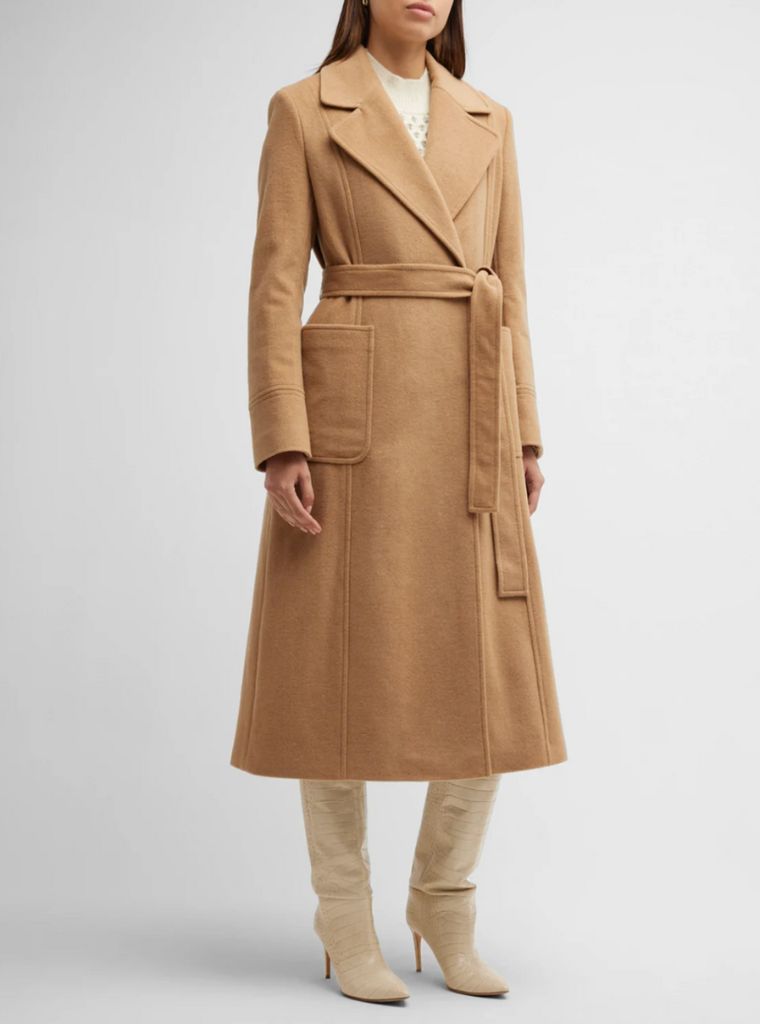 This camel coat is available at Neiman Marcus, DKNY, and Saks Fifth Avenue.
Philipp Plein Stud-detailed Button-front Coat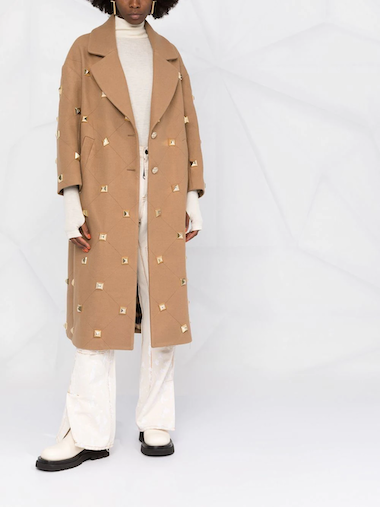 REISS Amalia Short Blindseam Coat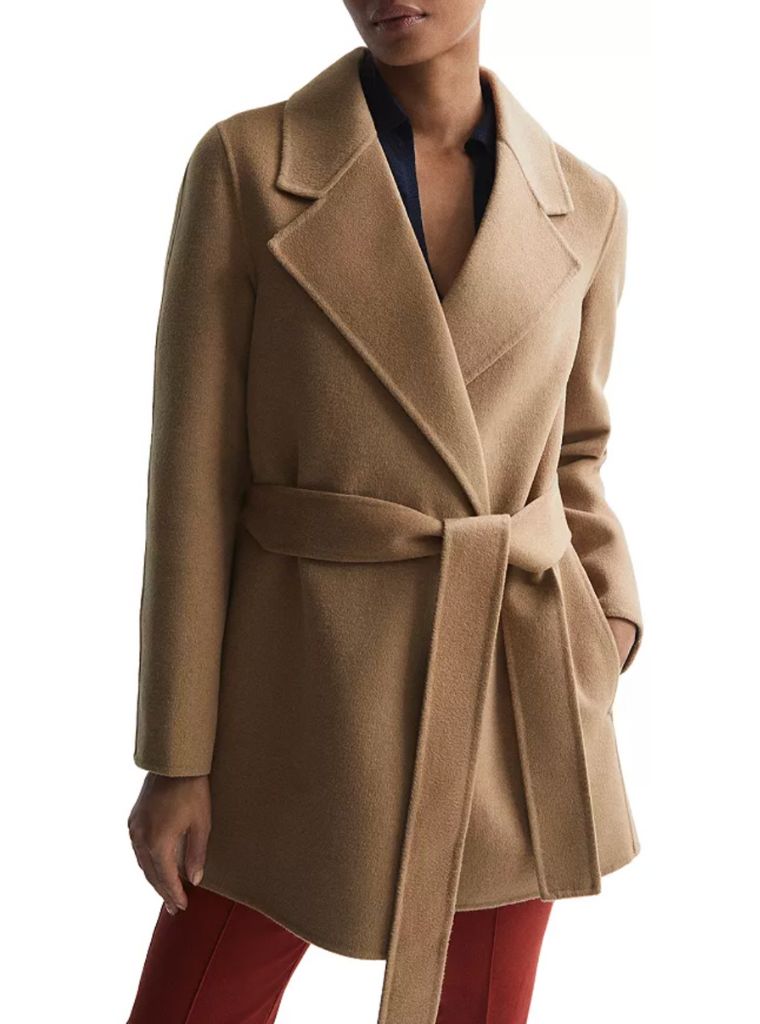 Zara Double Breasted Wool Blend Coat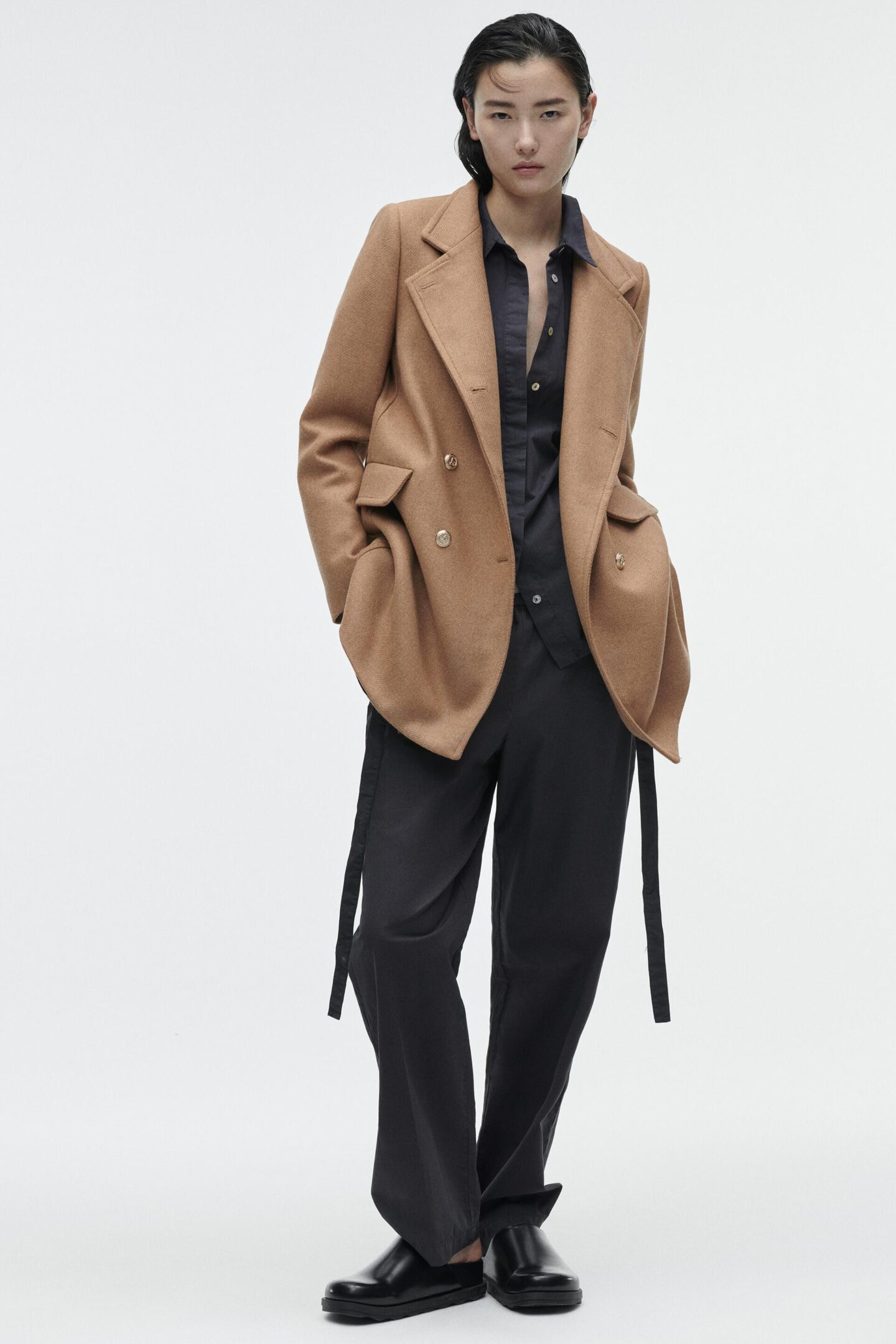 Express Shawl Lapel Wrap Coat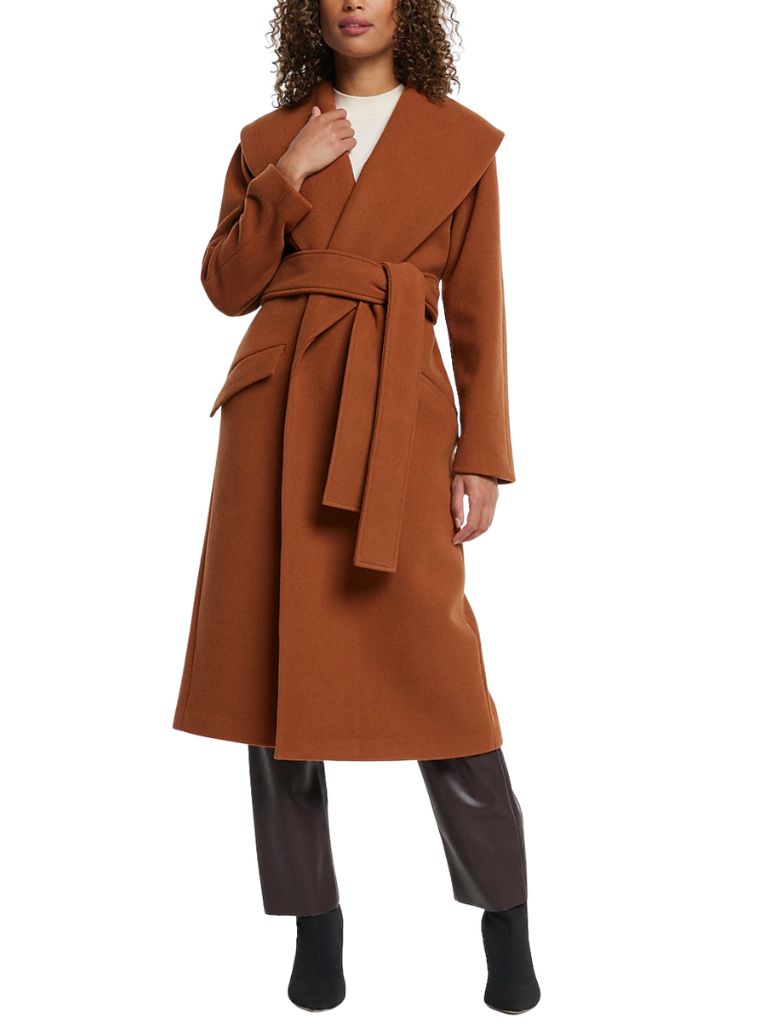 You will notice I took some liberties with the camel color here. Some of these camel winter coats are dancing with the idea of being brown, while some garments are veering towards golden pecan or cognac. Humor me, please. These yummy coats were too gorgeous not to show you.
Cuyana Wool Draped Collar Coat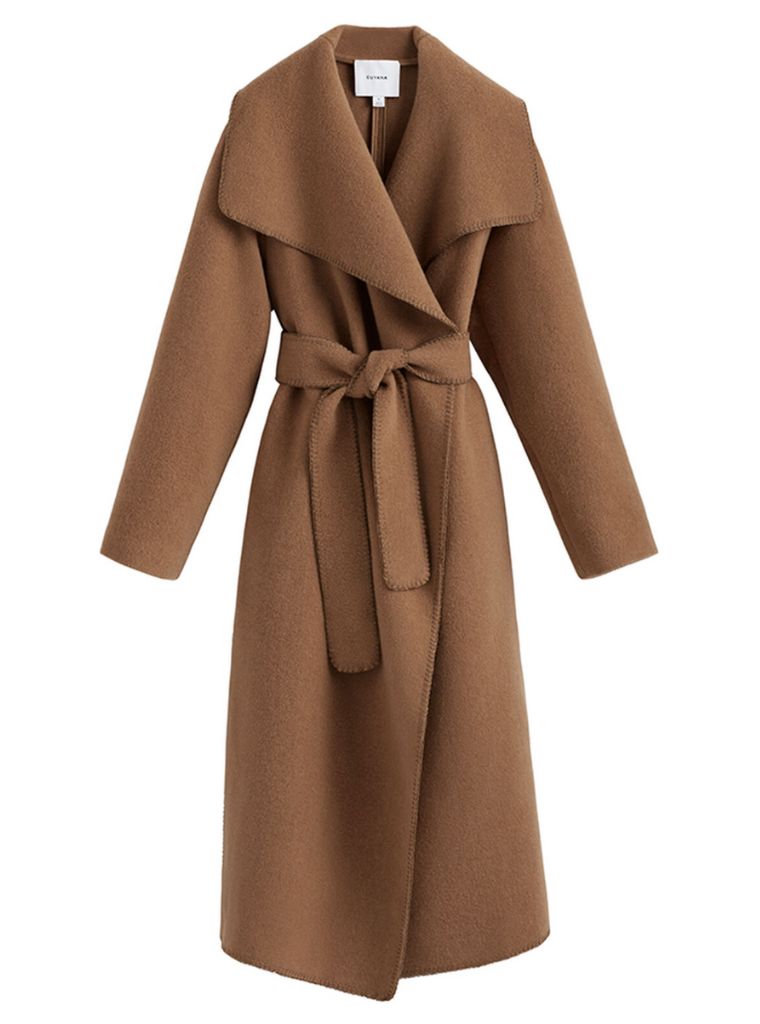 Balmain Double-breasted Wool Coat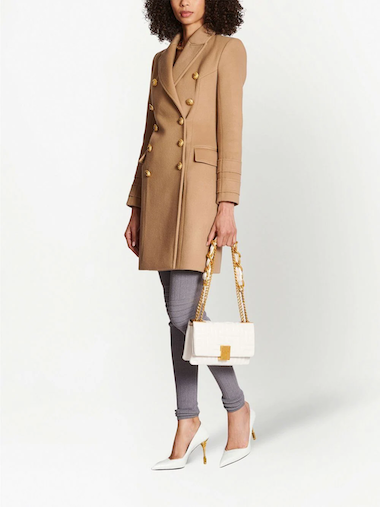 This coat is available at Farfetch and Saks Fifth Avenue.
Theory Belted Wrap Trench Coat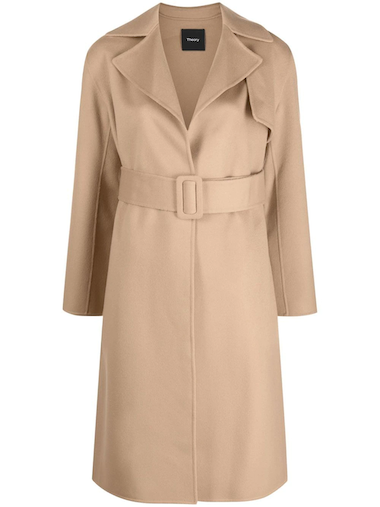 This coat is available at Farfetch, Theory, Olivela, and Neiman Marcus.
Burberry Kensington Double-Breasted Cashmere Trench Coat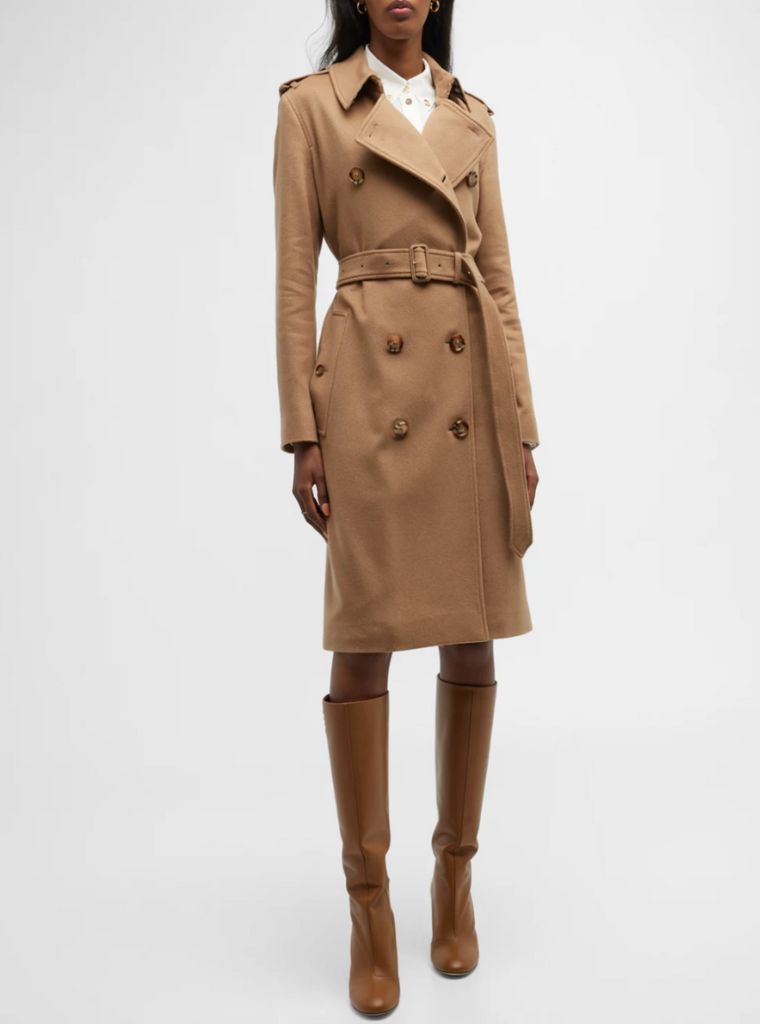 This camel trench coat is available at Neiman Marcus, Saks Fifth Avenue, and Harrod's.
REISS Agnes Belted Blindseam Coat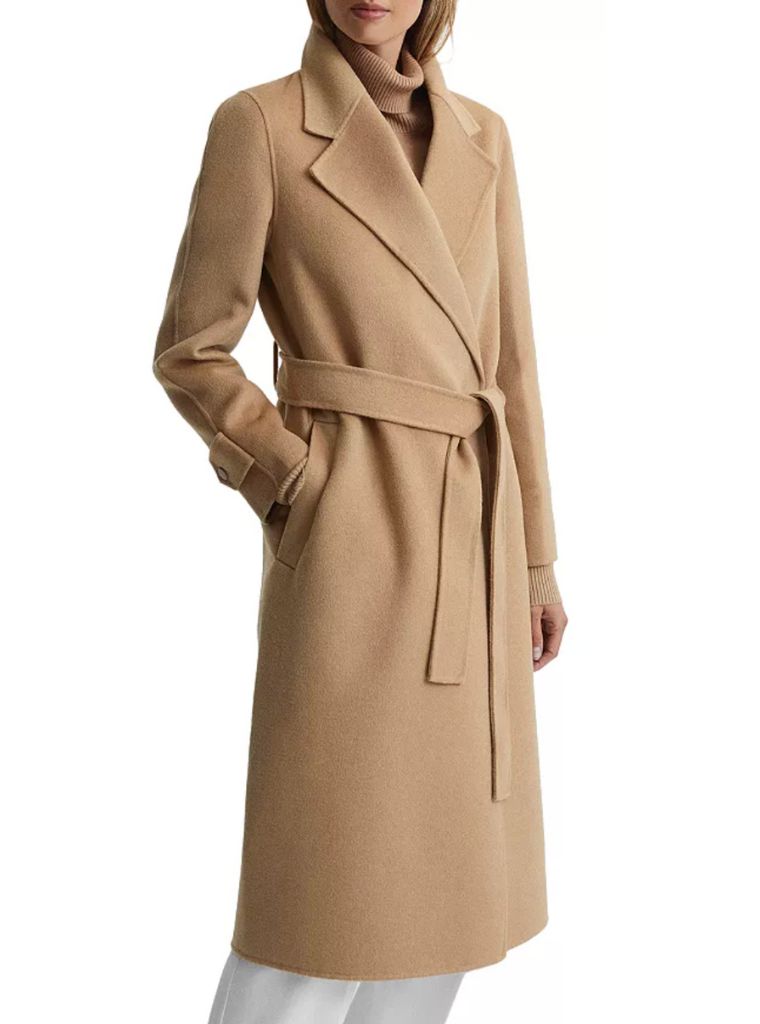 This winter camel coat is available at Bloomingdale's, REISS, Nordstrom, Selfridges, and John Lewis.
Endless Rose Single Button Oversize Coat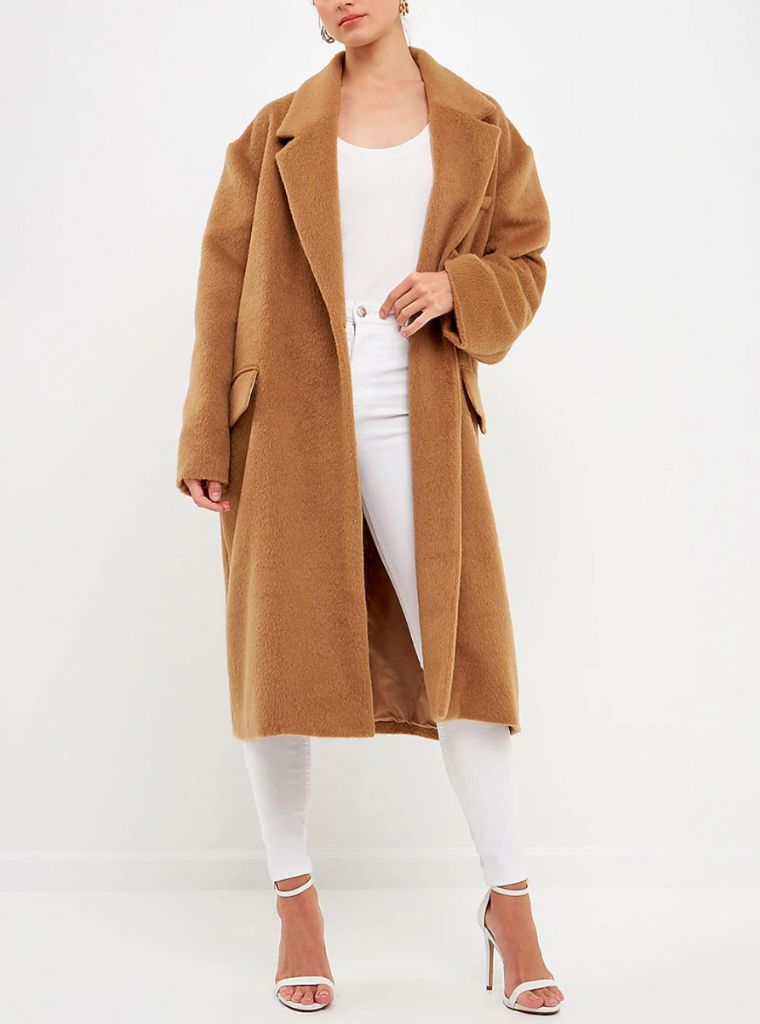 This camel winter coat is available at Express and Nordstrom.
Ted Baker Rose Wool Wrap Coat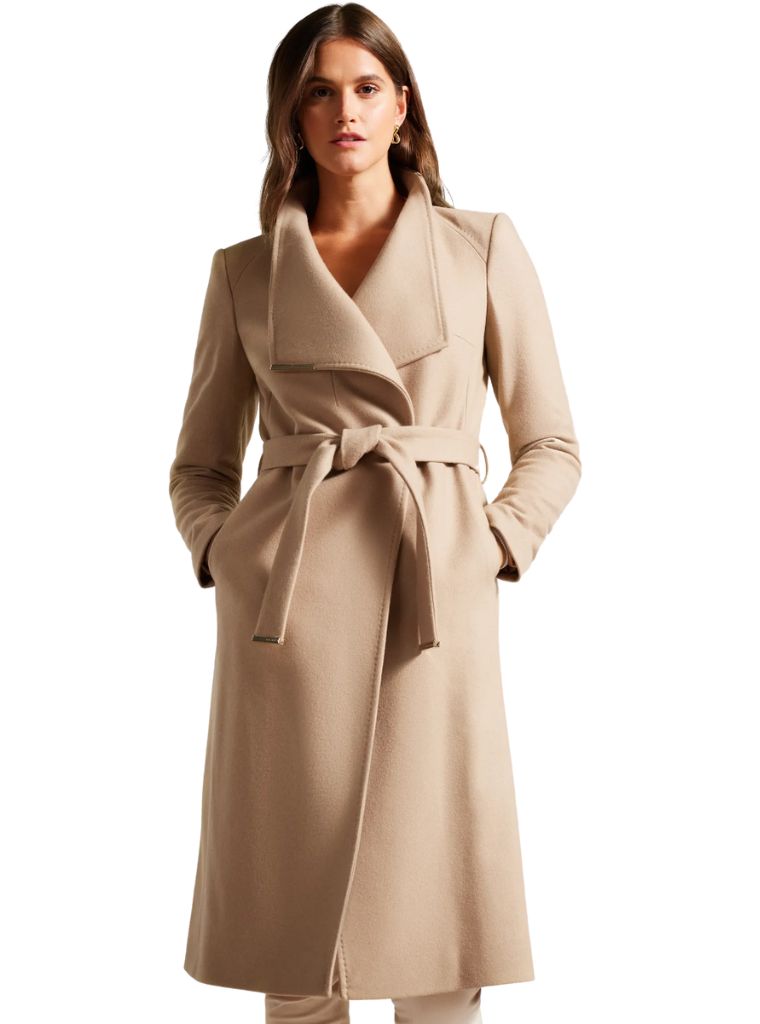 This camel color coat is available at Ted Baker, Nordstrom, and Selfridges.
APPARIS Anouck Faux Shearling Coat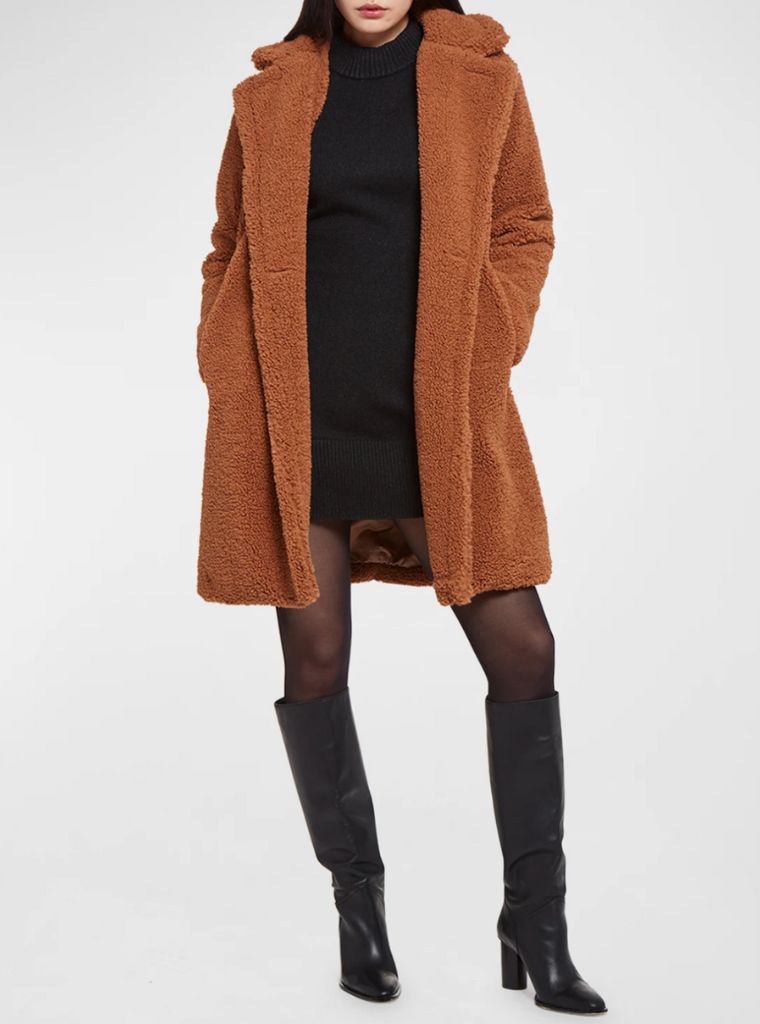 This more cognac than camel coat is available at Neiman Marcus and Apparis.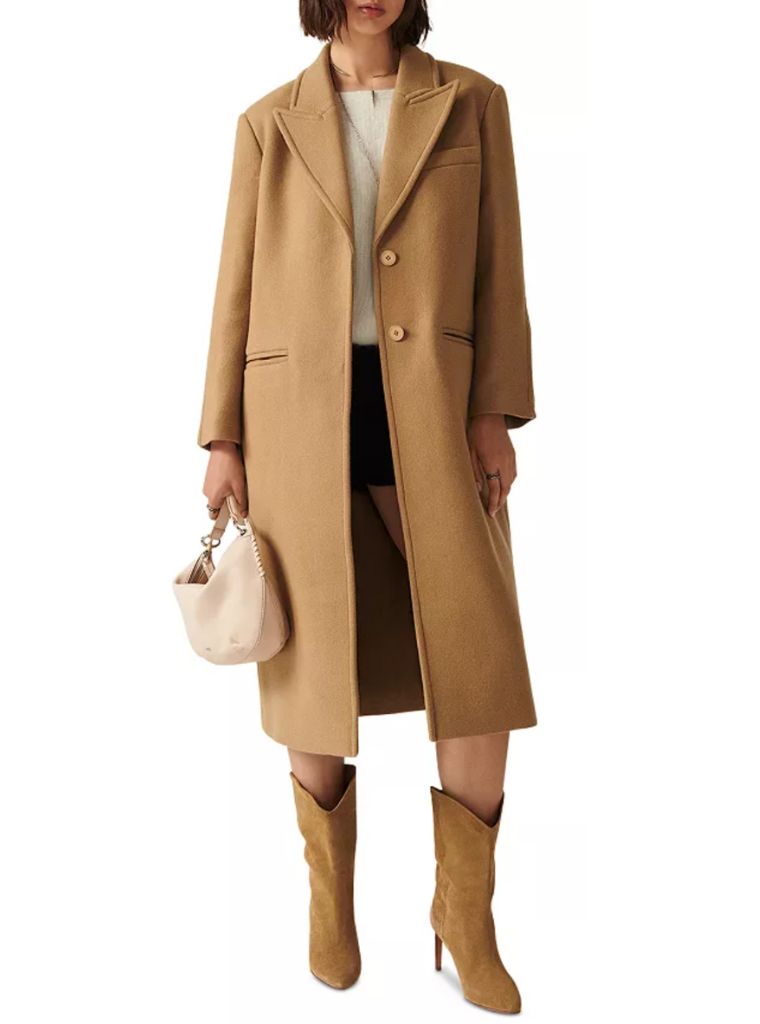 This camel winter coat is available at Bloomingdale's, ba&sh, and 24s.
Max Mara Amitie Fringe Wool Wrap Coat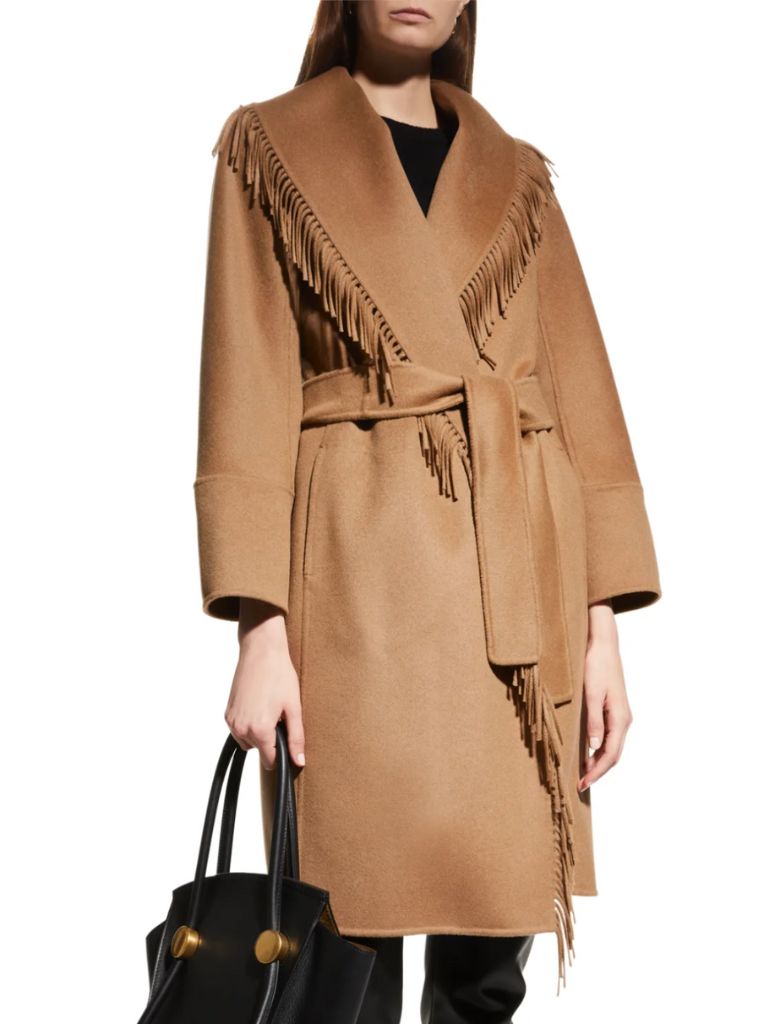 Neiman Marcus Cashmere Collection Belted Double-Face Wrap Cashmere Coat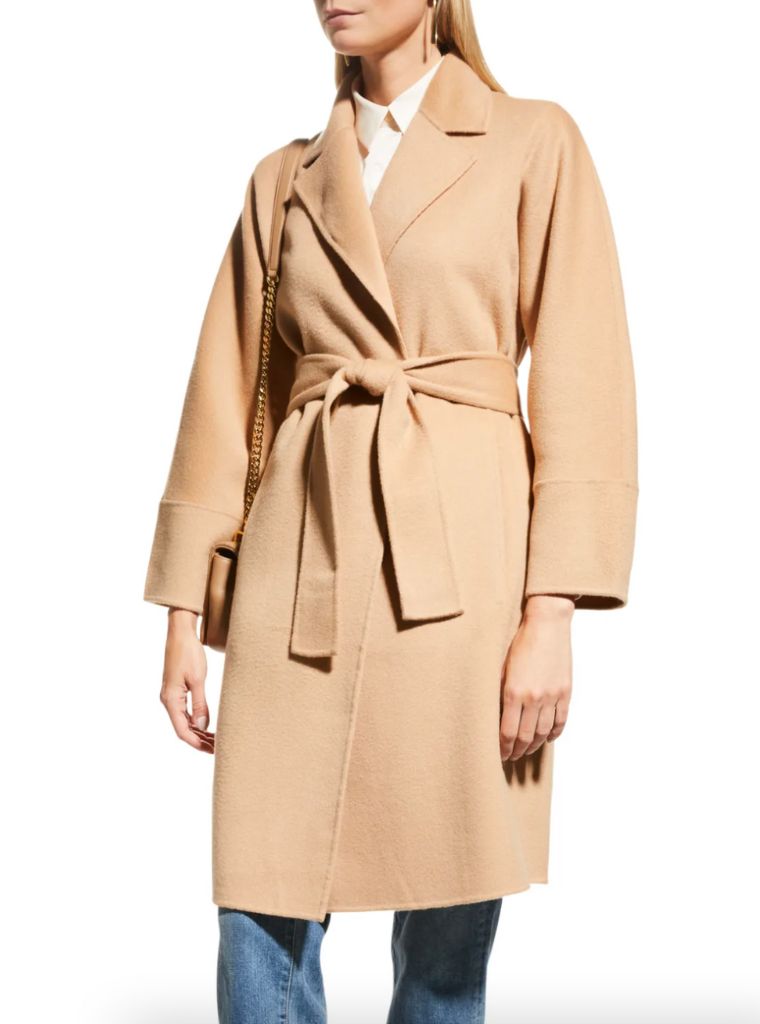 Camel Winter Coats From Years Past
I originally wrote this post years ago and update it regularly due to its popularity. I've left these photos below for nostalgic purposes. Whenever I update older posts, I love to hold on to a collection of images as a bit of a time capsule so we can watch how our style evolves.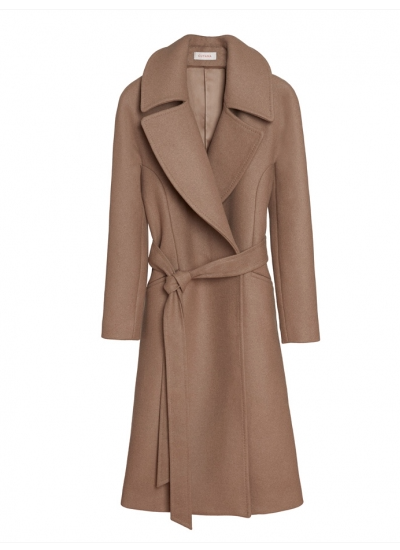 I discovered the Cuyana line a year ago and I adore their dedication to the less, but better philosophy. Their camel coat is made completely in Italy from eco-friendly wool. Beyond its origins, it meets all my chic requirements from the color and the seams to the belt and the collar. In fact, I love the movement the two-piece raglan sleeve provides. Anyone who has wider shoulders will enjoy the room. The only issue with this coat is its length. It's not for women under 5'5″ and they don't carry petites. Also, it is a teensy bit itchy. A normal person wouldn't notice, but me and my sensitive clients would.
Sizing Note: It runs large. Order one size down. For example, a size 6 woman should order the small.
Ted Baker 'Paria' & 'Lorili' Camel Coat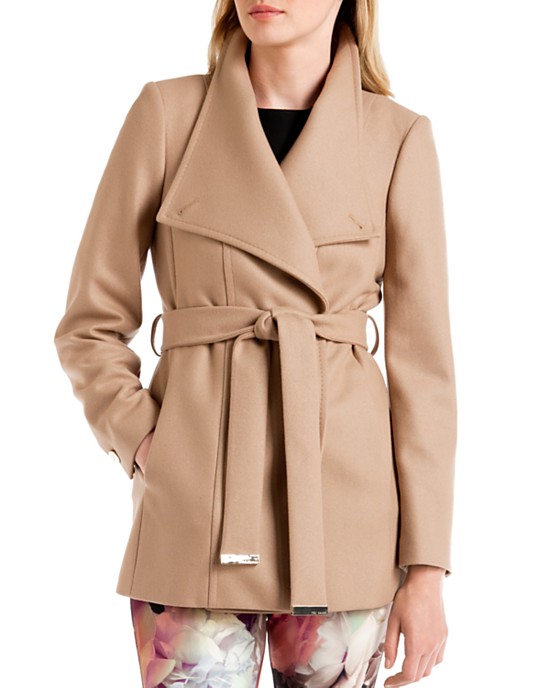 I am a die-hard fan of Ted Baker coats. They are incredibly comfortable (no itching), versatile and utilitarian, yet glamorous. I have yet to meet a client that did not love their Ted Baker coat. A few seasons ago, they put out their signature wrap coat in camel and, bless our stars, they put it out in a long camel coat as well as a short version. The short version is perfect for San Diego, and us average or shorter gals. I had to hem the sleeves on my coat, but the length of the body is perfection. The shorter version works beautifully in San Diego as well as London.
Sizing Note: Ted Baker sizing is odd. I am between a size 4 and a 6, and in Ted Baker, I wear a 2. Here is a cheat sheet: 0=US 2, 1=US 4, 2=US 6, 3=US 8, 4=US 10, 5=US 12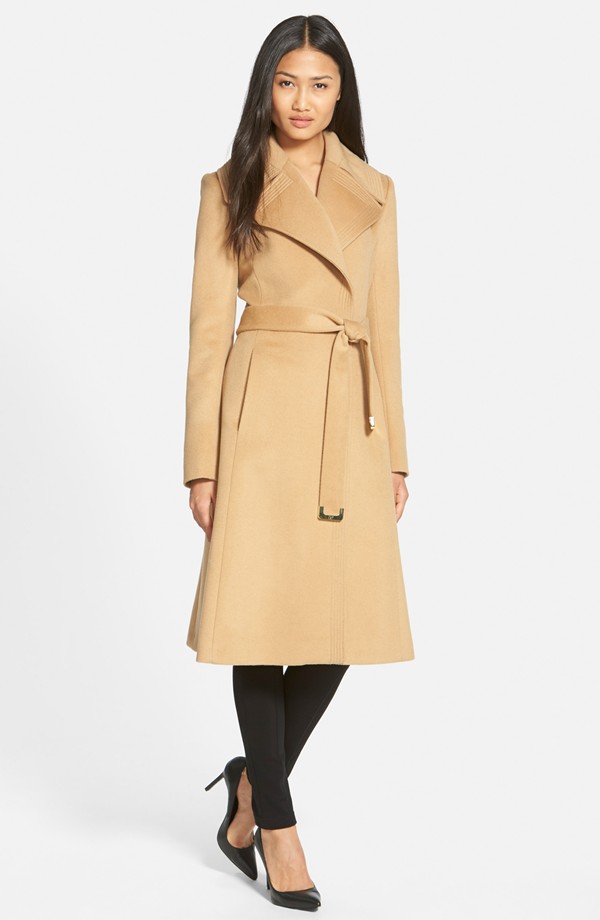 Diane Von Furstenberg (DVF) made a beautiful camel coat that feels wonderful (doesn't itch at all) and will look amazing on you tall gals. To be more specific, it will look best on women that are 5′ 6″ or 5'7″ and up. The coat is supposed to be knee length, but it is just too long for us average or shorter gals. The hem reaches past my knees, and the sleeves noticeably reach past my wrists, and the collar simply overwhelms my 'wee body. With the said, it will read as cozy glamour on those that look down on me.
Sizing Note: DVF tends to run small, but this coat is running true to size. So don't order one size up like you would usually do with DVF.