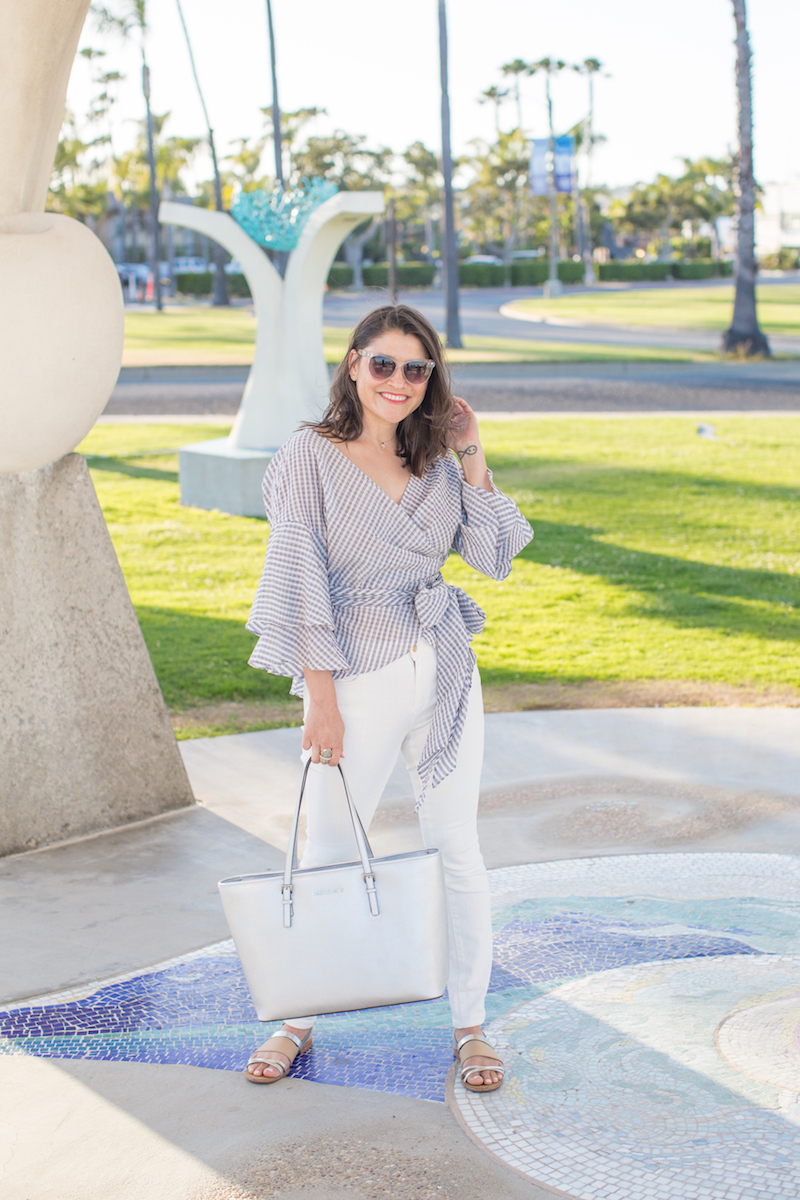 Before we discuss how to wear white jeans, let's break down a few of the white jean rumors. Yes, pure white, aka optic jeans, are best worn in summer, but off-white jeans can be worn year-round. Please ignore the "no-white-after-Labor-Day" rule. I always say dress for the weather not for the season.
Best White Jeans
Before we discuss how to wear white jeans, you need to make sure you have a good pair. The key to finding the best white jeans is their opacity, or as I like to call it, the ability to not show your underwear. You also want your white jeans to be ankle length or cropped and range from a slim straight leg to a modern wide leg. I also prefer off-white jeans to bright white jeans. In short, you want your white jeans to be…
Ankle length or cropped
Not transparent
More off-white than optic white
Scroll past my rambling to shop the best white jeans right now.
Worst White Jeans
Skip über skinny white jeans that inevitably look like white leggings that basically show the bones in your knees — ack! And please skip super wide-leg white jeans that feel like the white flag you throw up when you're losing a war. Also, the optic white jeans I mentioned earlier are not en vogue. Skip those whitey white jeans.
How To Wear White Jeans
Once you have a good pair of white jeans, styling them is all about color pairings and footwear. These are the biggest pitfalls for all white jean owners. I often see people wearing textures, colors, and shoes that are disconnected from the fresh lightness of a white jean. Wearing the wrong colors and shoes is also what gives white jeans the reputation of adding weight. When you wear the wrong shoe or have too much color contrast, the disruption of hues and volume proportion adds weight.
Since we are on the topic, another reason white jeans have the myth of adding weight is the visibility a light color brings. It does not add weight, it is simply outlining your body, which is new and can be scary since most people wear dark bottoms, which hide the body.
A dark pant basically makes your body disappear, which feels slimming because if you're not there, you can't be chubby, but if you're not there, you can't be slim either. Don't let the comfort of hiding detour you from white jeans. With the right opaque pair of white jeans paired with the right items, you can create a slim look.
Colors To Wear With White Jeans
If you went for the optic white jean, here are the colors to pair with it:
Bright colors like indigo, royal blue, yellow, orange, and hot pink
Pastels like baby blue, lavender, and bubble gum pink
If you went with my preferred color of off-white jeans, go for a less bright and crisp palette. Here are the colors to wear with off-white jeans:
Soft greens like sage
Muted/earthier pastels
If you went edgy and got more of a cream or beige jean, dive into those earth tones!
Medium greens
Washed out black
Muted mauve
Orange/tan
Soft browns
Soft burgundy
Colors Not To Wear With White Jeans
You want to avoid too much contrast with white jeans, so you will want to skip colors like saturated black and dark navy. You also want to skip more traditionally winter colors because they will look macabre next to a white jean. Here are all the colors you should skip with white jeans:
Dark colors like black, and deep navy
Traditional winter colors like espresso brown, dark charcoal, and deep burgundy
The wrong color white (Make sure if there is white in the top you are pairing with your white jean, that it is the same white as your jean.)
Shoes To Wear With White Jeans
White jeans are inherently casual and laid back, so your shoes should encompass that vibe as well. Opt for:
Sandals
Wedges
Slides
Lighter colored flats
Slim sneakers
Shoes Not To Wear With White Jeans
Stilettos
Any patent leather shoe
Dark colored flats or boots
Round toe boots
AG Kinsley High Waist Ankle Flare White Jeans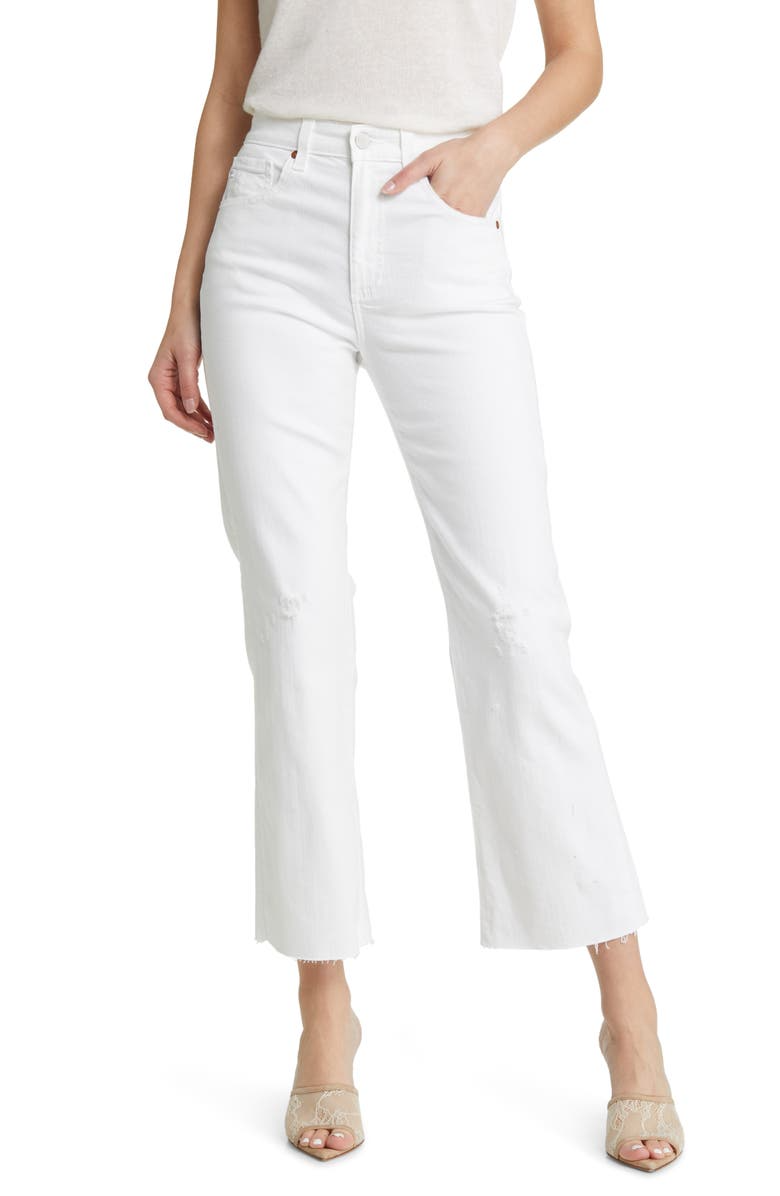 These crop raw hem white jeans are available at AG, Saks Fifth Avenue and Nordstrom.
MOTHER High Rise Crop Fray Flare White Jeans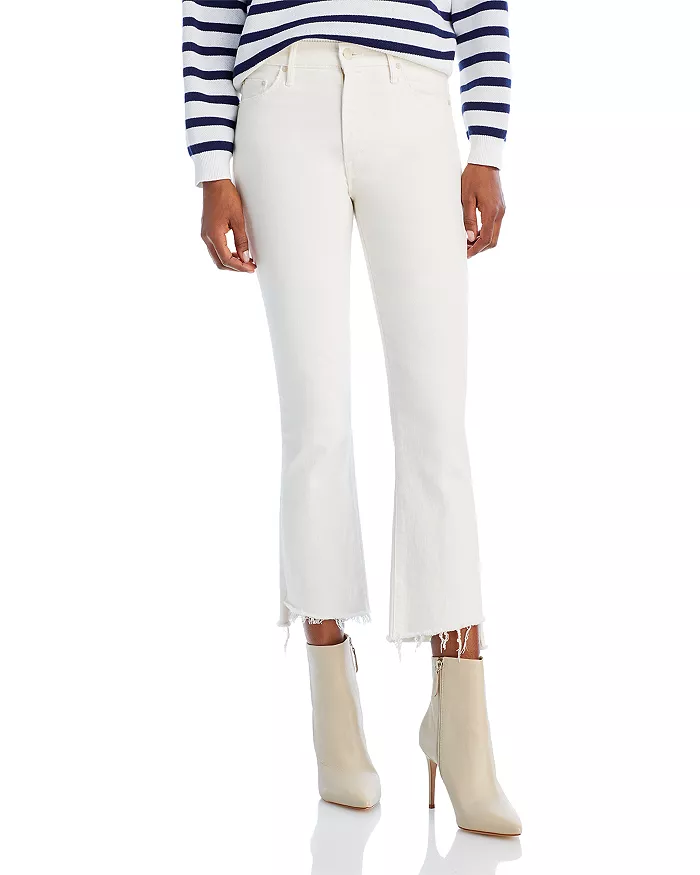 If you hate the step hem like many of my clients, just have your tailor even out the raw hem. It's easy. These crop white jeans are available at Bloomingdale's, Revolve, Neiman Marcus, Nordstrom and MOTHER.
Paige Cindy High Rise Ankle Straight White Jeans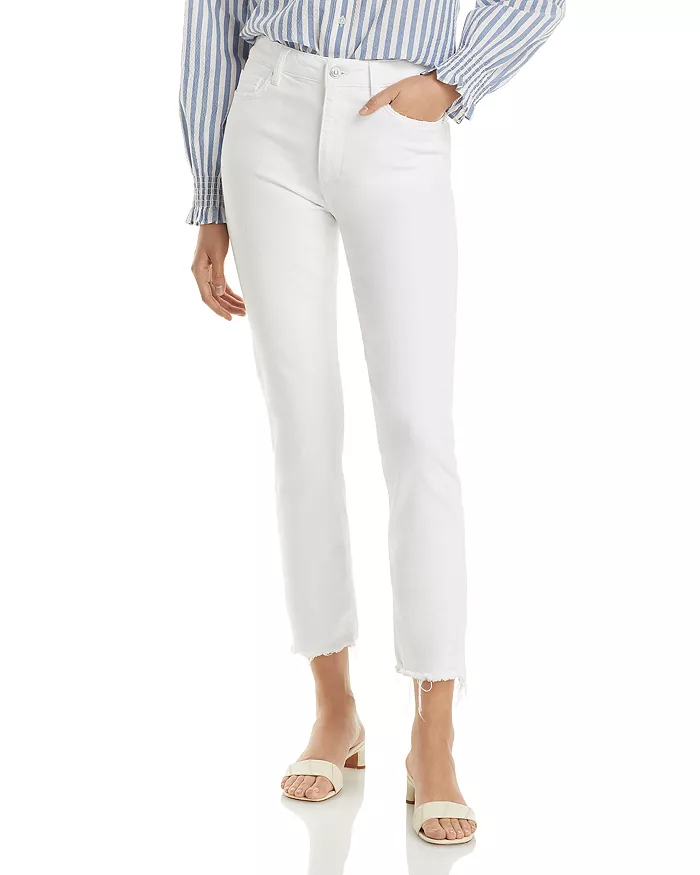 These straight leg white jeans are available at Bloomingdale's, Anthropologie and Net-A-Porter.
AG Farrah Crop Bootcut Ivory Jeans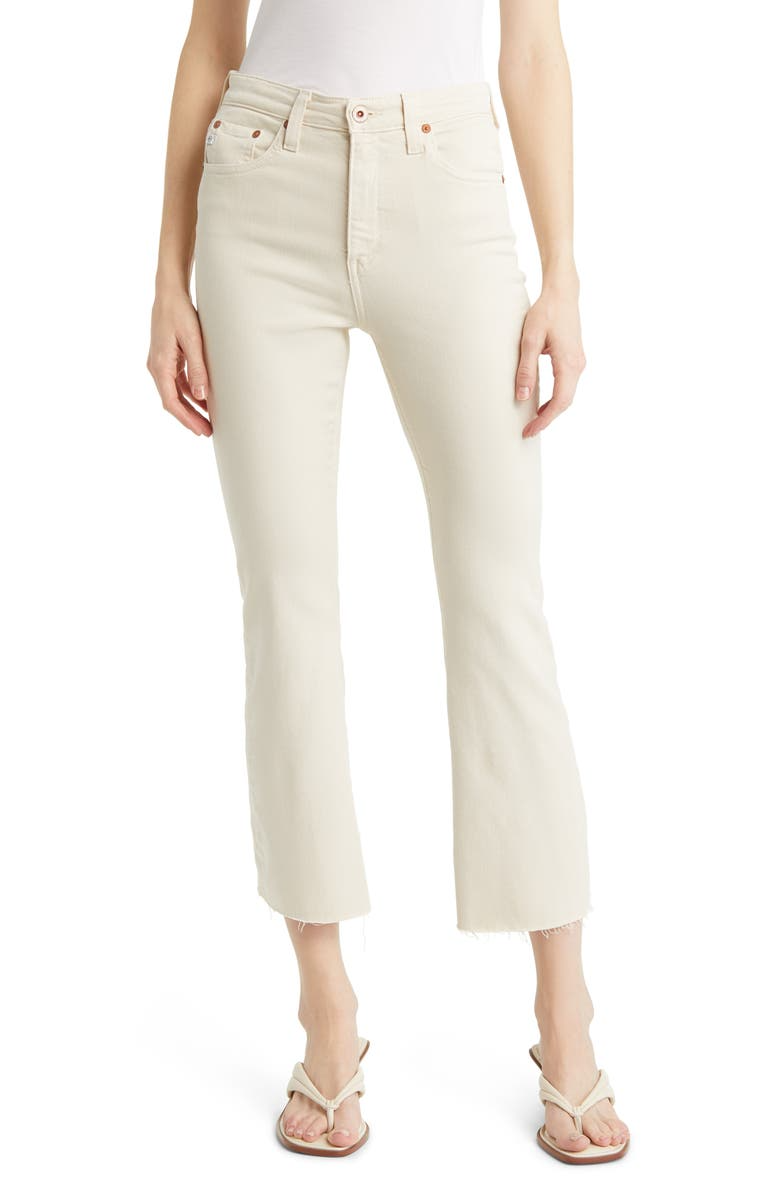 These crop raw hem ivory jeans are available at Nordstrom, Revolve, Bloomingdale's, Anthropologie, Zappos and AG.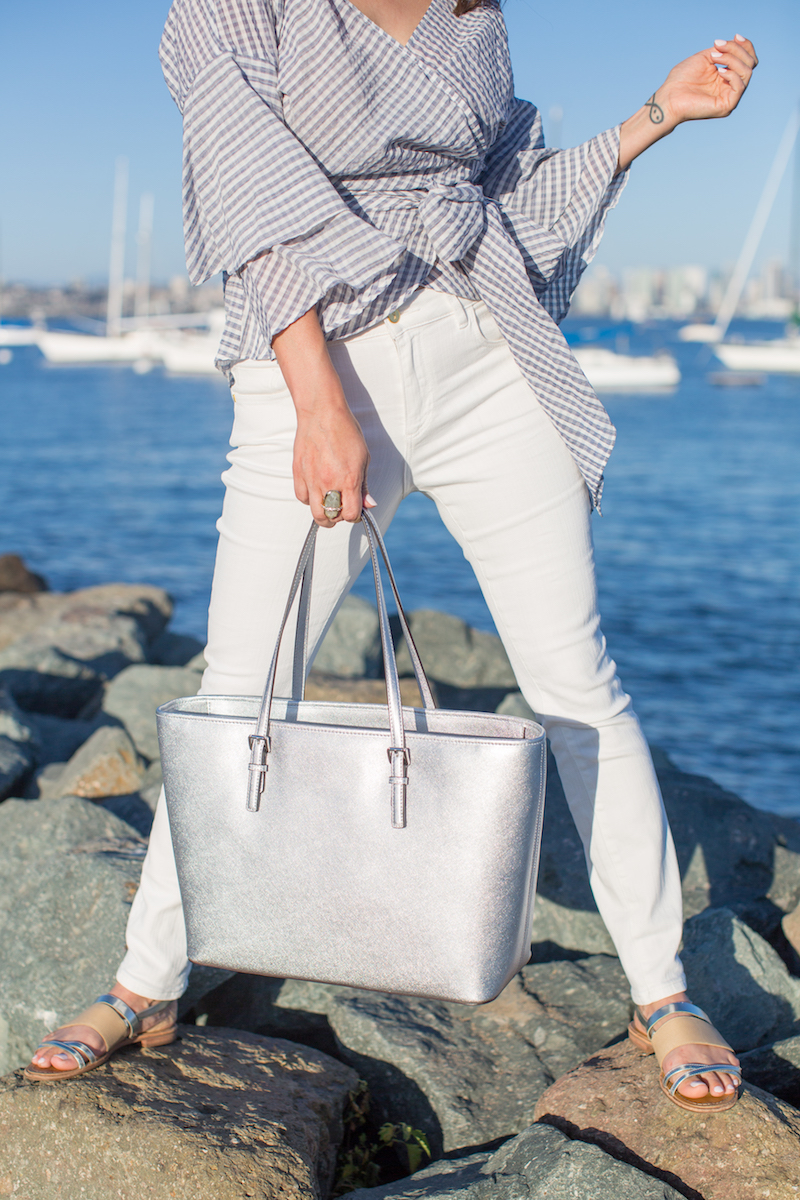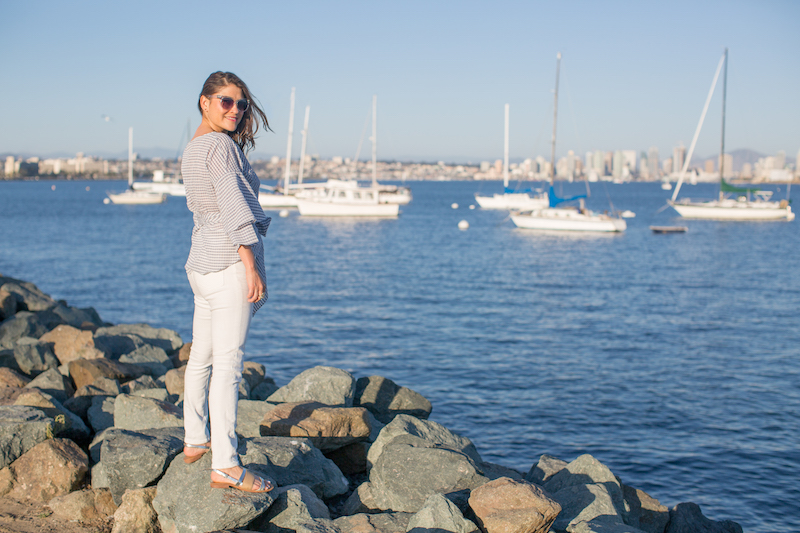 Photos by Dayley Photography