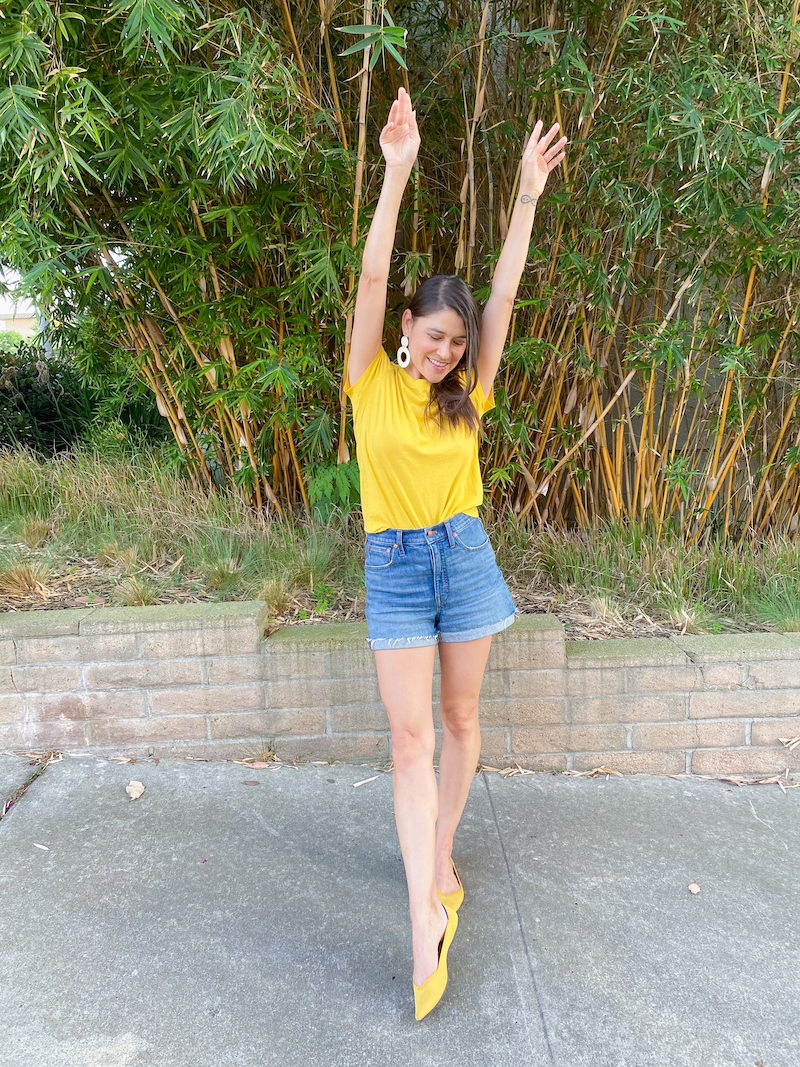 During my initial consultation with a client, I ask them, "Are there any colors that you hate?" Inevitably, this will spur a conversation about the colors that my client thinks are bad for their skin tone. The two colors most often mentioned are yellow and green. I have already talked a lot about green in my posts Time For A Green Dress and Most Versatile Jacket Color, so today I would like to discuss yellow.
Click here to jump to my favorite items in the most versatile shade of yellow that will flatter most people.
Can I Wear Yellow?
If a client hasn't already mentioned yellow during the consultation, often the question, "Can I wear yellow?" will come up during our shopping sessions. Yellow has a bad rap because each skin tone can only wear a few shades of yellow, whereas everyone can wear handfuls of different blues. If you don't know which shade of yellow you should be wearing, it's easy to make a mistake, especially when stores keep producing mustard-colored clothing — a shade of yellow that flatters few faces.
The trick is to find a yellow in contrast to the undertone of your skin. For instance, people with red or blue undertones look best in most yellows. People with yellow undertones look good in bright or darker yellows. But that's all too confusing, right? I have read some very scientific articles on how to find out which yellow you can wear, and it's like trying to divide 12,341 by 326. Let's make this easier.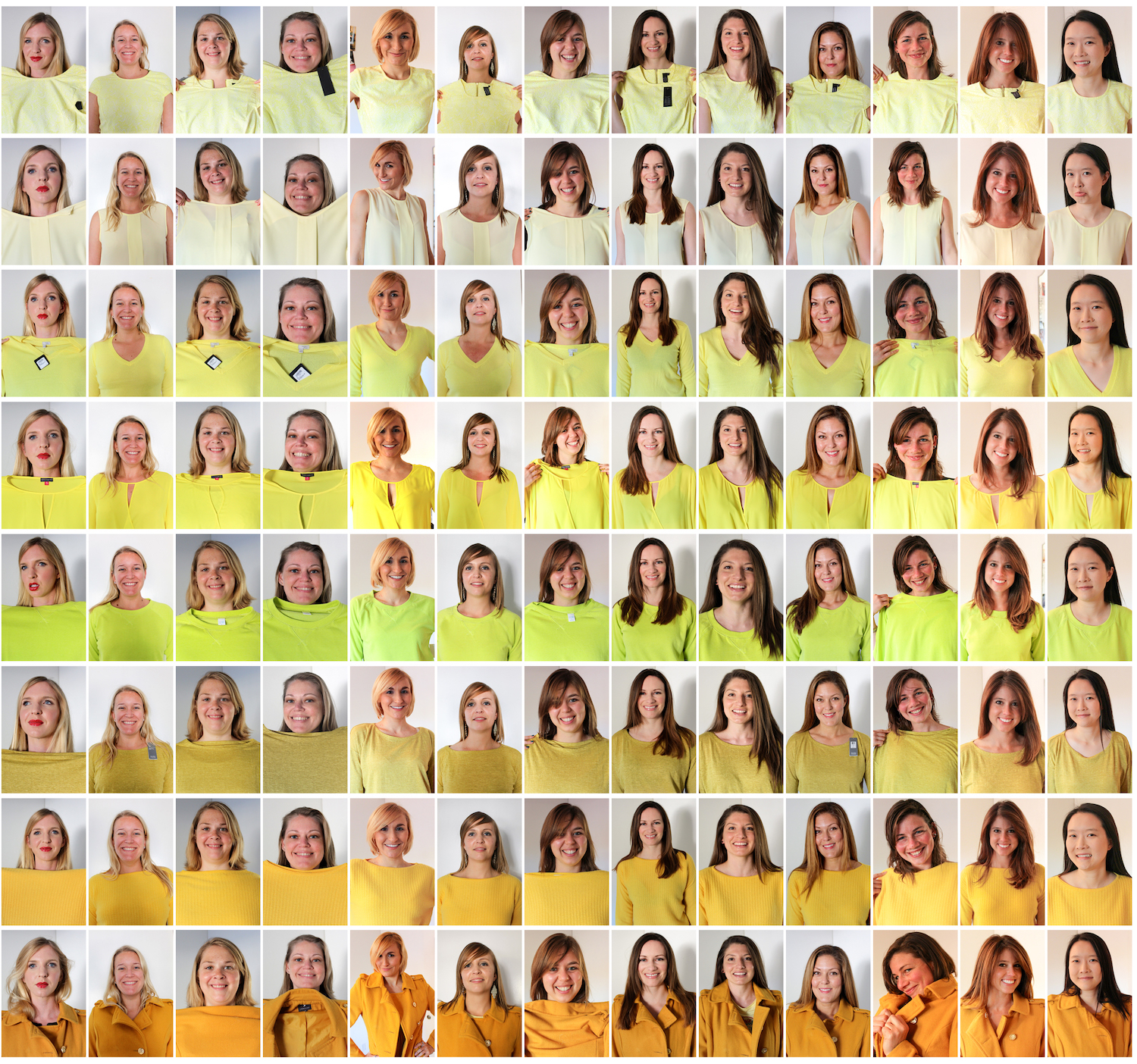 Most Versatile Shade of Yellow
To answer the age-old question, "Can I wear yellow?" a few years ago I invited some of my friends over who had questionable skin tones with regards to yellow. I tried a series of yellows on them from a light lemony yellow to a hard mustard yellow. It quickly became apparent that the most flattering and versatile shade of yellow is a "true" yellow, aka a sunny yellow, featured in rows 3 and 4. Viola! So, yes I can wear yellow and so can you. You just need to skip the orangy yellows, earthy yellows, or green yellows. Find yourself what I call the "magic" yellow — the happiest color in the rainbow. Still confused? That's okay. Just scroll to the bottom of the text for my favorite yellow items right now and pick out your favorite yellow goodies — they are all in the "right" shade of yellow.
Can Blondes Wear Yellow?
Okay, we now know all skin tones can wear yellow, but can blondes wear yellow? Or will the yellowness of the blonde clash or even become one with the yellow of your top? Depends. Yellow looks phenomenal on blondes in general because blonde women have the perfect skin tone for yellow, which is actually kind of obvious. Blonde is a similar color to yellow, so of course it looks good on them. The good news: few blondes have hair yellow enough to blend in with a yellow garment. The issue really begins when you have too much orange in your hair or your skin, then yellow starts to look "not right." Notice in row 4 how the more orange blonde looks better in the lighter yellow versus the darker yellows? The contrast between the lemon yellows and the orange shade of her blonde hair is flattering. As for lighter blondes, do the opposite. Skip the lemon yellows and sport the mustard yellow if you have more of a white blonde. Are you seeing the trend? It's all about contrast.
What Colors Go Well With Yellow?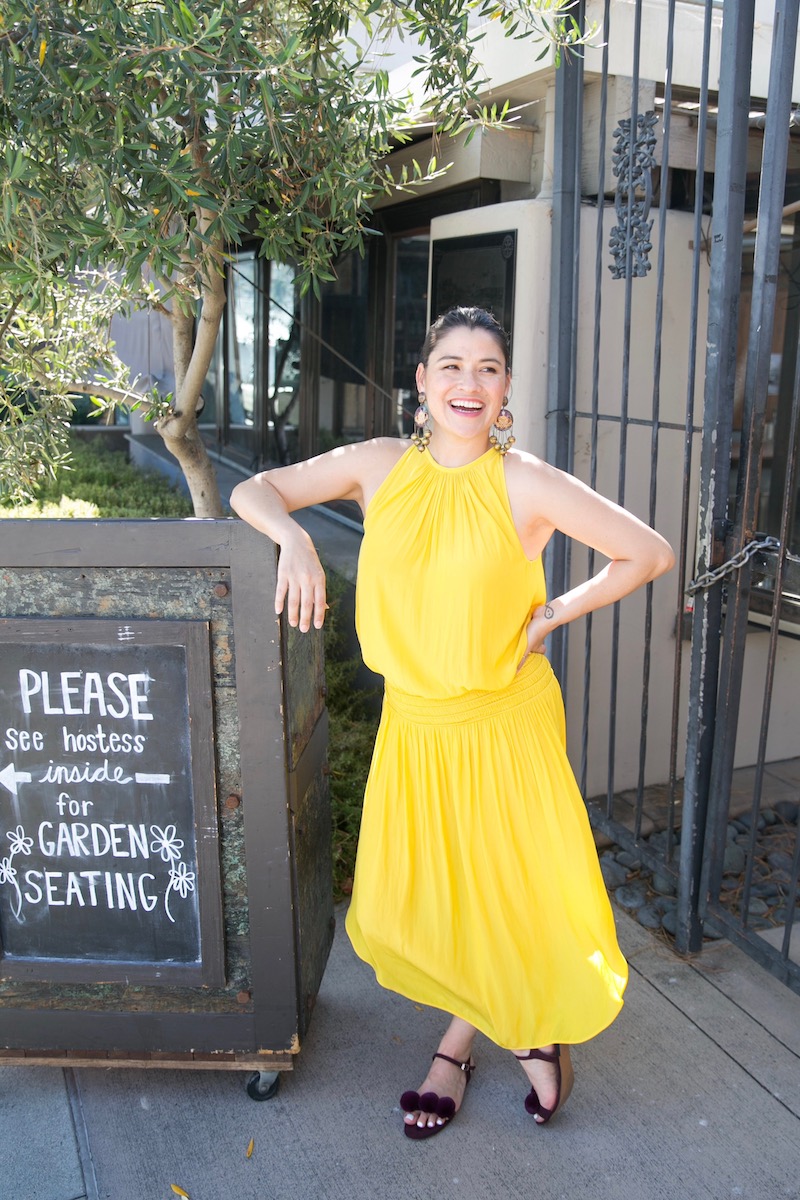 One of my favorite colors to pair with yellow is burgundy. It's one of my favorite ways to bring joy to a winter look and an edge to a summer look. You can combine the two colors by wearing a yellow blouse or sweater with jeans and burgundy shoes — and vice versa.  The exciting part? It really doesn't matter what shade of yellow or burgundy you use. Usually, I am so strict with finding the right hue of a color, but all hues work in this instance. Just stay away from neon yellow — that's not a great look anyhow.
Other colors I love pairing with yellow include: most greens, most blues, crisp lipstick red, tan, white, bright pink, and purple.
How To Wear Yellow
I personally love to wear yellow year-round. In the winter, it's perfect for dopamine dressing. I mean, who doesn't love a sunny yellow coat or sweater to brighten up a dreary day? And in the spring and summer, I love yellow dresses or pairing a yellow tee with jean shorts as you can see from the photos. The other advice I always give is that if you're hesitant to try out a color near your face you can always integrate it into your outfit below your waist, via your shoes, a belt, pants, or a skirt. But truly, you can't go wrong with that flattering sunny shade of yellow I mentioned above. Below, I've featured all my favorite items in that "magic" color…
Vince Panelled Sleeveless Dress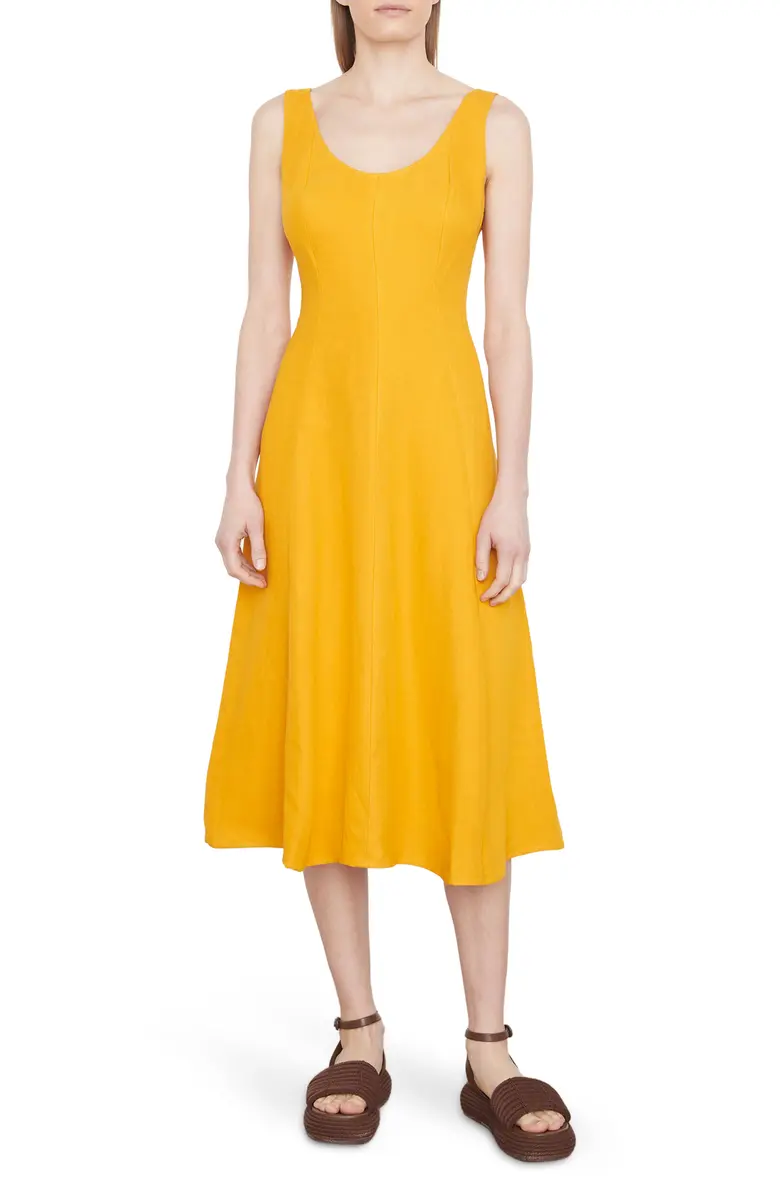 This dress is available at Nordstrom, Bloomingdale's, Neiman Marcus and Vince.
Aviator Nation Rainbow Embroidery Boyfriend Tee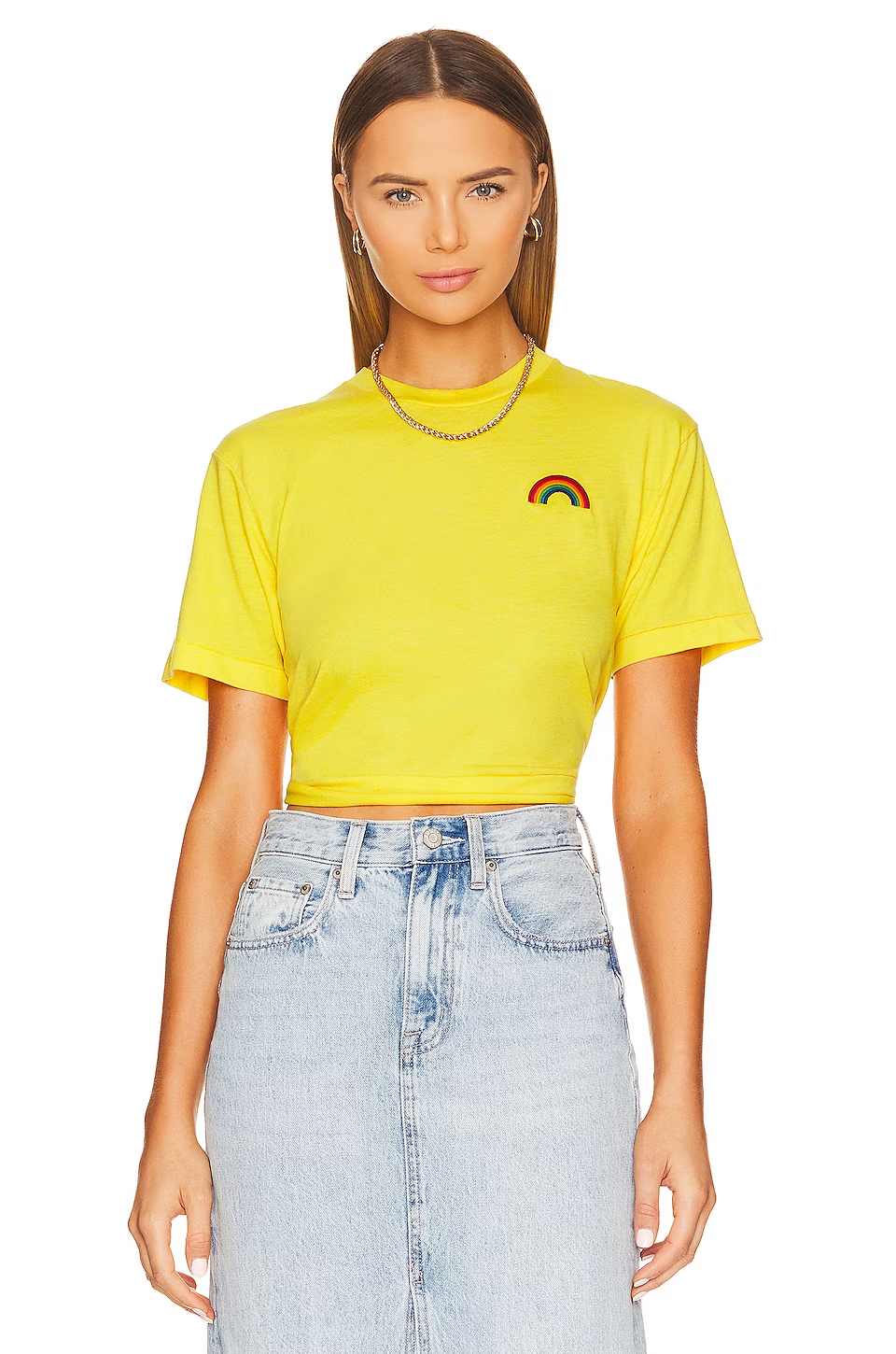 This tee is available at Revolve and St. Bernard.
Equipment Leona Silk Button-Up Shirt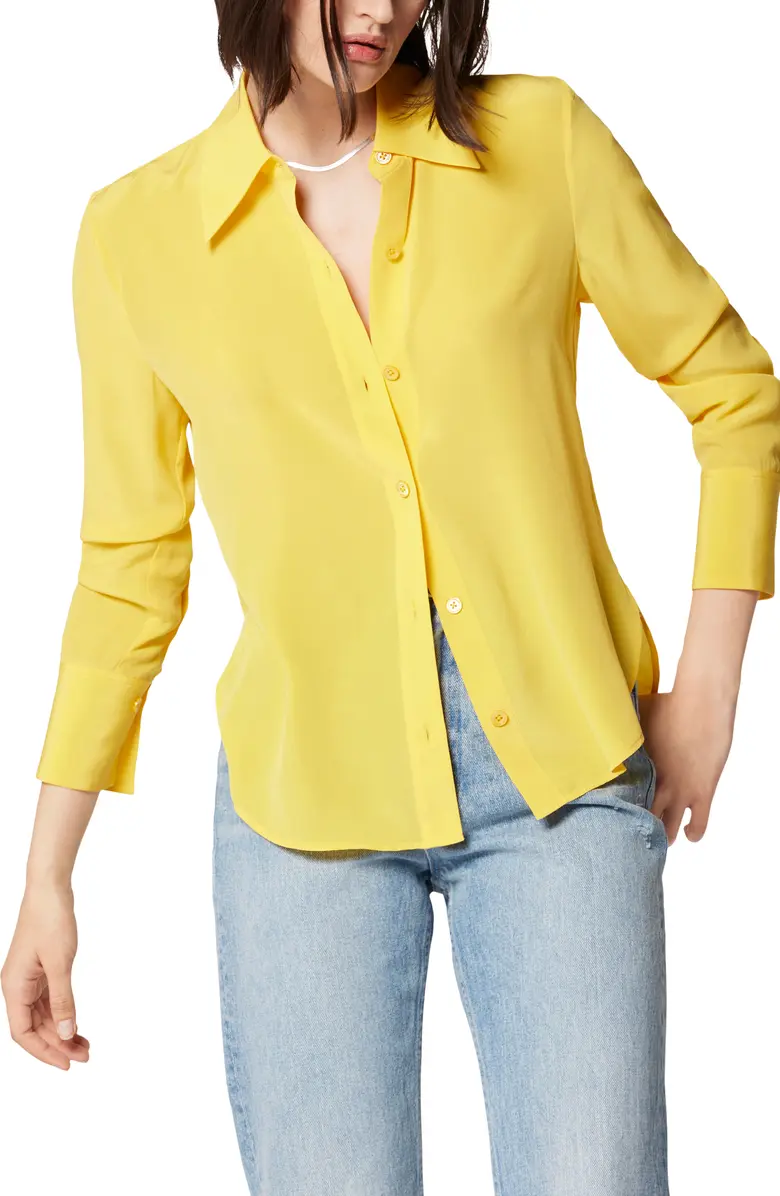 This shirt is available at Nordstrom and Equipment.
Loft Tiered Mixed Media Midi Tank Dress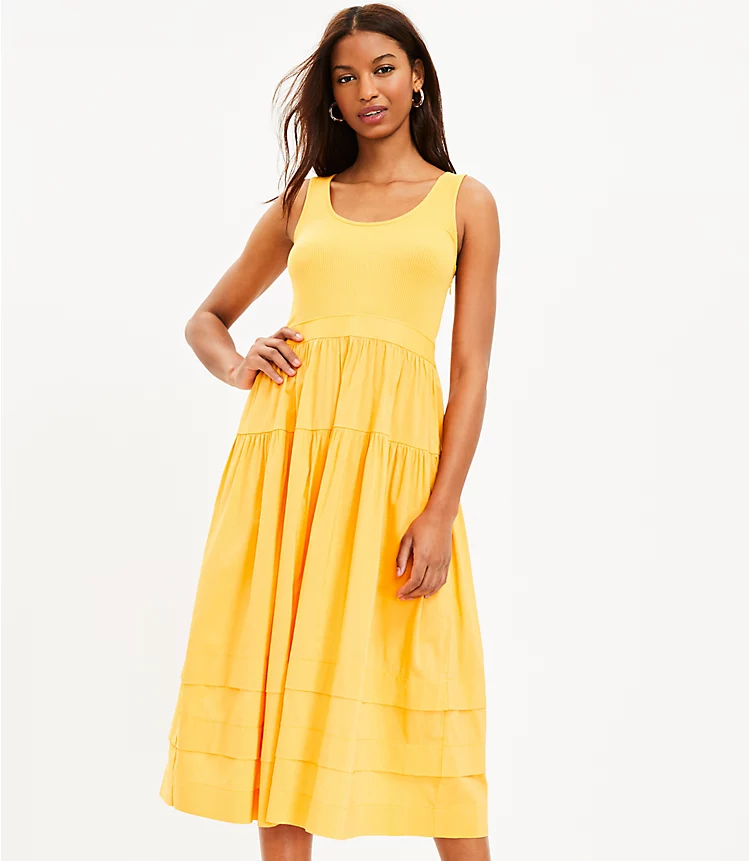 Everlane The Pima Micro-Rib Scoop-Neck Tee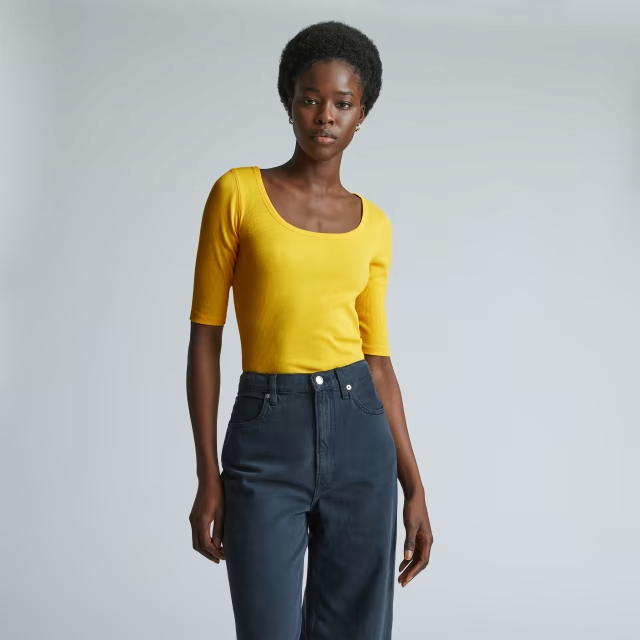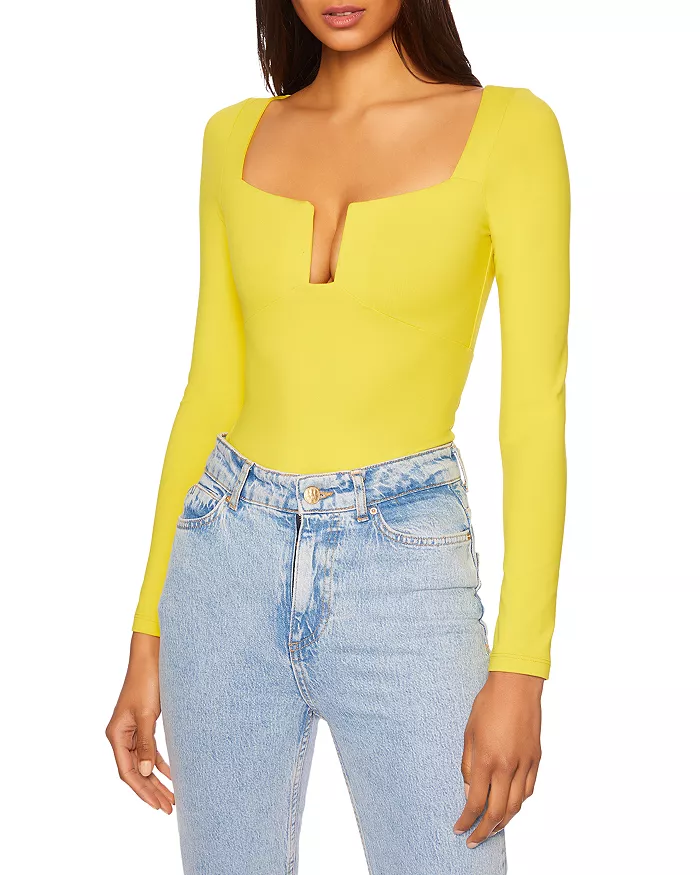 Cara Cara Darby Flutter Sleeve Cotton Crop Top and Floral Maxi Skirt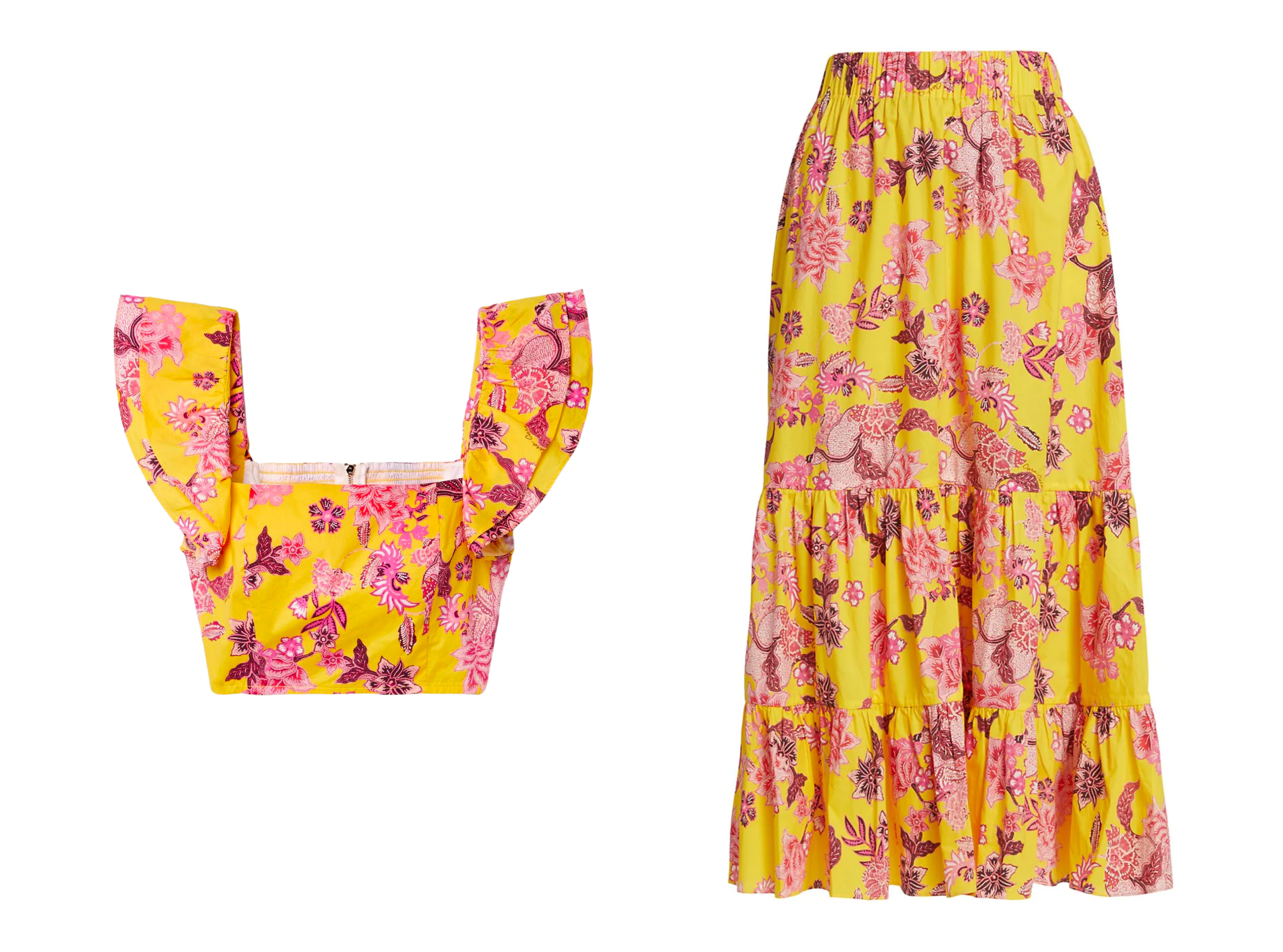 This set is available at Nordstrom (skirt here), Saks Fifth Avenue (skirt here), and Bergdorf Goodman (skirt here).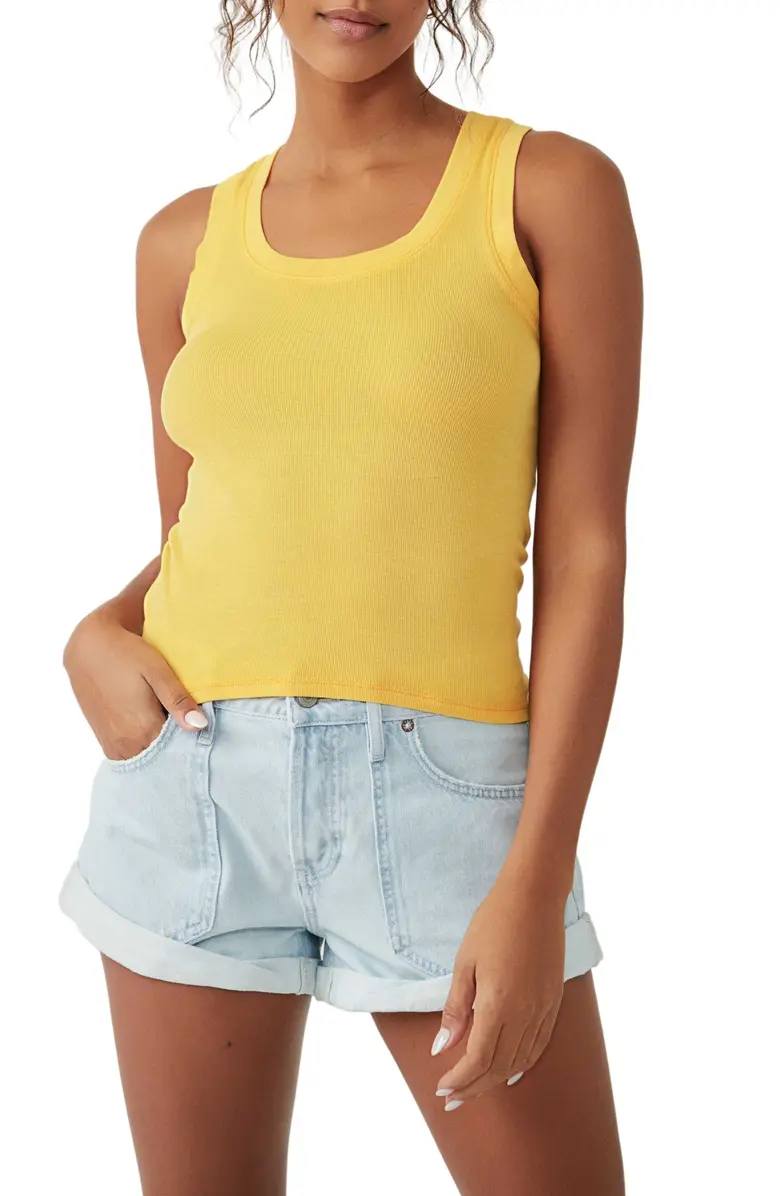 This tee is available at Nordstrom and Dillard's.
Gauge81 Naha Long Sleeve Silk Shirtdress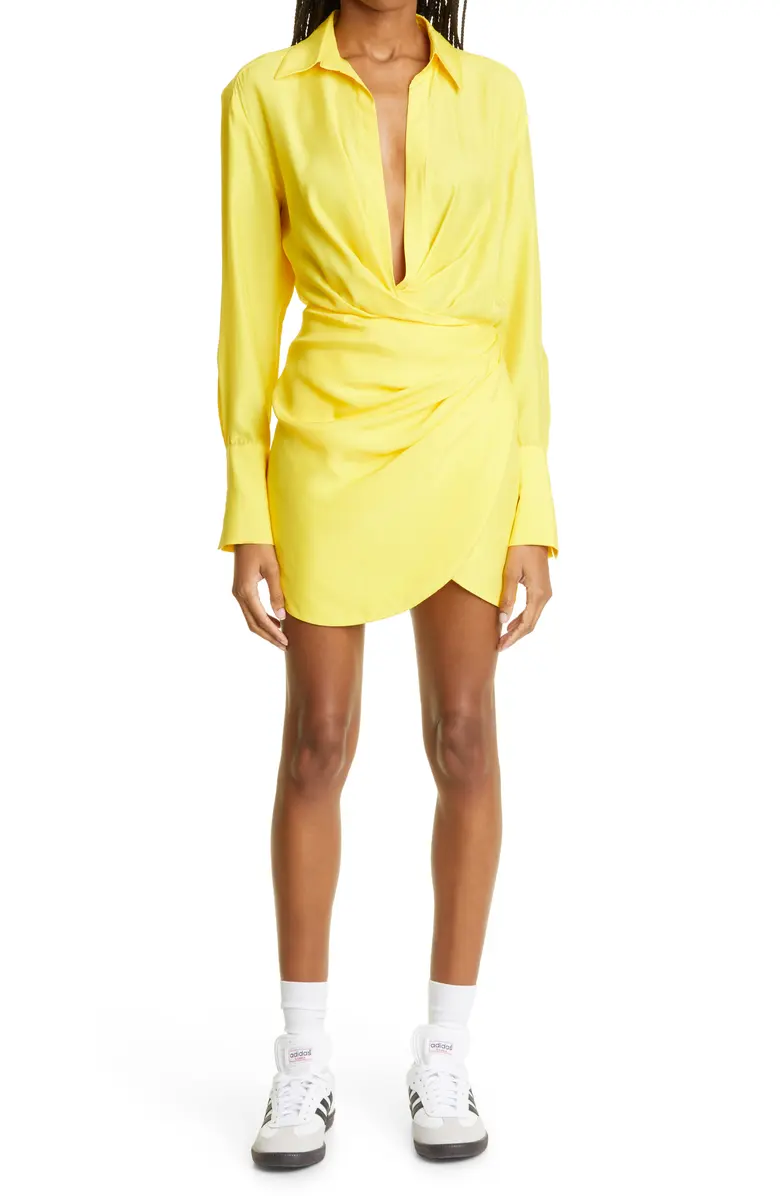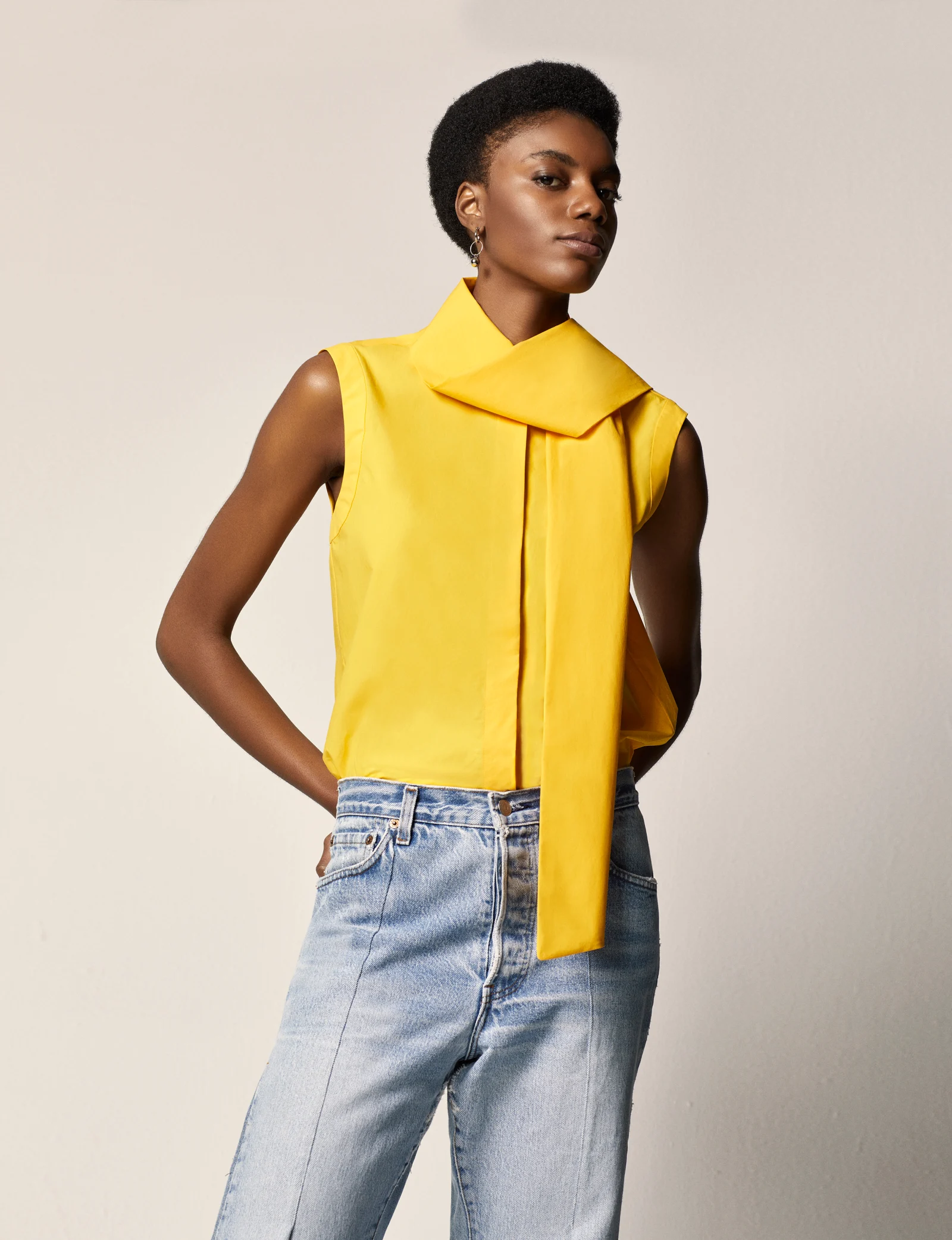 This blouse is available at Another Tomorrow and Saks Fifth Avenue.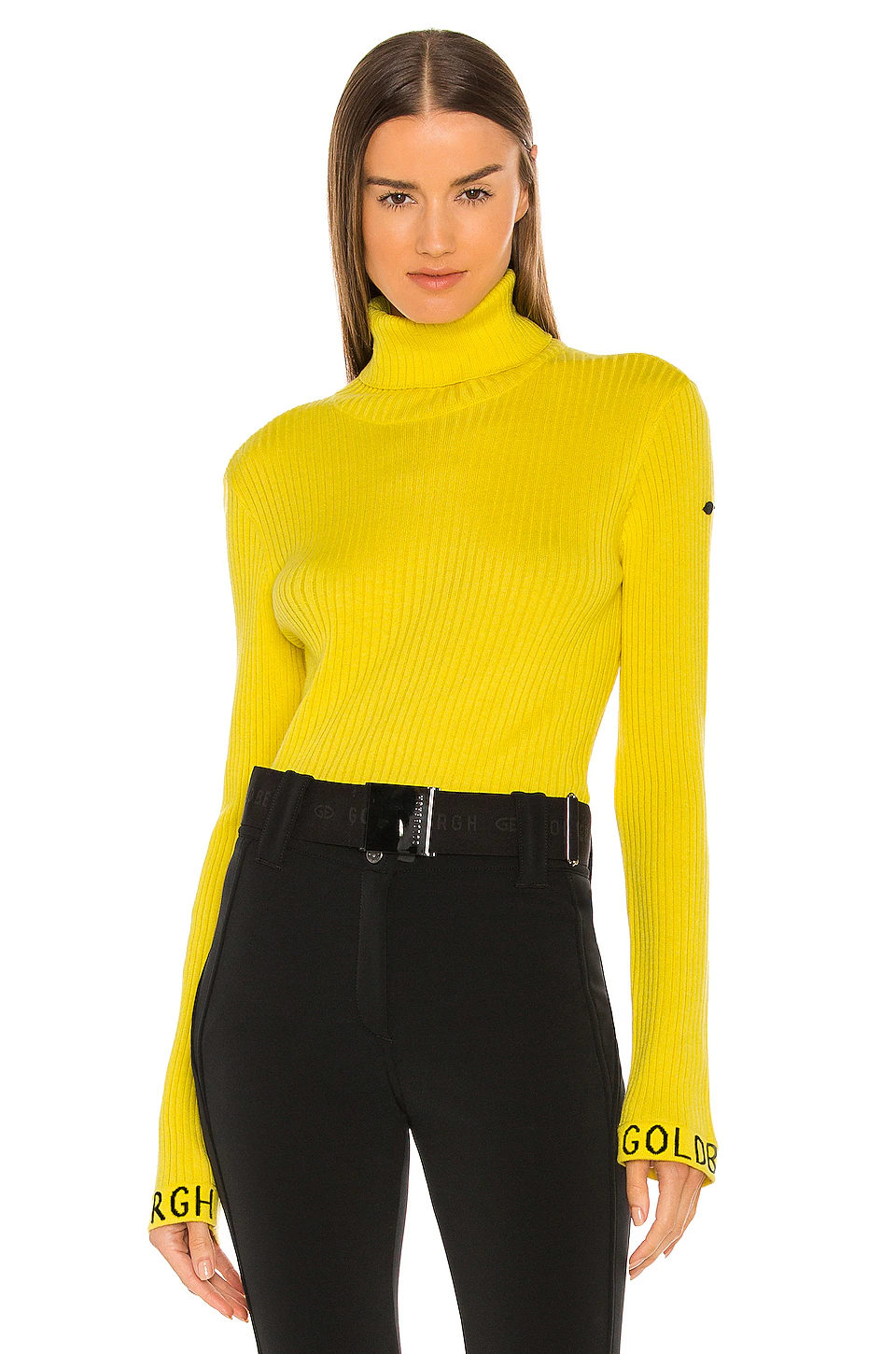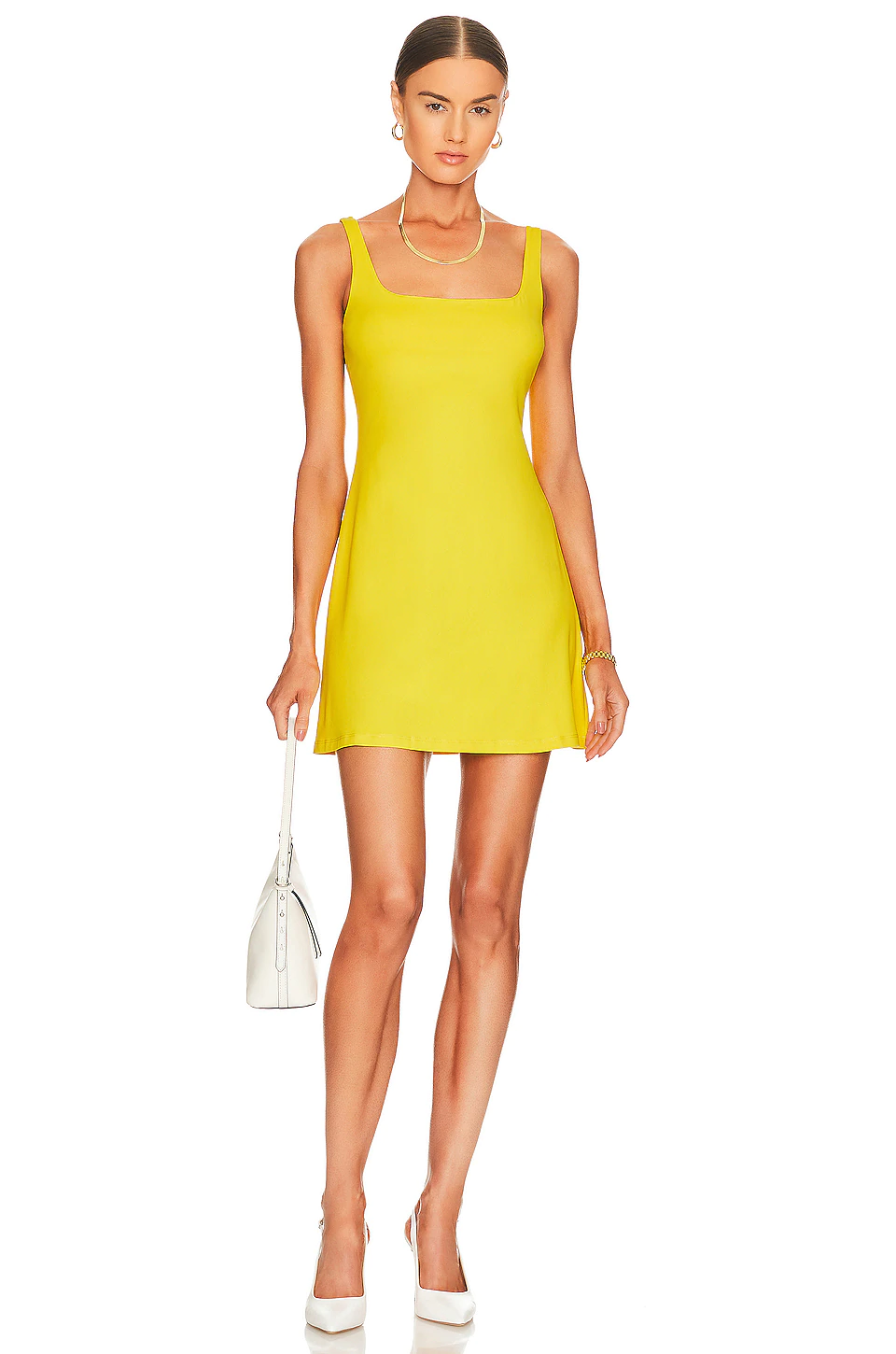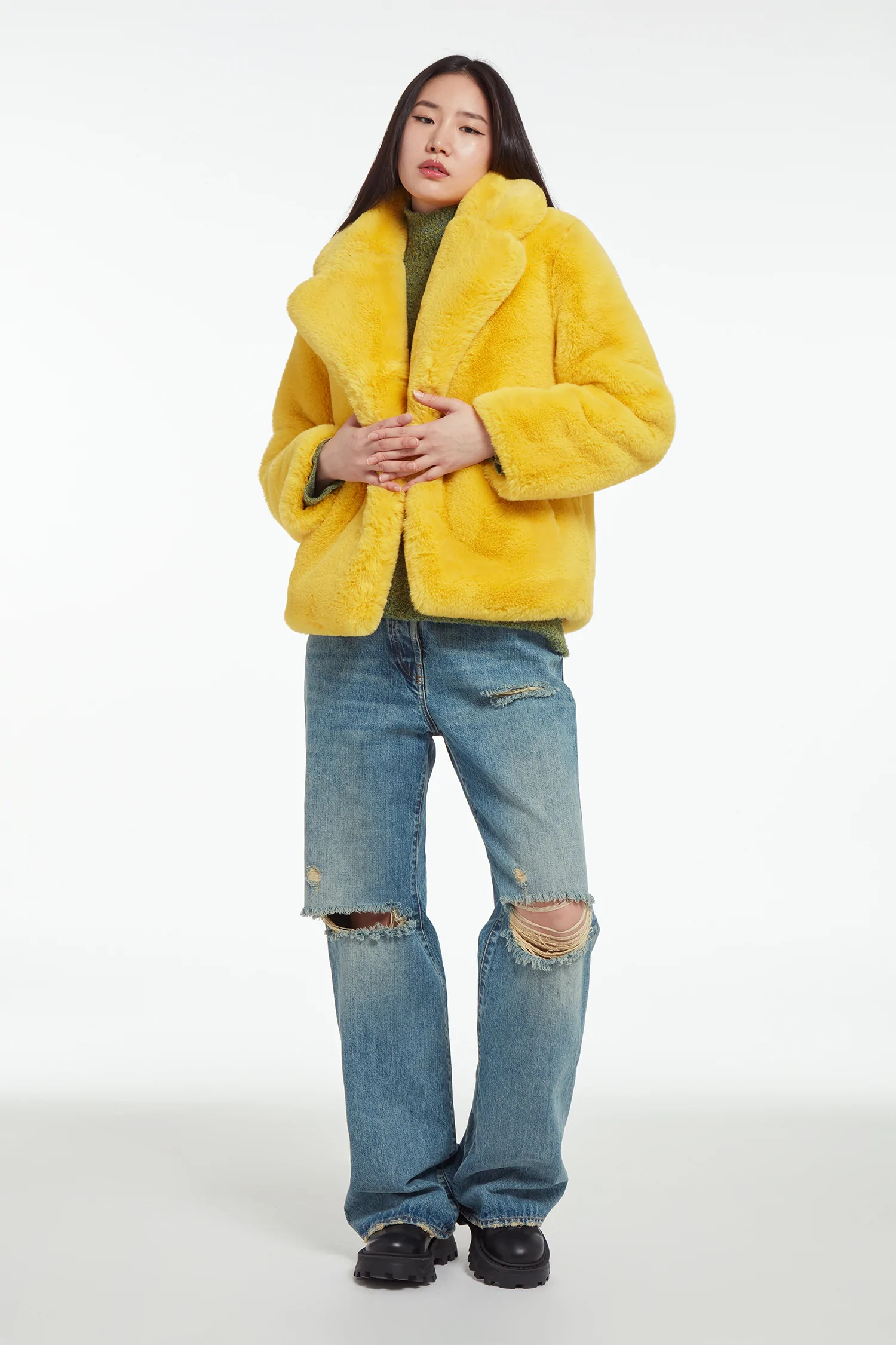 This coat is available at Apparis and Revolve.
Albatros V Neck Sweater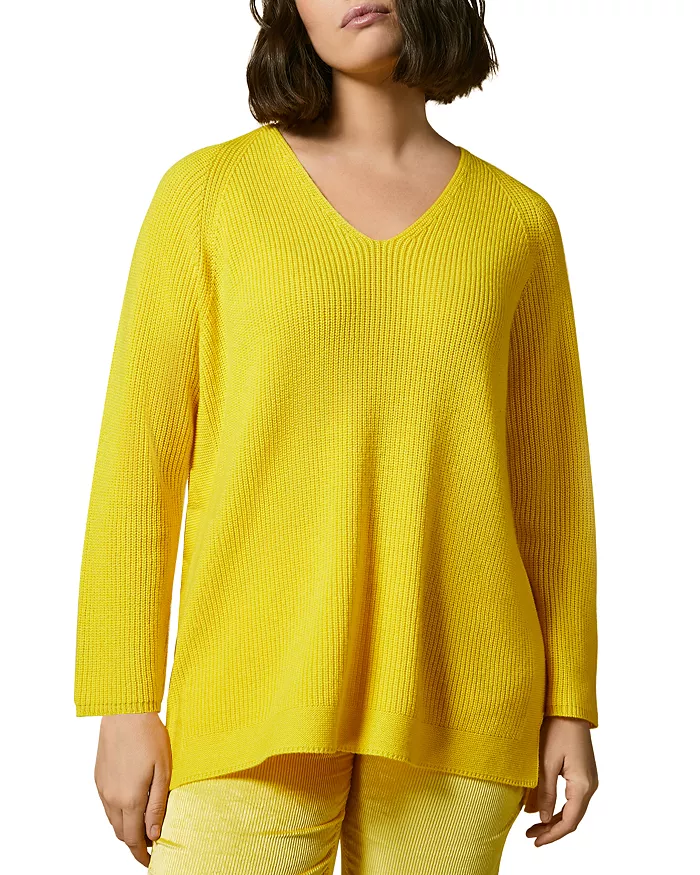 This sweater is available at Bloomingdale's, Neiman Marcus, Saks Fifth Avenue, and Nordstrom.
Alex Evenings Women's Slimming Short Ruched Dress with Ruffle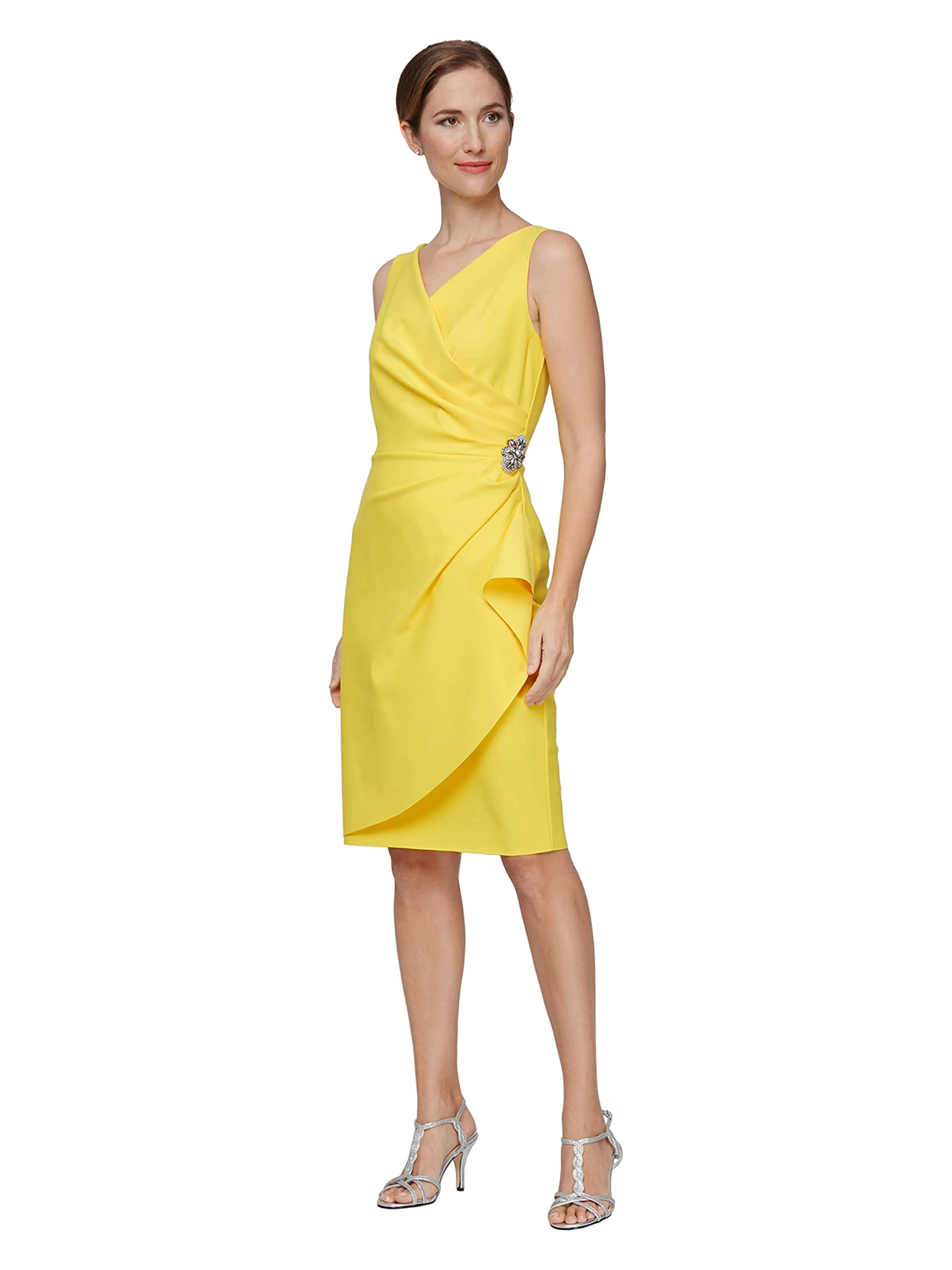 La Femme One-Shoulder Jersey Gown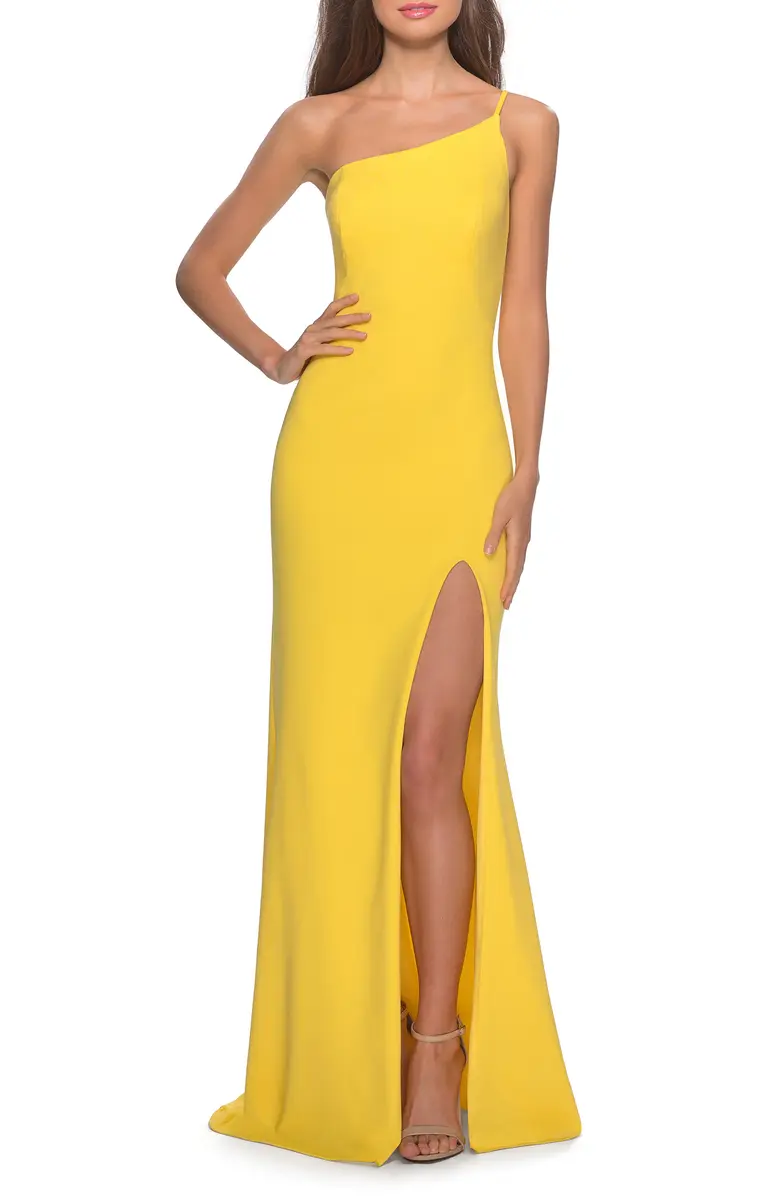 This gown is available at Nordstrom, Lord & Taylor and Verishop.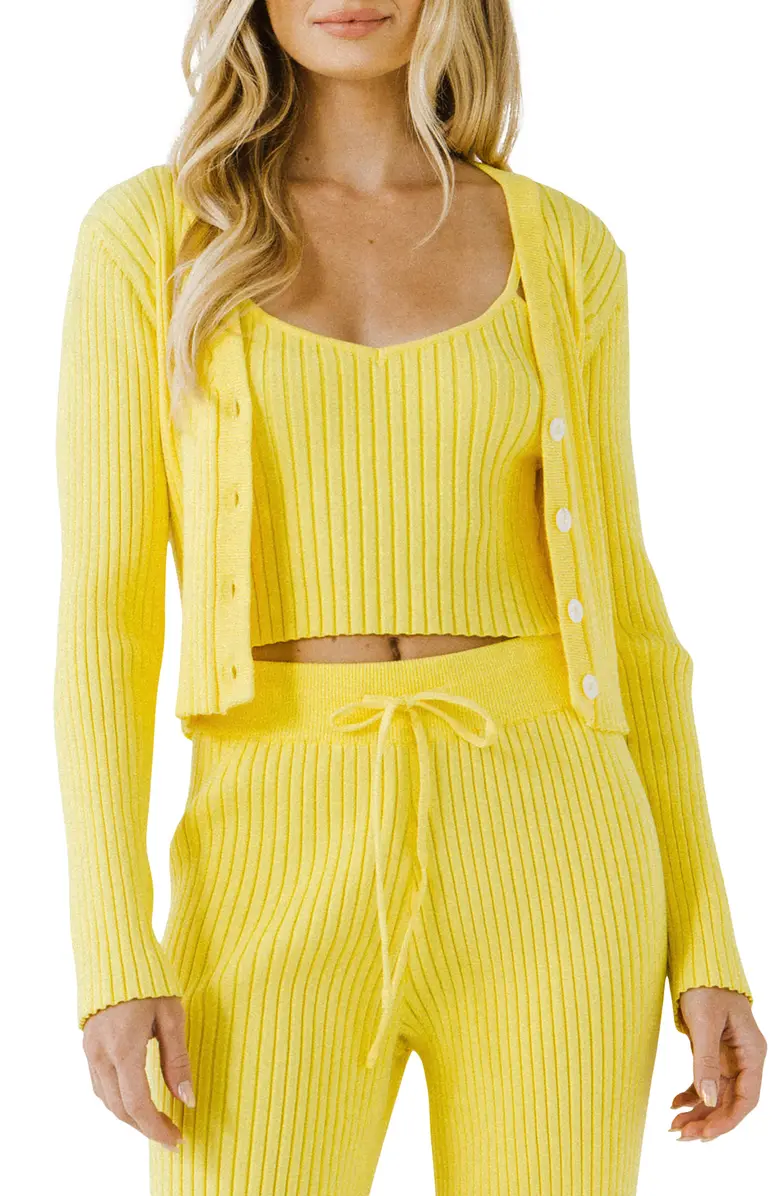 This cardigan is available at Verishop and Belk.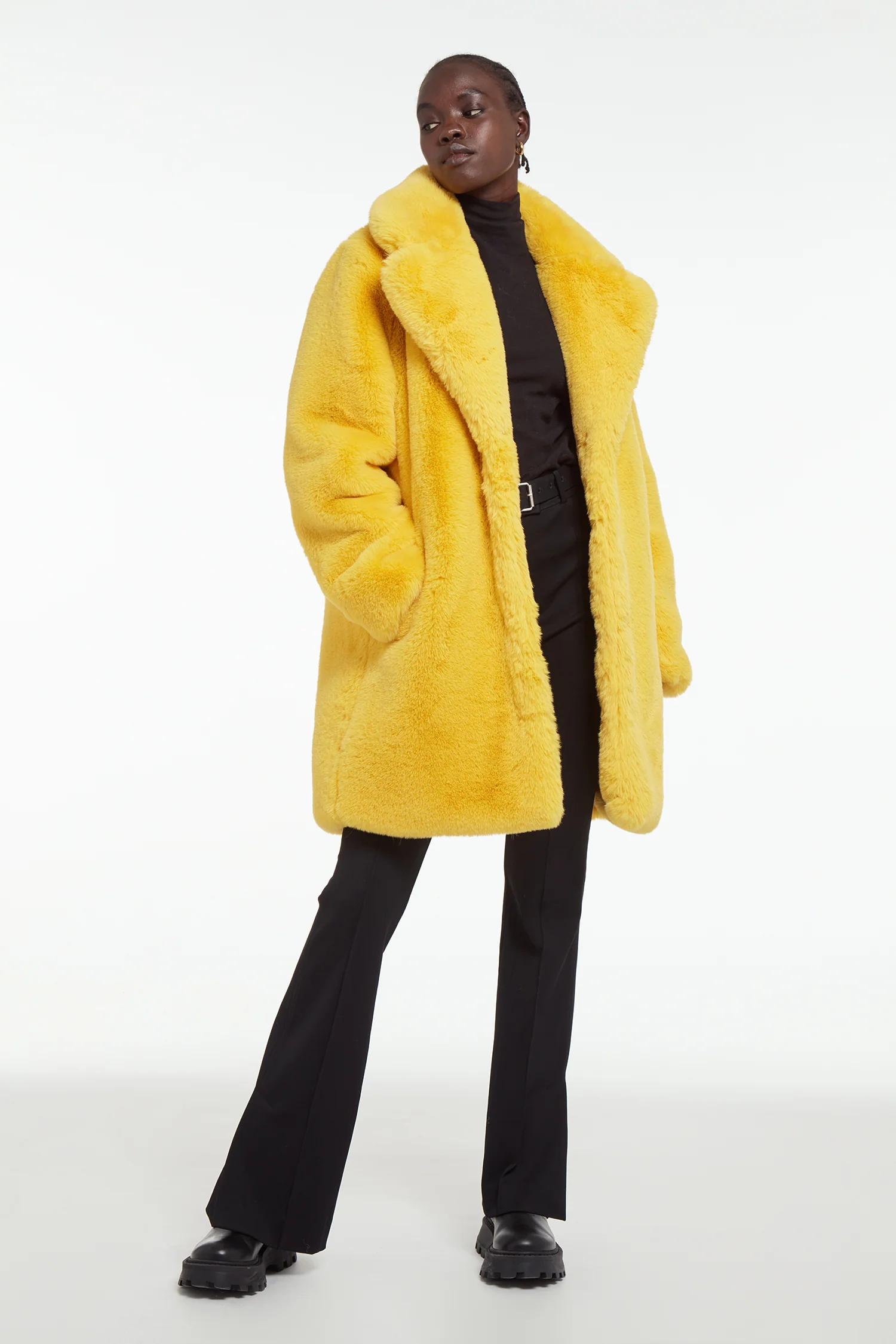 Anthropologie The Alani Cashmere Mock-Neck Sweater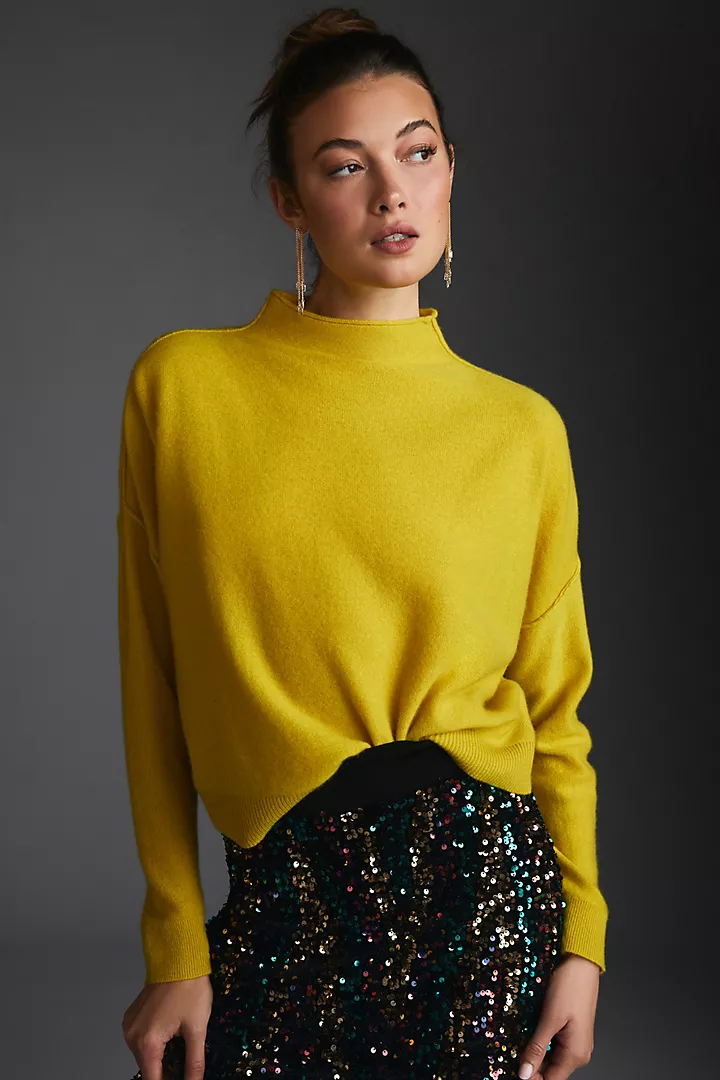 Joie Stow Long Sleeve Cotton Top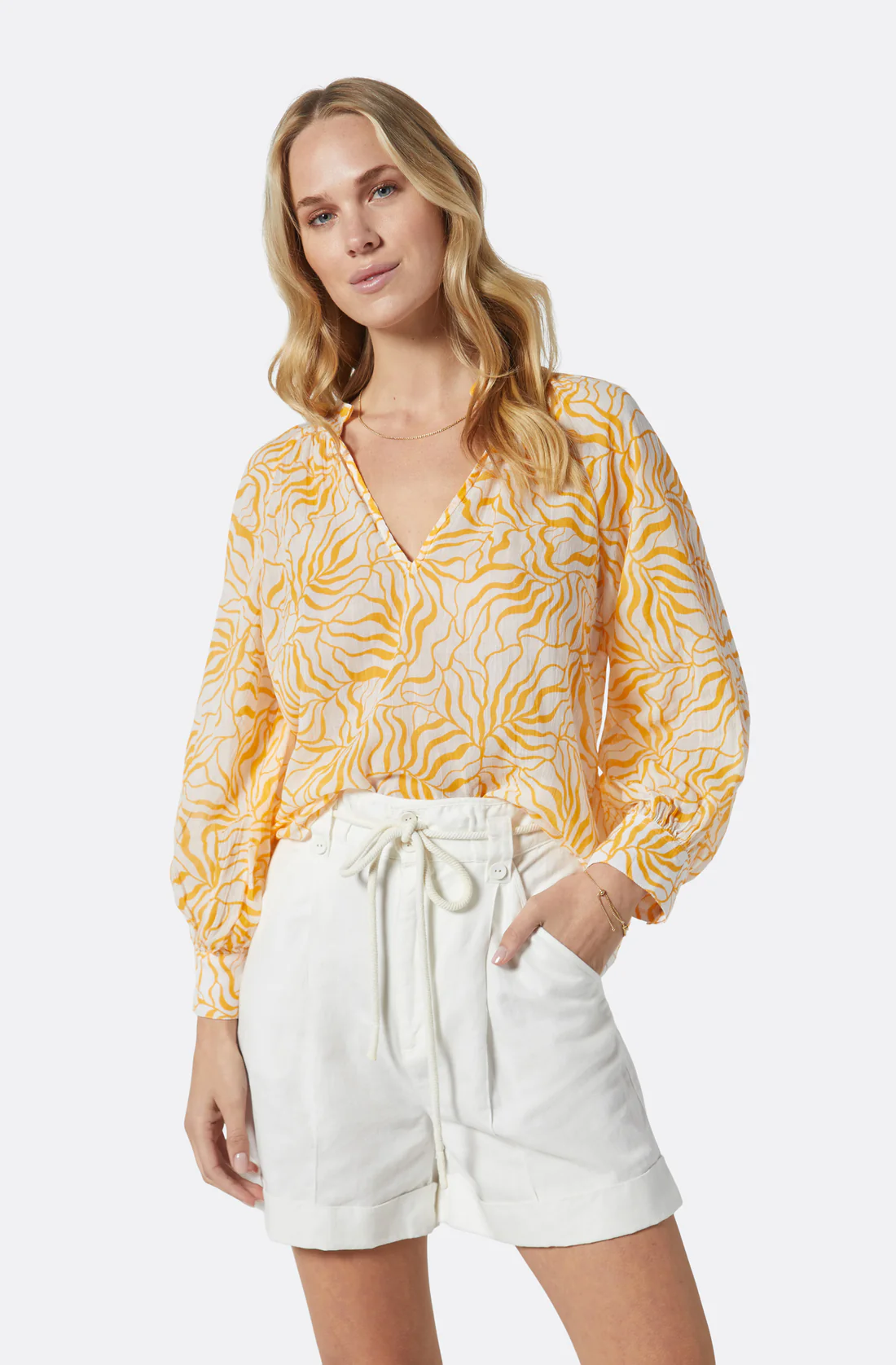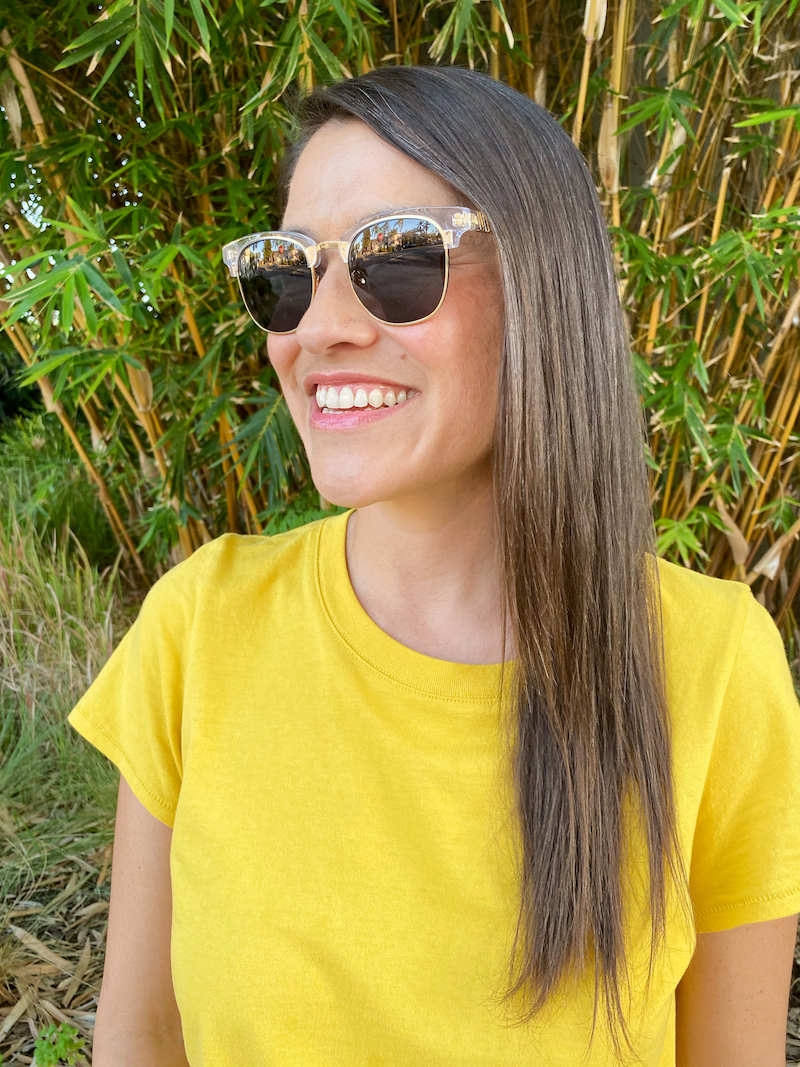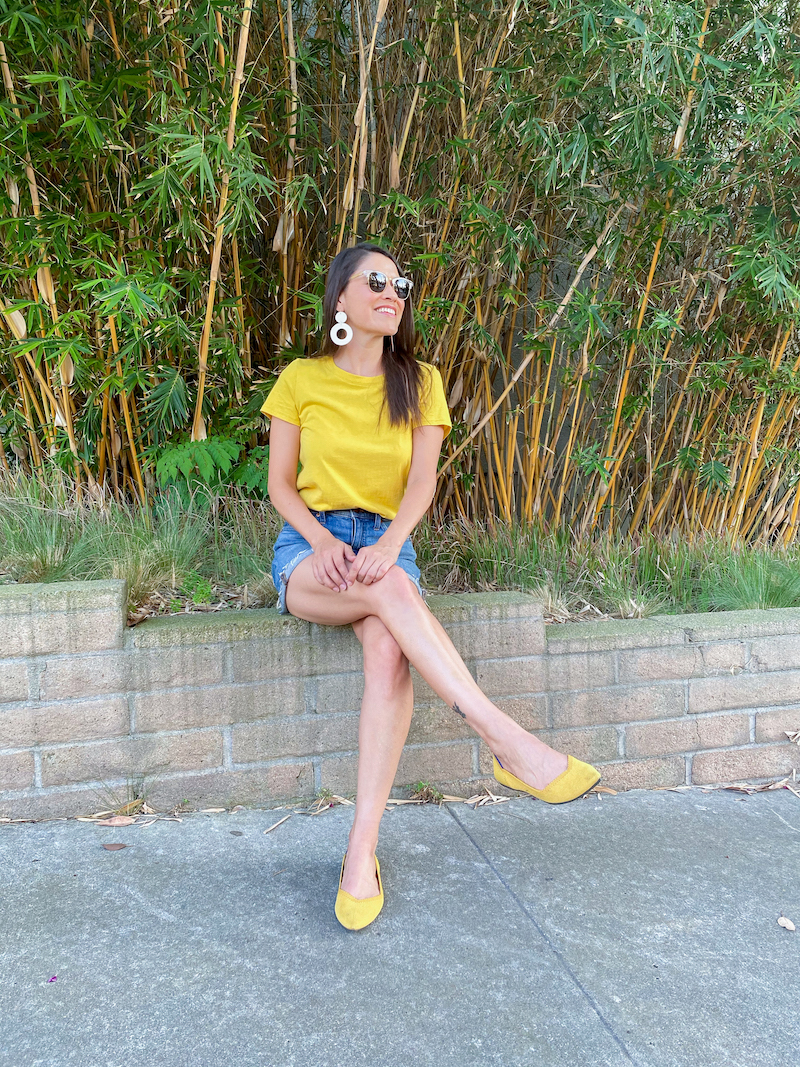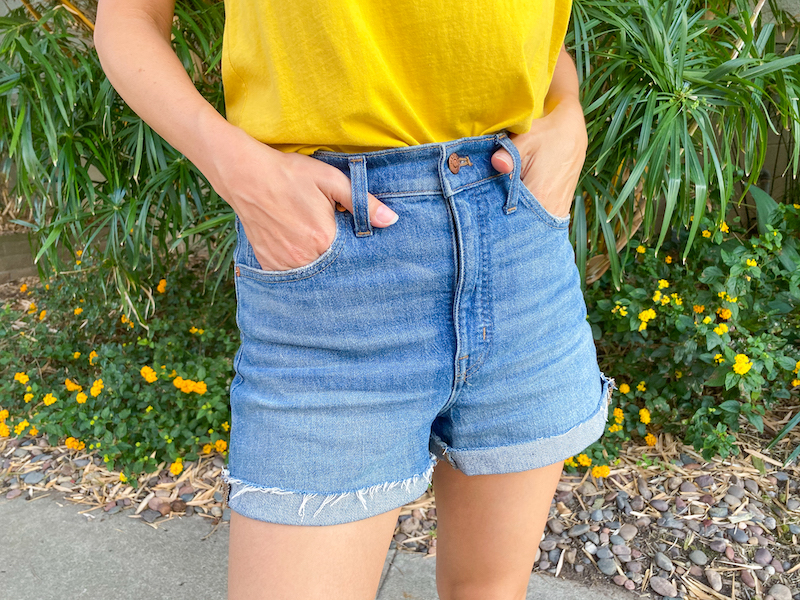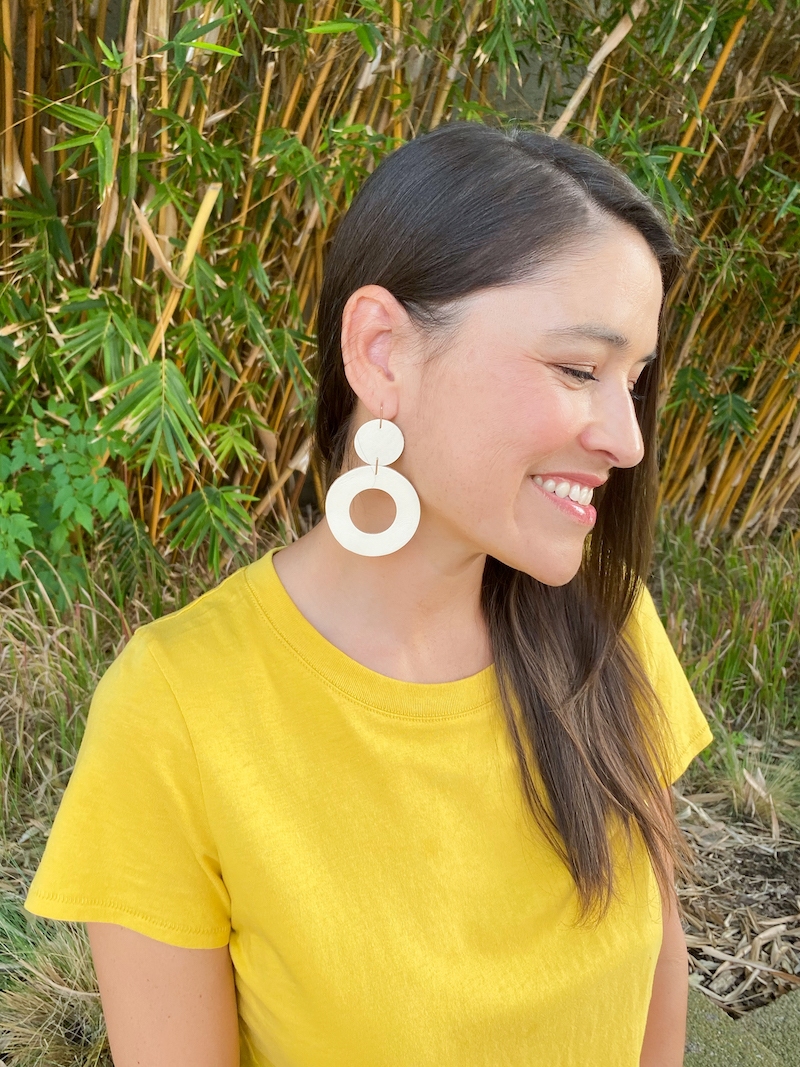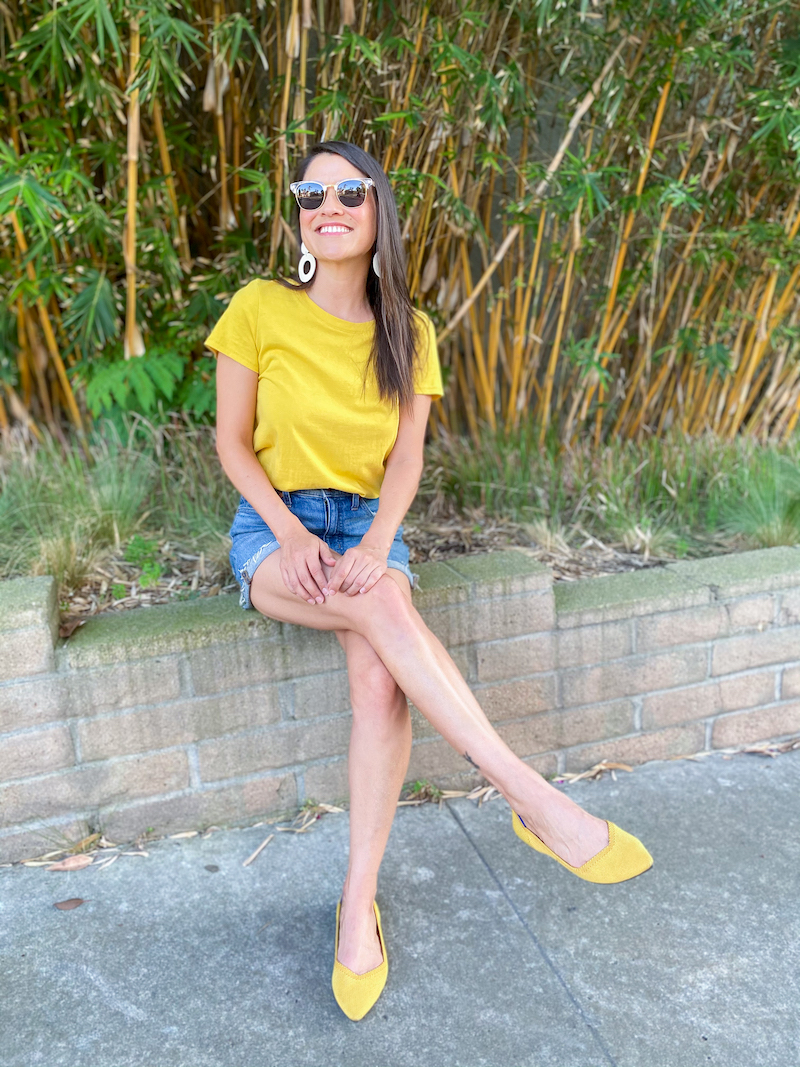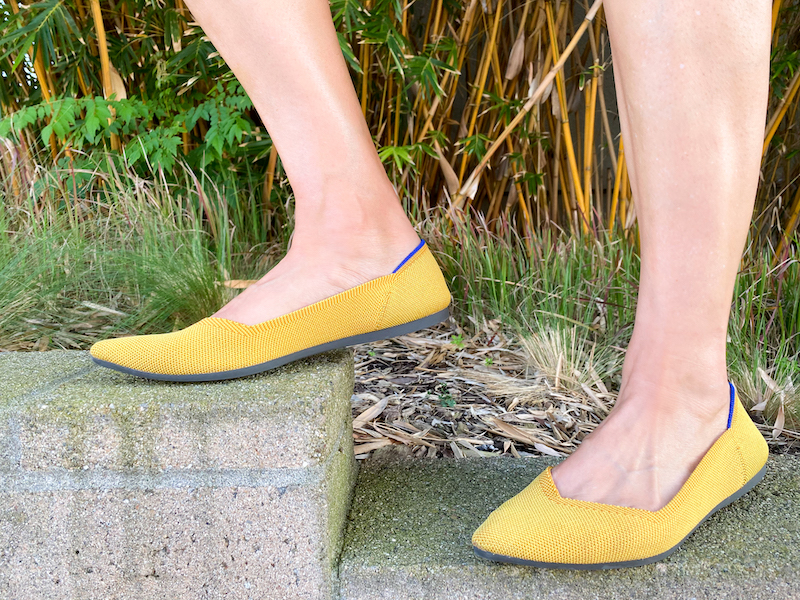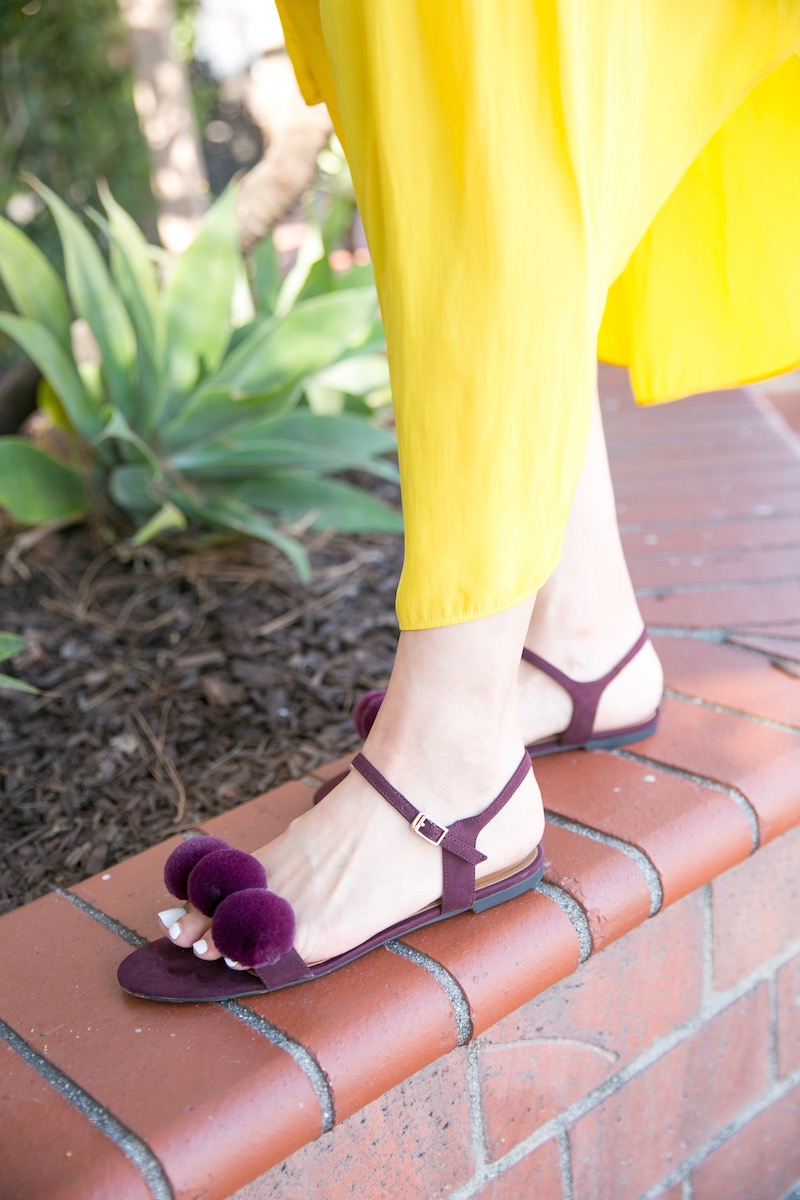 Photography in Yellow Ramy Brook Dress by Dayley Photography