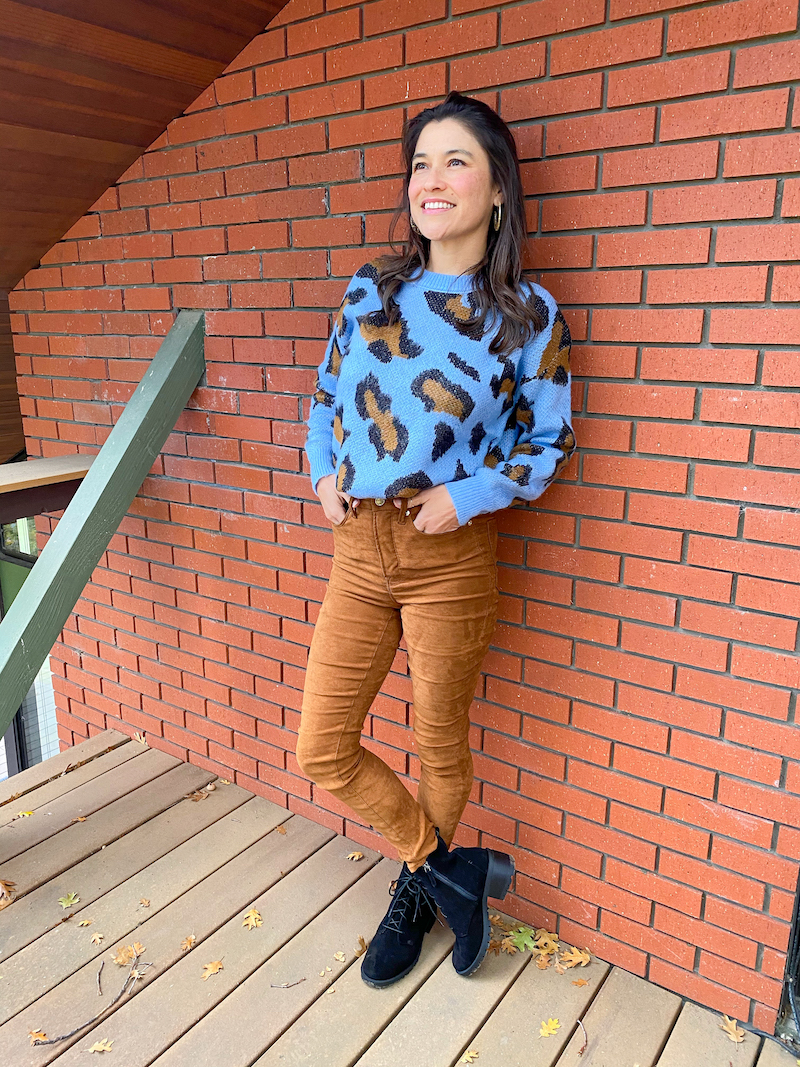 Tan or camel clothing is a cornerstone of a scrumptious fall/winter wardrobe. Tan is a neutral. It's versatile and truly timeless. Although nothing states sophistication like a tan luxe sweater or camel coat, it can be a tricky color to put next to the face for many skin tones, mine included. Most tan clothing is just too similar to most people's skin color. This is what makes tan pants a great avenue for incorporating the color into your closet. Anytime a color doesn't work next to your face, I always advise wearing it below the waist. Just make sure the tan color you choose is not too similar to your skin tone, otherwise it can look like you are pantless. Try to select a tan a few shades darker or lighter than your skin color. Now let's talk about what colors to wear with your tan pants…
What Colors Go Well With Tan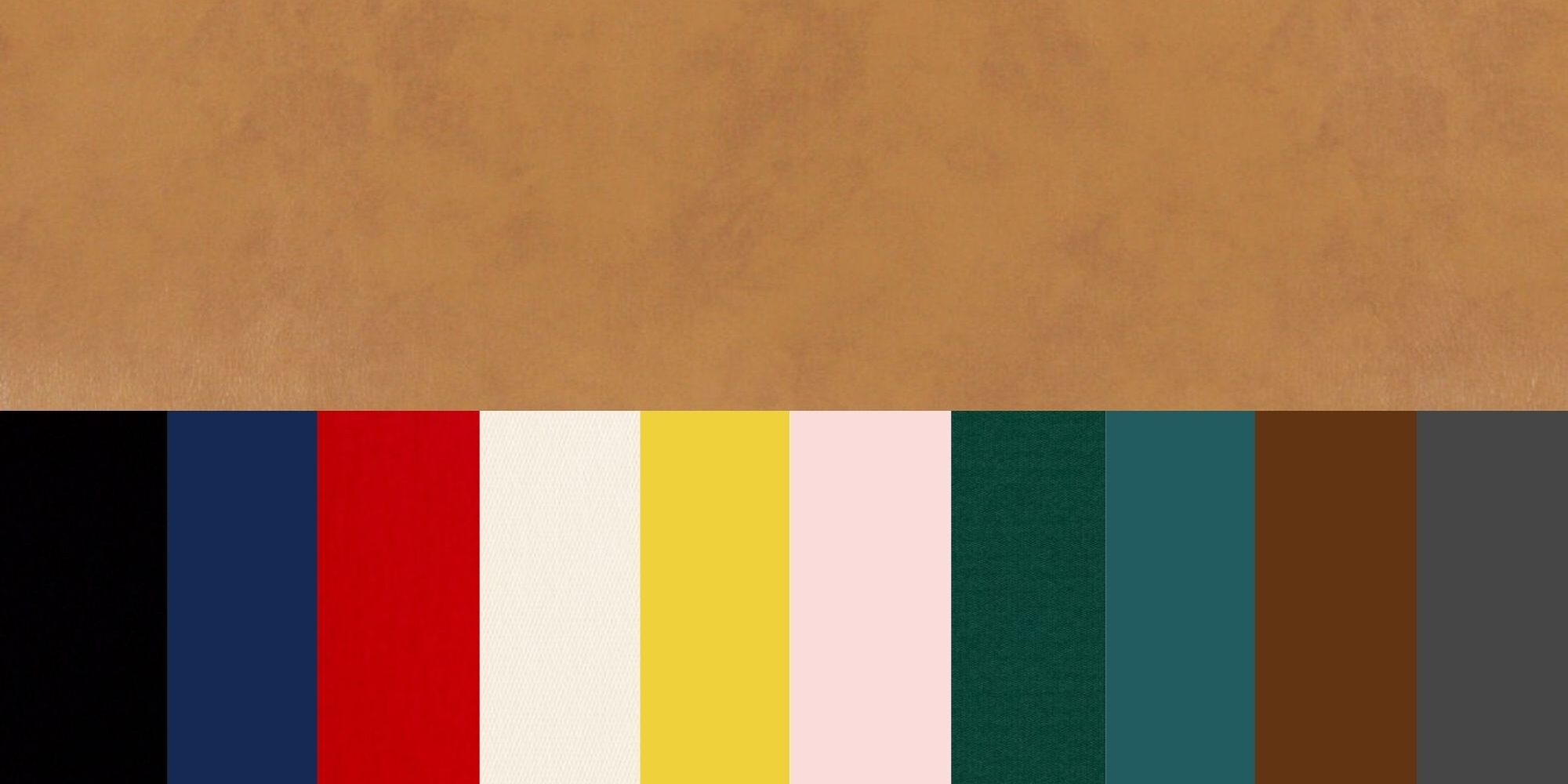 Tan is a super versatile color because it's a neutral, although a lighter tan can pair with more colors than a deep tan. For reference, the tan pants I am wearing are considered a deep tan color. Generally though, and in no particular order, here are all the colors that pair well with tan…
Black
Christmas Red (aka Scarlett)
Cream
Blush
Deep Turquoise
Chocolate Brown
Burgundy (not shown on my graphic, sorry!)
Charcoal Grey
Colors Not To Wear With Tan
It depends on whether you have a light tan or a dark tan, like cognac, but generally, you want to skip overly light colors like optic white and lavender as well as colors too close to the color tan, like mustard. Here is a good list of what colors to avoid with tan:
Bright White
Lavender
Mustard Yellow
Bubble Gum Pink
Light Grey
Purple
Indigo
Orange
Incredible Hulk Green
Best Tan Pants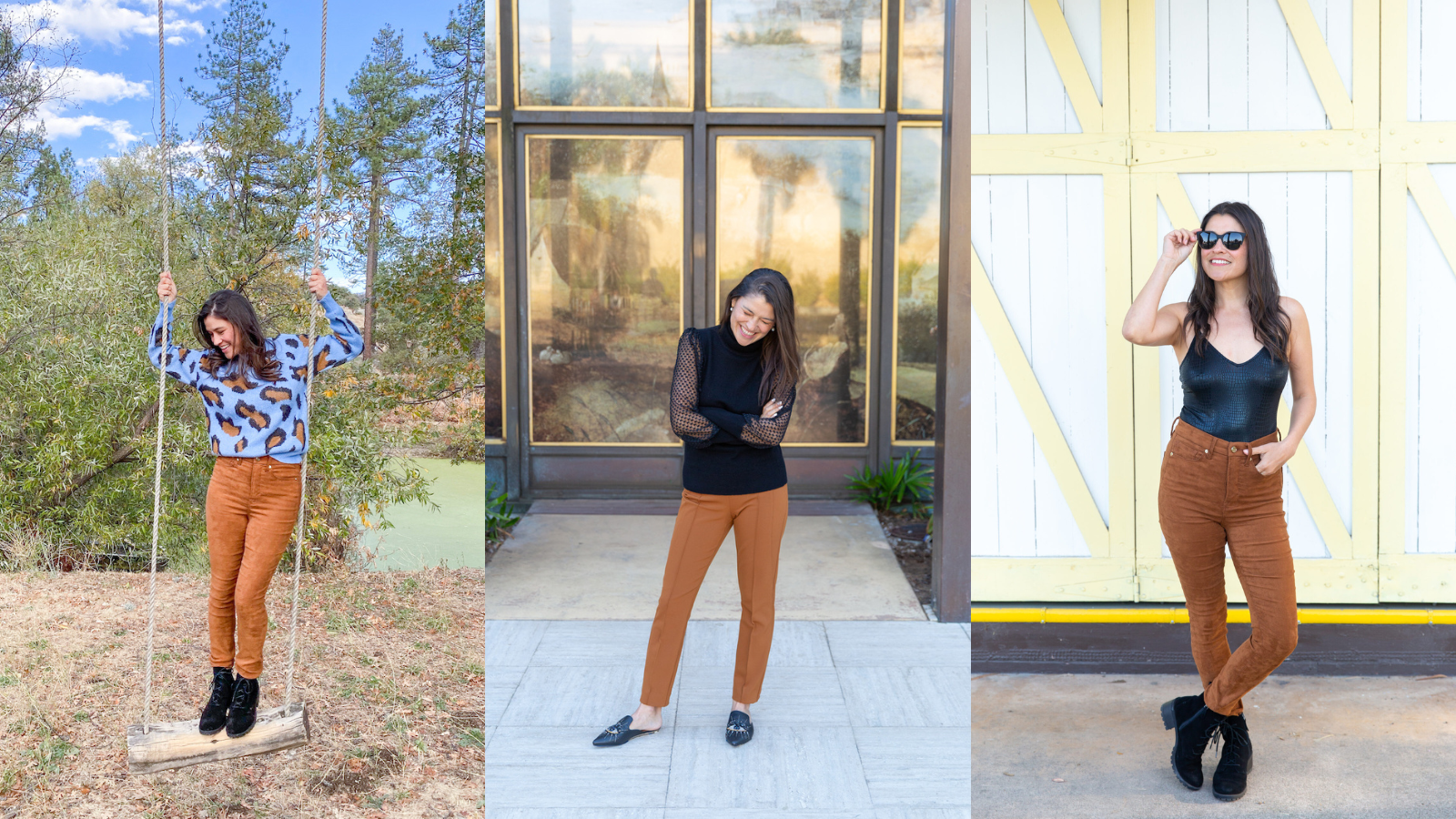 For those feeling the TLDR. These are all of my favorite tan pants this season:
Best Tan Leggings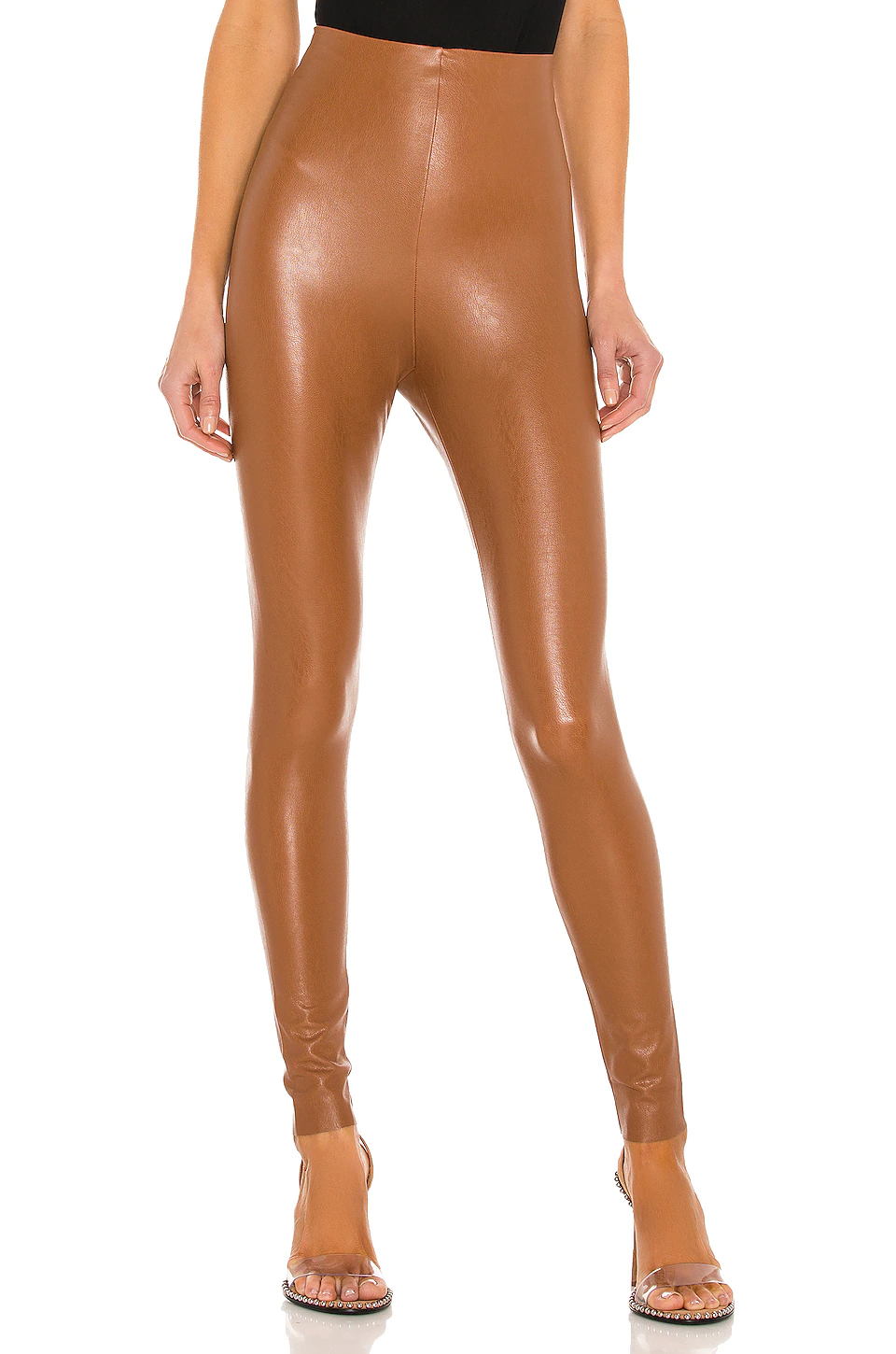 Commando's Faux Leather Leggings are a great high-quality faux leather option. They are available at Saks 5th Avenue, Revolve, Amazon, Bloomingdale's, and Zappos.
Lyseé makes an incredible faux suede tan legging. High quality with a great fit, these leggings look gorgeous with a long sweater and booties in winter. These are available at Lyseé and Amazon.  (Check out all my chic, long sweater recommendations, here).
Best Tan Pants for Wider Hips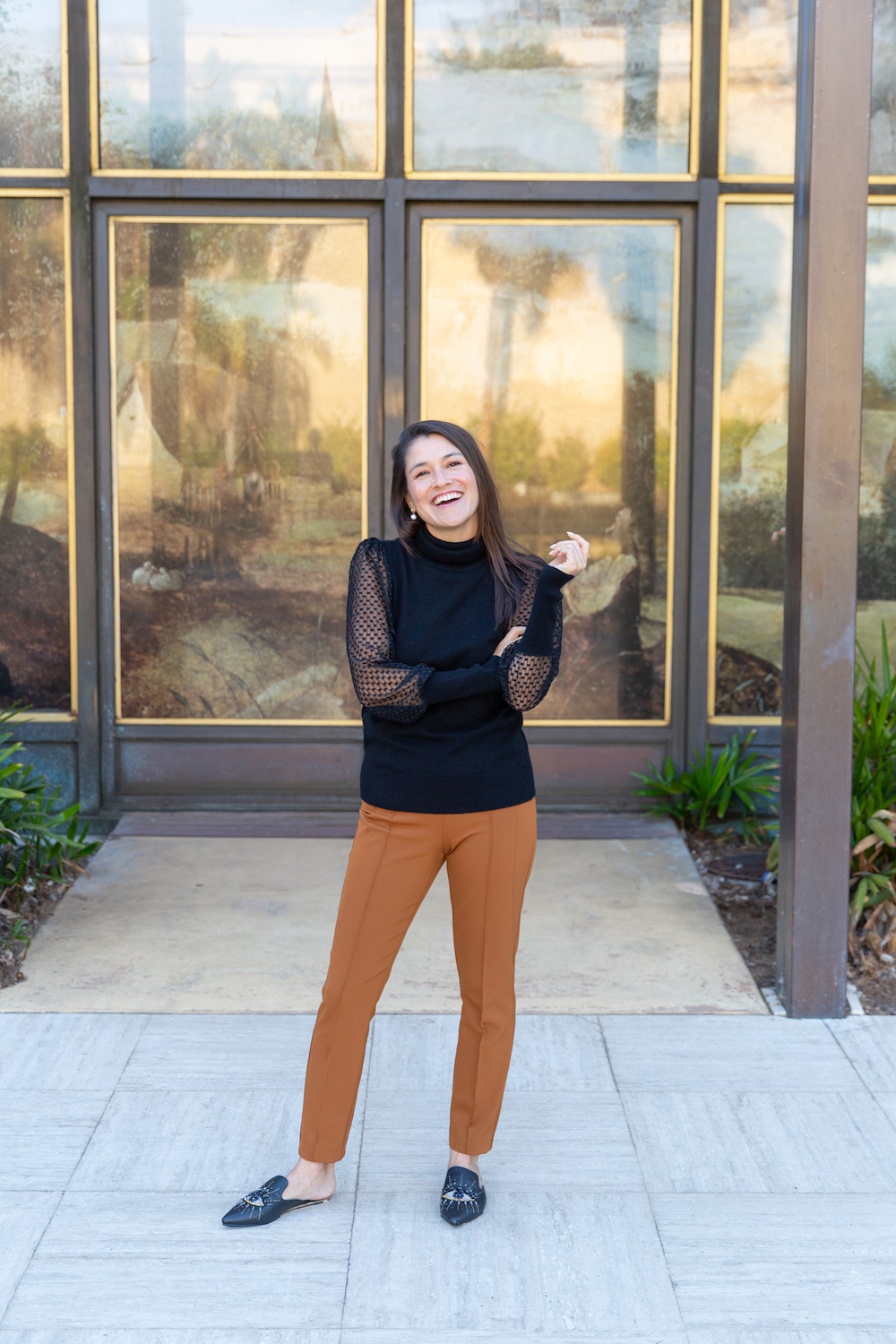 My curvier clients have been loving the side zip Lafayette 148 New York pant in the cappuccino color. It has a comfy, slimming fit for rounder hips and fuller thighs (pictured on me in the middle photo above, though my body type does not do these pants justice). Despite their stretch, these pants are made from a strong medium weight fabric that does not reveal cellulite and can masquerade as a structured pant — aka, they're perfect for work, especially if you don't like tucking in your shirt. A side zip pant is all about the untucked tops.
Sizing note: These pants run large. Order 1-2 sizes down. I am wearing a size 2, but am usually a 4 or 6. They're available at Bloomingdale's, Neiman Marcus, Nordstrom, Saks 5th Avenue, and Lafayette 148.
My Personal Favorite Tan Pant: Good American Jeans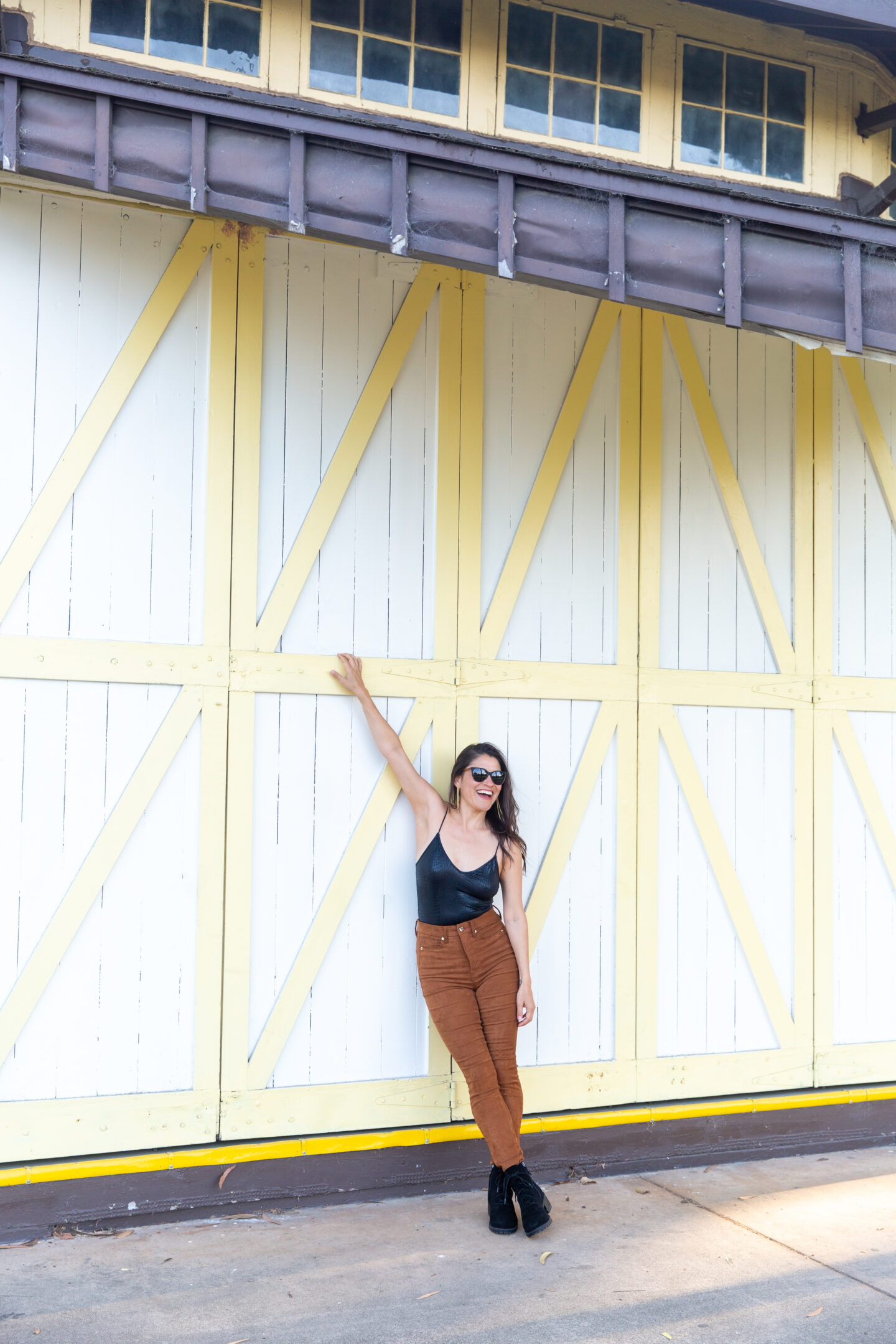 Last, but certainly not least, in fact, these are my personal favorite: Good American's faux suede tan jean. They are wonderfully comfortable, insanely flattering, and fit beautifully. These are the tan pants I am wearing in the photos with the leopard sweater and bodysuit.
Bodysuit and Lafayette 148 Photos by Dayley Photography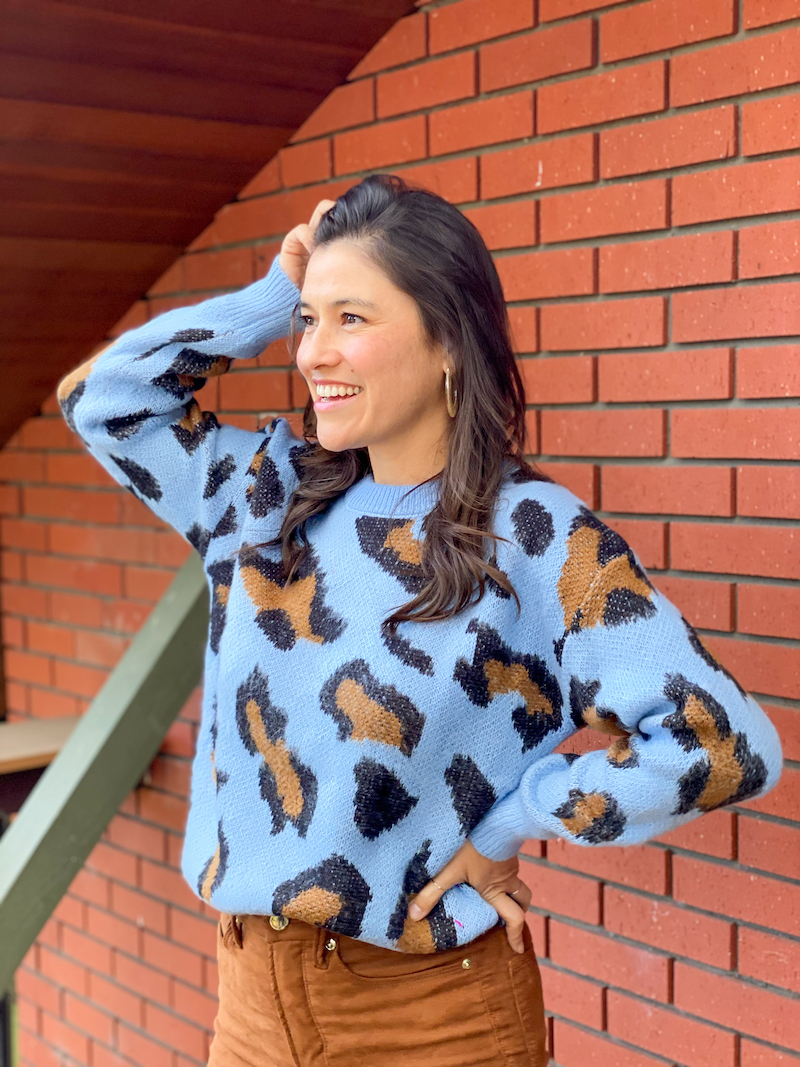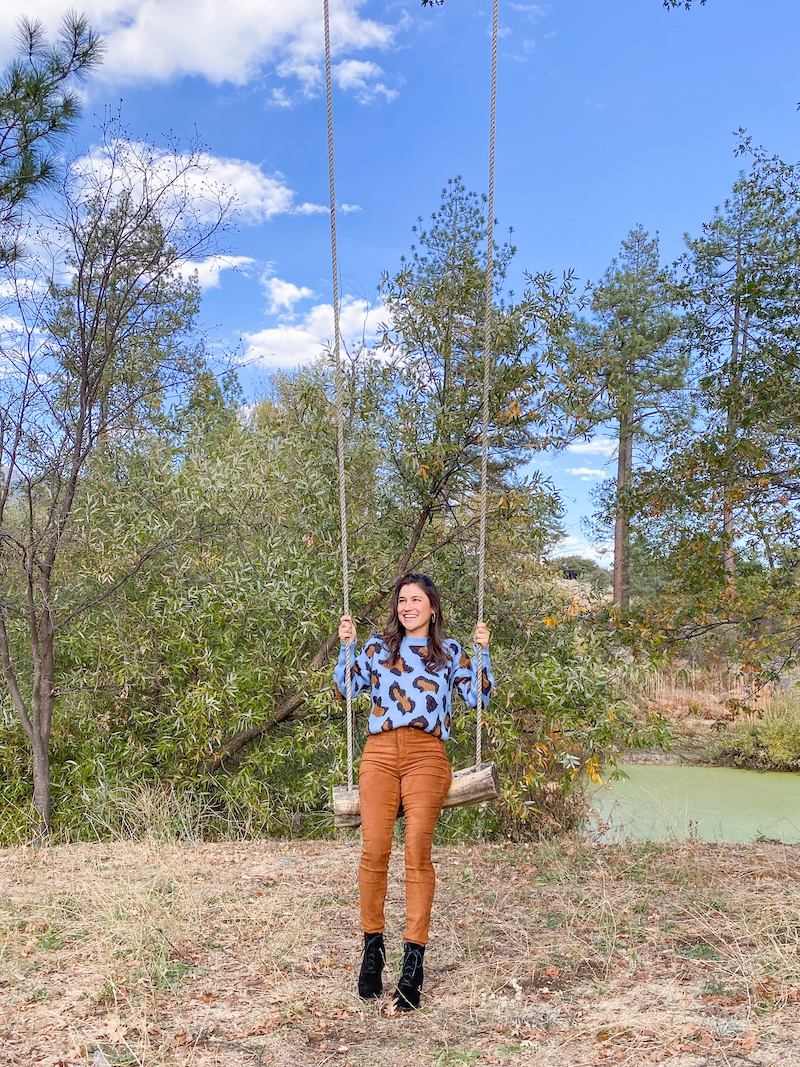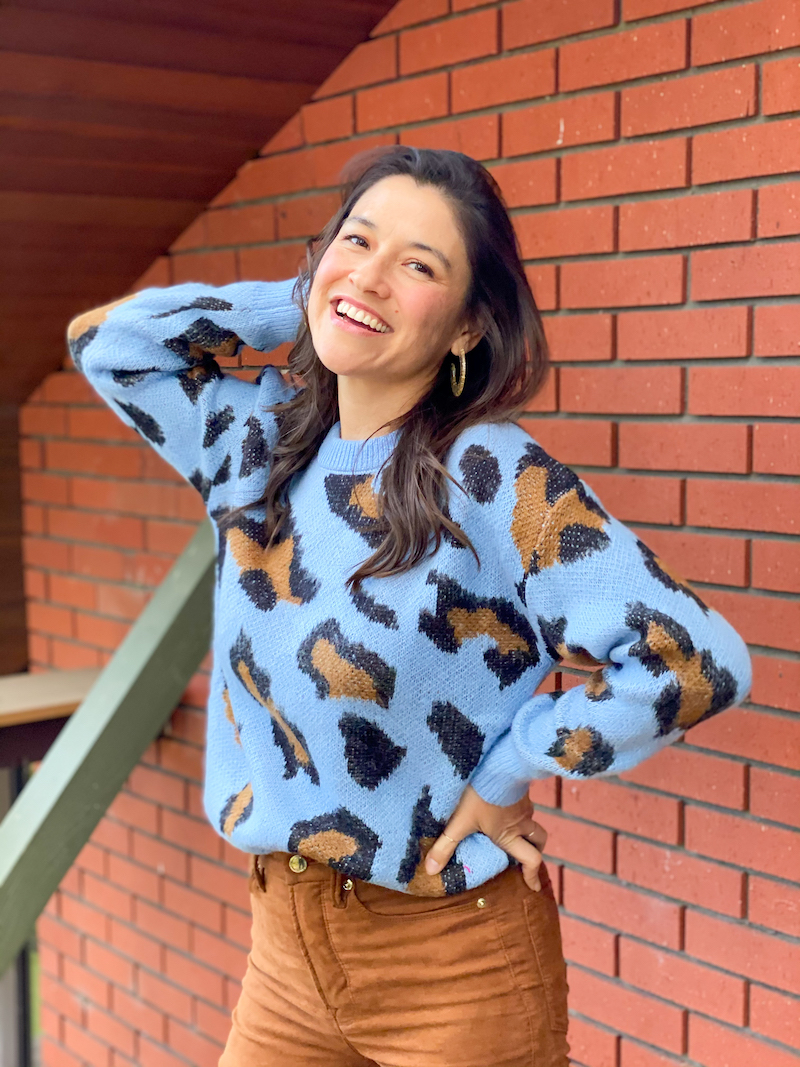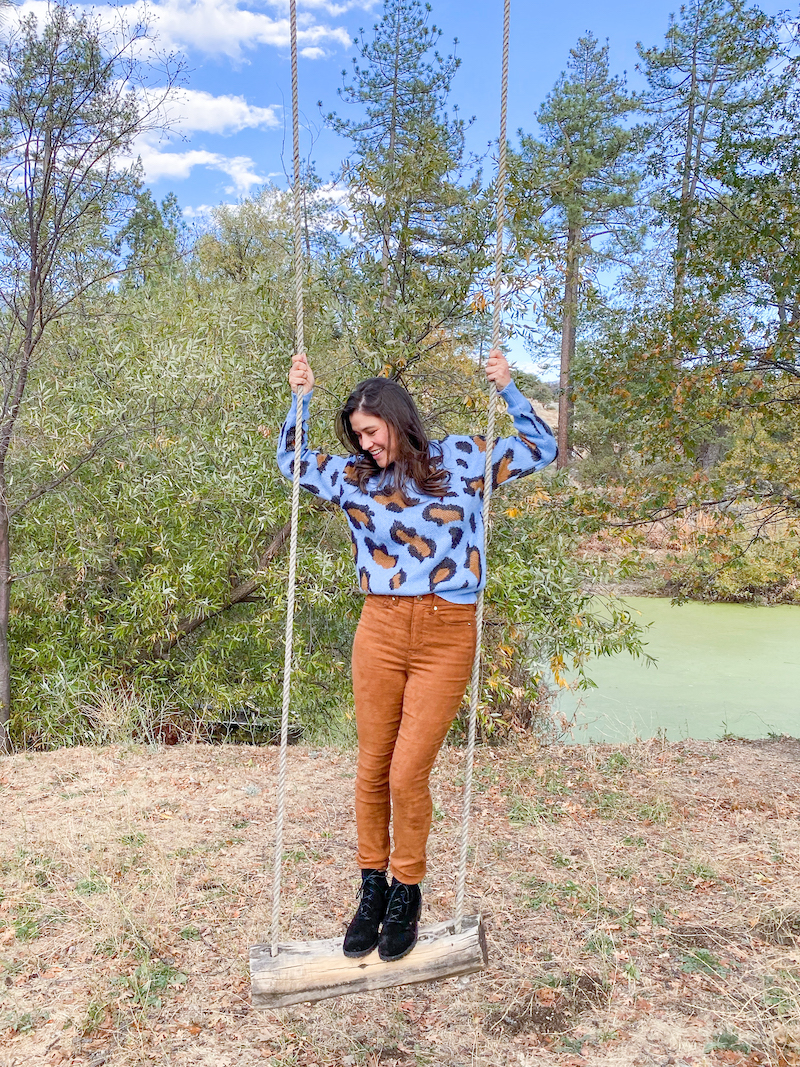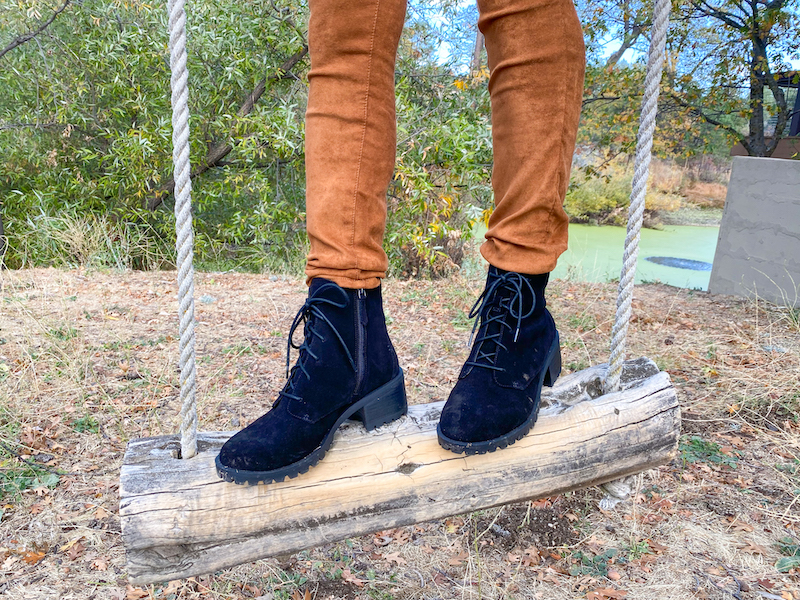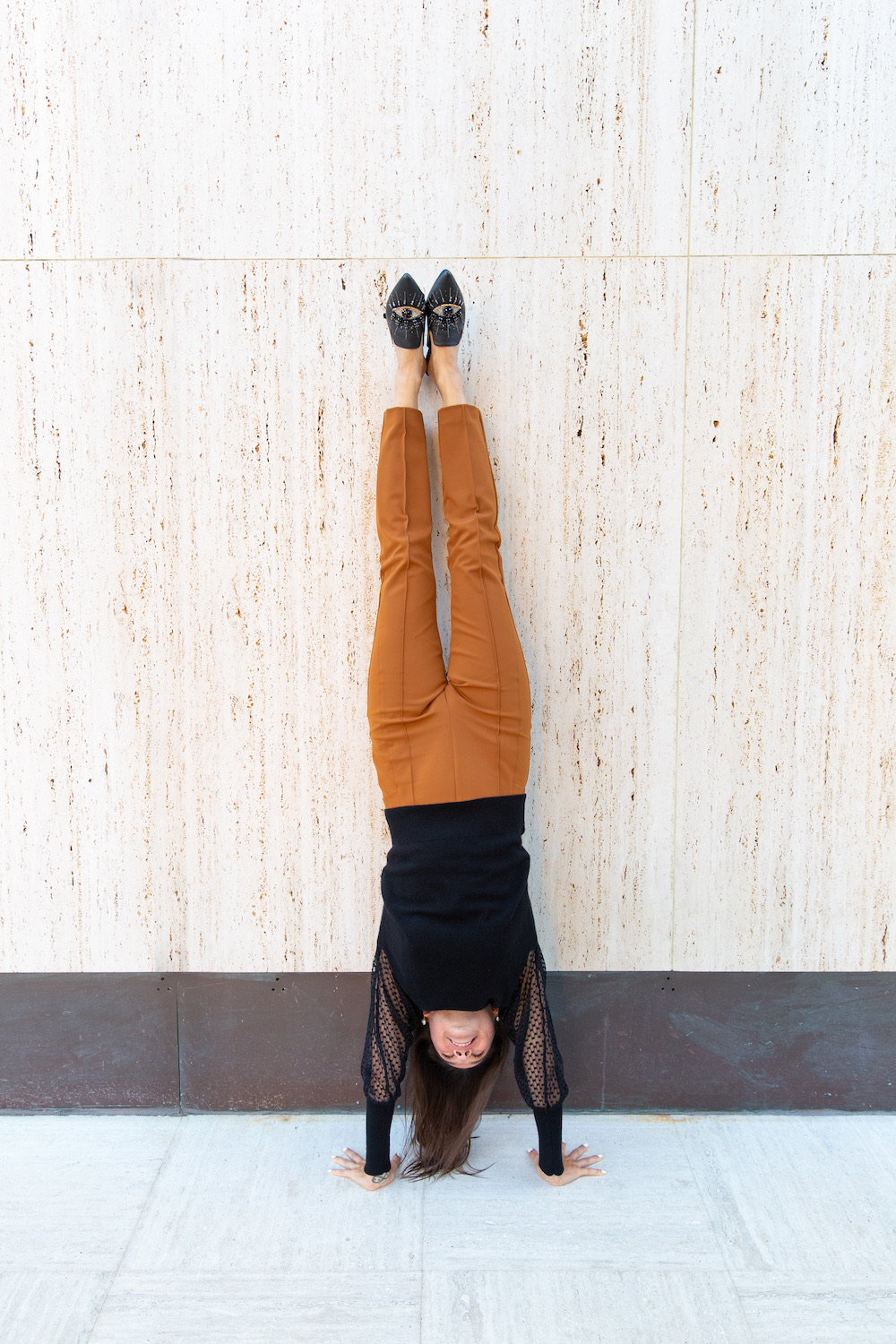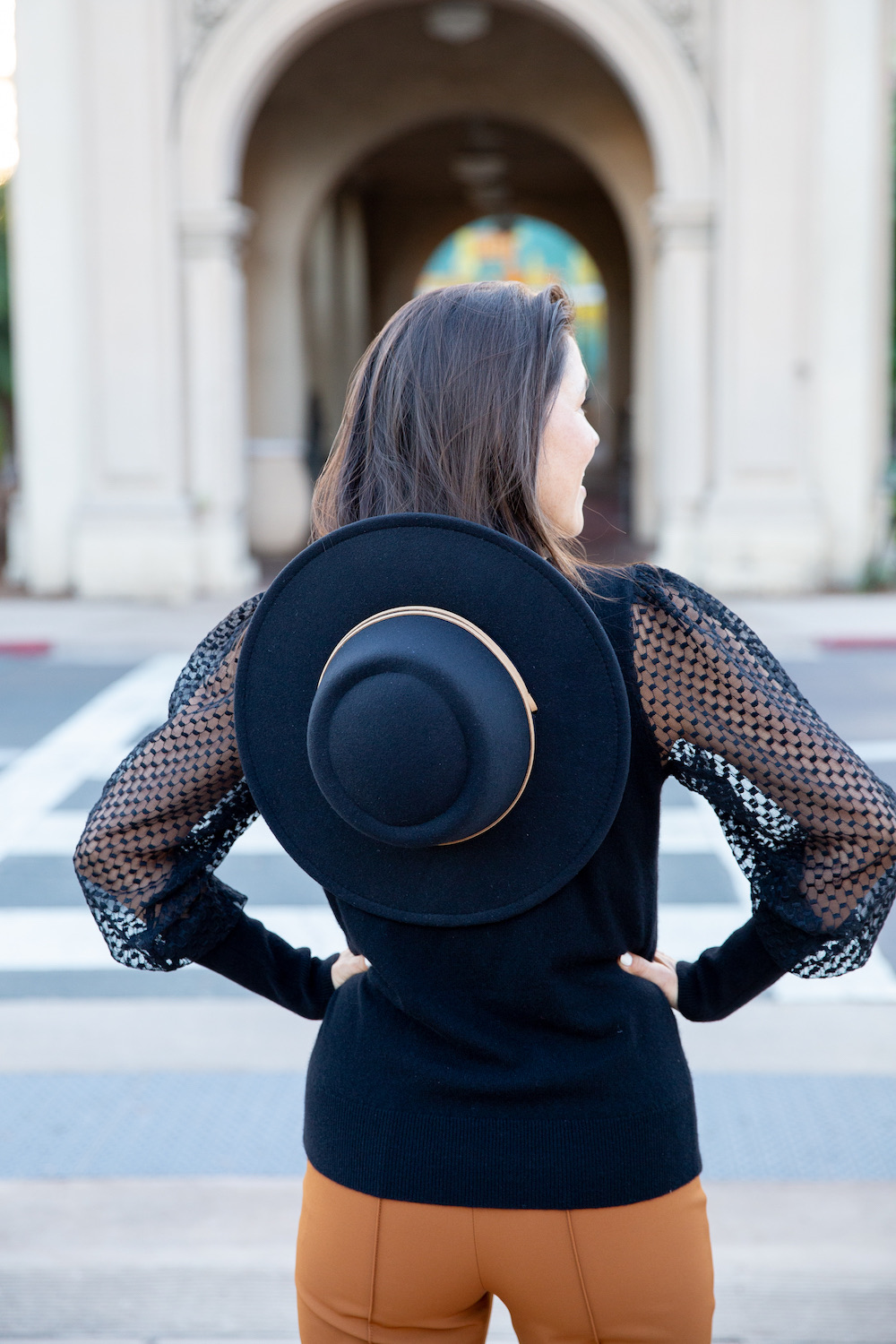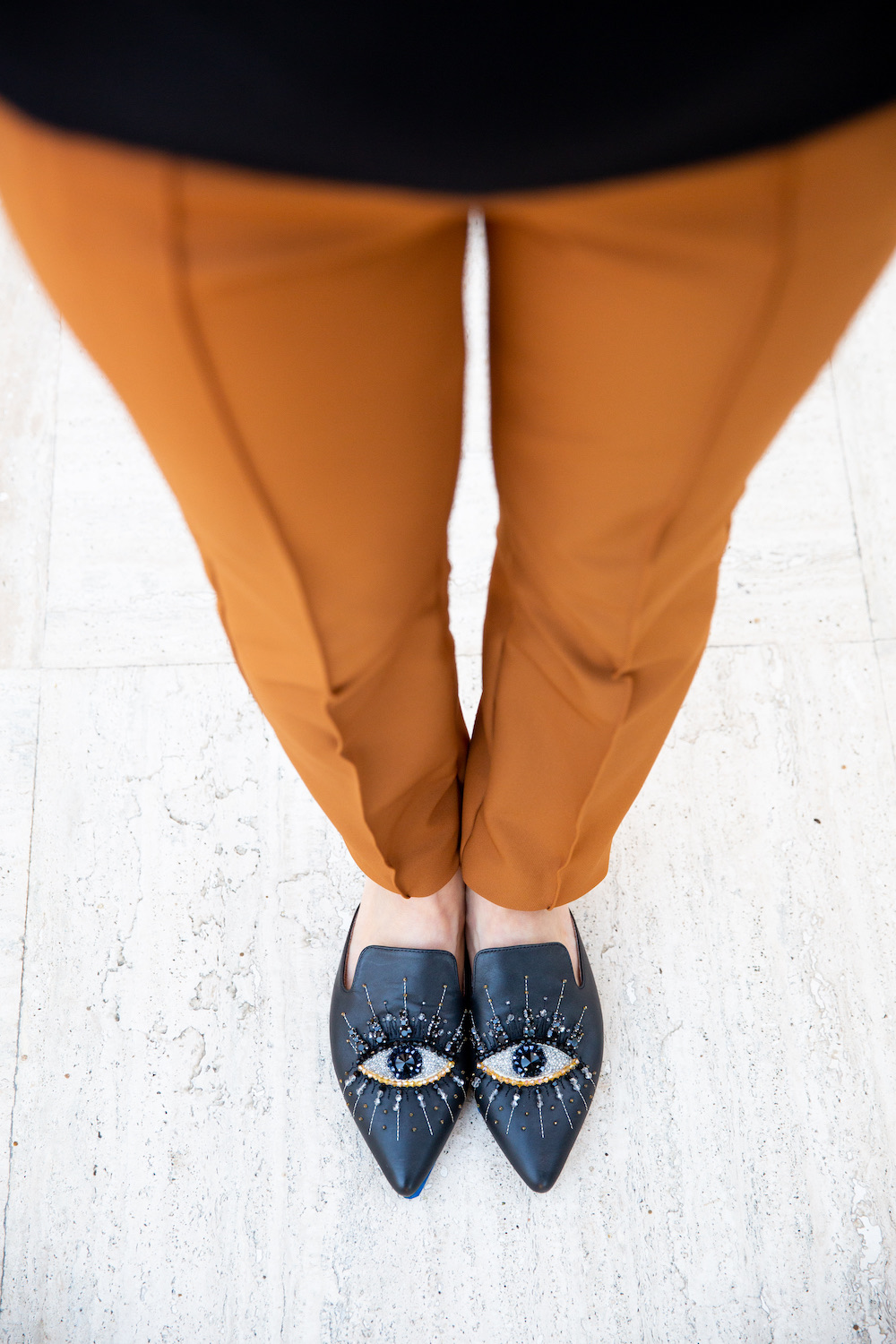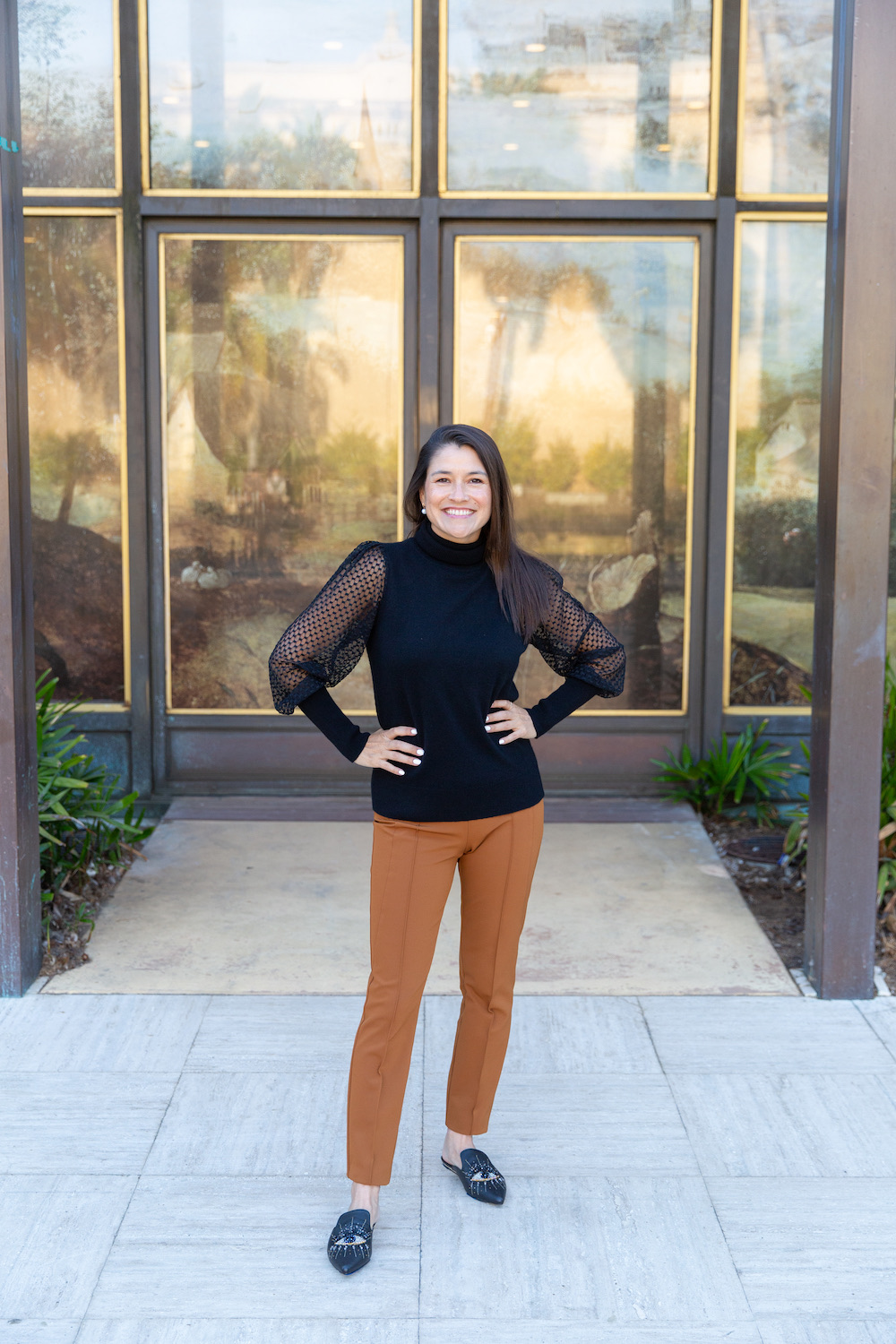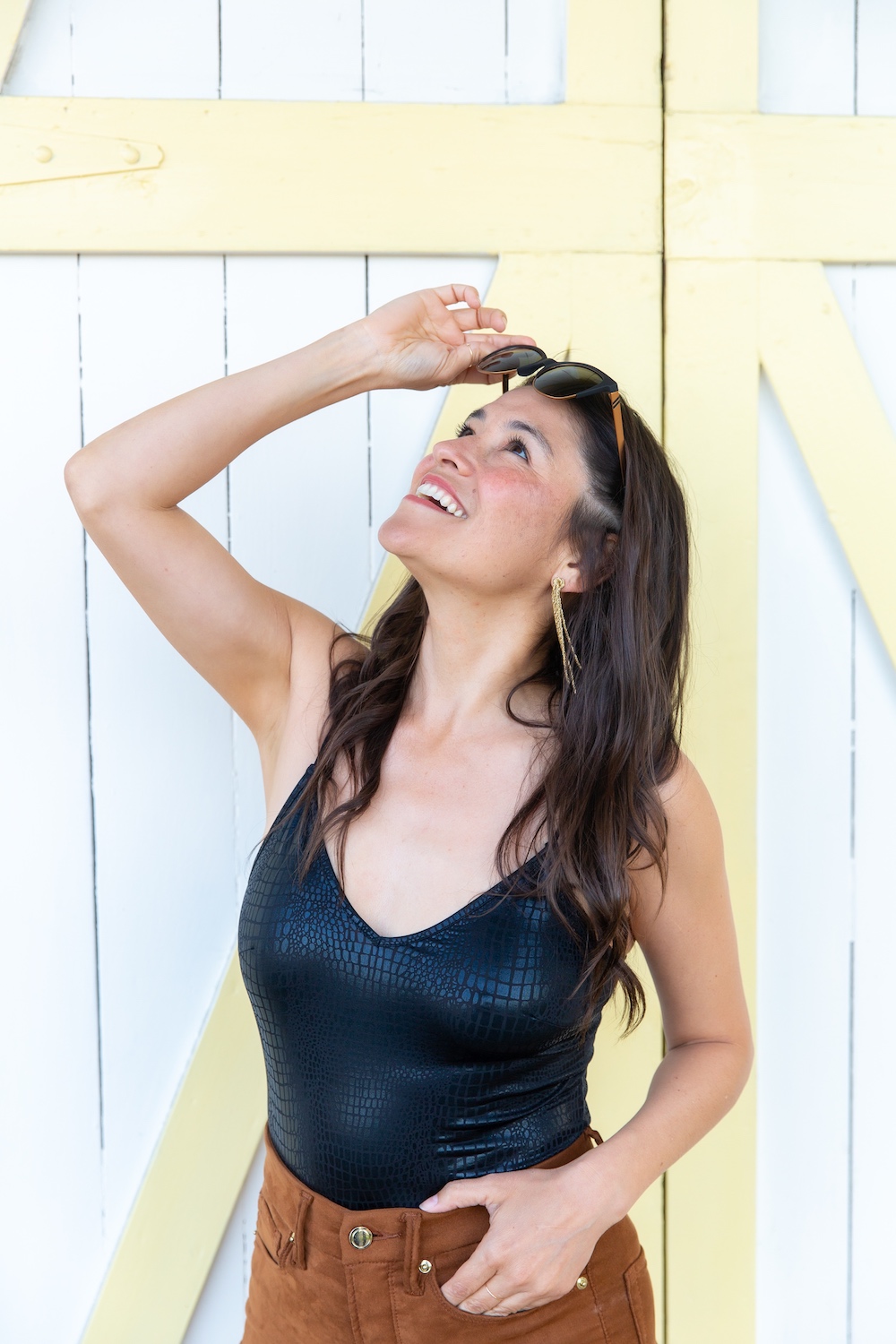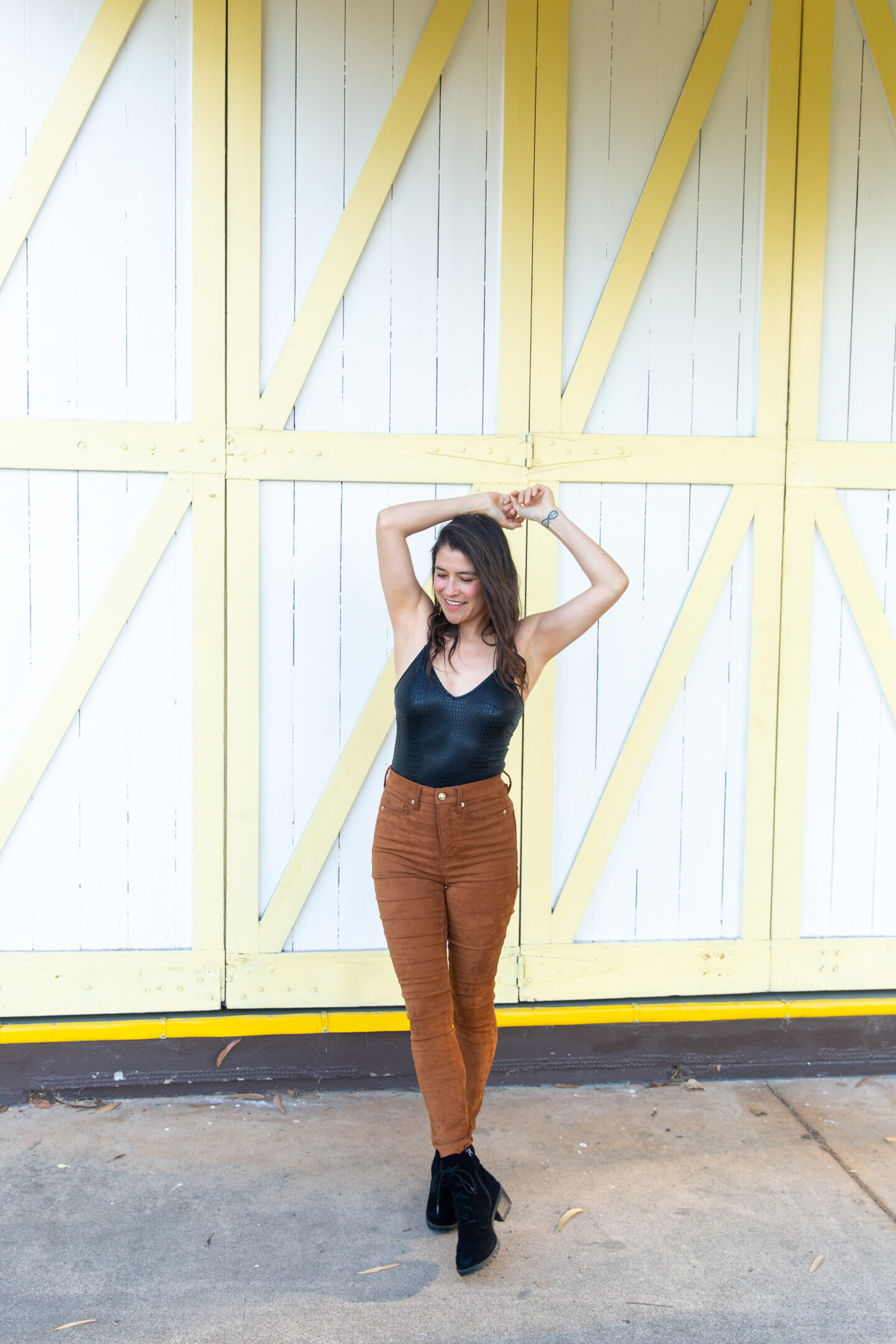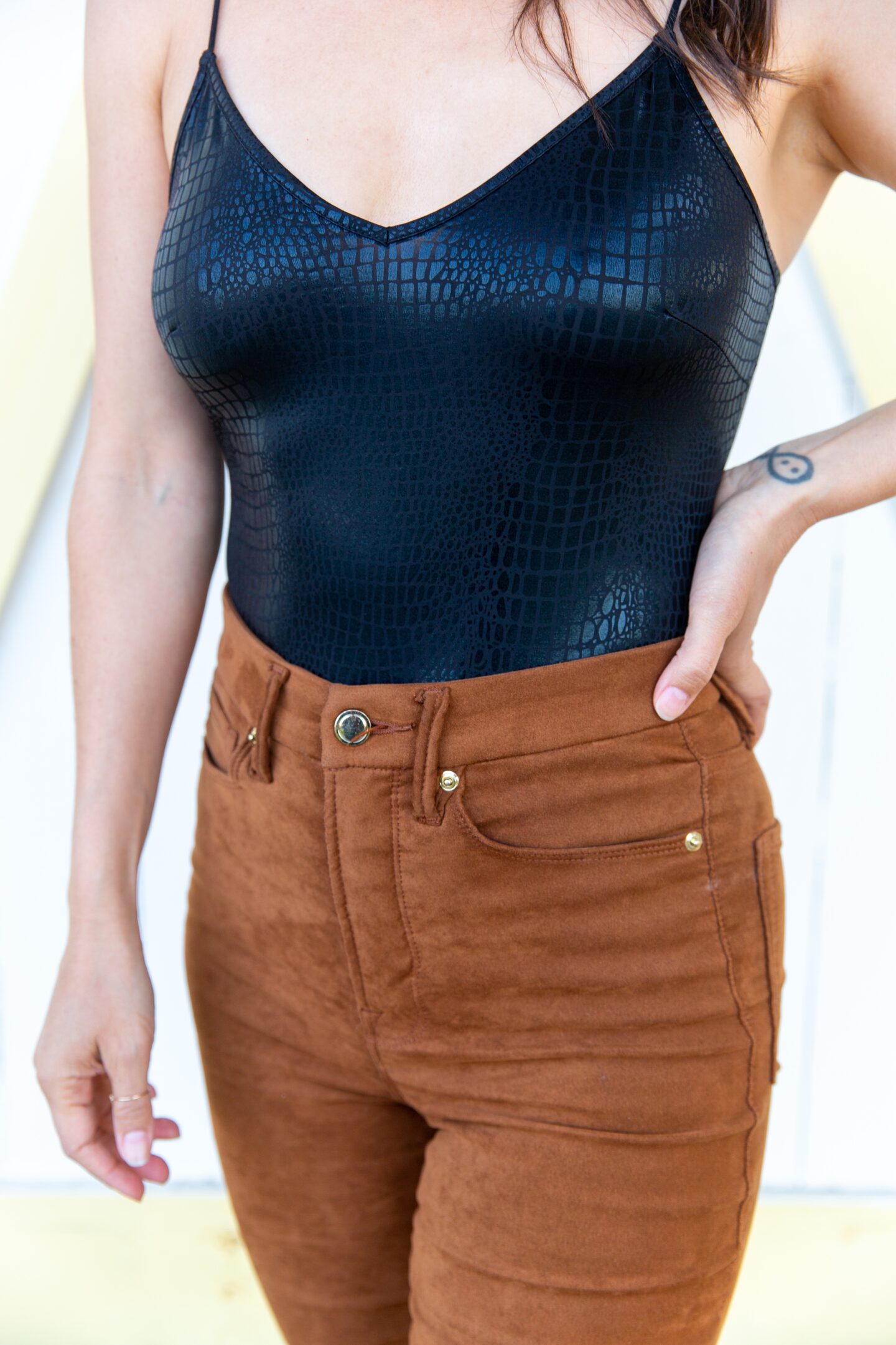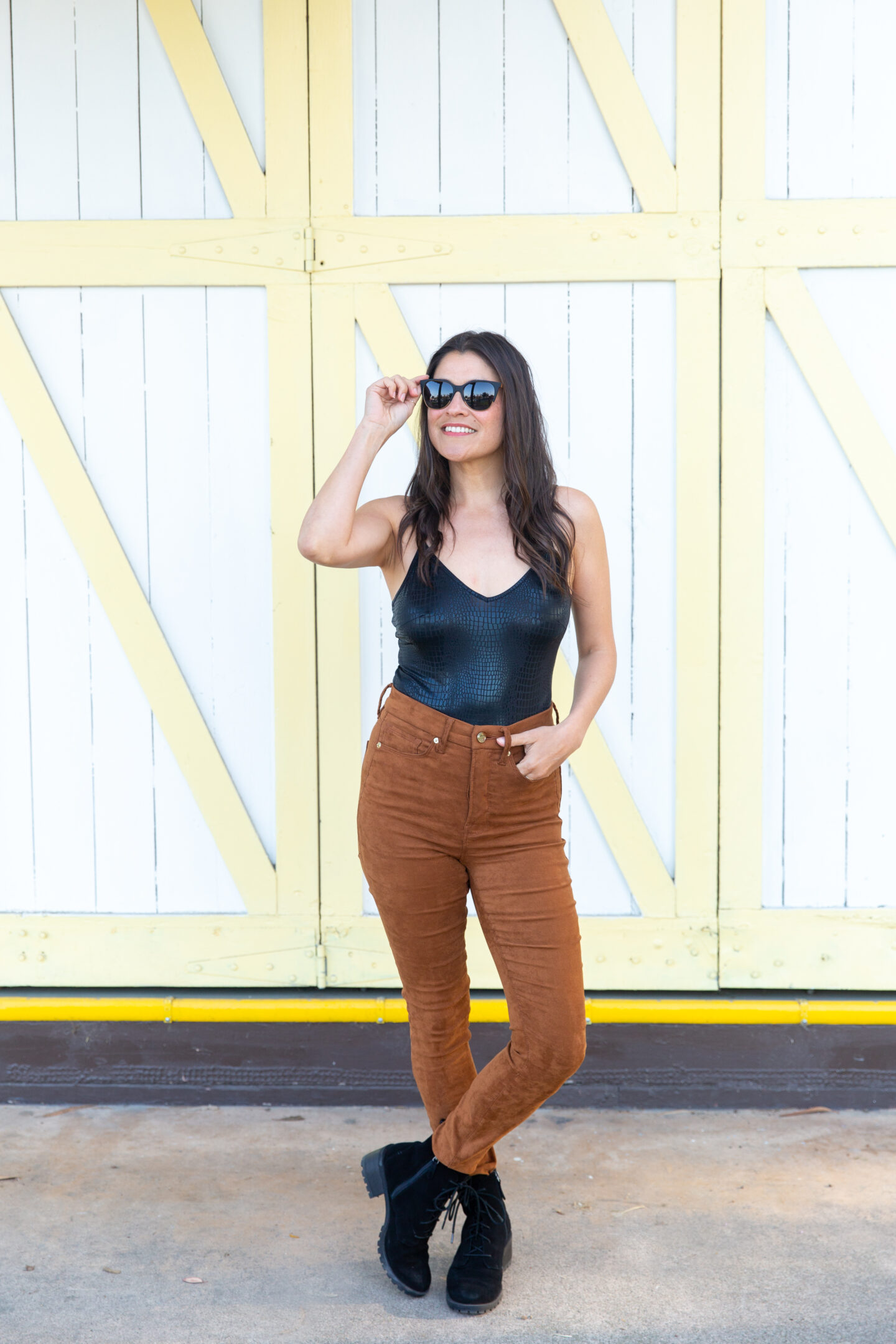 Colors that go well with Tan Pants From Years Past
 I originally wrote this post years ago and update it regularly due to its popularity. I've left these photos below for nostalgic purposes. Whenever I update older posts, I love to hold on to a collection of images as a bit of a time capsule so we can watch how our style evolves.
Best Tan Work Pants: Vince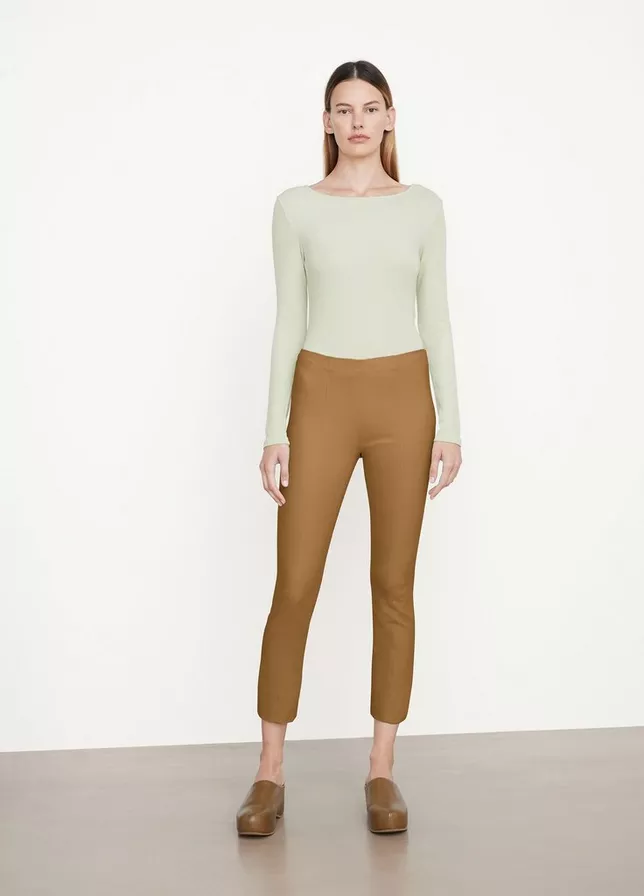 For those who want to get into the details, my top pick for a year-round tan pant is by Vince. Vince came out with an impeccable pair of ankle-length, side zip pants in tan that stole my heart. I put these on as many clients as would let me. They call them front seam leggings, but that's crazy. They are slim fit pants. Although like leggings, they do pair beautifully with longer tops. These pants are available at Vince.