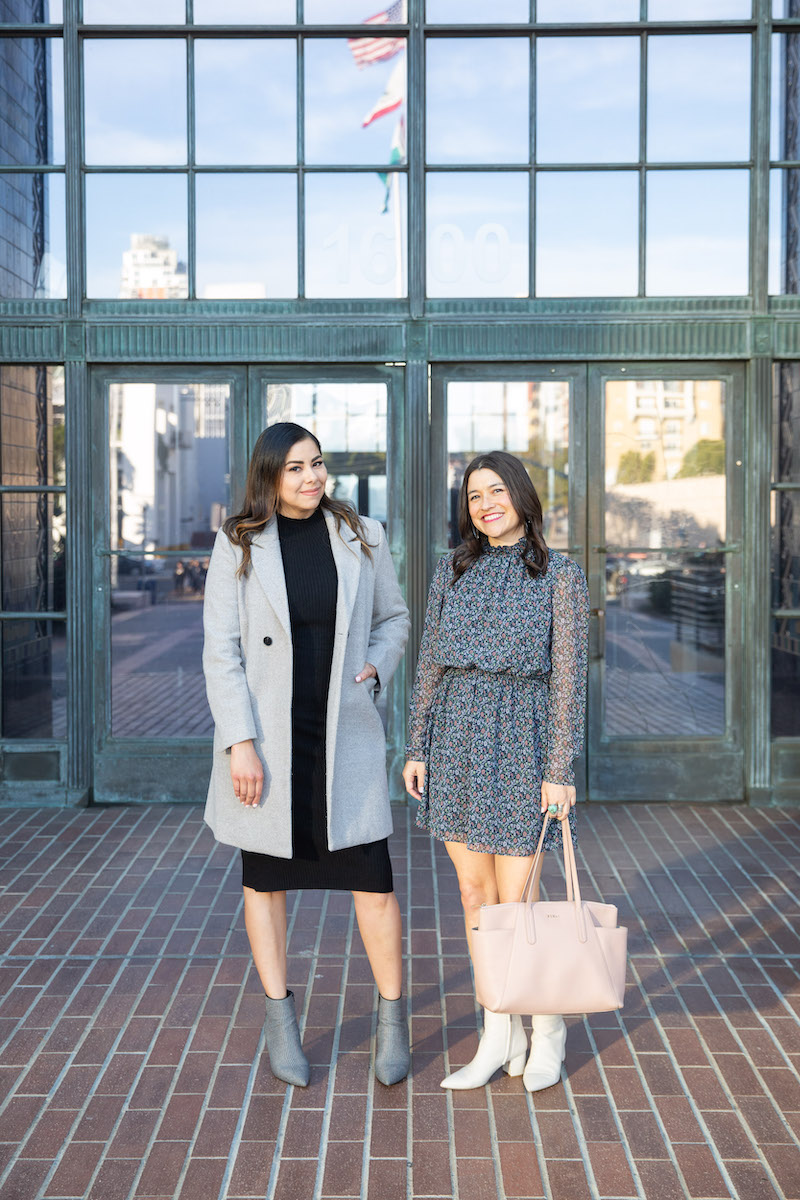 When I say San Diego winter work uniform I am referring to a San Diegan's go-to look for work in the winter. As you can imagine, it is not the winter work uniform of a New Yorker. San Diegans rarely need waterproof clothing or shoes. But it does get chilly and cold weather tends to bring out the uniform in us all. I teamed up with fellow San Diego fashion blogger, the esteemed Paulina Morales of Lil Bits of Chic, to discuss our go-to looks for work this winter.
My San Diego Winter Uniform
My job has me hustling in homes or stores that are well heated, so unless it is seriously cold, I generally skip jackets and coats when I am working. Outerwear gets in my way, feels bulky, and tends to get left behind in a dressing room or client's house if I'm not careful. To make up for the lack of outerwear, my San Diego winter uniform is a long sleeve dress, my favorite Hue socks, and booties. If I am meeting a client I have been with for some time, my second go-to winter work look is jeans, Rothy's pointed toe flat, a Madewell Northside Vintage T-Shirt, and my olive green Rebecca Taylor leather jacket. I have also been enjoying jeans, Rothy's, and a unique pullover sweater. (Can you believe the woman who didn't wear jeans for a decade — me — is wearing jeans now? And to work?! Times are a-changing, or to be more accurate, jeans are a-changing.) I have also been loving high-end midi dresses this winter. The coverage is truly warmer than a shorter dress. Here is the break down of my four winter uniforms I have been sporting this season:
Paulina Morales' Winter Work Uniform
Paulina is a manager at a financial services firm in a chilly UTC office. Her winter work uniform is about being sleek, yet comfortable and warm. To showcase her go-to chilly season look, Paulina opted for a midi length turtleneck knit dress that "feels like wearing a blanket." She wore it with a structured coat to create that aforementioned sleekness and keep it office appropriate. "I paired it with ankle booties vs pumps because I can sneak some warm socks in there," she said. You can read her full blog post on her winter work uniform here.
Your Winter Work Uniform
In the past, my winter work uniform was leggings, taller boots, and a longer sweater. Your winter work uniform could be trousers, pumps, and a turtleneck. The key to a successful winter work uniform is to have all your pieces ready in the quantities and colors you need, instead of scrambling in your cold closet every morning. For example, I have five Madewell Northside Vintage T-Shirts (2 Dijon Mustard, 2 Golden Pecan, 1 tranquil lake) and numerous unique sweaters to wear with my jeans. I have every color of bootie I need for all my dresses and jeans look (tan, black, navy blue, and off white). I have three pairs of Rothy's The Point (navy, marigold, and flame), and so on. If you need help creating your own winter uniform, let me know. I am happy to steer you in the right direction, or create a blog post with your needs in mind.
Photos by Dayley Photography