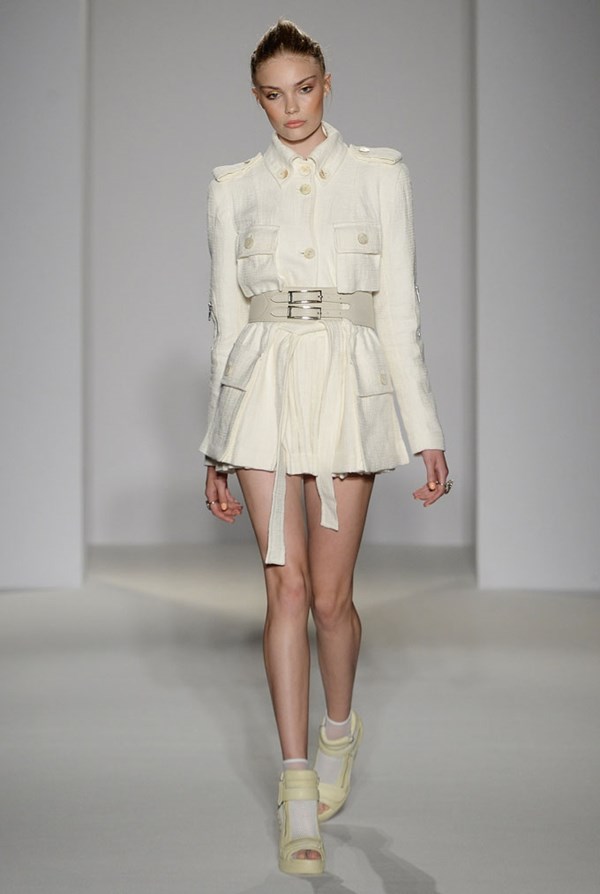 One of my favorite British designers is Paul Costelloe. He always impresses me with his sophistication, and wearable drama. It is no surprise that his runway show for London Fashion Week this season took place at the ornate Le Meridien and Prosecco was distributed prior to the show. Nothing like a grand catwalk with a side of bubbles.
Favorite Paul Costelloe Looks
Prior to the show, I had the pleasure of chatting with one of the sons of the family-owned Emblem Weavers, Paul Costelloe's linen provider. With this conversation in mind, I played close attention to Costelloe's use of linen, and I have to say: gorgeous. I also adored numerous pieces from his white series, especially the coats, but that is a given. Paul Costelloe is always making amazing coats. I also loved his blue series and was surprised by how much I liked his lace-up dress. I am generally not a fan of the lace-up look, but I think it being made of the yummy Irish linen sold me. Scroll down to view all my favorite looks from Paul Costelloe.
Paul Costelloe Looks To Avoid
There was a handful of girly-girl looks that I would recommend avoiding. There was also some overly tight and revealing looks that won't flatter many women, and generally won't have a place in my clients's wardrobes. Lastly, there were a couple of 80's inspired looks I would skip as well. To see his entire spring/Summer collection, go to the London Fashion Week website.
Paul Costelloe Right Now
A Paul Costelloe coat is always a good idea for winter, and cold weather travels. It will make you look forward to dreary weather. You can also take a note from his color palette and dive into the winter whites, off whites, creams, and ecru. This is very easy to pull off in a city like San Diego.