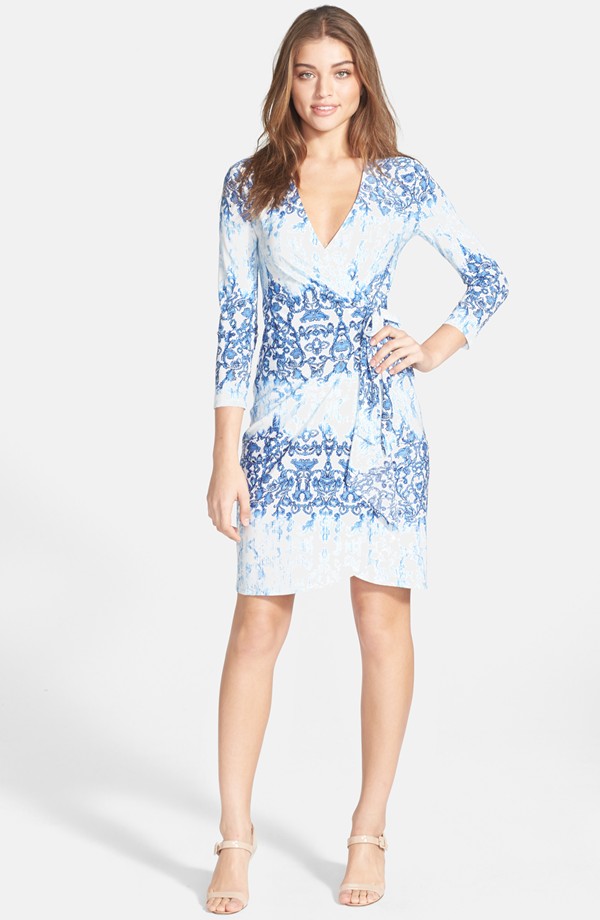 BCBG 'Adele' Print Jersey Wrap Dress $198
I have a bit of a secret, and when I say secret, I really mean unusual fashion opinion as nothing fashion is a secret with me. Without further adieu, I am not a huge fan of the DVF wrap dress. Yes, there have been some perfect patterned wrap dresses – I believe it was only a few seasons ago (2012?) that her escapade into the green and blue prints really delighted me, but they are not always great. First of all, her use of collars on her wrap dress is not amazing, and her patterns, ditto. Also, the weight of that fabulous silk jersey can be too heavy sometimes. Yes, it hides any lumps and bumps of the body, but it can be too much. And the frocks are not always worth the $400 sticker price. All these reason add up to a bummer as many women absolutely adore a patterned wrap dress. We love how easy, comfortable, work appropriate and subtly sexy it is, but there is not a lot of quality options out there.
Thankfully, and surprisingly, BCBG has come to our patterned wrap dress rescue. This is a surprise as BCBG is also known for not having the most reliable prints. DVF and BCBG are both guilty of throwing some dated patterns our way. This is what I call a hit or miss label. Always worth checking in with, but must use a judicious eye. This season, BCBG is a hit on the wrap. Although made of polyester, the fabric is used well with a pinch of spandex for a silky light-weight result that is sexy and perfect for summer. Their wraps are also made well, so you will not have your breasts falling out, as can happen when you play with a cheap wrap dress. Lastly, and most importantly, the prints will not date you. My two favorite BCBG wrap dress prints are fresh, fun, and, you know, perfect.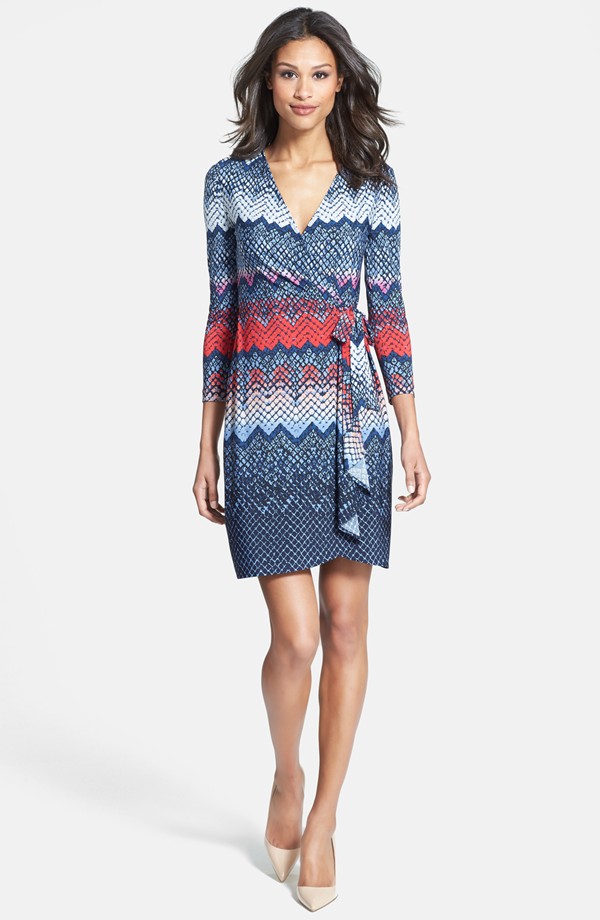 BCBG $118.70