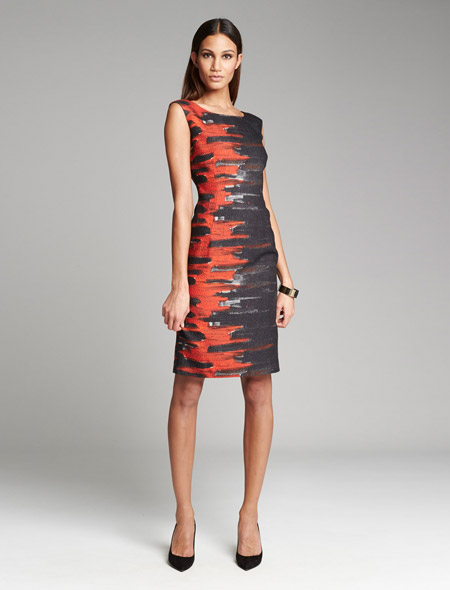 My absolute go-to professional look is statement dresses, statement sheaths in particular. There is nothing easier than throwing on a fabulously printed sheath dress, chic shoes and running out the door. Technically speaking, you don't even need jewelry. All attention will be on the artistic print of your dress. This type of statement dress is for ladies like myself that want to look 100% amazing with  zero effort, and spill on themselves a lot. Yes, I constantly spill on myself because I am constantly eating and often do this eating while driving. (I'm talking tacos and burgers here.) I do not recommend the driving and eating, but I do recommend dinning in a print. Prints are absolute doves when it comes to covering up a stain.
I usually get my statement dresses at Anthropologie, but I have been wildly impressed with Lafayette 148 New York. You may be thinking Lafayette is not for you. You thought Lafayette was for very mature women. Sometimes, yes, and sometimes no. When it comes to their printed sheaths, they are definitely ageless and I love that they come in petites. I put one client in the red and black one for a nice dinner in France, and I am about to put myself in this brown and yellow striped glory pictured below. It will pair perfectly with my recently washed bun, make-up less face and my gold sandals that I designed on Milk and Honey. I'll top it off with my gold Alexis Bittar dangles and bangle, but if I forget those jewels, I'm sure my clients will barely notice. That is the beauty of statement dresses.
Lafayette runs big, so order a size down. I also recommend ordering petites if you are 5'5′ or less because their hems run quite long.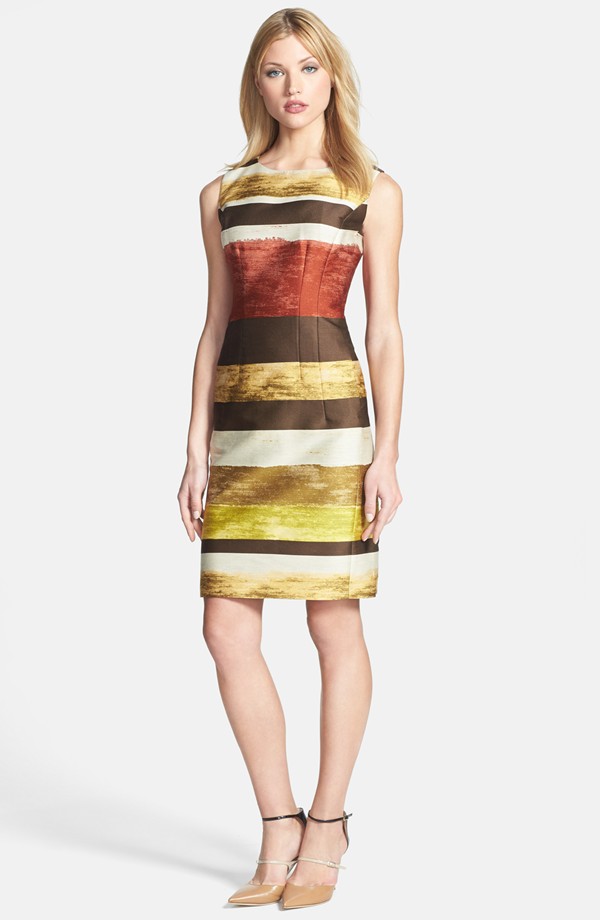 Lafayette 148 New York $348