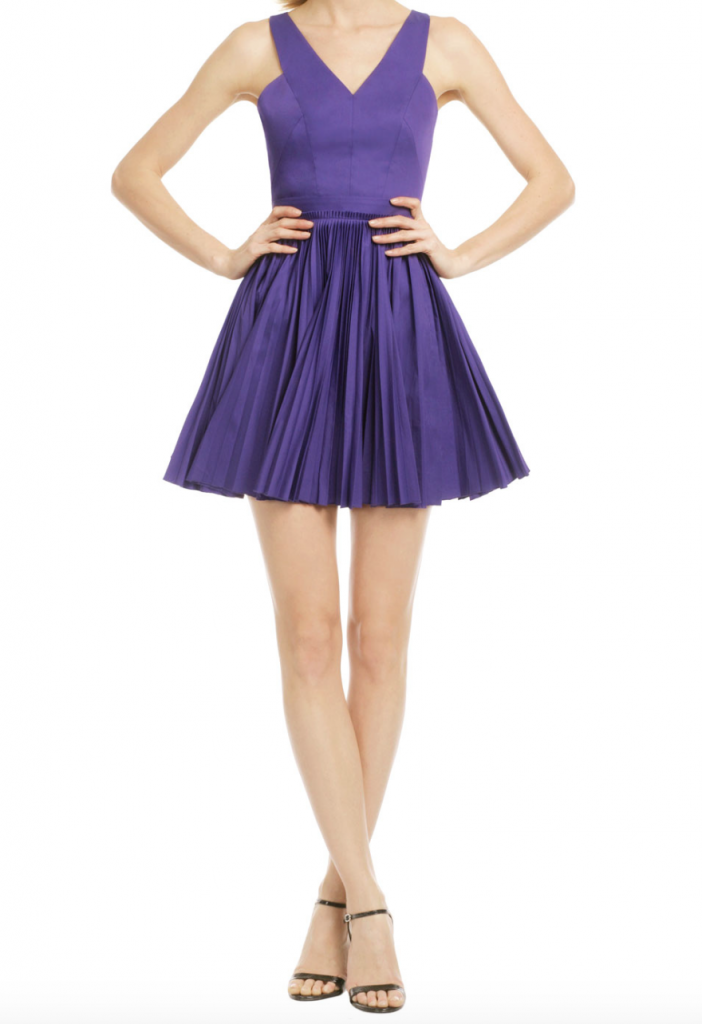 Rent The Runway has been on my "Check It Out" list for ages. My "Check It Out" list is for services, brands and stores I haven't tried that I think will benefit my clients. I finally got around to testing it out this summer for four reasons. First of all, the idea of Rent The Runway is genius. You can rent garments and accessories for special events or occasions instead of buying a dress you know you will only wear once. Second, one of my best girlfriends uses it all the time and raves. Thirdly, the amount of formal dresses lined up in my clients closets is appalling. Finally, I have become one of those people who bores quickly of my clothing, but still wants high quality (aka expensive) clothing. Let's just say the price-per-wear of clothing is getting higher, and renting is now looking far more cost effective for me.
My Rent The Runway Dresses
I used Rent The Runway twice before writing this review. The first dress by Milly made me look like a marshmallow, but I loved the second one. It was a lovely Robert Rodriguez purple frock. I sported it at a girlfriend's wedding. You can see the image of the dress from the website above, and then the image of me in it below.
Rent The Runway's Website
Cons: I don't like the organization of their menu bar. The Unlimited Tab and Shop tab is confusing. I could go into detail about why its confusing, but it will only confuse you. Basically, the Shop tab doesn't make sense because you can actually buy some of the clothes, so you think that is where you are supposed to buy clothes, not rent them, but it turns out that is where you go to browse the garments you want to rent. The Unlimited tab is confusing because it has a choice that explains the Unlimited deal, as well as a few categories from the Shop tab. Check it out, its weird. I also don't like that you can't filter your garments via fabric.
Pros: Once you finally find your way to what you want, say Cocktail Dresses, it's very easy to filter down to what you want. You can choose color, body type, age, neckline, sleeve length, hem length, designer and size. I give props for their body type section. They do a pretty accurate job of what will flatter. I also ADORE the images of other consumers in the dresses and the Rent The Runway reviews of each dress. It really shows you what the dress looks like on "real" people and it is informative of the fit.
Selection: they have a pretty good selection of things, including Plus Size (size 14-22) and Maternity "Friendly," but I would like to see more options from each designer. Their general selection seems like a lot at first, but when you see what they have for each designer, like Rachel Zoe, it's not much.
Rent The Runway Customer Service
I had to call in once because the first dress I ordered didn't fit and I adored the customer service. Very little wait time, super friendly, and she sent me the size up free of charge. If I had wanted a different dress entirely I would have had to pay shipping, but the rent cost would have been the same. Note: you always have the option of ordering the same dress in two sizes for the price of one to ensure fit.
Rent The Runway Delivery & Details
Delivery is prompt and accurate. You can schedule exactly the day you want it delivered and then you drop it off to a UPS drop off site. Also, you don't have to wash it. On my second use of Rent The Runway, I ended up spilling Proseco on the dress and then it accidentally got buried in the sand when I threw it off to go ocean swimming after a wedding. I sent it back, and everything was fine. I was very impressed. On that note, each dress I ordered arrived clean and ready to go.
Rent The Runway Cons
The only cons I see are as follows…
You can't alter the dress, so you need to have a body that generally fits into ready-to-wear dresses, or you need to order stretchy dresses. But this does basically rule out long dresses for petite women.
They don't have petites or true maternity wear.
You need to know how to shop online. You could end up wasting a lot of shipping money trading in dress after dress to find one that looks good on you.
Dropping off the dress is no fun. It feels like renting a video all over again. It's a race against time to get it to Blockbuster, I mean UPS, by noon on that fourth day. Thankfully, I realized I have a drop off station three blocks from my house. I just hop on my bike and ride it on over now.
Rent The Runway Unlimited Option
The Unlimited option seems like the best option for me personally, one who gets bored easily with clothing. The Unlimited means exactly that. I can trade in as many garments and accessories as I want for $99 a month. Kind of like Netflix, I can order three at a time.
This fixes my main concerns: no more racing to the UPS station and who cares if I order something terrible and ill fitting when I can just send it back and wait for the next item to arrive. The only problem is the wait list. Like a real one. This option debuted last fall and they have had a waitlist ever since. I "purchased" it on Aug 10th and I am still waiting to start the membership. I talked to customer service about it, and she explained it is still in test mode and they are trying to work with the demand of it. Most people wait over a month before starting. We will see how this turns out…
Overall Rent The Runway Reviews
I still think it is genius. I plan to use it regularly, and I will now be recommending it to my clients. Here is a Coupon Code: FIRSTRTR25X75X for 25% off your first order.