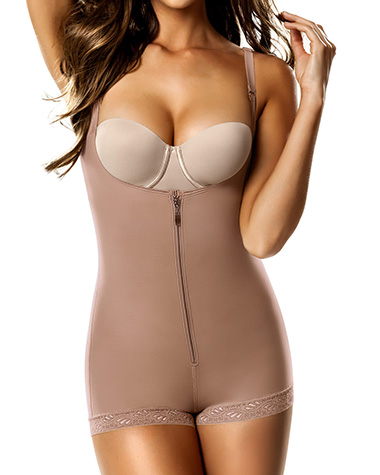 The Open Bust Body Shaper Boyshort by Leonisa is beautiful and intricately sexy. I opened the package that it came in while a friend was over. As I revealed the loot within the package, she gasped and stared. Wide-eyed she said that if it made sense, all she would own and wear is lingerie. She held the bodysuit in her hands, eyeing all its details for about 15 minutes before I was forced to pull it out of her hands and put it out of sight. I wanted to get back to our popcorn eating.
Like most shapewear, this pretty specimen slims your waist and flattens your belly. What makes this one special is the bum. So few full-bottom shapewear and even standard underwear flatter the behind. It usually creates a crease across the cheeks, but not this one. The bum portion is made of lace that lays gently. It is extremely sexy and wonderful to the eye.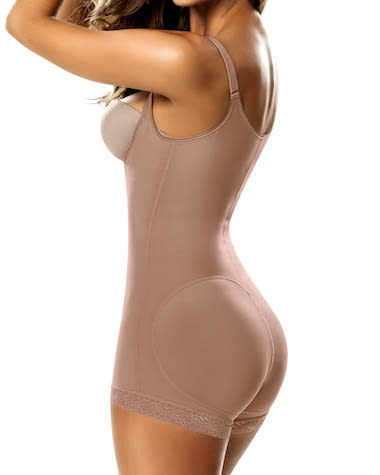 As for actual sex appeal, although tummy taming shapewear creates the appearance of a lovely and smooth torso, there is nothing less sexy than getting into or out of shapewear. This piece is no exception and may be one of the most difficult contraptions I have ever faced. Mother of God, it is like riding a raging bull getting into this item and only slightly less interesting to get out of it. When you finally accomplish the feat, you are standing there heaving, sweating, cursing, hair a mess, and all pleasure beaten out of you. I would never attempt removing this from my body in front of a man I wanted to attract.
If you wear this on a date, it's because you're working on staying at second base. In fact, this may be the best way for a lady with little discipline with sex to stop getting naked with men. It's not a foolproof plan, as the crotch opens for easy access, but it certainly stops nudity. In fact, this is a great piece for a woman who likes sex, but feels self-conscious about their midsection. You can expose everything else and still cover your stomach. If the man insists on wanting you naked, simply say, "Hey buddy, if you can get me out of it, you deserve to see me naked, not to mention the Congressional Medal of Honor." Unless he wields a knife, he will be defenseless against this tummy tamer, no matter how much valor he shows.
Still, if you are dedicated to shapewear, date or no date, the only thing less sexy then clawing out of pretty shapewear, is grappling with ugly shapewear. I vote for the pretty one.
Do you wear shapewear? Share in a comment below.
My product reviews are my honest and personal opinion. I never accept payment for product reviews although I am given the sample to keep. If I am sent something that is unimpressive or boring I don't write about it.