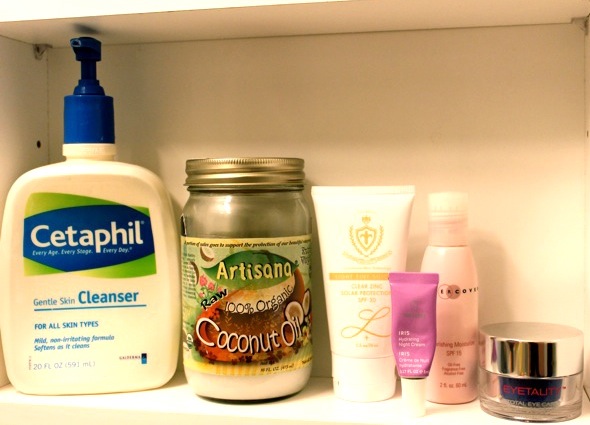 I had baby fresh skin for as long as I could remember, but for the past three years, I have had blemishes and witches step all over my face. I believe the problem came from testing out too many products, over washing, aging, and using the wrong moisturizer and sunscreen.
When the blemishes began, I was horrified. Since I had never really washed my face or used any products, I figured that was the issue. I decided to wash my face constantly. The constant washing made my skin dry, which called for moisturizer. Then I would put sunscreen on my face to protect my skin from the sun. I have always been addicted to sunscreen – a lesson I never forgot after getting a terrible sunburn on my face when I was young. I live in fear of feeling that pain again. Unfortunately, my fear of sunburn gave way to vanity. The combination of intense washing and sunscreen was making the blemishes worse. I decided to start skipping the sunscreen and moisturizer. This helped with the blemishes, but for the first time in my life I looked old. My dry, sad skin had grown huge pores. I caught sight of my face in the mirror at a restaurant one night, and felt true vain fear for the first time. I am too young to have old skin. I went back to sunscreen and moisturizer, but the blemishes intensified again. Finally, I decided to wash my face less. I am to wash my face in the shower after my morning run and before I go to bed, no more that that. I also decided  I was not allowed to touch my face or think about its issues. My skin got better, although not amazing.
The final pieces of the puzzle came together when I visited Girl On The Go Spa. She introduced me to Lucréce zinc sunscreen and informed me not to use any SPF moisturizer at night. SPF moisturizer is for protecting you during the day, not healing you at night. I purchased the Lucréce sunscreen to use exclusively for my face, (Banana Boat, Aveeno and Nuetrogena will only be used on my body from now on), I stopped using my SPF moisturizer in the evenings, and started using my mom's recommended night cream, Weleda. My face is finally under control. Now I can see the skin I used to have. I am beyond excited. Beyond. Who knows if it is the total combination, maybe my skin just settled, but this is the combination of products I am using now, and my face is almost completely back to normal. This is the best I've looked in years. Pictured below is my mug sans make-up or Photo Shop. Yes, I look washed out and tired, but I don't even want to show you what I looked like sans make-up and Photo Shop last year.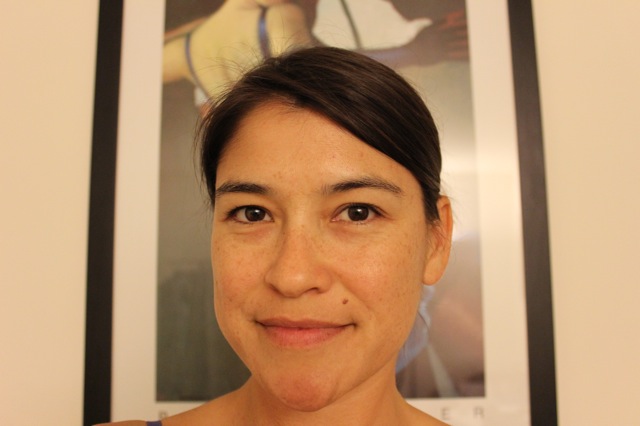 Face Wash: Cetaphil Gentle Skin Cleanser
I would prefer a less chemical based face wash, but this is what is working for me right now. I will keep my eye out for a more natural equal. I am open to suggestions.
Day Time Moisturizer: Sheer Cover SPF 15
I put a nickle size dollop on the tips of my fingers, then pat my entire face, neck and decolletage with it. A few weeks ago, I was using it at night as well, but I know better now not to do that.
Sunscreen: Lucréce Clear Zinc Solar Protection SPF 30 (Light Tint Silicone)
Even though I am told the bottle will last me 6 months or more, at $55 for 2.5 oz, I use it carefully. I put little drops on my fingers tips and dot it around the areas most susceptible to the sun: my high cheek bones, the center of my forehead, the top of my nose, the center of my decolletage, and my chin for luck. I tend to just use my pointer finger, adding more dots of liquid as I need it. Although, the price keeps me gentle with its use, the fact is you actually don't need a lot. This is a high quality product that works with every drop. There's no need to slather. I put a minimal amount of this sunscreen on my face every morning for a week while I was putting in 16-hour days on a TV show. I was in and out of the sun constantly, yet I never burned or reddened. Another reason to be stingy with its use is its tinted quality – too much of this product and it looks like you are wearing full face make-up.
Eye Make-Up Remover: Artisana Raw 100% Organic Coconut Oil
I love the purity of it and it works like a charm. I just dip a tissue in it and swipe at my eyes. I use it before I wash my face and then again afterwards.
Night Cream: Weleda Iris Hydrating Night Cream
Due to its thickness, I apply it the same way I apply the Lucréce to avoid a heavy application. I live in apprehension that using too much product will ruin my skin again. I also don't like my skin to rely heavily on outside resources. For years and years, my skin operated perfectly on its own. I never washed my face nor used a moisturizer – only basic sunscreen touched my face. I secretly believe it was the introduction of face wash that sent my skin into a spin. The less I use of everything, the better. I figure the more your body uses something, the more it needs it.
Eye Cream: Eyetality
This is an eye cream and eyelash grower in one. I see a difference in my lashes, but I don't really see much of a difference in the skin around my eyes. I believe wine and age is giving me dark circles and bags, and I don't believe this eye cream is putting up much of a fight. Still, I use it every night. I do like the lashes perk, but when I finish it, I will search out a new one.