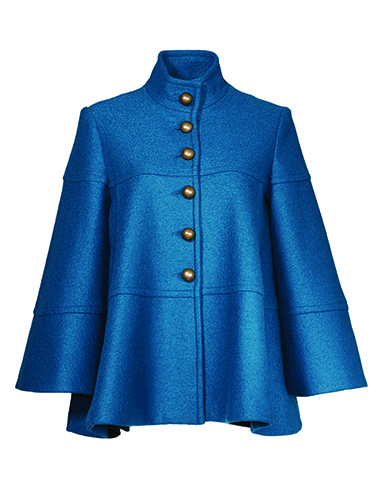 I collect stylish coats and jackets, but rarely wear them. Part of the reason is my residence in temperate San Diego. The other reason is my exciting outerwear is not versatile enough and too memorable for regular use. My collecting of stylish coats and jackets is a very expensive habit that I have remedied with Rent The Runway's Unlimited Membership. Rent The Runway Unlimited, with tax, costs $150/month. For the first shipment of the month, you receive 3 pieces that you can keep as long as you want and exchange anytime. You exchange by returning 1, 2, or 3 of your items and then select new pieces for your next shipment when the other items reach the Rent The Runway Warehouse. Because of who I am, what I do, my body type, and my lifestyle, I am a subscriber year round, but for the average woman, I don't think it is worth it… with the exception of winter.
Come winter, I highly recommend Rent The Runway Unlimited for their outerwear alone. For example, a quality interesting coat costs an average of $400+ dollars. After one winter season or sooner, I am bored of it and always end up purchasing a new coat the next winter. Three months of Rent The Runway Unlimited costs $450 and I get access to numerous different coats. I can switch out every week if I wanted. I love renting the most outrageous $700+ outerwear before going to London or New York. Plus, I can access a bunch of different party dresses for the season's holidays parties. For winter, this service definitely saves the average stylish woman some money and opens up more sartorial opportunities.
Below I have listed a combination of coats I love from Rent The Runway as well as numerous stylish coats you can purchase from J.Crew, Nordstrom, or Bloomingdales. Something to note, Rent The Runway members can purchase anything they rent at a discounted price.
J.Crew Stadium-Cloth Cocoon Coat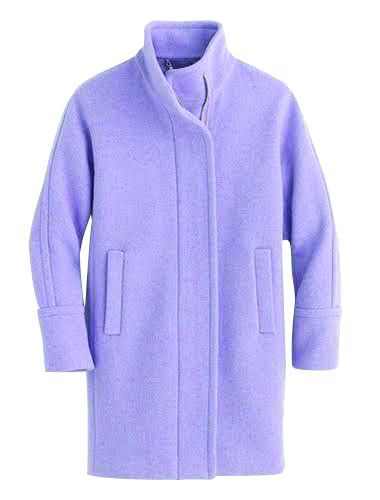 I couldn't help but purchase this stunning J.Crew cocoon coat in heather french purple. I wore this in Utah last week and loved the comfort and the color. This shade of purple seems to flatter everyone. I have put it on three of my clients as well.
Sizing Tip: The regular size runs big, order down. The petite size is quite short and seems to run more true to size.
James Jeans Faux Leather Lapel Ponte Blazer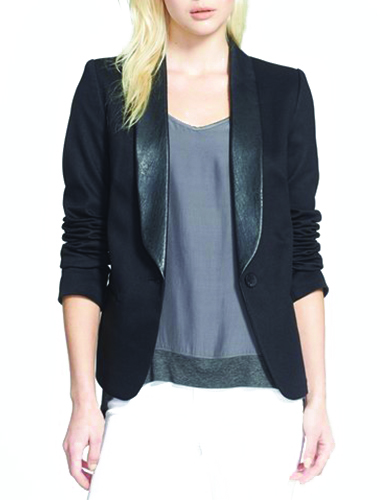 My clients LOVE this James Jeans blazer. It is sophisticated yet edgy and flatters almost everyone. It is my number one black jacket for clients right now.
Sizing Tip: Runs true to size.
Tibi 'Akik' Bomber Jacket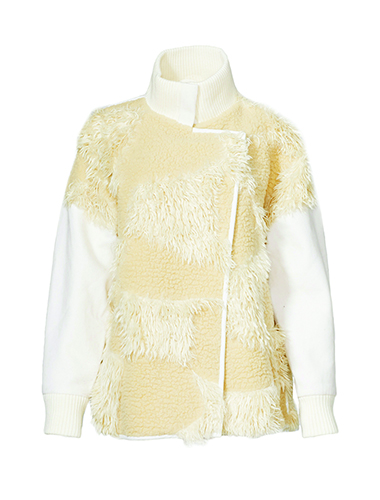 This furry Tibi coat is one of my favorite statement jackets I have ever worn, until it starts to leave fluff on everything. It also starts to wear badly, so I am am very pleased I was able to send it back to Rent The Runway after a stylish week with it in London. It was completely worth it.
Sizing Tip: Runs big. As a size 6 woman I felt comfortable in the size XS.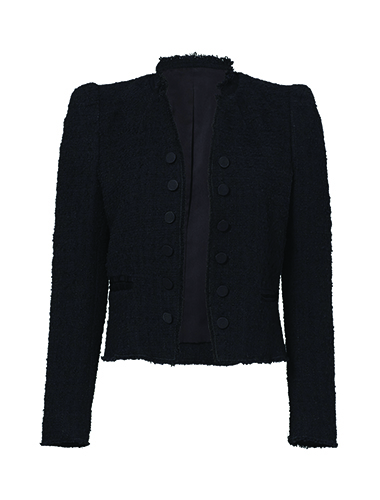 I ordered this Rebecca Taylor tweed jacket from Rent The Runway and love the fit. It moves with your body, it is completely comfortable, soft, flexible, and a great take on black outerwear. It works best with skirt looks.
Sizing Tip: Runs true to size. I am usually a 6, and I ordered a 6.
Ted Baker Short Belted Stylish Coats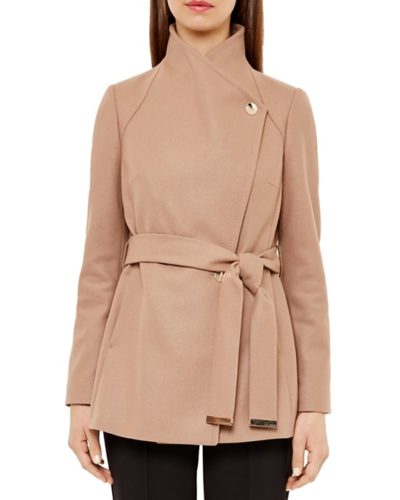 Ted Baker is my #1 go-to for stylish coats. They flatter almost everyone, the quality is fantastic, they don't itch, and silhouettes are timeless. I have been wearing my red Ted Baker wrap coat every winter for the past four years. It is still completely fabulous.
Sizing Tip: As a size 6 woman, I wear a size 2 in a Ted Baker coat, but I wear a size 3 in Ted Baker's blouses. Keep in mind Ted Baker has a unique sizing system of 0, 1, 2, 3, 4, 5. I would recommend ordering two sizes and then deciding which fit is best.
Burberry 'Tempsford' Cashmere Wrap Trench Coat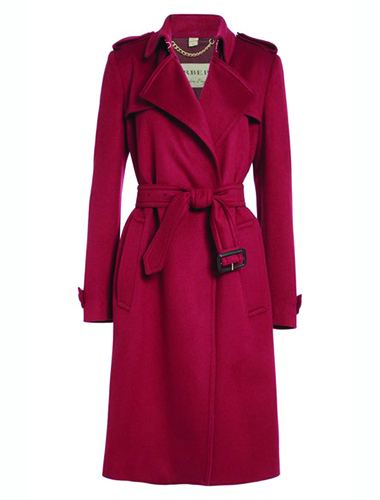 This Burberry trench coat is incredibly soft and absolutely lives up to the Burberry name. Plus, this deeper shade of berry red will flatter just about anyone and will wake up all the black clothing and boots we often wear when it gets cold.
Sizing Tip: Runs small. Order 1-2 sizes up.
ASTR Faux Suede Moto Jacket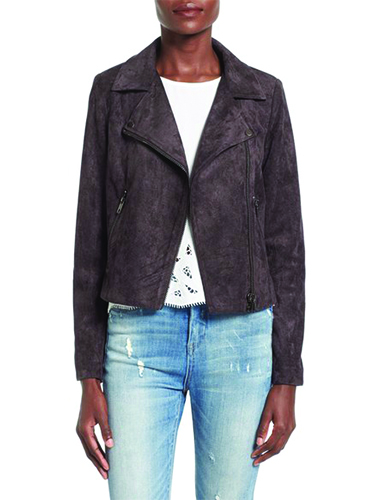 This faux suede moto jacket is soft, flattering and works as both a grey and a brown jacket. I highly recommend this for travel.
Sizing tip: Runs true to size and has a bit of stretch.
Tibi Green Admiral Cropped Peacoat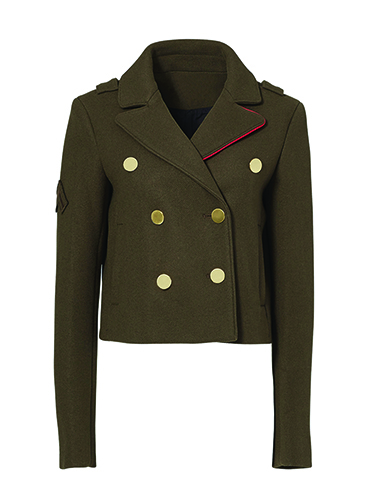 Tibi makes fantastic stylish coats. This Tibi cropped military jacket is 100% comfortable and unique. Pair with a shirt tucked into jeans, or over a sweater tunic and skinny pants.
Sizing Note: The sleeves are long and the jacket runs big. As a USA 6 woman, I had to wear the size 4, and the sleeves were still too long. I wore it anyhow, and pretended it was intentional.
Boss 'Souza' Single Breasted Leather Trench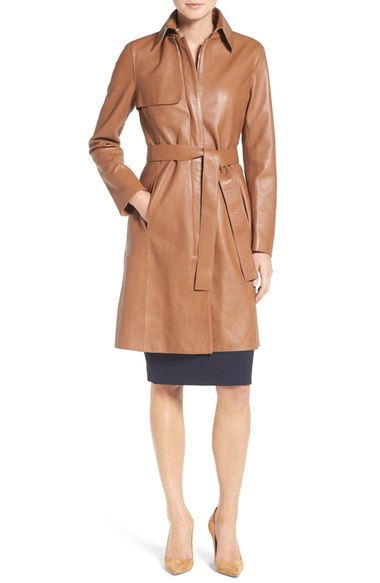 Oh my dear, this Boss leather trench is to die for. It feels amazing, the color is SPOT ON, and it flows beautifully. This is true luxurious sophistication embodied in a leather coat.
Sizing Tip: Runs relatively small. Order a size up than you would usually order.
Acler Midnight Bauer Blazer
This Acler statement blazer is divine. The architectural feel of the jacket makes me feel like a gallery owner in New York. Pair with skinny pants and wear it like a tunic top.
Sizing Tip: Runs true to size. Ignore the reviews that say it runs large. It does not.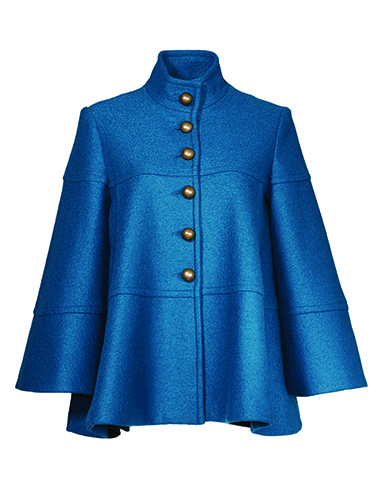 This Nanette Lepore cape is utterly fabulous. It is a comfortable and flattering statement piece that always makes me feel like the most interesting person in the room. And the color flatters EVERYONE.
Sizing Tip: Runs big. As a size 6 woman I felt comfortable in the size XS.