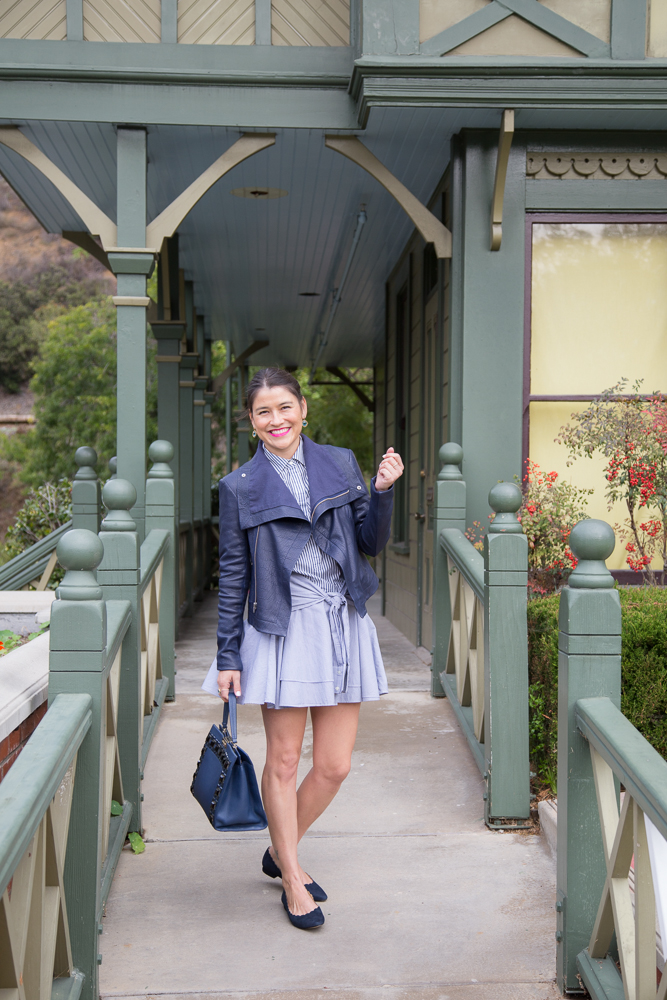 Updated November 2018
I often use navy instead of black as the base color for a client's wardrobe. Navy flatters almost every skin tone (unlike black), pairs well with most other colors, and works year round. Despite the color's versatility, my clients often struggle with how to wear navy, so let's break down the details…
Navy Blue Essentials
To make navy blue the base color of your wardrobe, you will need these 10 items…
Best Navy Flats
Navy shoes are the most important item on the list above, and since my clients wear flats more than heels, I am always searching for stylish yet comfortable navy flats. This year I finally discovered the best pair, the Talbots 'Edison' scalloped pointed toe suede flats. The color is a yummy rich navy, the structure is absolute perfection for flattering the leg, the price is affordable, and the comfort is a success. They may not be flexible enough for my clients with serious foot issues, but I am truly delighted by their comfort.
Navy's Favorite Color Pairings
Navy is best paired with these five colors:
Tan
White or Cream
Pink
Yellow
Light to Medium Grey
What Not To Wear With Navy
There are only two rules I have with navy…
Don't pair black shoes with navy garments.
Don't wear navy tops with medium to dark blue jeans.
Black and navy pairings only work when you are creating an intentional black and navy outfit, usually based on a black and navy blue print or garment. Only then, do black shoes work with navy garments. (I will do a post on how to wear navy with black at a later date). As for denim, most everyone knows the blueberry result of a navy blue shirt with blue jeans.
How To Wear Navy Outerwear
One thing to know about navy outerwear is that although black jackets pair just fine with a black dress or black top, navy rarely matches its fellow navy garments exactly. You only notice this when you start layering navy on top of itself, so you generally only want to use navy outerwear with printed blue blouses or dresses paired with navy shoes.  The best dresses for the navy jacket and navy shoe combo are dresses with blue-based prints (as pictured), yellow dresses, pink dresses, and grey dresses.
Photos by Robin Dayley
My blog posts are my honest and personal opinion. Sometimes my content includes products sent from companies or PR firms. In this case I was sent samples from Talbots and Zazzle. If I am sent something that is unimpressive or boring I don't write about it.