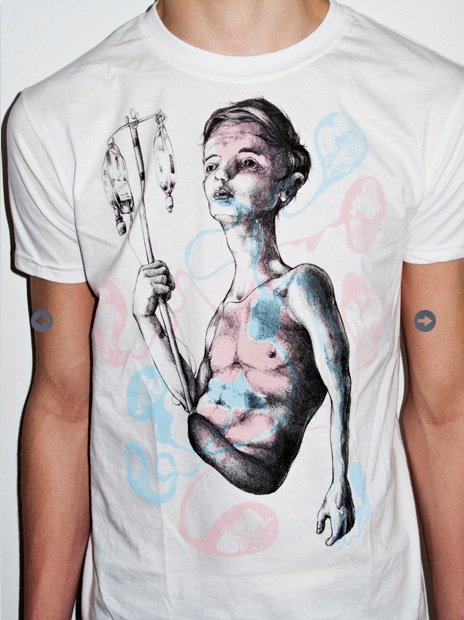 I return from New York after a long journey and find numerous packages at my front door from companies and PR firms as well as on line orders I made before I left. It's midnight my time, 3am New York time. Exhausted and excited, I kick the boxes in the door and throw my suitcase inside. It's like Christmas! I am delighted as I work my way through each parcel. The last one is in a plastic bag with no identifying marks beyond it being addressed to V-Style. I open it and find no paperwork, just a folded white t-shirt with splashes of color. I unfold it to reveal the most disturbing images on it. Maybe because I am tired, but I drop it on the ground and feel as if someone has threatened my life. I look down on it and see the shadow of typed words inside the t-shirt. I pick up the Tee and turn its soft fabric inside out so I can read the first sentence of the 480 words located on the back of the shirt…"Prescription medication advertising in the US is out of control."
I recall now the press release that was sent to me and the e-mail confirming a product being shipped for me to review. The t-shirt was sent to me from T-Post. They call it a wearable magazine, but you might call it subscription fashion. You can't just buy one T-shirt, you have to buy a subscription to X amount of Tees at 27 euros ($37) a month. Once you sign up, each subscriber receives a new t-shirt in the mail. The t-shirt has a news story on the inside of the back and then a graphic interpretation of that story on the front. Like a magazine subscription, you have no idea what you are going to get until it arrives.
The news story on the shirt sent to me was about pharmaceutical companies' advertising dollars and the risks of prescription drugs. The disturbing images inspired by that article included a creepy man with half a body, vomiting, and a child that appeared to have its organs coming out of its butt. On closer inspection, I realize it is diarrhea, not organs – which is much less horrifying, but gross nonetheless. I richly dislike this t-shirt and absolutely would never wear it, but I adore the idea and love many of the other graphic Tees from their archives.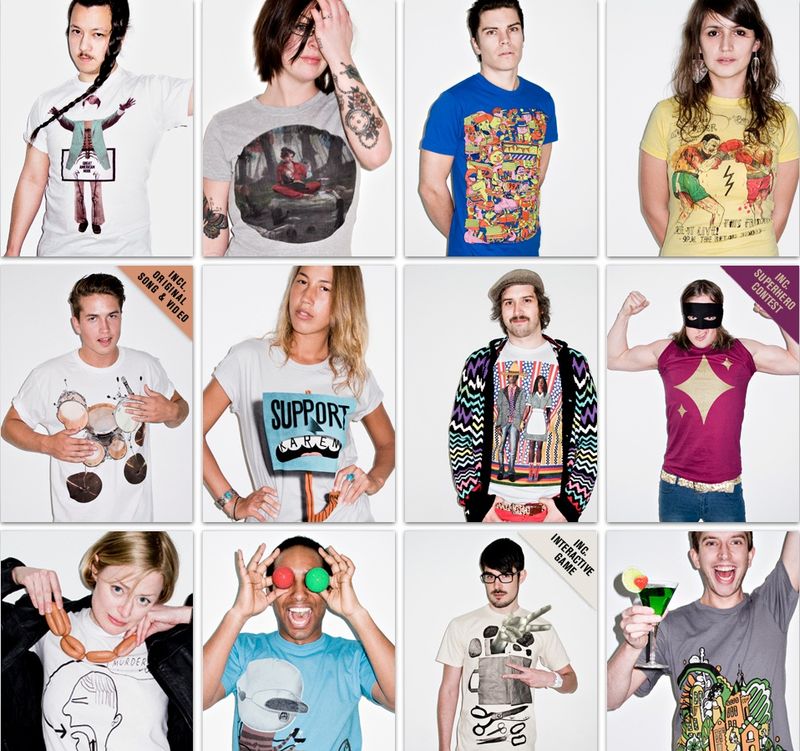 T-post begins its process by going through news stories submitted by fans and T-post subscribers. The T-post team then chooses one topic to feature each month. Once the story is chosen, they select an artist to translate the news story into an image, graphic or drawing. Each t-shirt is created by a different artist to keep T-Post fresh.
The cons of this amazing idea is the price of the surprise. If I had this subscription and I had paid $37 for the grotesque pharmaceutical Tee, I would be bummed. I wouldn't want to spend that many bones on a shirt that frightened me. My Vogue subscription costs half that for the whole year – then again I can't wear that without some major creativity and some glue.
The other con is the fit. For men the standard boxy fit is great, but for ladies I recommend Tees with some shape. I think as soon as they add the option of a shirt better suited for the female form, we'd be in business.
All and all, the garment is an awesome use of fashion and the t-shirts are wildly unique if not attractive and cool. I always welcome clothing that can start a conversation, especially when that conversation can shine some light on a topic worthy of an audience.
My product reviews are my honest and personal opinion. I never accept payment for product reviews although I am given the sample to keep. If I am sent something that is unimpressive or boring I don't write about it.