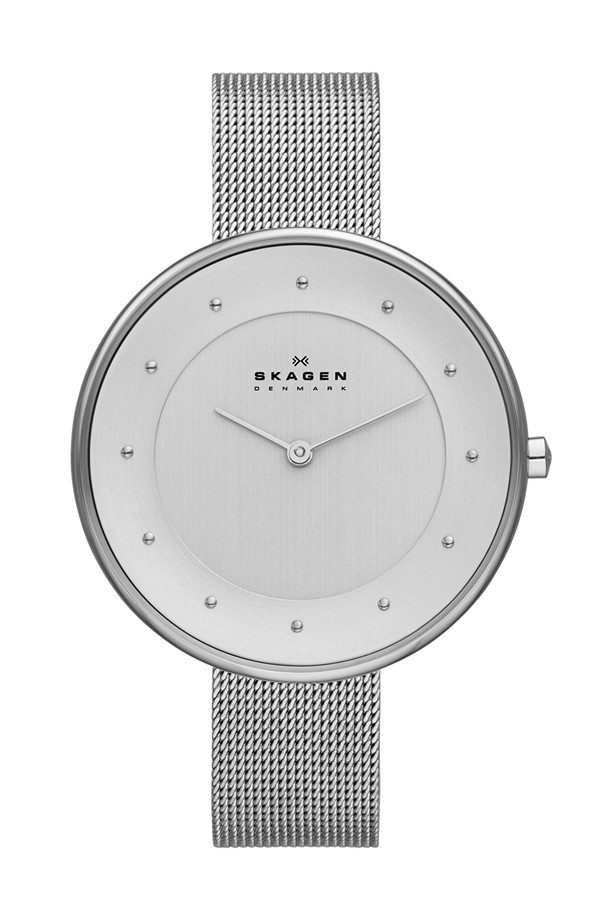 I adore stylish watches, but if I see one more giant Michael Kors watch – I should write something angry here (like I would scream!) to prove the point that big Michael Kors watches are terrible examples of stylish watches, but the the truth is, they aren't terrible, they are just tired. If I saw one more big Michael Kors watch, I wouldn't even blink. I won't even notice it because it has become that boring. It is a trendy background piece that has lost all interest due to its repetitive nature. I used to love the eccentricity of the giant watch. Leave it to Michael Kors to beat a dead horse until he's pounding away on it's cremation ashes.
Thankfully, there are other stylish watches that can be just as bold as the chunky gold 70's look. My clients and I are loving Skagen. Designed to combine Danish design with efficiency, the watch is luxurious, sleek, bold and, most importantly, easy to read the time. You may be thinking that you don't need to be able to read your watch in the age of cell phones, but you may be wrong. I find in many professional cases it is very important to have a watch. For example, as a personal stylist, my clients expect my full attention to be on them. Playing around on my phone in front of them, even to check the time, makes me look unprofessional and unfocused. They can't be sure I am checking the time and not sexting my lover. A watch is essential as I need to ensure I am not late to my next client without creating the impression I am a tech hungry fool.
Back to the style aspect. These Skagen watches are beautiful and true time pieces. They also look like more expensive then they are ($125), which is a cheesy way of saying they look extremely well made and of fine materials. Lastly, they are easy to adjust the size yourself, a small, but lovely perk for stylish watches.