Updated September 2018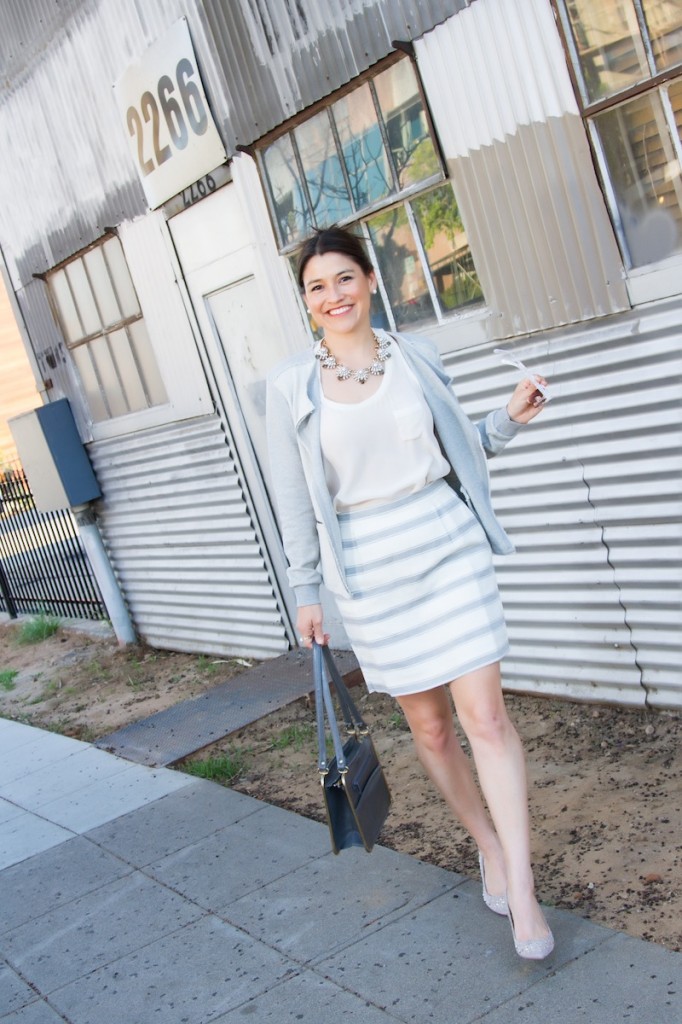 There is nothing more chic than a monochromatic outfit. To clarify, a monochromatic outfit is not necessarily a matching outfit. It can be separates of the same color in different shades or hues: a mix of pinks, a blend of whites and creams, a series of blacks, a coupling of yellows. It can be a difficult creation because you must blend.
How To Create A Grey Monochromatic Outfit
As pictured, I created a monochromatic outfit from greys and creams. I particularly like this pairing because two of the major players of the outfit have blended the two neutral colors already. This is my favorite and the easiest way to make a monochromatic outfit out of two similar colors. In this case, an off-white and very light grey. Then pair it with another garment that combines the similar neutrals.
The look I put together combines the comfortable structured jacket I wrote about the other day with a silk shell and striped high waisted skirt. I love this for work, but I could easily wear this on the weekend as well. My favorite aspect of this outfit is being able to wear all these random pieces. Silk white shell aside, not a lot goes with lighter colored bottoms, shoes, and outerwear. I don't like light jackets over darker tops, so that leaves pastels, whites, and light grays. Same goes for the skirt — I don't like top-heavy outfits with a dark color on top and a wispy light color on the bottom. My closet has very few pale, wispy shades, so it took a while to make this sweet monochromatic treat happen. Although the hunt for this look was organic, it began last year with the pale J.Crew shoes.
Tip: Remember, you don't want a piece that combines contrasting colors. That is color blocking. Monochromatic is not pairing two different colors together; it is coupling two similar colors.
Makeup With A Monochromatic Outfit
I adore a bold eye or lip with a monochromatic outfit. It's not like you're wearing camouflage; you don't need grey eyes and grey lips to go with this outfit. I chose a bold pewter eye using the BA STAR midnight smoky eye shadow palette that was recently sent to me. Obviously, the pewter eye color is still part of the grey family, but it is at the far end. I love how the bold pigment stands out from the outfit.
As for my first time with this make-up, I love how easy it was to cover my eye with the shadow (some take so many swipes to get dark) and it stayed on all night without collecting into the creases of my eye. It is officially my new favorite evening eye makeup.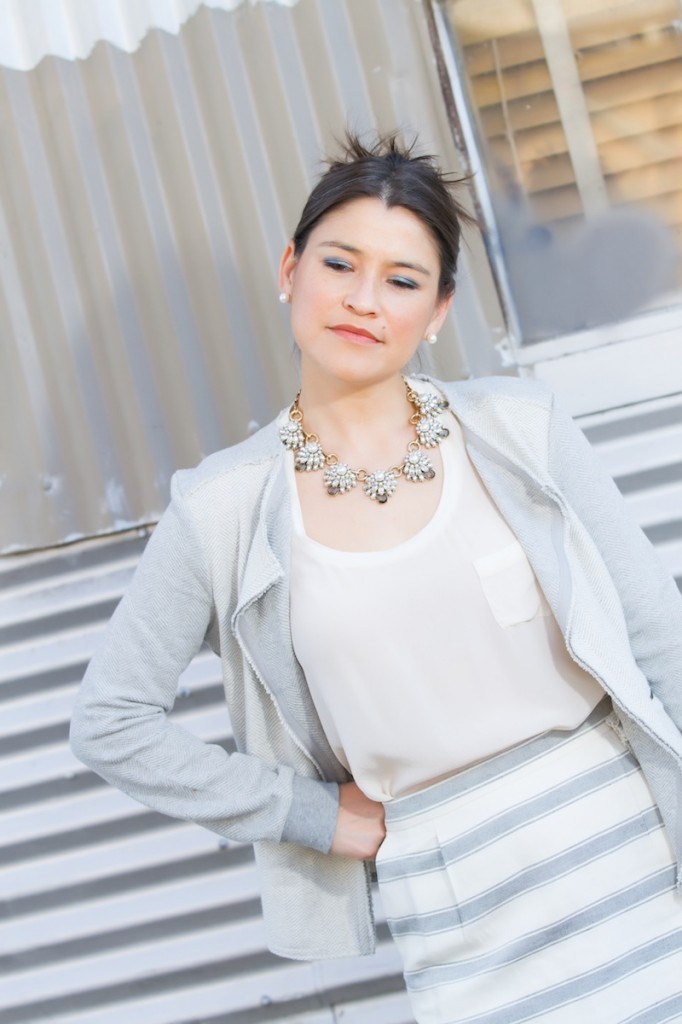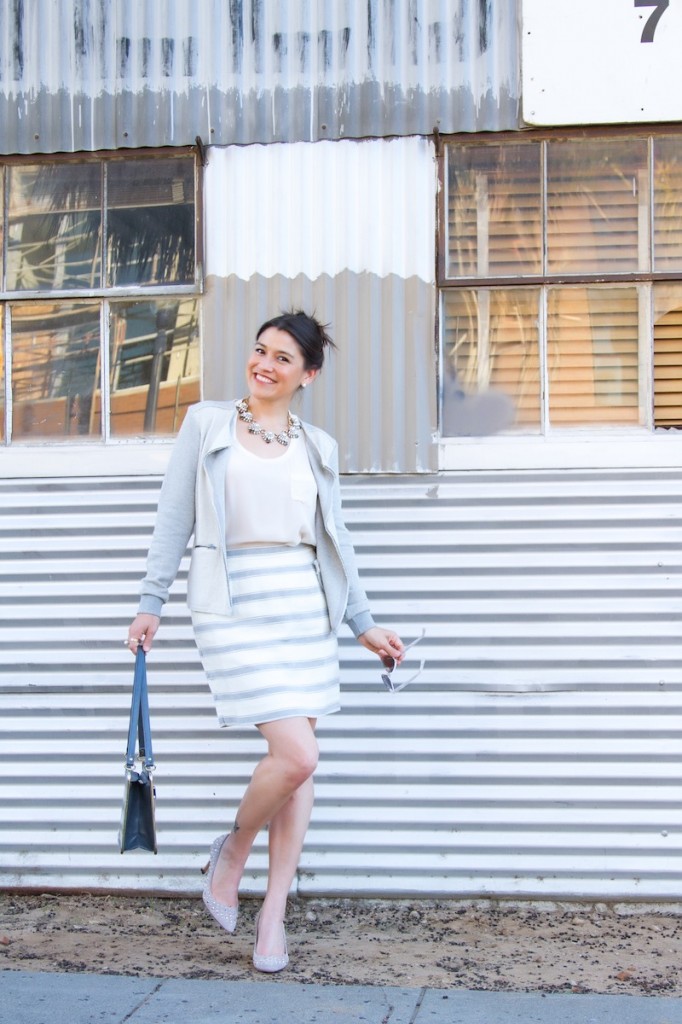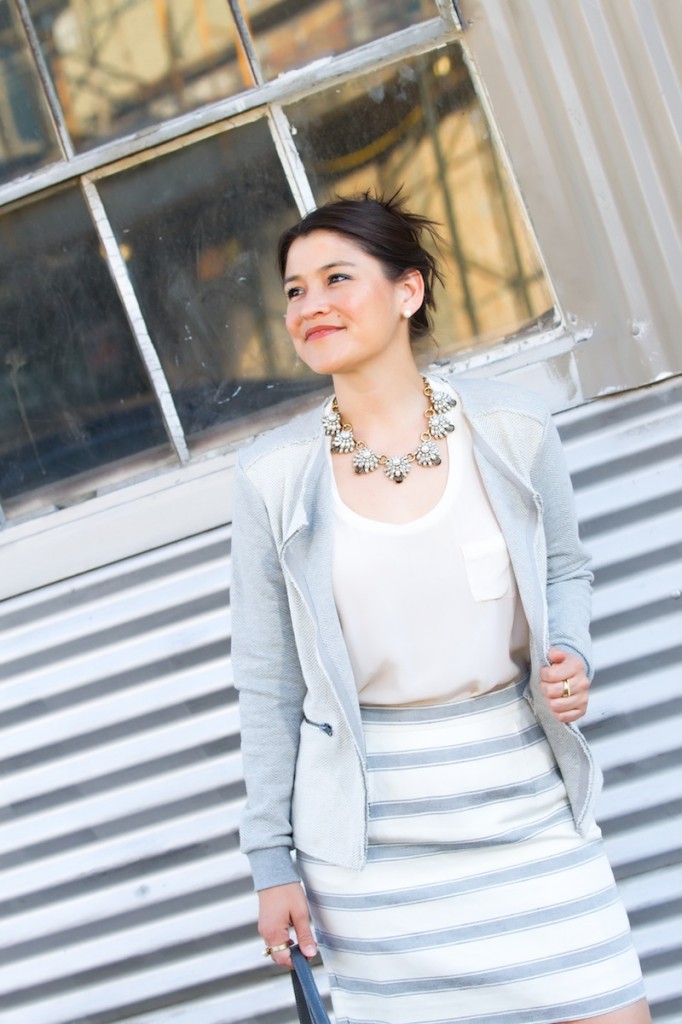 Photos by Dayley Photography
My blog posts are my honest and personal opinion. Sometimes my content includes products sent from companies or PR firms. In this case, I was sent samples from BA STAR. If I am sent something that is unimpressive or boring I don't write about it. I purchased everything else featured in this post.