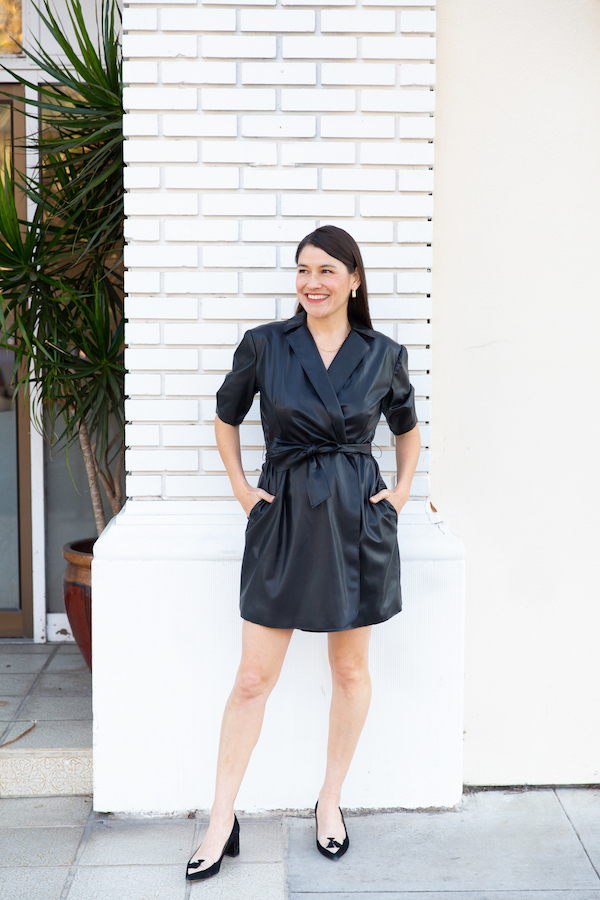 I love a leather dress. It is so timelessly sexy and edgy. A leather dress can be for work or play, and always feels empowering. Now the question is: do you go real leather or faux leather? Or as the chic folks say, "vegan leather." Faux leather has come a long way since the cheap-looking "pleather" of decades past, so let's discuss vegan leather versus real leather today.
What is Better for the Environment Faux Leather or Real Leather?
When it comes to vegan leather versus real leather is one better for the environment? Well, like most things it's a bit complicated. On the one hand, raising livestock like cattle is a major source of greenhouse gas emissions in the U.S, and cutting back on consumption of meat and its byproducts is one way to help reduce emissions. On top of that, many leather tanning processes use lots of chemicals, and in countries like Brazil, the cattle industry has also led to deforestation.
Given all that, it might seem like there would be a clear-cut argument for vegan leather, but as I said, it's a bit complicated. Most faux leather is still made from polyurethane or polyvinyl chloride (PVC) — both are plastics made from fossil fuels. Because of that, a lot of plastic-based faux leathers are nearly impossible to recycle and take hundreds of years to biodegrade in a landfill. That being said there is a lot of innovation happening in vegan leathers right now, and increasingly more of them are being made with plant-based materials. In the coming years, vegan leather will hopefully be a lot more sustainable than it is right now.
Overall, there isn't a straightforward answer when it comes to whether or not vegan leather is better for the environment than real leather. So much of it depends on your personal preferences as well as the company and the specific materials they're using to make their leather — faux or real.
My Favorite Faux Leather Dresses Right Now
Of course, if you are a strict vegan, you only wear faux leather, but there are many reasons you might want a faux leather dress over a real leather dress. I often find faux leather to be much softer aka more comfortable. Also, there is usually a lot of retractable stretch to vegan leather to add to that comfort. Another desirable draw is the lower price. Faux leather is usually priced lower than its real leather counterpart. So, today I am going to focus mainly on faux leather dresses, although I have included a few of my favorite genuine leather dresses in the Shop This Post as well.
The Different Kinds of Faux Leather
I find all the different materials now used in vegan and faux leather so fascinating. There is so much innovation happening right now with plant-based and more environmentally friendly options. Here are a few innovative vegan leather materials that caught my eye:
Photos by Dayley Photography
BB Dakota gifted me their vegan leather dress